If you are a surfer then chances are you will have heard of Dominical, Costa Rica, one of the popular beach towns on the South Pacific coast. Its pristine beaches with their awesome waves, some 10-feet tall, bring surf lovers from all over the world.
*This post may contain affiliate links, as a result, we may receive a small commission (at no extra cost to you) on any bookings/purchases you make through the links in this post. As an Amazon Associate, we earn from qualifying purchases. Read our full disclosure
But there is so much more to this little beachfront town on the South Pacific coastline.
Nestled about 44 km south of Quepos and the Manuel Antonio National Park, Dominical offers everything you could want from your trip to Costa Rica. Its rich and diverse nature, beautiful beaches, waves, and tranquility, has put Dominical Costa Rica top of many travel itineraries!
Best Time to Visit Dominical
Dominical Costa Rica weather is pretty constant. It's never so cold as to ruin your vacation plans and there are plenty of surfing and sunbathing opportunities on Dominical beach all year round.
On average, the temperature in Dominical hovers around 29℃ (85℉) during the day and 23℃ (75℉) at night.
The region follows the same Costa Rica's wet and dry seasons as the rest of the country, but it is generally more humid and wet as a whole. Even if you're visiting Dominical during the dry season, be prepared for rain and humidity.
Another aspect of the seasons worth keeping an eye on is the mating season of the humpback whales and the nesting season of the turtles.
From December to April, you can go whale watching in the area. Head to Marina Ballena National Park to catch a glimpse of humpback whale migration.
From May to November, the Olive Ridley and Hawksbill turtles enter their nesting season and can be spotted on the beaches near Dominical.
Getting to Dominical
You can get to Dominical from San Jose by car, by bus, or by shuttle, though getting there by car is the most convenient option.
By bus, you're instead looking at a 7 hour ride. A shuttle will be faster than the bus, but also much more expensive.
A shared shuttle from San Jose will most likely cost around $60 per person.
By car, the best way to go is Route 27 to Route 34, and it will take about three and a half hours. Aside from being faster, having a rental car also means you'll have better options in Dominical. There are buses on the main highway, but none that will take you directly to attractions. It's a fairly spread-out area, so direct transportation will be very helpful.
Book The Best Car Rental In Costa Rica

Renting a car in Costa Rica can be one of the most challenging parts of your visit! Unfortunately, car rentals in Costa Rica often come with significant hidden insurance fees, result in many frustrations at pick-up. The experience has ruined many trips and ballooned trip budgets for friends, family and followers. After years of not having a good solution, we finally found an honest car rental company that we proudly recommend to our readers.

We recommend booking with Vamos Costa Rica – a local car rental company that offers fantastic service and NO HIDDEN FEES and get 10% of your rental rate plus FREE additional driver, FREE child seat and other perks and benefits when booking through our link below!

Book early as rental car availability all across Costa Rica is currently lower than demand!
Traveling Soon?

Here is a list of our favourite travel providers and accessories to help get you ready for your upcoming trip!
Best Things to do in Dominical, Costa Rica
1. Chill Out on Playa Dominical
Playa Dominical, a small, beautiful beach town on the Pacific coast, just 20 mins North of Uvita offers travelers a laid-back vibe where beach life dominates the list of daily activities.
Dominical Beach has excellent waves that welcome surfers of all levels while its lack of sights and attractions makes it a perfect destination for those that just want to spend days relaxing in a hammock with a book in hand.
2. Give Surfing a Try
There are all kinds of surfing lessons offered in Dominical, including individual private lessons, surf schools, and surf camps. The options are available to beginners looking to learn the basics, as well as to experienced surfers just looking for a refresher.
Any Costa Rica surf camp typically offers group surf lessons but allows you to clock in more hours in the water, than a one off session. So your choice depends on how much time you have to spend surfing in Dominical. Expect to spend around $65 to $70 per lesson.
3. Visit Nauyaca Waterfalls
If you start to get restless after relaxing on Dominical Beach, there are a few hiking options in around Dominical Costa Rica to get your body moving.
Nauyaca Waterfalls are an absolute must for nature and adventure lovers. Despite being located deep in the tropical rainforest, the beginning of the trail is just 20 minutes from Dominical.
The falls' location is on the private property of the Lulo Family. It can be reached by hiking, horseback riding, or by pick up truck.
The waterfalls have two levels. The tallest is over forty meters high and the smallest is a little over 20 meters. We were lucky to experience the waterfall early in the morning and spent a few blissful hours admiring the breathtaking views well before the crowds rolled in!
If you plan on visiting, wear a good pair of hiking boots and light, breathable clothes. Either wear a bathing suit under your clothes, or bring one to change into once you get to the falls. Bring bug repellent, sunscreen, a towel, some snacks, and water.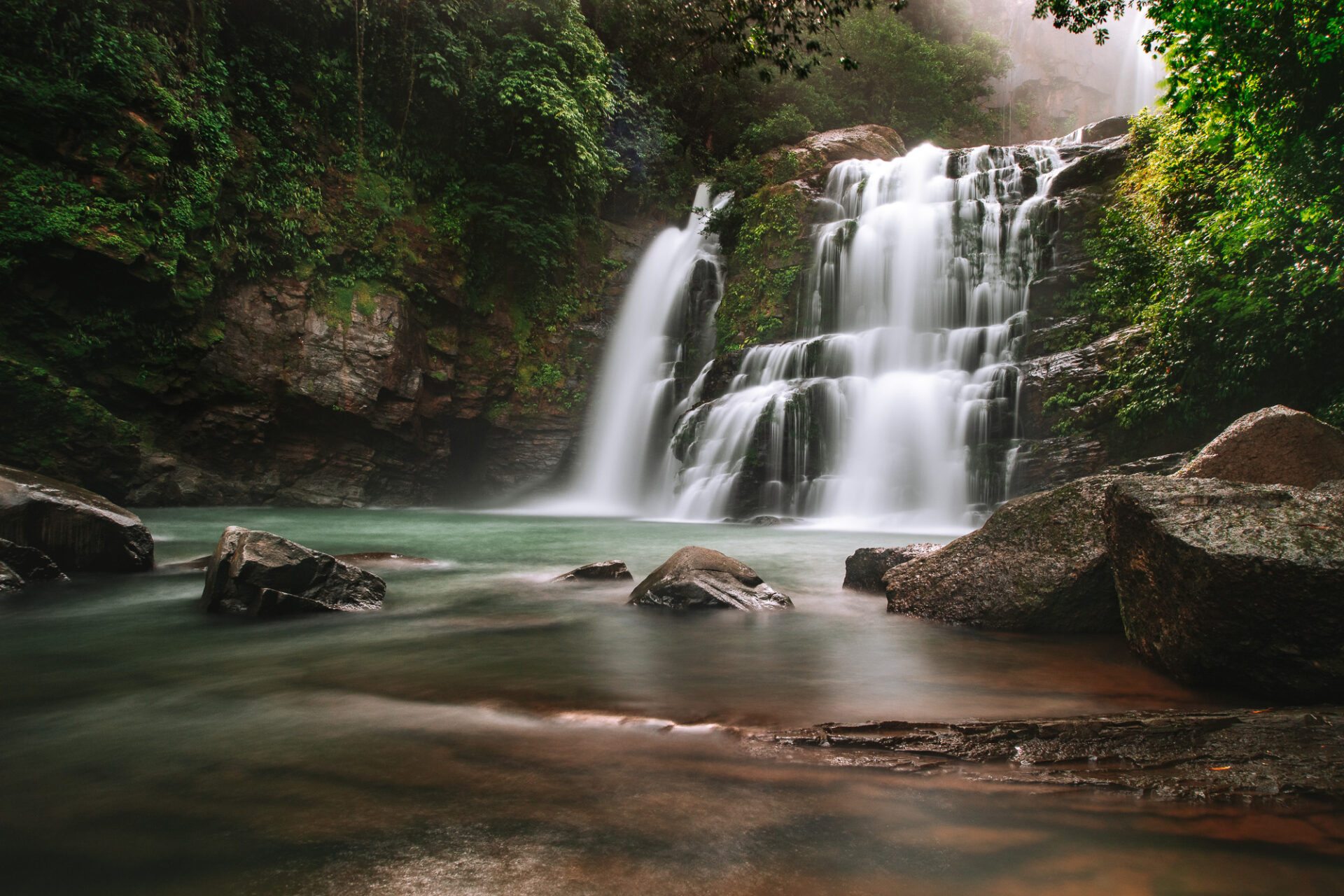 4. Get a Massage on the Beach
It's not hard to find a spa in Costa Rica. However, finding a great spot for a massage that won't cost more than your daily budget can be a challenge.
You might be surprised to find that you can get a professional massage for under $50/hour right on the beach in Dominical. Just rock up and find the masseus set up on the beach. You can't beat that in Costa Rica!
5. Join a Yoga Class
For another relaxing option, there are a few spots in town offering yoga classes.
Many spas and resorts that offer massage therapy also offer yoga classes. Grateful Surf offers yoga and massage therapy, at your home or on their property, so you can achieve maximum comfort. Danyasa Eco-Retreat offers yoga, massage therapy, dance classes, adventure tours, and more.
6. Visit the Beachside Market
Costa Rica's markets are always a fun place to get a taste of local culture and the beachside market in Dominical is not an exception.
The market is opened daily and features dozens of stalls selling clothes, jewellery, and souvenirs, turning this popular beach town into a shoppers paradise. Stock up on Costa Rica t-shirts, grab a new sarong or pick up some souvenirs for friends and family back home.
7. Visit Diamante Verde Waterfalls
Located just 35 minutes south of Playa Dominical, Diamante Verde is home to 10 different waterfalls, including Diamante Waterfall, the tallest waterfall in Costa Rica.
Plunging 600 feet off the Tinamaste ridge, Diamante Waterfall with a lush rainforest surrounding offers stunning views overlooking the coastal mountains and the Central Pacific Coastline.
You can hike to the waterfall, spend the day swimming in magnificent natural pools beneath the falls, try rappelling, canyoning, and cliff jumping.
Tours to Diamante Verde are offered by Anywhere Costa Rica and they look incredible!
The tours start at 8:30 in the morning and last for eight hours. This includes hiking, information on plant life, and rappelling down the face of the waterfall. As long as you're feeling brave, no experience is required. There is inclusion of a guide, rappelling equipment, and a vegetarian lunch. However, you'll need to bring anything else you need.
8. Check Out Dominicalito, Costa Rica
You can get away from the crowds of Dominical by heading 3 km south of Dominical town to the slightly smaller and rockier Playa Dominicalito. Before you go, make sure you bring a packed lunch and plenty of water, as there are no stores or restaurants on Dominicalito beach.
Dominicalito Costa Rica is a great spot for beginner and intermediate surfers and because it's nestled in a bay, it's also perfect for swimming. Just beware of the rocks at high-tide!
9. Visit Alturas Wildlife Sanctuary
Alturas Wildlife Sanctuary is a non-profit organization located near Dominical. The sanctuary was founded in 2014 with the mission of rescuing, rehabilitating, and releasing injured or displaced animals back into their natural habitats.
Alturas Wildlife Sanctuary is home to a wide variety of animals, including monkeys, sloths, birds, reptiles, and wild cats. Many of the animals have been rescued from the illegal pet trade, while others have been injured or displaced due to human activity, such as deforestation or hunting.
The sanctuary provides a safe and natural environment for the animals to live in while they undergo rehabilitation. Visitors to Alturas Wildlife Sanctuary can take a guided tour of the facility and learn about the animals that are being cared for. The tour provides a unique opportunity to see the animals up close and learn about their individual stories.
10. Go Whales Whatching in Uvita
There are amazing opportunities to see go whale and dolphin watching in Marino Ballena National Park in Uvita.
Humpback whales are known to migrate to the warm waters off the coast of Costa Rica between the months of December and April, making this the prime time for whale watching tours in Uvita. During this time, visitors have the opportunity to witness these majestic creatures breach the surface of the water, as well as watch them swim and play in their natural habitat.
There are several whale watching tour companies in Uvita that offer whale and dolphin watching boat tours. The tours usually last a few hours and are led by experienced guides who can provide information about the whales and their behavior. Some tour operators also offer snorkeling and scuba diving excursions, for an opportunity to see whales, dolphins, sea turtles and more form a different perspective.
11. Visit Manuel Antonio National Park
If you're hoping to see the wildlife, there are few places better than Manuel Antonio National Park. Bring a camera or a smartphone and get ready to collect memories on your day trip to this National Park. Be prepared to spot howler monkeys, white faced capuchin monkeys, squirrel monkeys, sloths, white-nosed coati, and plenty of birds and insect species.
To make sure you get the most out of your visit, plan to arrive early to beat the crowds and catch the animals at their most active. You can book the tickets online at SINAC Costa Rica up to 24 hours before your visit.
Once at the entrance of the park, you can also get a guide. A trained, educated guide will be able to point out wildlife you would never have even thought to look for on your own.
12. Visit Baru National Wildlife Refuge
Hacienda Baru Wildlife Refuge is a private nature reserve located near the town of Dominical. The refuge covers over 330 hectares (815 acres) of land. It is home to a variety of ecosystems, including mangrove swamps, primary and secondary rainforest, and pristine beaches. Visitors to Hacienda Baru Wildlife Refuge can take guided tours of the reserve, which include hikes through the rainforest, birdwatching, and wildlife observation.
Hacienda Baru is home to a wide variety of wildlife. This includes over 365 species of birds, as well as monkeys, sloths, anteaters, and many other mammals. The reserve is also home to a large number of reptiles and amphibians, including crocodiles and snakes.
In addition to its ecological significance, Hacienda Baru has played an important role in community development in the region. The reserve employs local people as guides and support staff, and has also helped to establish sustainable tourism in the area. The reserve also has a number of educational programs aimed at local schools and communities, promoting the importance of environmental conservation and sustainable development.
Where to Stay in Dominical: Best Dominical Hotels
Waterfall Villas: This eco-luxury retreat is located on 22 acres of tropical rainforest with its private waterfalls, organic gardens, and stunning ocean views. The villas are constructed with natural materials and are designed to blend with the surrounding environment.
The retreat also features an eco-spa. The spa uses natural and organic products and also practices sustainable living. This includes the usage of solar power, composting toilets, and rainwater harvesting. Guests can also enjoy yoga classes, meditation, and healthy vegan meals made with locally sourced ingredients. The food was definitely the highlight of our stay here!
Best Restaurants in Dominical
La Junta Dominical is a top rated restaurant in Dominical. They serve lunch and dinner and have a full bar, and they specialize in seafood and comforting pub food with a twist. Their ingredients are locally and sustainably sourced, the restaurant is dog-friendly, and they often have live music.
For some good craft beer, we have to recommend Fuego Brew Co. On top of being a brew pub, they also offer Costa Rican and Caribbean food, pizza, and seafood, with vegetarian, vegan, and gluten-free options. The menu is reasonably priced and the atmosphere is laid-back. The restaurant is open for breakfast, lunch, and dinner, and late into the night. If you're looking to spend some time chilling at the bar, this is the perfect option.
For some quick bites and something to drink, Cafe Mono Congo is a good place to stop. They have cheap, small Central American fusion bites that are quick and easy to grab and go and include vegetarian, vegan, and gluten-free options. Cafe Mono Congo also offers espresso, tea, cold-pressed juices, and smoothies.
When you visit Dominical is, you'll see that it is much quieter than Guanacaste in the north of the country but it doesn't lose anything. It offers easy access to all that makes a Costa Rica vacation the top choice for nature and adventure lovers, beach bum and surfers alike.
Are you ready to explore Dominical Costa Rica?