*This post may contain affiliate links, as a result, we may receive a small commission (at no extra cost to you) on any bookings/purchases you make through the links in this post. As an Amazon Associate, I earn from qualifying purchases. Read our full disclosure.
In our opinion, there is no better way to see the world than with a loved one by your side. But as experience will tell us, traveling with a significant other comes with its fair share of challenges.
To help couples overcome some of the initial difficulties of traveling together, we've put together our best tips and advice for traveling as a couple.
1. Plan Your Trip Together and Manage Each Other's Expectations
Take the time to plan your getaways together and to discuss what you each want to get out of the experience. Browse travel blogs for ideas, read guide books, or pay a visit to your local travel agent. No matter where the ideas come from, pick a destination that you are both interested in and one that allows each one of you to experience what you love the most.
It's important that you are both excited about the destination and the elements of the trip and, most importantly, that you come out of the planning stage with the same expectations about the trip ahead.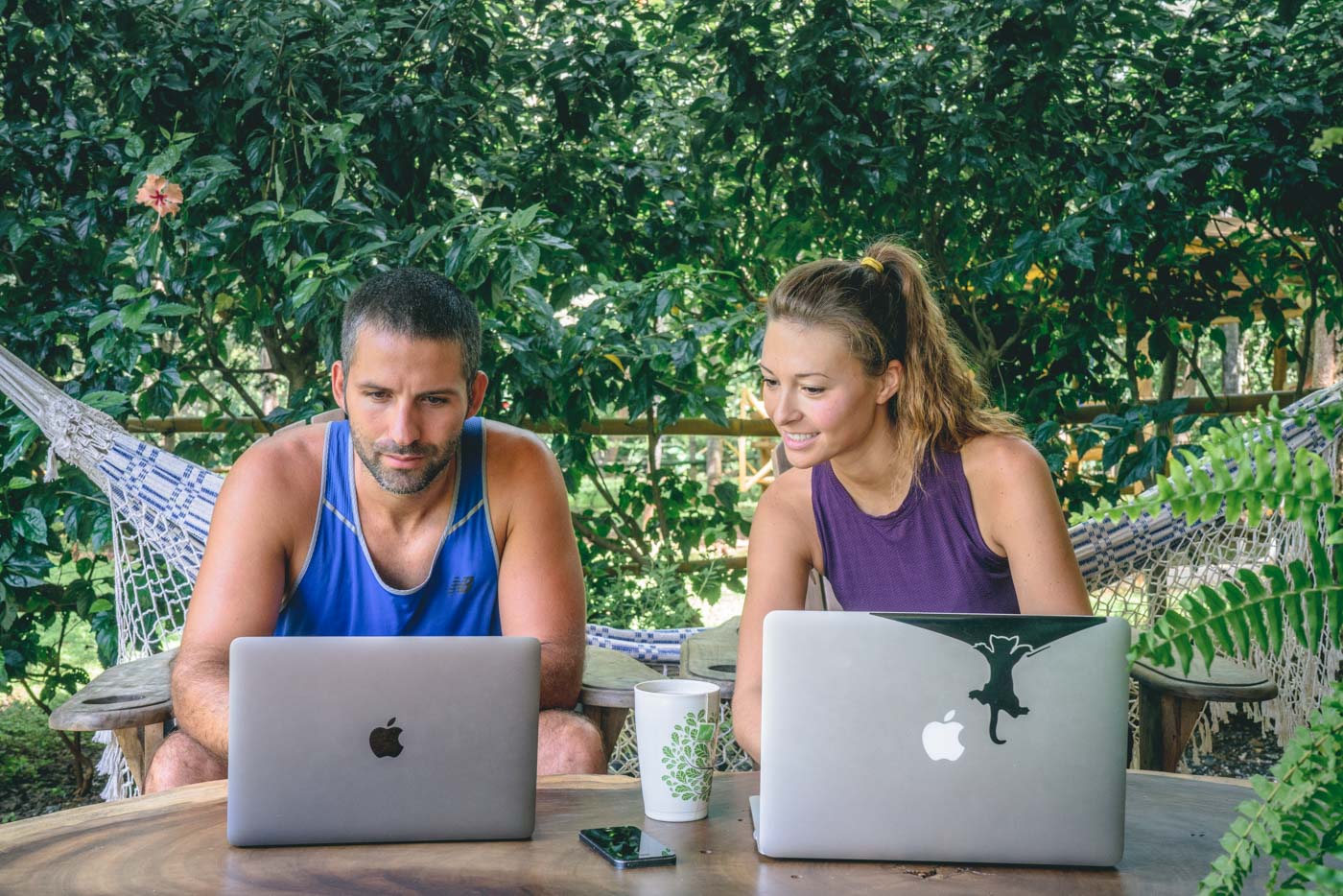 2. Set a Budget, Track it, but Allow Some Wiggle Room
When setting your budget, take into consideration what each one of you can afford and let the lower-income partner's budget drive the final numbers. Money can be a massive cause of awkward moments or, even worse, arguments, so it's best to plan ahead and keep it on the conservative side. It's nice to have the other partner treat you to a nice dinner or a room upgrade, but only if it happens once in a while.
We usually set a daily budget, but give ourselves a 25% buffer, so that if we do go over the limit a few times, we don't get frustrated and start bickering. Before we got married and started sharing our finances, we used to pool our money during trips and use an app like Trail Wallet to track our spendings along the way. The app made it easy to see how we were tracking against our budget, what we were spending on, and allowed us to limit the discussion about money.
3. Compromise
Do you love spending your travel days out in the wild, but your significant other would rather spend a day shopping? Or maybe you need to have your days packed to the brim to get the most of your vacation, but your partner can't go without a midday siesta? Prepare to compromise! There must be some things that you enjoy doing together, so focus on planning your holiday around those activities, but don't forget to give in a little here and there to make sure that your significant other gets to experience what they love as well.
Don't want to take a siesta in the afternoon? Plan another activity, while your partner rests. Or why not agree to spend a few hours shopping, if in return your partner will spend a few hours outdoors with you? You might just find a new found love (or at least a like) for your partner's favourite activities. We know we did!
4. Respect Alone Time
While it's great to spend all the waking hours together, it's also important to respect each other's need for alone time. Even if you already live together and are used to small spaces and limited privacy, be prepared that things are going to be kicked up a notch when you are on the road.
So plan for some "me time", if not daily then at least every few days. It could be as simple as setting aside some time to read a book, practice yoga, or go for a run, or something more elaborate like taking a day to do an activity that your partner doesn't want to participate in.
While these days we rarely split up to do our own activities during the day, we almost always give each other a few hours of "me time" in the evenings or in the mornings. I read, or practice yoga, while Max catches up on news or hits the gym (if there is one to hit).
5. Spend Time With Others
Spending time with other couples (or groups of friends) while traveling as a couple has got to be one of our favourite things to do on the road. It's not that we don't love when it's just the two of us, but we find that sharing the experience with other travelers makes it that much more memorable.
When you are in a group, you and your significant other will automatically become a team (literally or figuratively), which will increase your bond and enrich your experiences. You may even learn a thing or two about each other that you wouldn't have learned before.
Since we no longer stay in hostels and can't take advantage of their social atmosphere, we find that the best place to meet other travelers is during activities. So sign yourself up for that diving trip, or that 5-hour trek, and you are bound to come out of it with a new set of travel buddies.
6. Watch Out for Hanger
Hanger (hunger that turns into anger) is not usually something that rears its ugly head in the day to day life. After all, food is never really hard to come by and your routine is carefully set up to avoid any interaction with hanger. But when you are on the road, hanger can get the best of us.
Have a plan in place for when and where you are going to eat next just in case one of you is prone to hanger outbursts or at the very least carry a few small snacks in case of emergency. Trust us, your relationship will thank you for it.
Both Max and I have experienced the effects of hanger. It's not pretty, it always causes an argument and if it not spotted early enough, can quickly ruin a day.
7. Experience Something New Together
Push each other to go beyond your comfort zones and try something new on your next holiday. It doesn't have to be something as extreme as jumping out of a plane (although it definitely can be), but if it's an experience as least one of you hasn't done before, it'll be well worth it.
You'll grow together and might even end up finding a new hobby that you both share. For us, it's diving and although we completed our diving certification courses before we started dating, we have since experienced dozens of dives together and always look forward to sharing the underwater world with each other.
8.
Know That not Every Moment is Going to be Romantic
They say travel is not a vacation (well, we say that) and not every vacation you are going to take together is going to feel like a honeymoon. There are so many things that can go wrong on any given trip, so many challenges, so many potential issues, that expecting your getaway to be a perfect romantic trip is a recipe for disappointment. So adjust your expectations and be ready to get hit with a dose of reality. Delayed flights, jet lag, lost luggage, culture shock, and or even worse something like an illness can take all the buzz (and all that romance) right out of your holiday.
Don't let the crappy travel moments ruin your romantic getaway, but instead look at them as challenges that you overcome together. The best thing you can do is manage each other's expectations (see tip #1) to avoid overhyping the trip.
9. Give it a Try Before Jumping in Head First
If you have never traveled together before, start small. Go on a little weekend away and see how you two jive in an environment outside of your regular routine. Work out the initial kinks, learn your rhythms on the road, and if all goes well, you'll be well prepared for a bigger adventure!
Like this post? Pin it for later!
Do you travel with your significant other? Which one of these tips helped you in the early stages of your travels together?