*This post may contain affiliate links, as a result, we may receive a small commission (at no extra cost to you) on any bookings/purchases you make through the links in this post. As an Amazon Associate, I earn from qualifying purchases. Read our full disclosure.
It's been almost 6 months since we said goodbye to our life in Australia to embark on a new nomadic lifestyle on the other side of the world.
Most days, we don't look back. We are happy to be living in a jungle by the beach in Costa Rica, free of the 9-5 routine, dedicating our days to bettering ourselves, our health and fitness, and our little online and offline ventures. We are happier than ever to be on this side of the world, close to our family and friends in Canada and US (we can now visit Canada for just $500 return and see family in Florida for under $300), and within close proximity of so many amazing destinations that we are itching to visit this year. (South America, we are coming for you!)
But sometimes, a little ping of sadness overcomes us when we realize that our life down under is in the past and it'll probably be awhile before we are back there for a visit. It's on days like these that we remember the highlights of our many years (2.5 for me and 6 for Max) in Australia and reminisce over all the things we miss about living in Australia.
Great Salary
We never really loved the 9-5 lifestyle, but if there was one thing we had when living in Australia, it was a great salary. Thanks to Australia's strict minimum wage rules, even a burger flipper at McDonalds can make decent wage there. And for us, two well-educated (did you know that Max and I both have MBAs?) professionals, our salaries were among the main reasons why we stuck around Australia for as long as we did. Being able to earn 6 figures in Australia helped me to finally pay off my student loan and save for the future.
We never lived in luxury while earning the big bucks in Australia and a lot of our earnings did go towards living expenses and travel expenses, it was still nice to see our accounts replenished every 2 weeks.
Warm Winters
Living in Brisbane, we were spoiled with amazing weather. Even in the dead of winter, the weather in Brisbane would rarely dip below 15-20°C during the day, with most days being sunny and dry. We loved the fact that we didn't need winter coats and could continue to enjoy outdoor adventures in Queensland without turning into winter hermits.
Of course, winter is not an issue for us now when we are hanging out in Costa Rica, but we are dreading the idea of visiting friends and family in Canada or Northern U.S. any time between November through April.
Cheap Flights to South East Asia
It's no secret that we absolutely LOVE South East Asia! Over the years, we've been to almost every single country in SEA and have loved our time exploring the region. Thailand and Indonesia have earned their respective spots on our list of all time favourite countries and even though we've already spent months in each one of those countries, we are always craving more!
Living in Australia, we were always tempted to take a cheeky trip to South East Asia thanks to the amazing deals from Scoot, a Singaporean-based low-cost airline that offered flights to SEA for as low as $400 return.
Amazing Markets
For a shopaholic like myself, Australia was an absolute treat. But it wasn't the ever growing presence of Westfield malls that got my heart racing. For me, it was all about the markets. Small and big, well known or local, I loved them all.
I can't decide what I miss the most. Whether it's the artisan jewelry stalls at the local Collective Markets in Brisbane's South Bank, the unique souvenirs and designs at the Salamanca Market in Hobart, Tasmania, the delicious food at the Queen Victoria Market in Melbourne, or the organic treats at Adelaide's Farmers Market. We got so used to visiting markets on a weekly basis that after a few weeks without markets in Costa Rica, we are in serious withdrawal. Time to find some local gems on this side of the world!
Avocado Smash (the really good, Melbourne kind)
Speaking of things that just don't live up to Australian standards, we are dying for a good Melbourne avocado smash! We tell everyone who's heading down under that avocado smash is one of the simple Australian delicacies that everyone needs to try when visiting Australia. The best kind is of course found somewhere in Richmond, Melbourne.
Ever since we fell in love with avocado smash on one of our first visits to Melbourne, we've been trying (almost always unsuccessfully) to recreate the masterpiece in our own kitchen first in Brisbane, then in every country around the world where avocados could be found.
Let's just say, a lot more than good avocadoes are needed for a really good, Melbourne kind, avo smash!
Tim Tams
Since we are on the topic of food, it would be silly not to include Tim Tams on this list. Costa Rica may have its own yummy foods and deserts, but nothing, I repeat again, NOTHING, beats the silky smooth, crunchy, mouth watering taste of Tim Tams, especially those consumed as a Tim Tam slam.
Dual Flush Toilet
You may think that missing a toilet is absolutely ridiculous, but try living in Costa Rica amidst the driest dry season in over 50 years and dealing with water shortages….and then we'll talk.
See in Australia, our toilet flush had 2 options, half flush, which used up half a tank of water and was perfectly suitable for most of our needs, and full flush, required for all those really …ahem…serious needs. In Costa Rica, toilets only have 1 flush, the kind that uses up the full tank of water, all 5-6 gallons it. Not only is it a huge waste, it actually makes Costa Rican toilets incredibly frustrating when our well at the house runs dry and we are forced to survive on only 5-10 gallons of water a day.
Hangover Days Watching Cricket
As you can imagine, we've had to endure a few hangover days leading up to and following our wedding in Costa Rica. Alcohol in Costa Rica is cheap, especially if you get it at duty free, but the means for recovery are not.
Max used to love spending his hangover days in Australia in front of the TV watching cricket (it always seemed to be on). Unfortunately, not only do we not own a TV here in Costa Rica, but our wifi connection is also not good enough for live streaming. Sorry Max, I guess you'll have to settle for a swim in the ocean instead.
The Project
Speaking of television, turns out that we would much rather have our daily news delivered to us by the hilarious gang at The Project, an Australian talk-news-current affairs TV show airing weeknights across the country, instead of relying on our Facebook news feed.
The Project was definitely a part of our evening routine, a great companion to our dinners, and something that always kick started our evenings back in Australia. Ah the memories…
Being Able to Understand Everyone Around Us
This really doesn't apply to Max, as he is fluent in Spanish and feels just as comfortable holding a conversation in Spanish as he does in English, but for me, constantly being surrounded by Spanish speakers is proving to be a bit tough. I'm learning (still with the help of trusty Duolingo), but it's definitely harder to immerse myself into the Spanish speaking world then I had anticipated.
I miss being able to strike up a conversation with anyone, or feel comfortable enough to run my own errands, and get around without having to rely on Max's help day in and day out.
Friends
We are truly lucky to have friends scattered all over the world and now that we are on this side of the world, we are really looking forward to being able to reconnect with friends from US, Canada, Central and South America. But we are already starting to miss our wonderful "extended family" of friends in Australia. Majority of them have been with us celebrating our wedding in Costa Rica over the last 1-2 weeks, so it feels like it was just yesterday that we were all rocking out to "Fill me up buttercup" on the dance floor at our wedding. But many weeks, many months, and possibly even years, will probably go before we see them all again.
Sure, we'll stay in touch and catch up on each others lives over Skype and social media, but there will be no Sunday BBQ sessions at our house, no beach days down on the Gold Coast, and no double dates in West End. All we can hope for is that all of us will be able to meet up sometime soon somewhere else in the world and that our relationships won't change despite the distance.
Australia Day in Australia
There is really nothing better and (nothing we miss more) than celebrating Australia Day in Australia with Triple J's Hottest 100 tunes blaring in the background, snags sizzling on the BBQ, cold beers in hand, and friends gathered around to kick back and enjoy each others company!
Enjoy your Australia Day, friends! We miss you all big time!
Like this post? Pin it for later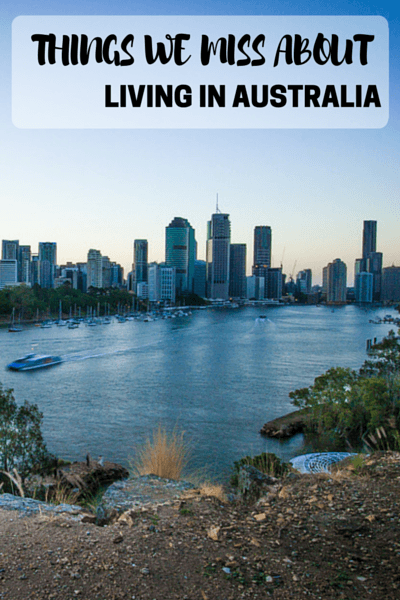 Have you ever been to Australia? What do you miss the most about this wonderful country?