St Lucia's abundant wildlife and natural beauty made it South Africa's very first World Heritage Site, listed by UNESCO in 1999. The small town sits on the southern end of the iSimangaliso Wetland Park, South Africa and makes for a great base to explore this wildlife haven.
*This post may contain affiliate links, as a result, we may receive a small commission (at no extra cost to you) on any bookings/purchases you make through the links in this post. As an Amazon Associate, we earn from qualifying purchases. Read our full disclosure
Traveling Soon?

Here is a list of our favourite travel providers and accessories to help get you ready for your upcoming trip!
St Lucia is situated on the eastern coast of South Africa, just 2.5 hours from Durban, the capital of KwaZulu-Natal. It offers a warm tropical climate year-round with the warm Indian Ocean and golden beaches just on the edge of town.
Things to Do in St Lucia
St Lucia is a small town, located on the outskirts of the park. But St Lucia wildlife and natural beauty do not stop at the edges of the Wetland Park though and it's not uncommon to find hippos wandering the back streets in search of fresh grass.
The area is rich in wildlife but offers plenty of activities that go beyond a typical safari!
Safari in iSimangaliso Wetland Park
The most popular thing to do in St Lucia is to head into the iSimangaliso Wetland Park on a safari or game drive to catch the big five. St Lucia safaris can be done as a tour or on a self-drive, depending on whether you have your own vehicle. You don't need to have a 4×4 and there are well-maintained road networks for game viewing.
Many of the St Lucia South Africa hotels or lodges can arrange tours and game drives into the Wetland Park for you. These tours are usually done in open-air safari vehicles and are either half or full-day excursions.
Boat Cruise in St Lucia Estuary
The St Lucia estuary is the largest estuarine lake system in Southern Africa. The shallow waters here are the perfect habitat for crocodiles and hippos and on a St Lucia estuary boat cruise, you are almost guaranteed to spot them frolicking in the water. The lake and waterway system is also known for its abundant bird species including fish eagles, kingfishers and herons, which you can see on any boat safari.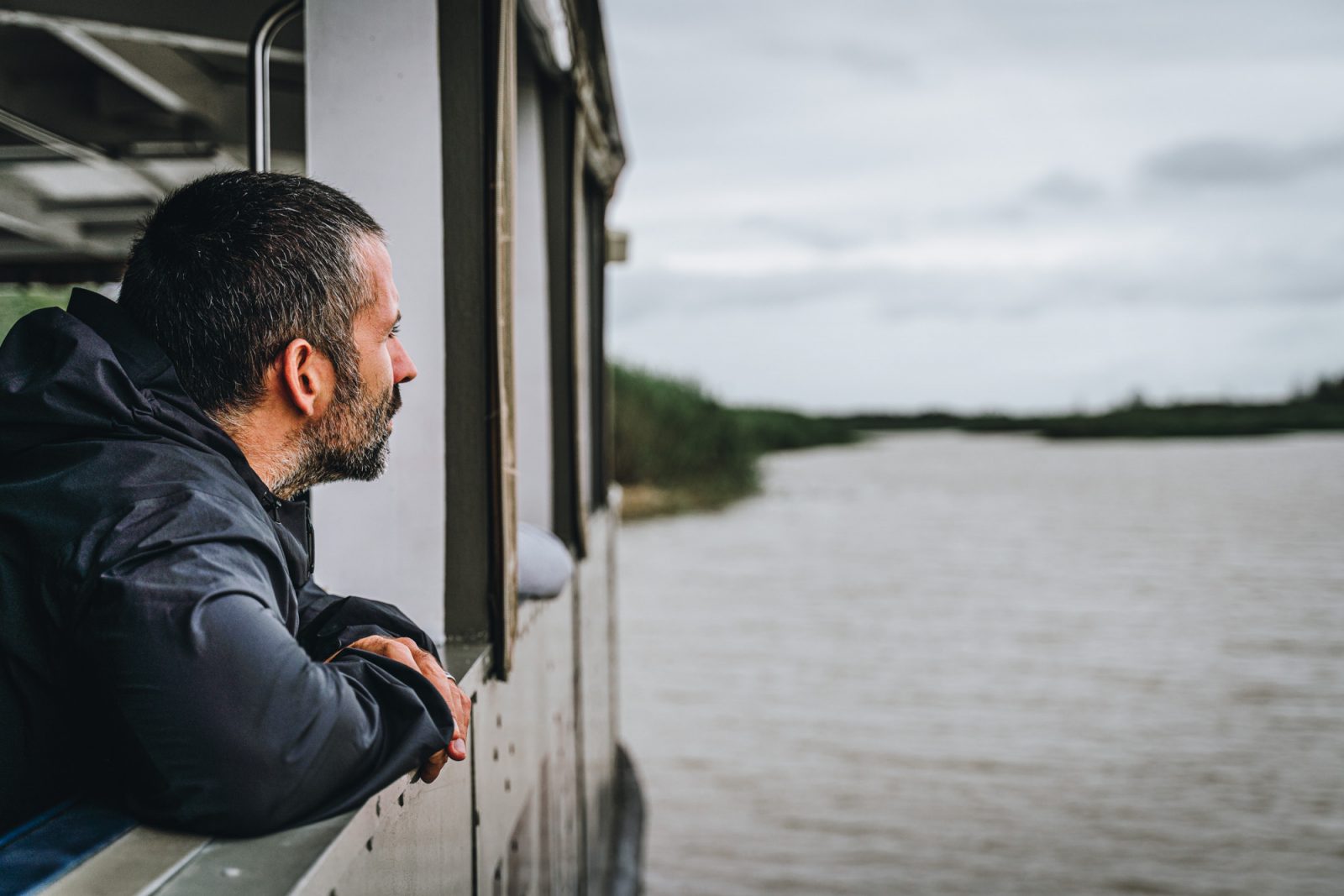 The St Lucia hippo cruise boats leave from just outside of town and can be arranged with any of the St Lucia accommodation options or booked in advance here.
Visit the Beaches
St Lucia beaches, South Africa are a popular place to visit and the untouched sandy coastline in this part of the country feels completely different to the beaches on the Garden Route.
A popular beach near St Lucia is at Mission Rocks Reserve just 16km from St Lucia. The beautiful beach area is perfect for fishing but the presence of big marine game and rocky reefs make it unpleasant for swimming.
Cape Vidal beach further up the coast is a better option for swimming and snorkeling.
But be careful while swimming in the beaches near St Lucia, as the tides and currents are strong and can become quite dangerous.
Snorkeling at Cape Vidal
Cape Vidal, South Africa lies inside the iSimangaliso Wetland Park, 30km north of St Lucia. There is a rich variety of marine life in the waters around the Cape and the best way to experience it is by taking a snorkeling tour where you can explore the rock pools around the shoreline.
Day trip to Hluhluwe-Imfolozi Park
Hluhluwe-Imfolozi Park is the oldest proclaimed nature reserve on the entire continent. It opened in 1895 with 96 000 hectares of parkland. It's a true wildlife haven particularly known for having the largest population of white rhino in the world.
The park is located just 50km away, directly to the west of St Lucia town. The Nyalazi Gate inside the southern Imfolozi Park is the closest access point from St Lucia. You can explore the area either on an organised safari tour or self-drive.
Search for Loggerhead and Leatherback Turtles
If you're wondering what to do in St Lucia, South Africa in summer then searching for turtle nesting sites is the main attraction. From November to March you can head out to watch these huge animals making their way ashore to lay their eggs.
The tours run at night and require you to drive along the coastline in search of these beautiful turtles. Depending on the nesting process, you can get a bit closer to photograph them without making any disturbances.
If you are lucky, you can also see turtles hatching later in the season. Witnessing tiny baby turtles emerge from their shells and make their way towards the water's edge is a very special sight.
Whale Watching
From June to November each year it's possible to catch a glimpse of the impressive Humpback whales on their migration to the tropics. Whale watching boat tours head out on the water and allow you to get closer to admire these magnificent animals.
Deep-Sea Fishing
Deep-sea fishing is an extremely popular activity around St Lucia, South Africa. With the tropical warm waters all year round, you can catch and release all sorts of game-fish. While fishing St Lucia South Africa, you'll likely come across shad, perch, grunter and shark.
Horseback Riding
You can go horseback riding on the beach on the Indian Ocean coastline or into the St Lucia wetlands, South Africa. Depending on your previous experience, you can opt for one hour or up to half-day excursions.
Zulu Cultural Tour
If you're interested in the Zulu culture, you can head to a local contemporary village to get an insight into the Zulu way of life. You can even watch a traditional Zulu cultural show including dancing and music.
Any of the St Lucia South Africa accommodation options could organize a trip to a village for you.
Accommodation, St Lucia, South Africa
Forest Lodge $$$
Forest Lodge is a great midrange St Lucia accommodation option with a swimming pool surrounded by a leafy garden. They have 17 en-suite rooms, decorated in a modern and simple style. They can also offer a range of St Lucia, South Africa activities.
Umlilo Lodge $$$
Umlilo Lodge offers 12 comfortable en-suite guest rooms in a tropical treehouse-style St Lucia lodge. The leafy gardens around the property and an on-site fish pond make you feel like you are staying deep in nature. The restaurant offers fresh locally sourced produce with healthy breakfast options.
Budget Tented Village @ Urban Glamping $
The Urban Glamping Tented Village is a unique budget accommodation in St Lucia offers both private rooms and dormitories. A lot of their rooms are in tented, glamping style set-ups with basic but comfortable facilities. They also have an outdoor swimming pool and an open kitchen for self-catering.
Essential Travel Info
How to Get to St Lucia
It's a full day's drive to get from Johannesburg to St Lucia, with around 600km distance between the two places. But the road is paved and is easy to navigate by car.
How to Get Around St Lucia
The town of St Lucia is compact and easy to explore on foot. Most tours and day trips around the area depart from St Lucia and include transportation, so once you arrive in St Lucia, you can park your car for a few days. You won't be needing it!
Have you visited St Lucia, South Africa before? What were your favourite activities in town?