This post was first published in January 2019 but has been updated in August 2019 with the most recent information on Ojochal, Costa Rica
Perfectly situated on the coast of the Costa Rican province of Puntarenas, Ojochal is a little town that's more of a residential spot rather than a tourist destination. It's quiet, it's off the beaten path, but it's full of surprises!
*This post may contain affiliate links, as a result, we may receive a small commission (at no extra cost to you) on any bookings/purchases you make through the links in this post. As an Amazon Associate, we earn from qualifying purchases. Read our full disclosure
Traveling Soon?

Here is a list of our favourite travel providers and accessories to help get you ready for your upcoming trip!
Ojochal offers ocean views, magnificent jungle, and pristine beaches with many of the activities that travelers to Costa Rica expect.
No matter what time of year you visit Costa Rica, Ojochal should definitely be a stop on your itinerary if you are looking to escape from the crowds and enjoy a "living like a local" style of vacation.
Here are just a few of our suggested things to do in Ojochal, Costa Rica:
Things to do in Ojochal, Costa Rica
Sample the Culinary Delights in Ojochal, Costa Rica Restaurants
In recent years, Ojochal has become a popular destination for expats in Costa Rica and earned a reputation for being the culinary hub of the area.
Here you'll find great restaurants like Exotica, a French Canadian spot serving everything from spicy Vietnamese chicken soup to French liver pâté.
Another great example of Ojochal's restaurant scene is Citrus, boasting a Moroccan-inspired menu of gluten-free and vegetarian options. Or, Ylang Ylang, famous for its authentic Indonesian cuisine, and Azul, an intimate restaurant with a gourmet Mediterranean menu.
There's also The Bamboo Room, a bar with live entertainment, an array of tropical cocktails, and both vegetarian and vegan options on the menu, all while having an amazing view of the ocean.
Or, if you're more in the mood for some good seafood, you can stop by Castillo's Kitchen for brunch, lunch, or dinner. It's a waterfront Mediterranean restaurant with vegetarian, vegan, and gluten-free options.
If you're looking for Ojochal, Costa Rica restaurants with a more local flavour, there's always Heliconia. It's a Costa Rican restaurant that has the locals singing its praises.
As well as fusion flavours, you'll also be able to sample more traditional Tico food in the Ojochal, Costa Rica restaurants.
Make sure you plan to experience Ojochal's culinary delights for dinner, as most restaurants are closed for lunch and many are also closed all day on Mondays. (We had to find that out the hard way!)
Visit Cascada El Pavon
A visit to Ojochal, Costa Rica would be incomplete without a visit to Cascada El Pavon. The small but beautiful waterfall is situated just a few minutes from Ojochal. You can even take a dip in the pool at the bottom of the waterfall. The area is never crowded, making it the perfect Costa Rican paradise moment.
Explore Playa Ventanas
Just a few miles south of Ojochal is Playa Ventanas. The beach of windows… the strange name comes from its window-like caves, which give this beach its charm and make Ojochal, Costa Rica a unique place to visit.
Walk through the caves at low tide or at high tide, watch as the powerful waves shoot out waves out of the cave. Playa Ventanas is also a good spot for beginner surfers, and if there's a decent swell, it's also perfect for the more advanced wave catchers.
Volunteer at the Reserva Playa Tortuga
Costa Rica is famous for its conservation programs and the preservation of the spectacular natural environment. Ojochal, Costa Rica is home to Reserva Playa Tortuga, a non-profit research and education centre.
They have a number of different projects that volunteers can get involved with, such as the sea turtle conservation program, mammal and bird population counts, caiman tagging, and helping with the educational outreach.
Volunteering is an excellent way to enrich your stay in Ojochal, Costa Rica and make sure your trip has a positive impact on the communities you visit!
Essential Travel Info for Ojochal, Costa Rica
Getting to Ojochal, Costa Rica
If you are in San José you can jump on a quick domestic flight to the nearest airport, Palmar Sur. From there (or from San Jose) you can rent a car, or you can hop on a bus if you would prefer to take public transportation. However, renting a car means you can enjoy the relatively easy route and the stunning scenery along the coast of the country. Whichever option you decide on, you'll find it's a fairly gentle trip.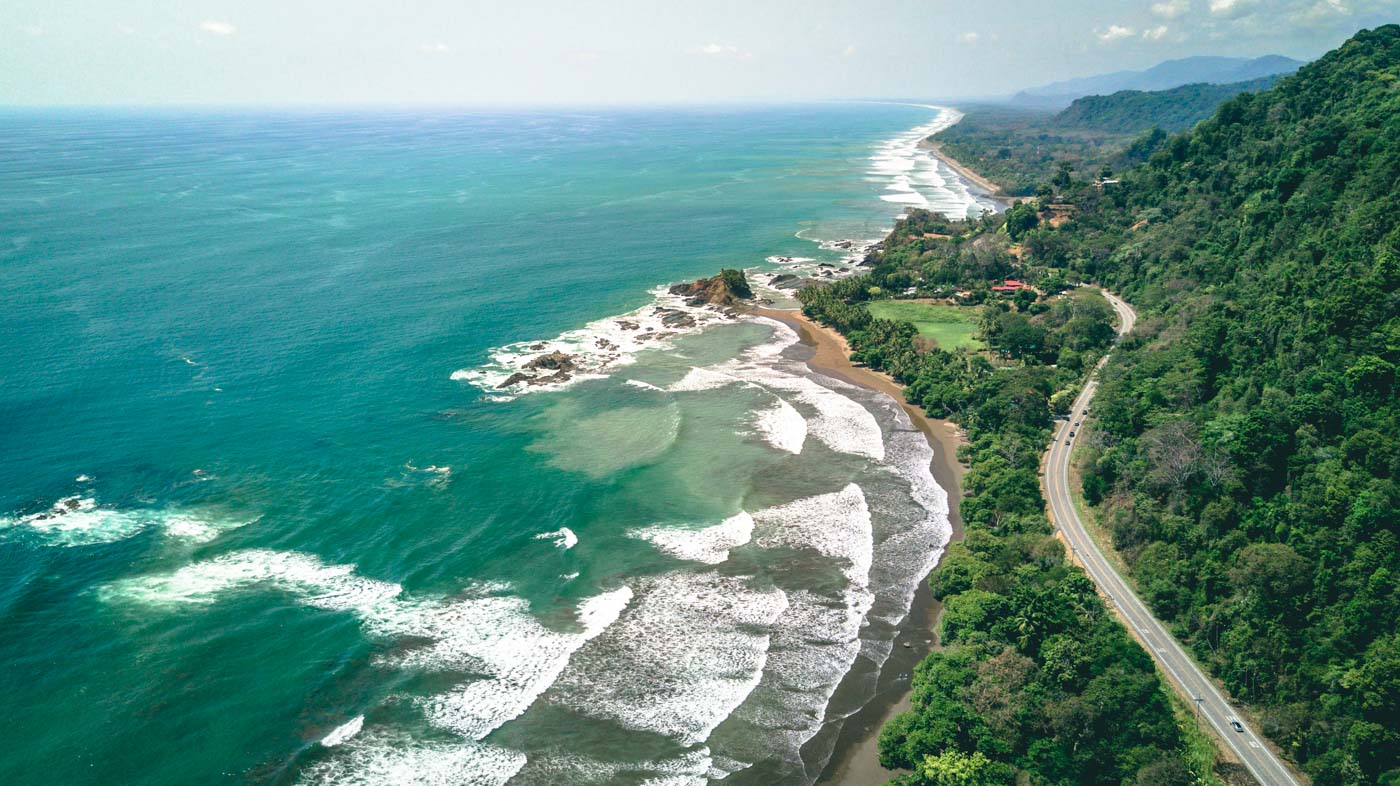 Hotels in Ojochal, Costa Rica
Ojochal, Costa Rica has plenty of great accommodation options. Since this area is most popular with those looking for a longer stay, Airbnb accommodations are abundant in Ojochal.
New to Airbnb? Sign up today and get up to $40USD off your first stay!
If you prefer a hotel room to your own house, here are a few of our top picks for hotels in Ojochal, Costa Rica:
Alma de Ojochal Hotel: The Alma de Ojochal Hotel

is a boutique hotel with amazing surroundings. Set back in the mountains and enveloped in the lush forest, it's the perfect retreat setting.

Pura Vida Ecolodge:

If

eco-travel and sustainability are important factors

when planning your Ojochal, Costa Rica travel itinerary, then check out the

Pura Vida Ecolodge

. You can relax in eco-luxury in the heart of the virgin rainforest.

Three Sixty Hotel:

It's very easy to splash the cash on your Ojochal, Costa Rica hotel, and if you're looking for a real treat then,

Three Sixty Hotel

will certainly do the trick. This adult-only hotel is perfect for

romantic honeymooners and with stunning views, infinity pool, and gourmet restaurants

you'll never want to leave!
Get off the Beaten Track
The smaller towns of Costa Rica offer some amazing hidden gems that all too often go unnoticed. We think you'll agree that Ojochal deserves your attention. With so many things to do in Ojochal, it is well worth a spot on any Costa Rican itinerary.
Do you have more travel tips for Ojochal, Costa Rica? Share them in the comments below!