Often overshadowed by its mainland cousin, the capital of British Columbia – Victoria, is a beautiful city filled with greenery and culture. Coined the "Garden City," Victoria connects big-city attractions with rugged West Coast beauty.
*This post may contain affiliate links, as a result, we may receive a small commission (at no extra cost to you) on any bookings/purchases you make through the links in this post. As an Amazon Associate, we earn from qualifying purchases. Read our full disclosure
Victoria is located on the southern tip of Vancouver Island and is home to several landmarks like the Royal BC Museum, the Butchart Gardens and the famous Fisherman's Wharf. It's surrounded by green spaces and ocean views lit up by the buzzing shops and restaurants of downtown Victoria.
The city of Victoria is a leader in environmental initiatives focusing on promoting local, sustainable businesses and clean technology. It's also on the road to 100% renewable energy by 2050 and 50% landfill waste reduction by 2040.
Visiting Victoria is a must for anyone planning a trip to Vancouver Island. It's a destination with lots to see and do. From whale watching to high tea, here are the best things to do in Victoria, BC.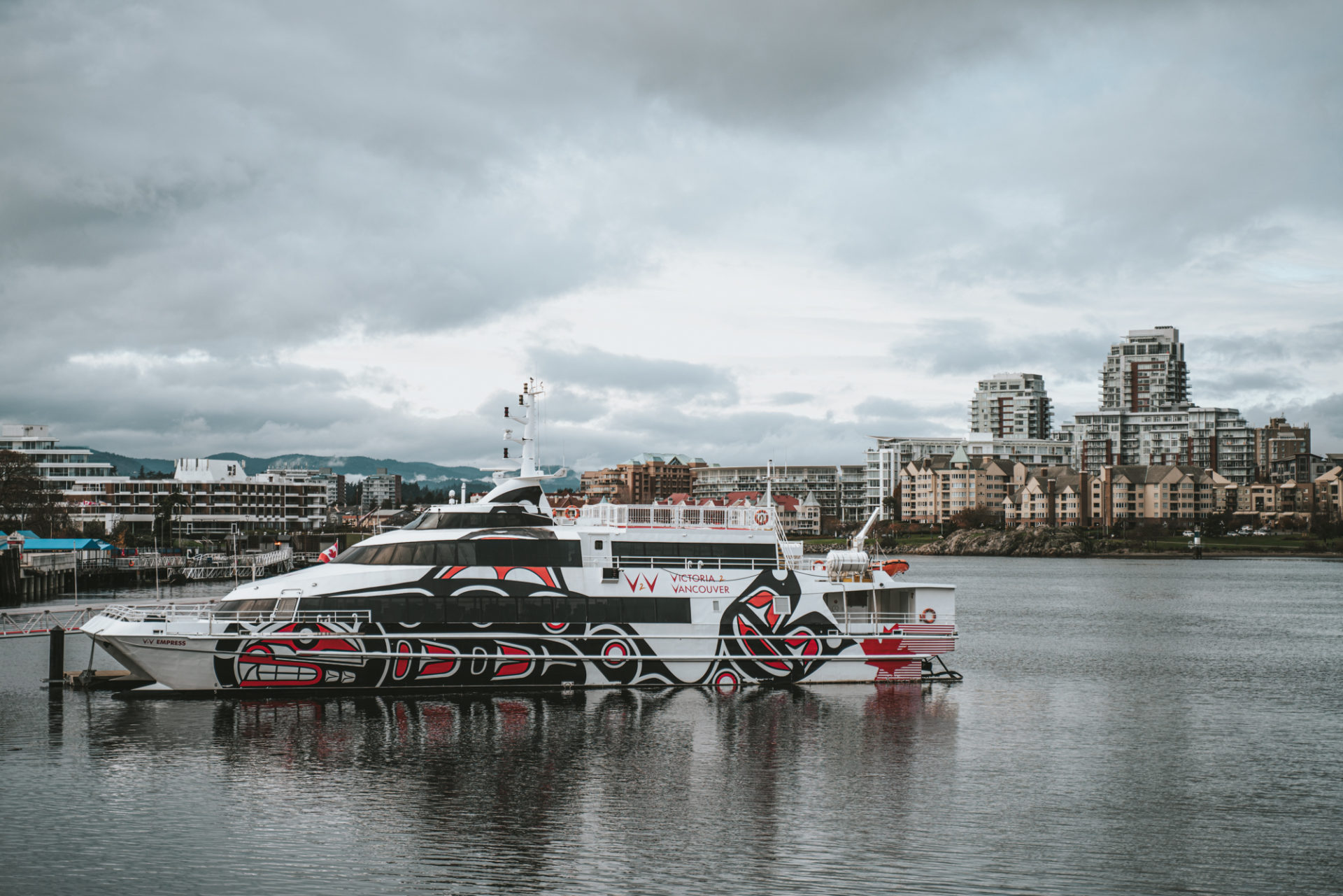 Traveling Soon?

Here is a list of our favourite travel providers and accessories to help get you ready for your upcoming trip!
How To Get To Victoria, British Columbia
By Ferry: BC Ferries: Victoria is located on Vancouver Island, a 1.5-hour ferry ride from Vancouver. You can board the ferry with a vehicle or use the shuttle service and ride as a walk-on passenger. The ferry departs from Tsawwassen and sails to Swartz Bay from Vancouver.
The sailing is gorgeous but can get busy on summer weekends. We highly recommend making a reservation if you're travelling with a vehicle.
US visitors can also get to Victoria via the ferry from Washington State. Take the Coho Ferry from the Olympic Peninsula or the Clipper Ferry from downtown Seattle right into Victoria's Inner Harbour.
By Floatplane: If the ferry isn't your thing, you can travel by floatplane with Harbour Air Seaplanes to shave off a ton of travel time. The flight is only 40 minutes and travels directly from Vancouver to downtown Victoria.
By Plane: Domestic and International travellers can fly into Victoria International Airport (YYJ) which offers domestic flights to/from a variety of destinations within Canada and a couple of destinations within the US with Alaska Airlines.
How To Get Around Victoria, BC, Canada
Downtown Victoria is accessible by bike or on foot. Many of downtown's tourist attractions are located within walking distance to Government Street and the Inner Harbour.
There are biking trails throughout Victoria's neighbourhoods and even along the futuristic Johnson Street Bridge. Public transport is also available through BC Transit.
Shuttle buses are available for day trips to other parts of Vancouver Island.
If you are visiting Victoria as a part of a larger Vancouver Island trip, we recommend traveling with your own car, as public transport connections across the island are not great. You can rent a car on the mainland in Vancouver and bring it to Vancouver Island on the ferry or rent one in Victoria.
Electric Vehicles and EV Charging Stations in Victoria
Victoria have an abundance of EV charging stations all over the city. Some are city-owned, and located in public parks, and there are dozens more spread out all over the city. Several Victoria hotels have installed charging stations for guests, and you can find them in some shopping centre parking lots. If you plan on exploring more of Vancouver Island, charging stations are located along major routes and destination towns as well.
Rental agencies in Victoria do have electric vehicles, and they're super popular, so it's best to reserve one as soon as you can. If you're flying into Vancouver, you'll have a much bigger selection of electric vehicles there, plus rental fees are a lot cheaper.
Best Things To Do In Victoria, BC
We have visited Victoria a couple of times on our West Coast travels and have found it to be a fun city to explore. From historic sites to outdoor adventure, the list of fun things to do in Victoria, BC is endless. Here are some of our top suggestions!
Walk Along Victoria's Inner Harbour
One of the best free things to do in Victoria, BC, is to take a stroll along the Inner Harbour. It's in the city's heart, with many of the top tourist attractions in Victoria at your fingertips.
Spend an afternoon watching the seaplanes take off or cruise the colourful houseboats of Fisherman's Wharf. You'll see the statue of namesake Queen Victoria with gorgeous bright flowers.
Victoria's Inner Harbour is where many boat tours and horse-drawn carriages take off, so there's always something going on. We recommend grabbing a bite of fish and chips and wandering the harbour at sunset.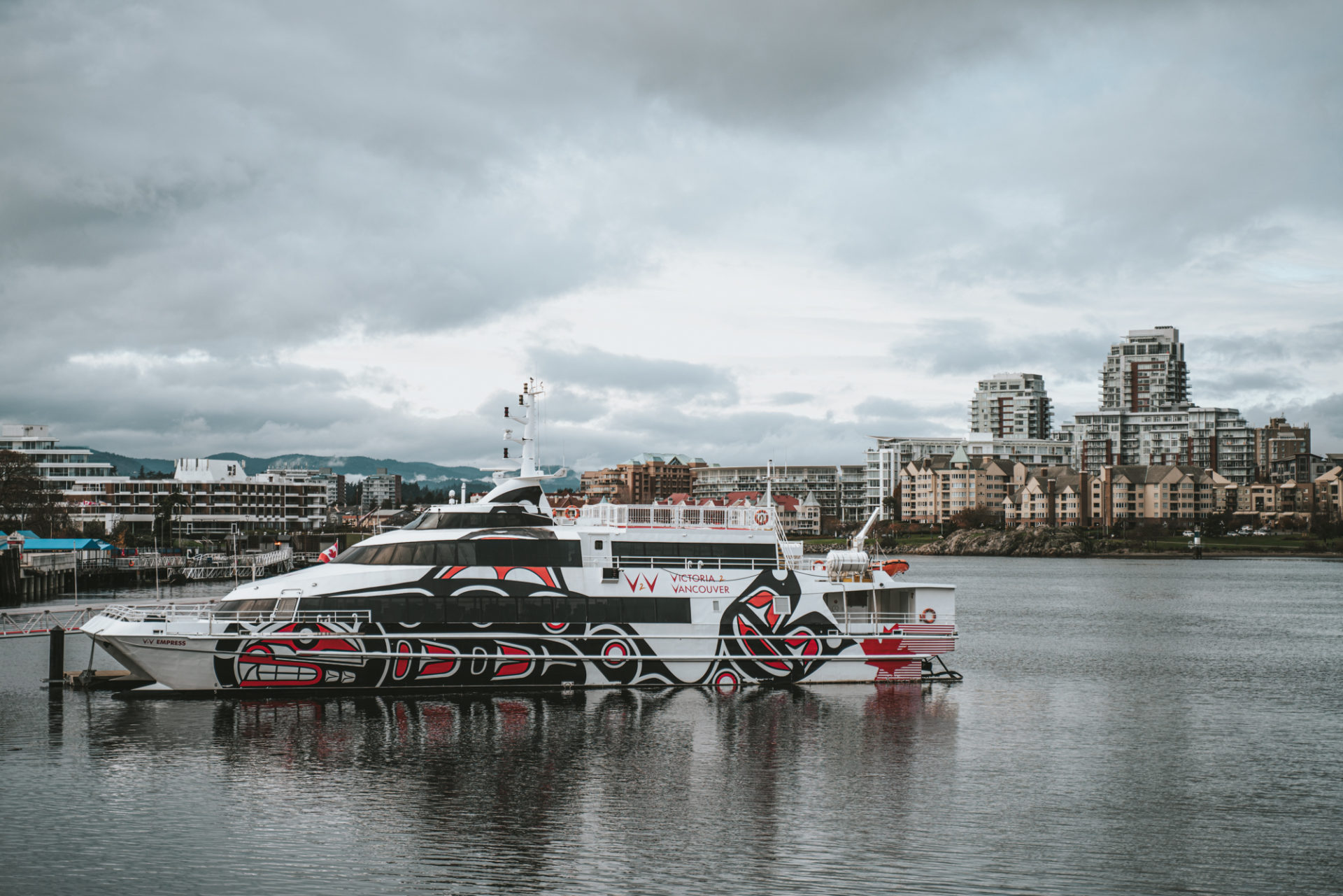 Visit Fisherman's Wharf
Fisherman's Wharf, located further down from the Inner Harbour, is abuzz with food vendors and float homes. It is home to over 30 berths with liveaboard boats, eclectic shops, and great seaside restaurants.
The colourful pier is a fun place to have lunch and scan the water for friendly seals frolicking in the waves. The pier is easily one of the coolest things to see in Victoria!
Enjoy Afternoon Tea At The Fairmont Empress Hotel
Traditional afternoon tea at the Fairmont Empress is a fun activity for those visiting Victoria, BC. The hotel was built in 1908 and is a National Historic Site of Canada. The Fairmont hosts celebrities and royalty on a yearly basis.
The afternoon tea at the Empress Hotel is a long-running tradition and a unique way to spend an afternoon. Want to go all out? Why not adorn a big hat and fancy dress and enjoy the festivities in the Empress' sophisticated Lobby Lounge.
The English Afternoon Tea Service incorporates sustainably sourced ingredients as much as possible. For example, all teas served at the Fairmont Empress are ethically sourced from top tea producers around the world and are carefully selected. The iconic tea tiers feature locally sourced produce, lavender from the hotel's rooftop garden, and honey from their own hives.
Tea lovers approved – their 21 different loose-leaf teas will not disappoint. Pair your tea with fresh-baked raisin scones, strawberry rose macarons, or sockeye salmon blinis (with pinkies up, of course!). The daily events fill up quickly, so be sure to reserve your spot in advance.
Explore Chinatown
Victoria's Chinatown is the oldest in Canada and only second behind San Francisco's in North America. It's filled with unique shops, restaurants, and colourful architecture, unlike anywhere else in the city. Enter through the iconic red gates at Government Street and Fisgard and walk along the lantern-lined streets.
You'll want to poke down Fan Tan Alley, the narrowest street in Canada. It's one of the quirkiest Victoria, BC, tourist attractions, dotted with tiny tea shops and eclectic boutiques.
Shop And Snack In Market Square
Market Square is a hidden courtyard off of lower Johnson Street packed with shops and sidewalk patios. You could easily spend a day exploring all of the many breweries, cafés, and vintage stores the Square offers.
You'll find everything from handmade jewellery to bicycle rentals and enjoy the sound of musicians and buskers in the background. Market Square is one of the best places to visit in Victoria, BC, for a lively afternoon.
Stroll Through Beacon Hill Park
One of the many green spaces in Victoria, Beacon Hill Park is a 200-acre marvel in the middle of the city. It offers a maze of walking trails that pass by ponds, fountains, and massive towering trees. Keep your eyes peeled for wildlife like peacocks and herons as you wind your way through the gardens.
You can even see Washington's Olympic Mountains soaring above the Juan de Fuca Strait on a clear day. And if you pack binoculars, you may even catch a glimpse of Seattle!
For a special occasion, book a horse-drawn carriage tour to explore the park in style. Be sure to end the day with a stroll through Cook Street Village and enjoy a beer on a sun-drenched patio.
Soak In History At The Royal British Columbia Museum
The Royal BC Museum is iconic to Victoria and the province. Its exhibits showcase British Columbia over its course of natural and cultural history throughout the millennia. Filled with interactive displays and historical replicas, the museum has over 7 million objects in its collection!
Most notable is the HMS Discovery replica, the ship Captain Vancouver took to reach Victoria and the shores of mainland Canada. There are also displays of First Nations artifacts, rainforest domes, and stunning painted totems. The Royal BC Museum is undoubtedly one of the must-visit places in Victoria.
Operating hours do vary by season, so it's best to check ahead before you visit The Royal BC Museum.
Visit the Art Gallery of Greater Victoria
Located in a beautiful park-like setting about 20 minutes from downtown Victoria, the Art Gallery of Greater Victoria is a collection of art exhibition spaces that feature historical and contemporary pieces. The gallery has over 20,000 works, making it the largest public collection in British Columbia.
The campus includes the original building, a historic 1889 mansion, and seven modern galleries that were gradually added. The Art Gallery is open through all seasons, Tuesday through Sunday, and admission is CAD $13. While you're in the area, check out Craigdarroch Castle, which is about a 5-minute walk from the gallery.
Visit Butchart Gardens
The world-famous Butchart Gardens consistently tops the list of the top things to do in Victoria, BC. Located just a short drive north of the city, the former quarry-turned-garden began in 1904 and has been operating ever since.
The Gardens feature many worthy exhibits, from the rose garden to the Japanese garden to the infamous sunken garden. With over 50 year-round gardeners, the Butchart Gardens ensures that every hedge and rosebush is pristine.
Plus, Butchart Gardens boasts several environmental initiatives, promoting composting, organic pest control, and drip irrigation.
Go On A Whale Watching Tour
Known for its resident Southern Orcas, Victoria is a popular destination for year-round whale watching. Orcas, or killer whales, are the most commonly sighted, but grey whales and humpback whales frequent the coast from March to November.
While it is possible to spot the whales from shore, we recommend joining a Victoria whale-watching tour for the best chance of spotting these beautiful creatures. While there are lots of whale-watching tour providers in town, we loved our whale-watching experience with Prince of Whales and would highly recommend their 3-Hour Whale Watching Tour in a Zodiac Boat. Their staff are extremely passionate marine biologists who put a lot of emphasis on environmental protection and the conservation of whales in BC. Orca Spirit Adventures is another reputable operator of whale-watching tours.
Get A Birds Eye View From Mount Douglas
From the summit of Mount Douglas Park, the panoramic views of the water and surrounding islands are incredible. It's a short 4 km (2.5 miles) hike to get to the top that can be completed in just 1-2 hours.
You can drive a good chunk of the way there and finish the climb on foot. The aerial views at the top are well worth it!
Partake in One of Victoria's Festivals
Victoria loves to celebrate all things cultural all throughout the year. Regardless of what time of year you visit the city, there's bound to be something going on. Here are some festivals and events by season.
Spring: Kicking off in early May, Victoria Beer Week is a week-long festival that showcases craft beer from over 50 regional breweries. There are different events every day at venues all over the city and in Market Square. Lots is going on during the Victoria Day holiday weekend, with the spectacular parade going through downtown and other events like the Victoria Highland Games & Celtic Festival.
Summer: There are so many events during the summer, including the Victoria International Jazz Fest and the Victoria Ska & Reggae Festival in June, and the Classic Boat Festival in early September.
Fall: Harvest season brings a lot of food and drink-related events, like the Brewery & The Beast Culinary Festival and the Art of the Cocktail event in October. The Salt Spring Island Apple Festival is a fun community event where you get to tour apple orchards, sample the many varieties, and try fresh, healthy dishes prepared with the harvest.
Winter: The Victoria Film Festival runs for 10 days in February, Dine Around and Stay in Town is Victoria's largest foodie event, and it kicks off in late January, running into February. A lot of Victoria hotels offer discounted deals on rooms during Dine Around and Stay in Town.
Join a Food & History Walking Tour
This popular guided tour is a great introduction to Victoria. You'll follow a guide to historic areas and highlights like the Victoria Public market, the Harmonious Gates of Interest, the British Columbia Parliament Buildings, and several other interesting spots. Along the way, you'll stop at several establishments to sample dishes, craft beer, cheese, and several other local products.
Day Trips From Victoria, BC
Sightseeing in Victoria is spectacular, but the surrounding parts of Vancouver Island pack a punch.
Goldstream Provincial Park
Just 20 minutes outside Victoria, Goldstream Provincial Park offers fantastic hiking trails, scenic views, and camping. The Trestle Bridge Hiking Trail is a favourite among locals, ending at a historic rail trestle nestled in the trees. Goldstream is excellent year-round but is especially lively in the fall when salmon spawn in the rivers.
East Sooke Regional Park
Slightly further west of town, East Sooke Park has all the charm you'd expect from the Pacific Northwest. Rugged coastline, old-growth forests, and sandy beaches surround hiking trails and rocky hilltops. There are plenty of places to go for a walk or even jump into the ocean for a swim. The park features 50 km of trails that weave through lush forests and along the rugged shore overlooking the Strait of Juan de Fuca.
Brentwood Bay And The Victoria Butterfly Gardens
If you plan on visiting Butchart Gardens, consider spending the day exploring the scenic shores of Brentwood Bay. Nearby Tod Inlet is a fantastic place to rent a kayak or stand-up paddleboard and explore the area on the water.
Pop into the Victoria Butterfly Gardens to observe hundreds of colourful butterflies, birds, and reptiles. And if that doesn't satisfy your insect itch, there's also the Victoria Bug Zoo downtown, not far from the Fairmont Empress Hotel.
Sooke Potholes Provincial Park
The small town of Sooke is famous for its eroded rocky pools on the shores of the Sooke River. Drive 45 minutes west of Victoria and prepare for a refreshing plunge into amazing rock pools at the foot of a waterfall. Yes, the water is cold, but it's the perfect way to cool off after a hot day lounging on the river banks!
Mount Washington Resort
If you're thinking of what to do in Victoria, BC, for a dose of adrenaline, head 3 hours north of Victoria to Mount Washington. In the winter, it's an alpine ski resort with tubing, snowshoeing, and of course, skiing. In the summer, the resort offers hiking and mountain biking trails with scenic gondola rides and a zipline adventure.
Malahat SkyWalk
The newly constructed Malahat SkyWalk offers breathtaking views over the ocean and the Gulf Islands. From 250 m (850 ft) above sea level, you'll be able to take in a panorama of mountains, inlets, and never-ending forests.
The SkyWalk not only showcases nature but was built with sustainability in mind. It was made with minimal environmental impact and aimed to promote accessibility in Victoria, BC tourism. The cherry on top? You get to ride down a slide from the top level!
Explore the Fort Rodd Hill and Fisgard Lighthouse National Historic Sites
Located about a 20-minute drive from downtown Victoria these historic sights feature a 19th-century artillery fortress and the oldest lighthouse on Canada's west coast, all surrounded by the rugged coastal landscape.
Digital guided tours and audio tours are offered, allowing visitors to explore the sights at their own pace. The park includes the Garry Oak Learning Meadow, and visitors can join a tour guided by a naturalist to learn tips on growing rare wildflowers to attract and support pollinators. There is also the Historic Nature Trail, a sentry path shaded by Garry oaks and several other coastal tree species.
From May to mid-October, the lighthouse and historic buildings are open 7 days a week, and from mid-October to the end of April, the lighthouse and historic buildings are only open on weekends. Regardless of the season, the grounds and washrooms are open daily, so visitors are free to explore.
Where To Stay In Victoria, British Columbia
James Bay Inn
Nestled by tree-lined streets surrounding Beacon Hill Park, James Bay Inn is a great budget-friendly hotel in Victoria, BC. The hotel is set in a historic Edwardian building less than a 10-minute walk from the ocean. Or, walk 10 minutes in the other direction, and you'll be right in Victoria's Inner Harbour.
James Bay offers rooms and cottages with simple furnishings and an on-site pub. They've eliminated single-use plastics and encouraged guests to explore the city by bicycle. Rooms at James Bay start at CAD $130 per night.
Strathcona Hotel
Located in the city's heart on Douglas Street, Strathcona Hotel offers eco-friendly accommodations in a heritage building. There are multiple bars and restaurants on-site, with many of the best Victoria attractions at arm's reach.
Strathcona invests a portion of its revenue into community projects and has all LED lighting and water-efficient toilets and showers. Rooms at the Strathcona Hotel start at CAD $160 per night.
Parkside Hotel
The Parkside Hotel & Spa is a modern, carbon-neutral hotel just steps away from the great attractions in Victoria, BC. Parkside is locally owned and committed to sustainability in every aspect of its business.
The property promotes responsible travel for locals and tourists and boasts several sustainability certifications. They have over 120 suites as well as a swimming pool, bar, and rooftop garden. Rooms at Parkside start at CAD $233 per night.
Inn At Laurel Point
The first carbon-neutral hotel in British Columbia, the Inn at Laurel Point, is a luxurious retreat right on the water. Rooms have sea views, and private balconies and hallways are decked out in local art.
The Inn is a social enterprise with well-defined investments in water conservation, renewable energy, and community empowerment. The property boasts beautiful green-certified restaurants as well as an indoor swimming pool and a fitness centre. Rooms at the Inn at Laurel Point start at CAD $254 per night.
Oak Bay Beach Hotel
This oceanfront boutique resort offers spacious accommodations in a classic manor-style house. All 100 spacious rooms have either a private balcony or deck, so you'll have your own breathtaking view of the Salish Sea or the lush neighbourhood of Oak Bay.
Oak Bay Beach Hotel is active in community-supporting events, including fundraising marathons and featuring works by local artists. The resort is also partnered with environmental efforts like Veritree. For every night that a guest declines stay-over service, Oak Bay Beach Hotel commits to planting 10 kelp in Hotham Sound. Rooms start at CAD $222 per night.
What Can You Do In Victoria, BC In One Day
To make the most out of a one-day trip to Victoria, BC, you'll want to focus on downtown and the Inner Harbour.
Walk the scenic streets surrounding the harbour and pop into shops and cafés along the way. Enjoy an afternoon tea at the Empress Hotel, explore the Royal BC Museum, and if you can swing it, squeeze in a whale-watching tour!
How Long Do You Need To Spend In Victoria, BC?
Since Victoria is a relatively small city, you can explore a good chunk of it in a few days. We recommend spending at least 2-3 days in Victoria with additional time spent in the surrounding area of Vancouver Island.
Have you visited Victoria, British Columbia? What was the highlight of your visit?