Located on the remote west coast of Vancouver Island, Tofino is a natural paradise with an unrivalled sense of community. Deemed Canada's surf capital, this secluded village has a laid-back vibe with endless opportunities for exploring the rugged coastal landscape.
*This post may contain affiliate links, as a result, we may receive a small commission (at no extra cost to you) on any bookings/purchases you make through the links in this post. As an Amazon Associate, we earn from qualifying purchases. Read our full disclosure
Tofino is awash with outdoor activities and a top-tier dining scene you'd expect from a much bigger city. Spend your days hiking, fishing, surfing, or just combing the many beaches while bears and whales reside in the distance.
We spent 5 days in Tofino and had an amazing time filled with nature and wildlife viewing. If you're thinking of planning a trip and looking for things to see in Tofino, look no further! We've rounded up the top things to do in Tofino for the avid responsible traveler.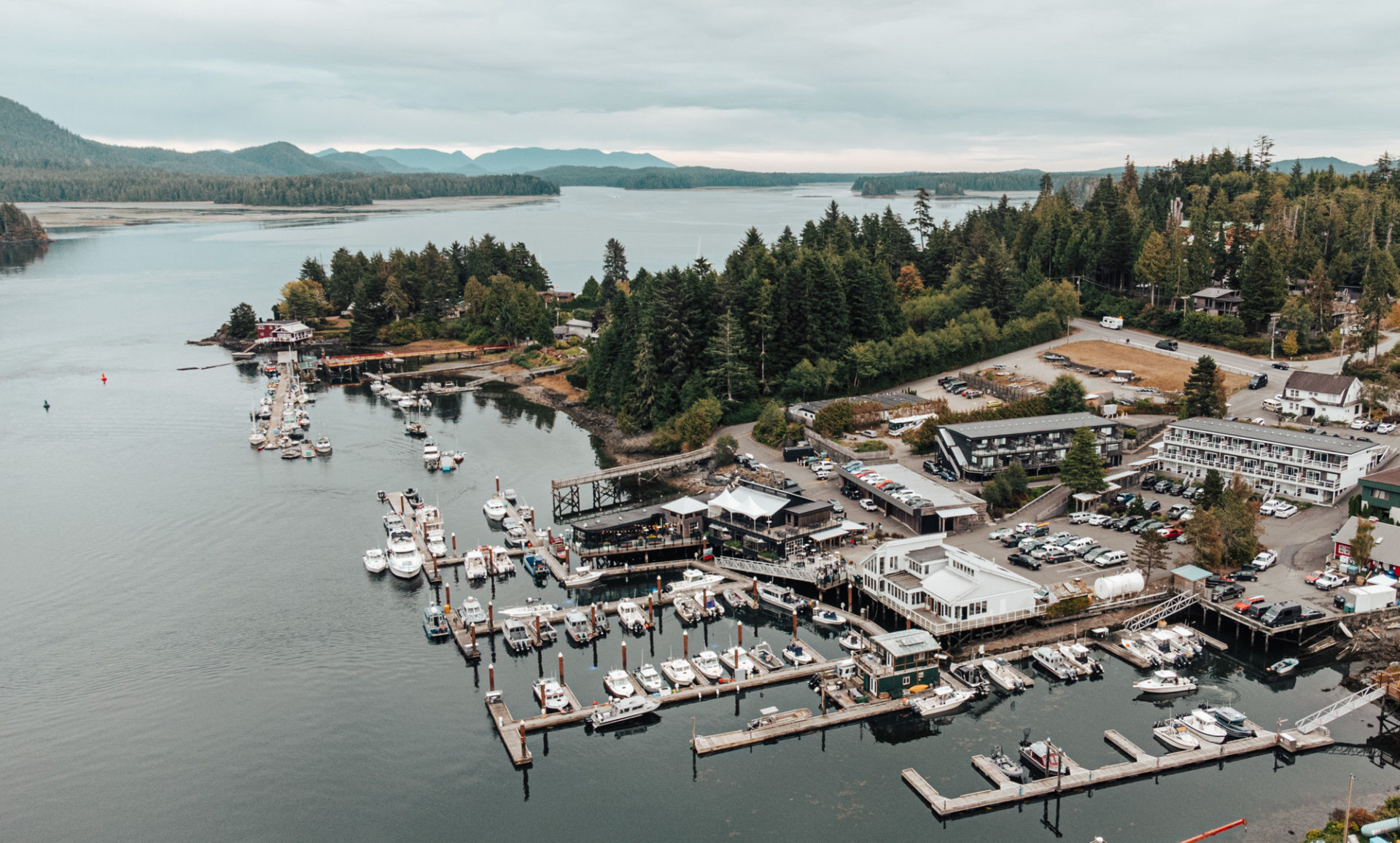 Traveling Soon?

Here is a list of our favourite travel providers and accessories to help get you ready for your upcoming trip!
About Tofino, British Columbia
Situated on the roaring shores of the Pacific Ocean, Tofino is a small town on Vancouver Island in British Columbia, Canada. It's situated in the unique Clayoquot Sound UNESCO Biosphere Region with delicate flora and fauna throughout. Thanks to high levels of year-round precipitation, the region has lush temperate rainforests and is sprawling with marine life.
The village of Tofino is home to less than 2,000 residents and is a hotspot for outdoor adventures. Surf culture radiates through the area and wildlife viewing here is second to none. The town also attracts a unique winter pastime: storm watching. Every winter, when the Pacific ocean pumps out huge waves and visitors from all over Canada cozy up in hotels around town, admiring the fierceness of mother nature.
Whether you are thinking of visiting Tofino in the summer to enjoy surfing, wildlife watching and hiking or prefer to visit in the winter to admire nature at its best, there is a reason to visit Tofino no matter the season.
How to Get to Tofino, Vancouver Island
Tofino is connected to the rest of Vancouver Island via the fully paved Highway 4. You can drive there from Nanaimo in about 3 hours. From Victoria, the drive is a little longer at 5 hours. If you're coming from Vancouver to Tofino, you'll also need to tack on the 2-hour ferry ride from Tsawwassen or Horseshoe Bay.
A great option for traveling to Tofino without a car is to take the Tofino Bus. It services Victoria and Nanaimo and will set you back CAD $70-105 each way. You can sit back and enjoy the ride before getting dropped off right in downtown Tofino. If you're traveling from June-September, you can enjoy the free shuttle that connects downtown to the many Tofino beaches.
The last option for getting to Tofino is to fly. If you're wondering how to get to Tofino from Vancouver in record time, book a flight with Pacific Coastal Airlines. The scenic flight is 45 minutes and costs about CAD $250-300 each way depending on the season. Harbour Air also offers seasonal flights from Vancouver right into Tofino Harbour.
Best Time to Visit Tofino
The best time to go to Tofino for pleasant weather and ideal beach conditions is during the summer from June-September. Summers in Tofino are mild but not hot with average temperatures around 19°C (66°F). This is peak tourist season so expect busy restaurants and be sure to book your accommodation well in advance.
That said, the beautiful coastal town is still amazing year-round. Visiting in the shoulder season is a great way to avoid crowds on beaches and hiking trails while still enjoying the outdoors.
Early spring is an amazing time for Tofino whale watching with temperatures hovering around 10°C (50°F). Winter in Tofino is only slightly cooler but brings amazing opportunities to winter storm watch. Whatever time of year you visit, be sure to pack rain gear!
Best Things to do in Tofino on Canada's West Coast
From seaside dining to beautiful beaches, you'll be spoiled with ideas for what to do in Tofino.
Explore the Hiking Trails of Pacific Rim National Park
The neighbouring National Park is about 20 minutes outside of downtown Tofino and is one of the top places to visit in Tofino. It is home to Long Beach, which in our opinion is the best beach in Tofino. Plus the park also offers 12 km of hiking trails – plenty to keep you busy for a few days.
Most trails in the park are short and flat, making them easy to tackle for visitors with any fitness level. Here are some of our favourite trails in order of preference.
Rainforest Trail (A & B) – 1 km each
There are two loops on the Rainforest Trail, each 1 km with a winding boardwalk through the rainforest. These interpretive trails tell an interesting story and are all about immersing yourself in the rainforest environment, rather than getting a workout. En route, you'll see giant cedar trees and western hemlock.
South Beach Trail – 1.6 km
This trail follows a well-kept boardwalk and eventually descends through the dense forest to a finely pebbled beach on the Pacific shoreline. Once at the beach, you can feel the mist of the ocean waves as you walk along rock formations and crashing waves.
The South Beach Trail links up with the Nuu-chah-nulth Trail, which runs through a dense part of the forest to Florence Bay. The total combines trail is a 6.1 kilometre lightly trafficked trail that features beautiful wildflowers. It is suitable for all levels. We spotted a black bear with cubs on this trail during our visit and were later told that this particular bear is frequently seen on this trail. So if you are going to hike along this trail, be sure to hike with a group, make noise as you walk and always carry bear spray, just in case.
Willowbrae Trail – 2.8 km
Follow the short gravel trail down the wooden staircase that opens up to a lovely secluded beach. Watch the ocean waves roll in as birds circle above the trees.
Shorepine Bog Trail – 800 m
The Bog Trail is the only wheelchair-accessible trail in the park with a boardwalk loop circling a unique bog ecosystem. It's unlike anywhere else in the park! The trail is covered in thick sphagnum moss and twisty shore pine trees.
Guided Hikes
With a lot of unique flora and fauna in the Tofino area, joining a guided hike is a fantastic way to take it all in. Liam at Long Beach Nature Tours offers guided hikes in the area. Hikes range from day hikes in Pacific Rim National Park to heli-hiking in the nearby Clayoquot
Go on a Black Bear Watching Tour
The forests and surrounding islands of Tofino are home to thousands of black bears. They love to explore nearby Clayoquot Sound with its rocky shoreline and abundant water environments. You may be lucky enough to see a black bear on the road or on a hiking trail, but we highly recommend bear-watching tours.
On our tour with Tofino Resort + Marina, we saw bears majestically going about their day in the Tofino Inlet. Our guide was knowledgeable and knew the best spots to see bears in their natural habitat. Tours are 3 hours and start at CAD $129 per person.
Go on a Whale Watching Tour
Tofino is bursting with marine life and is an amazing place to see humpback whales and grey whales. Tofino whale watching season spans year-round but is best from May-October. In May, an estimated 20,000 gray whales feed in the area around Tofino during their migration to Alaska.
Whale watching is one of the best things to do in Tofino and was an unforgettable part of our trip. There are several operators running Tofino whale watching tours but we recommend a responsible marine excursion operator, Remote Passages. They offer half-day tours promoting a responsible approach to wildlife viewing. Rates start at CAD $129 per person.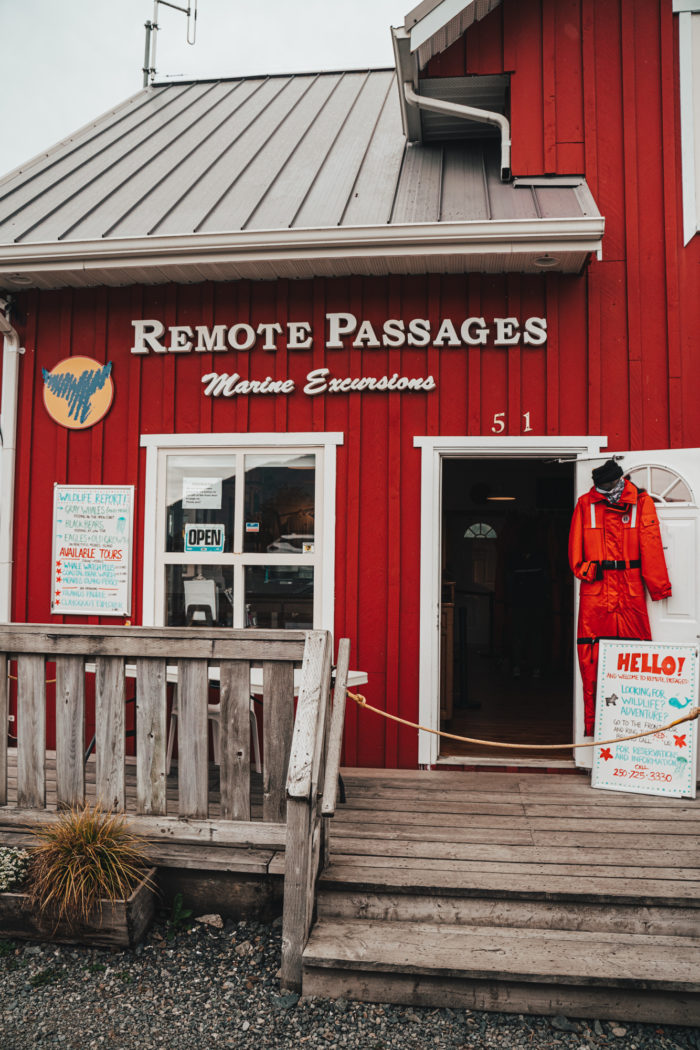 If you're looking for a mix of the best things to do in Tofino, BC, check out Tofino Resort + Marina's Ultimate Adventure. You'll embark on a half-day of crabbing and bear or whale watching on a private boat with a guide. Then the day with a crab feast at 1909 Kitchen Restaurant after soaking in the sights of Clayoquot Sound.
Go Kayaking
Surrounded by the peaceful waters of Clayoquot Sound, sea kayaking in Tofino is a great way to explore the water. Paddlers can enjoy a calm paddle around the outer coast islands or spend a half-day exploring Meares Island. Look out for wildlife like sea otters, sea lions, and eagles as you head into the water.
Tofino tourism operators offer many tours and day trips around the harbour and inlets. Remote Passages has Tofino kayaking tours for all skill levels starting at CAD $73 per person.
Go Fishing
Clayoquot Sound boasts incredible year-round fishing with some of the best salmon fishing opportunities in Vancouver Island. Spring sees spot prawns and crab while late summer is prime for coho salmon and albacore tuna.
Tofino Resort + Marina offers responsible saltwater fishing charters for halibut, tuna, salmon, and lingcod. Ice your catch to take home or have it cooked up at 1909 Kitchen.
Go Surfing
Being Canada's surf capital, Tofino is the spot to catch some waves. Whether you are an avid surfer or a complete beginner, it's a must to try Tofino surfing. With 35 km of surfing beaches, Tofino has year-round breaks for all experience levels. Beginners can join surfing lessons from Pacific Surf Co or rent gear from the many surf shops in town.
Some of the best beaches for Tofino surfers are Cox Bay Beach, Chesterman Beach, and Long Beach. Each has consistent breaks and great swells for any surfer.
Beach Hopping
The best beaches in Tofino are…pretty much all of them! The pounding waves of the Pacific Coast create sandy beaches each with their own charm. Plus, beach fires are permitted at Mackenzie and Chesterman Beach, which is a great way to spend an evening.
Here are some of the best beaches in Tofino:
Long Beach –

This is our favourite beach with 16 km of sandy shoreline in Pacific Rim. Visit Long Beach for

walking

, wildlife viewing, and storm watching in the winter.
Cox Bay Beach –

This is a prime

surfing beach

where you can watch seasoned surfers in the water all day. Because of the swells, it's also great for Tofino storm watching.

Chesterman Beach –

The most popular

beach for locals

, Chesterman is awesome for

surfing

and

beach walks

. At low tide, you can walk out to Frank Island for stunning panoramic views.

Mackenzie Beach –

This beach is calm and sheltered, making it perfect for families and swimming. It's also ideal for paddleboarding and building sandcastles.

Wickaninnish Beach –

Located at the end of Long Beach, Wickaninnish has an observation deck with sweeping views of the west coast. Go for a beach walk and look out for unique driftwood along the way.
Try Stand Up Paddle Boarding
Just like surfing, SUPs always dot the waters around Tofino. Whether you're newbie or have gone stand-up paddleboarding many times, the calm waters around Tofino offer an excellent place to paddle. Mackenzie Beach is the best place to SUP thanks to the sheltered cove that's protected from the wind. We've also seen people SUP'ing right in the harbour!
Visit the Hot Springs
Take a boat or floatplane to Hot Springs Cove north of Tofino to soak in natural geothermal rock pools. After a scenic hike, spend some time admiring the forests and coastal wildlife while relaxing in a natural spa. Unfortunately, Hot Springs Cove was closed during our visit, due to the ongoing pandemic, but we all signs point to its reopening in 2022.
Do Winter Storm Watching
Tofino in winter has its own set of thrilling activities. The exposed coast and mild winter create roaring storms with pounding waves and raging winds. Watching the storms from Chesterman Beach or Cox Bay is surely one of the most unique things to do in Tofino.
Visit Ucluelet and Walk the Wild Pacific Trail
On the other side of the Pacific Rim Highway is the laid-back town of Ucluelet. Called "Ukee" by locals, the village shares the same rugged coastline and plenty of eco-tourism opportunities. Easily one of the best things to do in Ucluelet is kayaking.
Kayaking to the Broken Group Islands is a world-renowned adventure with unbeatable views all around. And the company that's renowned for it is Majestic Ocean Kayaking. They offer day tours to the Broken Group Islands, as well as multi-day, camping and kayaking trips that draw travelers from all around the world.
Back on land in Ukee, you can walk the 9 km Wild Pacific Trail through the rainforest and rocky coast. In town, grab a beer at the Ucluelet Brewing Company or pop into the Foggy Bean Coffee Company for a fresh batch of roasted beans or a cup of coffee or tea.
Ukee also offers its own share of fishing charters, whale watching tours, and surfing spots.
Best Restaurants in Tofino on Vancouver Island
For a small village, Tofino has an impressive roster of top-tier dining options. Many of the best Tofino restaurants work with the Tofino Ucluelet Culinary Guild to bring in the freshest produce directly from local farmers. Here are a few that we recommend.
1909 Kitchen
Set at the picturesque Tofino Resort + Marina, 1909 Kitchen presents a stacked fish-forward menu that celebrates the waters it overlooks. Enjoy panoramic views of the Tofino Inlet over a plate of prawn ceviche and seaweed crisps. Their plates are best enjoyed when shared, so bring a good appetite, great company and enjoy sampling their local specialties.
Plus, for CAD $49, the kitchen will cook your own catch from a fishing or crabbing charter.
Tacofino
It would pretty much be a crime to visit Tofino without grabbing a taco at the beloved food truck, Tacofino. They've now expanded to several locations across Vancouver but the original food truck is the best place to devour a fish taco and watermelon basil freshie.
Bravocados
Serving up a mouth-watering menu of plant-based items, Bravocados uses fresh local ingredients to raise the bar on vegan food. Sit on their cute sidewalk patio with a couple of Monster Bao Buns and a fresh-pressed juice.
Wolf in the Fog
A Tofino classic, Wolf in the Fog honours its wild surroundings with a menu of local fish and foraged fare. Pair your seacuterie platter with a glass of BC wine or a playfully named house cocktail for some of the best food in Tofino.
Shelter
Shelter has long been a fixture in Tofino's bustling restaurant scene. It focuses on fresh local ingredients and sustainably sourced meat and seafood. Their produce comes from an on-site garden paired with local craft beers and BC wines.
Kuma
For a bite of Japanese comfort food, head to Kuma where homemade noodles and fresh fish dot the menu. Grab a Negitoro Donburi bowl before indulging in a slice of yuzu matcha cheesecake.
Where to Stay in Tofino, Canada
Tofino accommodations boast a stellar roster of hotels, resorts, vacation rentals, and camping options. These spots are perfect for romantic getaways, family trips, or just a weekend away in paradise.
Best Hotels in Tofino
The Wickaninnish Inn consistently graces the covers of magazines and travel brochures for its jaw-dropping ocean views. It overlooks Chesterman Beach and is decked out in local art showcasing the area's culture and heritage. The beachfront hotel features a spa, restaurant, and luxurious cedar-clad rooms. Rooms start at CAD $360 per night.
Nestled in the picturesque Tofino Botanical Gardens, the Ecolodge is an environmentally conscious accommodation retreat. It's a more laid-back option than luxe Tofino hotels but has an on-site cafe, communal kitchen, and stunning surrounding gardens. There are 12 cozy rooms starting at CAD $139 per night.
Resorts
In the heart of downtown Tofino, the Tofino Resort + Marina is the perfect home base for all Tofino attractions. The resort is home to 1909 Kitchen, along with balcony-wrapped oceanfront rooms steps from the best boutiques and surf shops. Rooms start at CAD $209 per night.
A great option for families, the Pacific Sands Beach Resort sits right on the beach at Cox Bay. You can see whales and sea lions right from your room while soaking in an outdoor hot tub. They offer yoga, surf rentals, and a surfside grill with rooms starting at CAD $250 per night.
Adjacent to Pacific Sands on Cox Bay Beach, Long Beach Lodge has oceanfront rooms with a cozy fireplace-laden Great Room. The resort has 41 lodge rooms and 20 cottages perfect for an adventure trip or romantic getaway. Dine at the Great Room Restaurant after a surfing lesson with rooms starting at CAD $292 per night.
Private Campgrounds
Bella Pacifica
This campground on sandy Mackenzie Beach is open from March-October and is great for families. They are steps to the water and offer tent & RV sites with hook-ups, picnic tables, firepits, and shared bathrooms. During summer, sites are CAD $90 per night.
Surf Grove
Located in beautiful Cox Bay, Surf Grove has beachside camping with 200 serviced tent and RV sites. There are outdoor showers, sparkling clean bathrooms, and a general store on-site. Sites start at CAD $69 per night.
Crystal Cove
Wake up by the ocean at Crystal Cove which offers serviced RV camping with hot showers and an on-site coffee bar. There's a playground for kids and oceanfront access to Mackenzie Beach. Sites start at CAD $75 during high season.
Mackenzie Beach Resort
Stay in a vintage Airstream converted by the van conversion company Shelter Overland! Mackenzie Beach also offers beachfront and forest camping for tents and RVs. There's a BBQ restaurant, sauna, and surf lessons with sites starting at CAD $60 per night during summer.
Park Campgrounds
Pacific Rim National Park – Green Point
Stay in Pacific Rim National Park from May-October above beautiful Long Beach. The campground has 94 sites with amenities including bathrooms, showers, and electrical hookups. Reservations are highly recommended and can be made here for CAD $33/night.
Responsible Tips for Visiting Tofino, BC
Responsible travel matters here more than anywhere else. The delicate ecosystem in Tofino relies on the beaches, forests, and waterways to maintain the thriving natural habitat. Here are a few responsible tips to keep in mind during your time in Tofino.
Beware of bears –

Stay on designated trails and make noise while you're hiking.

Respect wildlife –

Be alert and let wild animals stay wild. So many great things to do in Tofino are wildlife-driven and it's our duty as travelers to keep it that way.

View wildlife responsibly –

Opt to support responsible tour operators, where possible.

Dine at sustainable restaurants –

Tofino has a huge emphasis on local, sustainably sourced meat and seafood, so it's easy to make the right choice by supporting local farm-to-table fare.

Choose Eco hotels –

Opt for hotels that want to preserve the wilderness around it, not harm it.
Have you ever been to Tofino, British Columbia? What is your #1 must-do in Tofino?