Stanthorpe is a lovely rural town in Queensland's Southern Downs area. After a rich mining history, the town has emerged as the heart of what is now referred to as the Granite Belt Region. Now known for its gourmet food experiences, unique wine varieties produced by family-owned vineyards and plenty of beautiful landscapes nearby, it's the perfect place to explore southwest of Brisbane.
*This post may contain affiliate links, as a result, we may receive a small commission (at no extra cost to you) on any bookings/purchases you make through the links in this post. As an Amazon Associate, we earn from qualifying purchases. Read our full disclosure
Stanthorpe sits at almost 1000 metres above sea level, making it one of the coldest towns in Queensland. This unique climate has made the region an agricultural centre, perfect for producing some of the best food and wine in the state. Here you'll find plenty of independent cellar doors and award-winning restaurants for an indulging weekend away from Brisbane and the Gold Coast.
It's worth spending a few days around Stanthorpe to really enjoy all that the Granite Belt has to offer. From tasting some unique wine varieties to heading off on a hike in Girraween National Park, there is much to do in the area. This guide to the best things to do in Stanthorpe should help inspire your next trip to regional south Queensland.
Traveling Soon?

Here is a list of our favourite travel providers and accessories to help get you ready for your upcoming trip!
How to Get to Stanthorpe
Stanthorpe is located just 220km or almost a 3-hour drive southwest of Brisbane in Queensland. It's easily reached by car on the Cunningham Highway that runs from the city through the Granite Belt region.
If you're travelling from the Gold Coast, the town is 240km or a 3.5-hour drive away. This is a very scenic drive, especially if you avoid the major highways, as it crosses through some stunning national parks on the way. So take your time!
How to Get Around Stanthorpe
Being a rural town in Queensland, Stanthorpe and the nearby towns don't offer much in terms of public transportation. So it's best to have a car to drive around the area. Whether you take your own or get a hire vehicle from Brisbane, the freedom to road trip between the wineries and attractions like Girraween National Park is the most ideal way to explore.
If you're up for something a bit different, there are also plenty of cycling trails around Stanthorpe. You can opt for a Granite Belt Bicycle Tour between the wineries and streets of the pretty town. They offer both a guided tour or self guided options, if you want to explore at a slower pace.
Best Time to Visit Stanthorpe
Stanthorpe is actually one of the coolest places in Queensland. While you can visit at any time of the year, you should expect much colder temperatures than what you get on the Gold Coast and around Brisbane.
In winter, temperatures are below 20 degrees (and even down to zero) but you will get to enjoy the region with fewer crowds and crisp, clean air. Otherwise, spring and summer are considered some of the best times to visit Stanthorpe, as this is when the region is in full bloom and the farms are full of colour.
Things to do in Stanthorpe
While Stanthorpe seems like a small town, it's worth spending at least a couple of days exploring the surrounding region. No matter what kind of activities and attractions you're keen to see, there's something for everyone.
Here are our favourite things to see in Stanthorpe.
Visit the Wineries
The Granite Belt has emerged as one of the most exciting wine regions in Australia. It's known particularly for cool-climate wines, not usually found elsewhere in the country. While you will still find popular choices like Chardonnay and Shiraz, the real standouts here are what are referred to as Strange Birds or otherwise known as, emerging, alternative varieties.
These varieties make up less than 1% of the wine produced in Australia, making it a very unique experience to taste something that you can't get anywhere else. Some of the white Strange Birds include Roussane and Alvarinho, while red Strange Birds include Malbec and Sagrantino.
On top of that, most of the wineries and vineyards in Stanthorpe are still owned and managed by individuals and families, who are passionate about innovative winemaking. This makes the experience a more intimate and memorable wine tasting adventure, compared to some of the more commercial wine regions in Australia.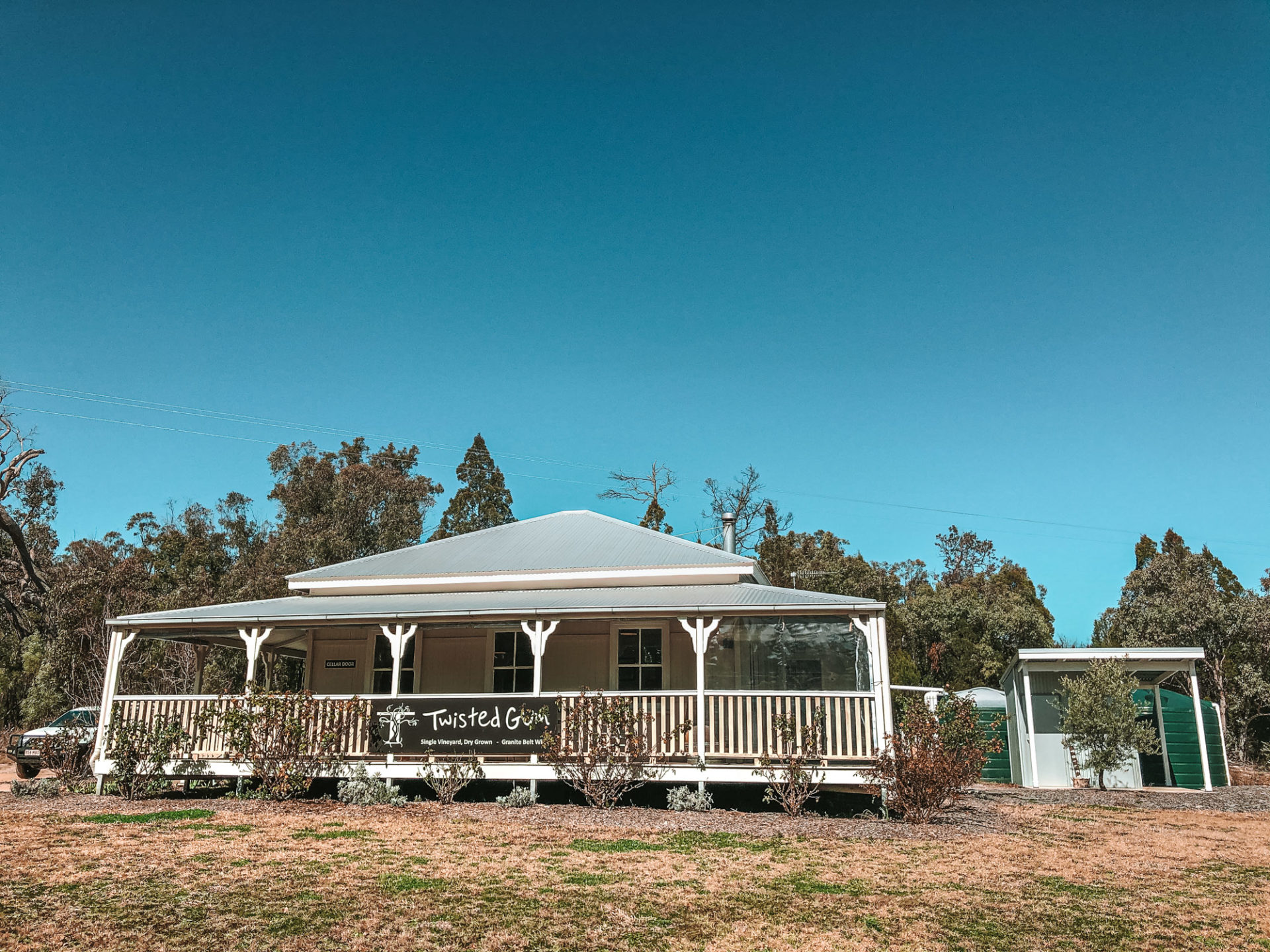 You'll find some interesting Strange Bird varieties at the following wineries and cellar doors that are worth checking out:
Heritage Estate Wines
Summit Estate Wines
Twisted Gum
Tobin Wines
Ridgemill Estate
Balancing Heart Vineyard
Golden Grove Estate
Enjoy Gourmet Food and Drink Experiences
Stanthorpe is at the heart of a gourmet food paradise, with so many wonderful artisan produce and locally grown goodies to try on your visit. While the wine definitely is the main highlight, you can also visit some of these places for a unique foodie experience.
Stanthorpe Cheese
A tour of Stanthorpe Cheese is one of the most popular things to do in Stanthorpe. As Queensland's coldest and highest cheese farm, it boasts some of the best-tasting dairy products in the country.
All of their cheeses are made from a single herd of Jersey cows. You can taste some of the samples on offer in their farmgate shop or enjoy a cup of tea at their Jersey Girls cafe, which is open from morning until afternoon serving food and, of course, more cheese.
Jamworks Gourmet Foods
Just south of town, this cafe and gourmet food store is a must-stop on any road trip in the area. Known for their wide range of relishes, sauces, pickles and jams, you can stop in to pick some up for you and your friends.
Otherwise, their cafe is the perfect lunch stop with plenty of local produce from the surrounding farms on the menu.
Truffle Discovery Centre
Stanthorpe is also home to a rare truffle, known as French Black Perigord Truffle. It's no surprise then that the best place to try some is at the Truffle Discovery Centre, where you can take a guided tour. You can also enjoy some of their food offerings including the mouth-watering truffle triple cream brie and other local produce.
Sutton's Juice Factory
The Granite Belt is also known as Queensland's main apple growing region. Just before you come into Stanthorpe stop at the Sutton's Juice Factory, which is opposite the Big Apple. It's one of Australia's "big" tourist attractions.
This local juice factory specializes in all things apple, including apple cider and apple juice. However, they're most famous for their apple pie served with ice cream, which people come from all over Queensland to try.
Ashbern Farms
This seasonal farm and private property opens its doors to visitors during picking season from October until May. The highlight of a visit here is that you get to pick your own strawberries from the patch which is an absolute hit amongst the kids. Otherwise, you can also buy some fresh in their farmgate store.
Sweet tooths will also find homemade ice cream and other treats that you can pick up in their farmgate store.
Shop for Local Arts and Crafts
Aside from food and wine, Stanthorpe and the surrounding area is home to some creative makers of arts and crafts. If you're looking for the perfect gift for someone or opting for some self love, there's plenty of unique shops to explore.
Washpool Wellness
This beautiful shop in Ballandean, south of Stanthorpe is a hidden gem for those looking for skincare and wellness products. Their candles, soaps and shampoos are to die for and you'll struggle to decide what to buy.
They focus on naturally produced products instead of the mass-produced palm oil based skin care ranges you'll find elsewhere. The sweet smell of the store will hit you before you even make it through the door!
Gardens Galore
On your way to Stanthorpe, you can stop in at Gardens Galore in Warwick. While it's a popular cafe, they also have a beautiful gift store and garden centre. It's the perfect place to pick up some unique gifts from local brands and makers. And if you're into plants, you'll especially enjoy the nursery which is a very picturesque place to pick up some new plants for your home.
Market in the Mountains
If you're a market person, you'll have to time your visit for the regional market that is held on the 2nd Sunday of the month in Stanthorpe. It's the perfect place to find all the local makers and producers in one place. There's plenty of stalls selling art and crafts, garden features, local gourmet produce, fresh fruit and veg, plus much more.
Check out Local Street Art
A lesser-known attraction in Stanthorpe is some funky street art. Many of the artwork received funding from the bushfire recovery, so many of the murals reflect the effect of the fires on the community.
Some of the most impressive pieces include a large firefighter mural by Drapl next to the Woolworths plaza and a beautiful Trevor Horsnell mural on Folkstone Street, amongst many more than you can discover on an easy walk.
You'll also likely pass the local favourite, the little brass monkey statue in the middle of the main street. The town often refers to winter as Brass Monkey Season, after the old saying, "cold enough to freeze the balls off a brass monkey"!
Visit the Christmas Farm
The Granite Belt Christmas Tree Farm is open all year round with around 10,000 Christmas trees being grown in time for December. Obviously, harvest time is a great time to pick up your tree. People come from as far as Brisbane to get their Christmas Trees each year, but it's a popular family attraction throughout the year.
They have plenty of farm animals, from goats to donkeys, which the kids are welcome to pet and feed. It's a great farm experience just outside of Stanthorpe town.
Take the Kids to Granite Belt Maze
Another great family adventure activity just north of Stanthorpe is to head out to the maze with the kids. They have three mazes plus a mini golf course, so you can entertain the whole family for hours.
Their gardens are also particularly nice to chill out in and have a picnic with some of the fresh food you've purchased on your trip.
Go Hiking and Get Outdoors
Stanthorpe is surrounded by stunning scenery. The Southern Downs region of Queensland is home to the impressive Girraween National Park on the border with New South Wales, or you can find some lesser-known parks to stretch your legs.
Girraween National Park
Just south of Stanthorpe and close to the border with New South Wales, Girraween National Park is one of the most popular outdoor park areas in southern Queensland. It's known for its huge granite boulders, which explain how the Granite Belt earned its name.
Our favourite adventure in Girraween was hiking. With over 30km worth of trails to explore ranging in difficulty and length, the park is definitely a popular stop in Stanthorpe area. You can climb The Pyramid which offers great views over the whole park area or get a photo at the famous Balancing Rock or Granite Arch, both accessible by a walk that even the kids can do.
If you want to extend your stay in the national park, you can also camp there for the night. There are two designated camping areas at Castle Rock and Bald Rock Creek, for an evening spent under the stars.
Donnellys Castle
Another great spot to the north of town, Donnellys Castle is a granite rock formation that is known as one of the iconic bushranger lookouts back in more lawless days. It's certainly not as well known as Girraween National Park, but we think it's almost just as impressive. There are boulders to scramble, trails to explore and spectacular views from the top.
It's especially great for kids, with some more accessible parts than Girraween's larger boulders. It's one of the best places to head for a walk near Stanthorpe.
Storm King Dam
Just outside of Stanthorpe, Storm King Dam is a local's favourite spot to head for a picnic. This picturesque rural dam is great for fishing and a range of water sports, with a designated swimming area for those warm summer days. It's one of the local's favourite spots to take the whole family for a day by the water.
You can pop down for a picnic with all your locally produced food that you've purchased on your road trip or just head for a walk to stretch your legs.
Best Restaurants in Stanthorpe Area
With an abundance of local produce and world-class wines, it's no surprise that you can find some top restaurants in Stanthorpe. If you're looking for a special place to enjoy a nice dinner or drink, here are our favourite places.
Varias Restaurant
This award-winning restaurant is located on the campus of the Queensland College of Wine Tourism in Stanthorpe. They have a variety of delicious dining experiences on offer, including a morning tea, lunch and dinner menu. They have both a cozy dining room with a fire for the winter visitors or an outdoor deck for those warmer days.
St Jude's Cellar Door and Bistro
This relatively new cellar door and bistro, located in Ballandean, is a top place to enjoy any meal. Their opening hours span from breakfast to lunch and dinner, with individual menus suited for each mealtime. The rustic building offers both indoor and outdoor seating to enjoy a drink and a meal in the middle of Ballandean town.
Granite Belt Brewery
While wine might be the highlight of the Granite Belt, this brewery begs to differ. Since 2012, they have been producing tasty craft beers and cider to high acclaim. They aim to create all-natural beer on-site with tastings on offer every day of the week.
On the weekends, they also open their restaurant for lunch and dinner. Located in a large homestead, it's a very rustic place to enjoy a meal along with one of their award-winning drinks.
Whiskey Gully
Just south of town, you'll find the Beverley Vineyard Restaurant at Whiskey Gully Winery. The highlight here is their six-course degustation dinner every Saturday night, along with live entertainment from the hosts themselves. With the menu changing every week, it's always a great dining experience.
Where to Stay in Stanthorpe
Being one of the best places in southern Queensland to head for a weekend not far from Brisbane, there's plenty of accommodation in Stanthorpe.
As one of the dreamiest Granite Belt accommodation options, Granite Belt Retreat is a unique accommodation options at a brewery in Stanthorpe. They offer really unique cozy cabins set amongst 30 acres of bushland. Kicking back in these dreamy cabins is the perfect way to relax at the end of a day exploring the area. It's also a bonus to have the brewery on your doorstep for a beer and a meal.
Set right in Stanthorpe, this property offers a range of apartments from two bedrooms up to four-bedroom options for larger groups and families. It's perfect for those looking to self-cater their trip with all the local produce, plus they're also pet-friendly if you like to travel with your pooch.
Staying at the Ridgemill Estate winery is definitely an ideal base from which to explore the area for wine lovers. The beautiful winery offers modern accommodation with incredible views across the hills and vines. You can choose from either the romantic one-bedroom chalet or three-bedroom apartment for larger groups. They also offer a complimentary breakfast for guest
Have you ever visited Stanthorpe and the Granite Belt Region? What other tips or advice would you offer to first-time visitors to the region?