You may be surprised to know that you don't have to go far from Canada to get a taste of France! And no, we are not talking about French Canada and the province of Quebec – we are talking about Saint Pierre and Miquelon (Saint Pierre et Miquelon in French), two French islands located in the north Atlantic Ocean, just south of Newfoundland.
*This post may contain affiliate links, as a result, we may receive a small commission (at no extra cost to you) on any bookings/purchases you make through the links in this post. As an Amazon Associate, we earn from qualifying purchases. Read our full disclosure
A Bit of History
The French settled the area in the 17th century, and while the islands have exchanged hands between the British and French over the years, today, they are officially classified as an overseas collectivity of France. Saint Pierre and Miquelon are part of the European Union but not officially part of France.
Arriving in Saint Pierre and Miquelon
Stepping off the ferry in Saint Pierre, we immediately felt like we were transported to France. The streets were adorned with French flags and dotted with European cars. Shops were filled with jars of foe gras, Bordeaux wine and baguettes, and the French language was permeating the air.
The islands are known for their beautiful scenery: rugged cliffs, colourful houses, sandy beaches, and picturesque fishing villages. In the summer, the capital – Saint Pierre, boasts a lively vibe with a rich French culture. It's a fascinating destination to visit for those exploring Atlantic Canada like we were but is also a popular destination with French looking for a unique vacation.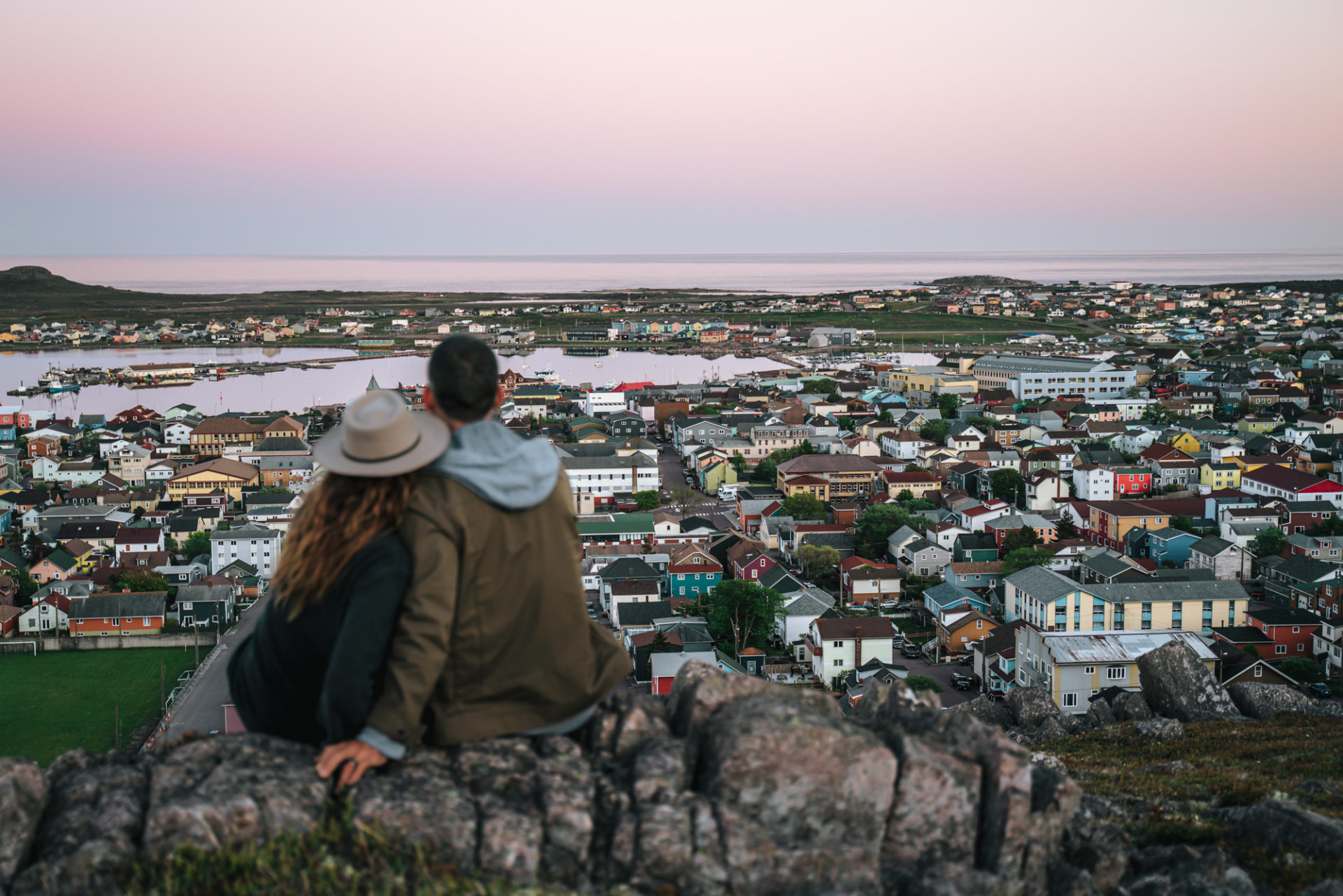 Traveling Soon?

Here is a list of our favourite travel providers and accessories to help get you ready for your upcoming trip!
How to Get to Saint Pierre et Miquelon
Air Saint-Pierre is the only airline that flies non-stop to St. Pierre and Miquelon. The flight from Halifax, Canada, takes about 2 hours. You can also fly to Saint Pierre from Newfoundland, which takes about 45 minutes.
There are no direct flights from the US, but you can fly to Newfoundland and then take a connecting flight to Saint Pierre and Miquelon. The journey takes about 5 hours in total.
Air Saint-Pierre operates direct Saint Pierre and Miquelon flights to Paris, France, in the summer months.
You can also catch the ferry from Fortune, Newfoundland, which takes about 1.5 hours. The ferry runs three times a week, and tickets can be booked in advance or purchased on the morning of departure at the terminal. The ferry terminal in Saint Pierre and Miquelon is located in the town of Saint Pierre, which makes it easy to arrive and jump straight into sightseeing
Note: You will need a passport if you are traveling to Saint Pierre and Miquelon from the US. A visa is not required for tourists to visit Saint Pierre and Miquelon for up to 90 days.

Canadian citizens traveling to Saint Pierre and Miquelon on a ferry from Newfoundland do not need a passport and can travel using their Government ID.
How to Get Around Saint Pierre And Miquelon
Saint-Pierre is a small island with a unique personality. It's famous for its picturesque narrow streets, charming cafes, and steep hills. While the island is compact and easy to explore on foot, those intimidated by the slopes may prefer to rent a car or stay closer to the centre of town.
Limited rental cars are available on the islands, but we found that renting a car in Saint Pierre is unnecessary due to the island's small size.
A number of private tour operators offer sightseeing excursions for those interested in guided tours, allowing you to explore Saint Pierre beyond the city centre.
Note: When planning your days on Saint Pierre and Miquelon, be mindful of opening hours on the island. This is France, so mid-day breaks and shop closures are common. Many of the shops shut down in the afternoon and do not reopen until later in the evening.
Best Time to Visit Saint Pierre & Miquelon
The best time to visit Saint Pierre and Miquelon depends on what you're looking for in a vacation. If you're interested in outdoor activities, summer is the best time to go. The weather is warm and sunny, perfect for hiking, biking, and exploring the islands.
Spring and Fall are also good times to experience St Pierre and Miquelon tourism, as the weather is mild and there are fewer tourists. Winter is the time to go if you're looking for a festive atmosphere.
Saint Pierre is known for its Carnival celebrations, which take place in February.
Remember the time zone is GMT-2 when planning your trip: This is 30 minutes ahead of Newfoundland and 1 hour ahead of Nova Scotia.
Other FAQs about Saint Pierre and Miquelon
Do they speak English in St Pierre and Miquelon?
The official language in Saint Pierre and Miquelon is French. And although some tourism operators and hotel and restaurant staff do speak a bit of English, it's best to keep your Google Translate or phrase book handy, as it will undoubtedly come in handy.
What currency is used on Saint Pierre and Miquelon?
Most businesses in Saint Pierre and Miquelon accept Canadian dollars as well as Euros. We found that credit cards were also widely accepted.
Things to Do in St Pierre & Miquelon
There's plenty to do in Saint Pierre and Miquelon, whether your interests include exploring the outdoors or learning about the local culture. We spent 3 days exploring the islands, and these were our favourite activities and must-dos!
1. Take A Walking Tour Of The City
Although the islands are small, there's plenty to see and do on a walking tour of the city. Start at the Place du General de Gaulle, the main square in St. Pierre, and take in the French Colonial architecture.
Head down Rue du Général de Gaulle, the main shopping street, to window shop or pick up some souvenirs. From there, continue to Rue Gambetta and Rue des Cordeliers to see more French influence.
Make sure to stop by the Maison des Évêques, a beautiful 18th century Bishop's residence, and La Caserne, an old military barracks that now houses a museum. Finish up your tour at Place du Hérisson, where you can relax and enjoy the view of the harbour and the colourful wooden houses.
Our Tip: Musee de l'Ache offers daily bilingual architectural walking tours with fantastic guides starting at just $50/pp. Visit the information desk at the museum to get a guide and book your tour.
2. Check Out The Shops In Town
In addition to the French Colonial architecture and New England influences, Saint Pierre is also famous for its unique, quirky, vibrant shops. There's something for everyone in town, from local art galleries to shops. You'll find a great selection of natural healthcare products, homemade souvenirs and other eco-friendly goodies to bring back home.
Be sure to stop by Galerie D'Art Le Petit Format, which features beautiful paintings and sculptures by local artists. Don't miss Galerie du Hérisson, an art gallery with a focus on contemporary art.
If you're looking for souvenirs, head to Rue du Général de Gaulle, the main shopping street in town. You'll find a variety of shops selling everything from clothing to local handicrafts and food.
3. Visit Musee de L'Arche
The Arche is the perfect place to discover the history and culture of Saint-Pierre and Miquelon. The scenography allows visitors to step back in time and learn about the fascinating past of the archipelago.
The guillotine is a reminder of the darker days of Saint-Pierre's history, but there are also many positive stories to be told. The Arche offers numerous events year-round, including temporary exhibitions, activities, workshops, shows, lectures, etc.
4. See the Town from Above
Follow the trail along Rue Brue to the Observatoire de l'Anse a Pierre for a beautiful viewpoint of the town. Bring a bottle of wine and enjoy sunset with a loved one!
5. Go On A Boat Tour With Les Zigotos
Les Zigotos is a group of local fishermen committed to the preservation of wooden boat heritage in Saint Pierre and Miquelon. The group offers boat trips around the Saint-Pierre and Miquelon islands.
Jump into one of the traditional dories for a fun boat trip around the harbour or to Grand Colombier island, a natural migratory bird reserve and a major puffin and murre nesting site in the summer months.
The guides are knowledgeable about the local bird population and can help you spot rare species. Bring a camera with a zoom lens!
6. Enjoy The Nightlife in Saint Pierre
We'd be lying if we said that Saint Pierre has a vibrant nightlife. But there are definitely a few bats for those who want to keep the fun going after sunset.
The best spot in town for a drink and a good time is Bar Le Rustique, popular with locals and travelers alike. The bar has a good selection of wine, beer and cocktails and offers entertainment like billiards, darts and sports games on TV.
7. Go Whale Watching in Saint Pierre
Saint Pierre is the perfect place to go whale watching, as it's located in the Gulf of St. Lawrence – one of the world's premier whale-watching spots. Visitors can see a variety of whale species, including sperm whales, humpback whales, and blue whales. There are a number of tour operators offering whale-watching excursions, including SPM – Ferries.
8. Go Hiking with Escapade Insulaire
Escapade Insulaire offers hiking tours of the Saint-Pierre and Miquelon archipelago. The hikes are led by Hilles and his team of experienced guides who are familiar with the terrain and the local flora and fauna.
There isn't any guarantee in wildlife sightings, but you may spot seals, deer, birds of prey, Canadian geese, and warblers en route. If you are lucky, you might also be able to see whales in the distance and gannets diving into the water below.
During our visit, we did a hike to the top of St Pierre and spotted a number of birds and a wild hare. The hike wasn't too challenging, and the views from the top offered a unique perspective on St Pierre town and the surrounding area.
9. Take a Day Trip to L'ile aux Marins
Pick up some wine, cheese and a baguette and head out on a picnic to Ile aux Marins or Marin's Island, an uninhabited picturesque island a stone's throw from Saint Pierre.
The island is located a quick ferry ride away from Saint Pierre Town and is a window into the past worth peeking into. Between the 1600 – 1900s, the island was home to a population of a few hundred citizens, but after the 1960s, residents relocated to Saint Pierre and 'Île-aux-Marins became a ghost town.
Ile aux Marins is one of the top day trips for visitors to Saint Pierre, which is a bit surprising given that there aren't many attractions on the island itself. The beauty of Ile aux Marins is the history that it holds.
10. Visit Grande Miquelon and Miquelon Langlade
Nestled in the Gulf of St. Lawrence, Miquelon Langlade is the main town on the island of Grande Miquelon. The town is a charming fishing village with rich history and unique culture. Visitors can explore the village's winding streets, sample fresh seafood, and learn about its fascinating past.
The village of Miquelon Langlade is also home to a number of small businesses, including a bakery, a grocery store, and several cafes.
Some great hiking trails and nature tours can be found on Miquelon, so if it's stunning views and great outdoors that you are after, you'll definitely find it on Miquelon.
Best Restaurants in St Pierre And Miquelon
St Pierre and Miquelon certainly have no shortage of delicious authentic French food. Whether you want a quick meal or an upscale dining experience, here are some restaurants that we recommend.
The Roc Cafe
The Roc cafe is the perfect place to take a break while exploring the city centre in Saint Pierre. Located between the Maison du Cadeau and the Heritage Museum, the cafe offers a wide selection of hot and cold drinks and homemade ice cream.
The Select
The Select is a traditional brasserie featuring a mix of North American and French cuisine. Chef Nicolas is passionate about using local ingredients to create both flavorful and balanced dishes.
The menu offers a variety of meat and seafood options, and Sunday brunch is a perfect opportunity to try something new. The food is cooked over a wood fire, giving it a unique flavour.
Les P'tits Graviers
Les P'tits Graviers is a family-run restaurant in the heart of downtown that specializes in locally sourced, seasonal French cuisine. The menu frequently changes to make use of the freshest ingredients available, but the focus on quality local produce remains constant.
Whether you're looking for a light lunch or a romantic dinner, Les P'tits Graviers is a must visit during your time in St Pierre.
Pizzeria Chez Alain
If you're looking for a great pizza place in town, chez Alain is the place to go. They offer a large selection of traditional pizzas and a few unique varieties.
The best part is that they use fresh, quality ingredients to make their pizzas, so you know you're getting a delicious meal. They also offer salads and appetizers if you're in the mood for something lighter.
Where to Stay in St Pierre & Miquelon
St Pierre and Miquelon offer different types of lodging, from bed and breakfasts to upscale hotels. Here are a few we recommend.
Auberge Quatre Temps
Auberge Quatre Temps is a bed and breakfast located in St. Pierre. It is owned and run by Pascal and his wife Marie-Andrée, a French gastronomy chef from the archipelago. The B&B is located on a quiet street not too far from the town centre.
Accommodation at Auberge Quatre Temps includes six comfortable rooms and two junior suites. The rooms are basic, albeit a bit small, but have everything you need for a comfortable stay.
The highlight of our stay at Auberge Quatre Temps was definitely the food! The on-site restaurant has won several prizes and awards for its fantastic dining. Breakfast is included in the stay, and dinner is worth the splurge!
Chez Marie Jo
Chez Marie Jo is another lovely Inn located in the heart of downtown St. Pierre. It is a two-story building with eight rooms, each with its own private bathroom.
The rooms' decorations are in a traditional style and have a view of the harbour or the city. The inn also has a restaurant serving traditional French cuisine. You can book rooms directly on the website.
Hotel Robert
Looking for a luxurious hotel experience in St. Pierre? Look no further than Hotel Robert. This upscale hotel has 17 rooms and suites, each with a stunning view of the harbour or the city.
You can enjoy French and international cuisine at the restaurant or relax with a drink at the bar and lounge area. Plus, you can book your stay directly on the hotel's website.
When it comes to choosing a place to stay in St. Pierre and Miquelon, Hotel Robert is the clear choice for luxury travelers.
How much time do you need to spend in Saint Pierre and Miquelon?
We recommend spending at least 3 -5 days on Saint Pierre and Miquelon. A couple of days are enough to explore the town of Saint Pierre, but if you want to take a couple of day trips to visit île aux Marins, Miquelon Langlade or do some hikes around the islands, add a few more days to your itinerary.