Located in the Bay of Fundy in New Brunswick, Canada, Saint John is a charming city with plenty of things to do. With a thriving arts and culture scene, great outdoor scenery, and a bustling downtown area, Saint John offers something for every type of traveler.
*This post may contain affiliate links, as a result, we may receive a small commission (at no extra cost to you) on any bookings/purchases you make through the links in this post. As an Amazon Associate, we earn from qualifying purchases. Read our full disclosure
It is one of the oldest cities in Canada and is home to over 70,000 people. The city of Saint John was founded by French settlers in 1604 and is Canada's oldest 'incorporated city.' It still retains many features from that time, such as its old architecture and historic sites like Fort Howe, which have been preserved for all to enjoy.
We were really impressed by Saint John during our recent road trip through New Brunswick. The city had a really cool and hip vibe, and the architecture in Downtown Saint John in particular, reminded us a bit of the West Village in New York. With lots of patios, shops, and restaurants, the area was alive during our visit in July. After spending a few days in the city, we found lots of things to do in Saint John to keep us entertained.
No matter what your interests are, Saint John has something for you to enjoy. We hope this travel guide will help you plan your trip and make the most of your time in this wonderful city. With so many attractions and possibilities for day trips in the surrounding area, like the Fundy Trail Parkway, Saint John can make for a fantastic home base.
Traveling Soon?

Here is a list of our favourite travel providers and accessories to help get you ready for your upcoming trip!
How To Get To Saint John, New Brunswick
Saint John is located on Route 1, also known as the Trans-Canada Highway. It is easily accessible by car, plane, ferry, bus or train.
By Air
Saint John Airport (YSJ) is located just 15 minutes (by car) from downtown and offers regular flights from Canadian cities, including Toronto and Halifax, but it does not offer direct flights.
Greater Moncton International Airport (YQM), located in Moncton, 1 hour and 40 mins away from the town (by car), is an excellent option as, although further away, it does offer direct flights from cities such as Toronto, Montreal, and Ottawa.
Halifax Stanfield International Airport (YHZ), located in Nova Scotia, is a major hub for both domestic and international flights in Atlantic Canada. The airport offers service to many major cities across Canada, as well as direct flights to several European and US destinations.
By Ship
The Saint John Cruise Terminal welcomes cruise ships through the summer months and offers easy access to downtown. The port is also a popular stop for ferries crossing the Bay of Fundy, including the CAT ferry, which runs between Saint John and Maine, USA.
By Train Or Bus
VIA Rail operates trains to Saint John from Montreal and Halifax. The train station, located downtown, offers easy access to all the city has to offer.
Greyhound Canada operates regular buses from cities including Montreal and Halifax, with the bus station being located on the north side of downtown.
Our Tip: If you plan to use public transportation while in Saint John, consider getting a "Saint John Transit" bus pass. It's a great way to save on transportation while in the city and helps reduce your carbon footprint while traveling.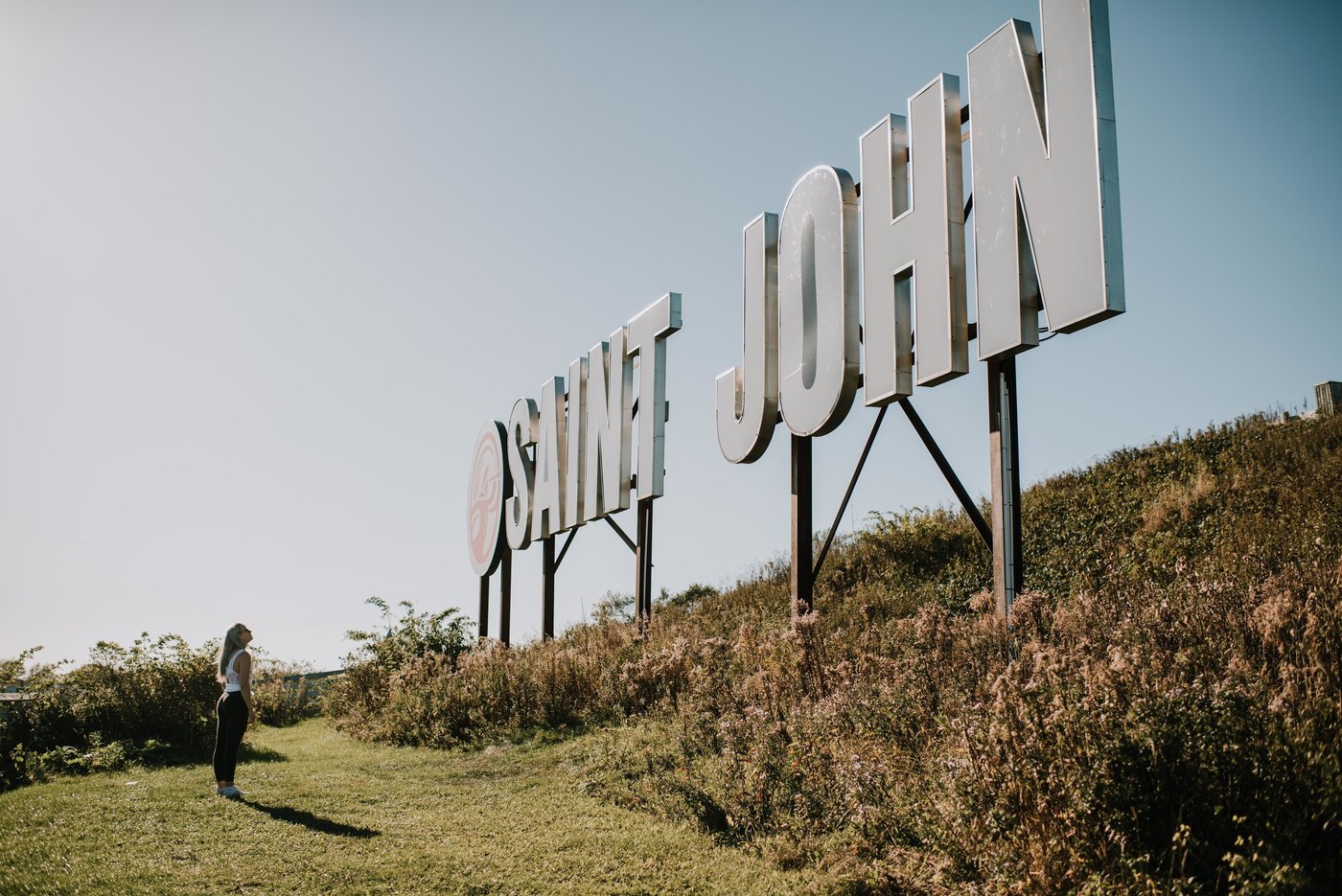 How To Get Around Saint John
Saint John's public transportation system is operated by Saint John Transit and includes regular bus routes throughout the city.
On foot: Walking is an easy, free, environmentally friendly way to traverse the city, particularly downtown, where most attractions are within walking distance.
By bike: Saint John also offers bike rentals through Bike Saint John, with various pick-up and drop-off locations throughout the city. This is a great option for those who want to explore more of the city on their own time and at their own pace while keeping with the environmentally friendly approach.
By Car: Saint John also offers various car rental options for those who prefer to have their own mode of transportation.
If you are only in the city for a few days and want to make sure you cover the top attractions, check out the city tour bus for a convenient, fun, and informative way to see the best things to do in Saint John in a day.
Best Time To Visit Saint John
Saint John is a vibrant city all year round; however, the best time to visit depends on your interests and preferences.
The Summer months (June-August) offer warm weather with an average high of 22 °C (72 °F), perfect for outdoor activities such as exploring the stunning scenery along the Saint John River, the Bay of Fundy, or hiking in nearby Fundy National Park. This is also peak tourist season, with attractions and accommodations potentially being busier and slightly more expensive.
The Fall months (September-November) offer pleasant weather, with an average high of 13 °C (55°F), and the changing leaves make for beautiful hiking trails and scenery.
NOTE: The Saint John Jazz & Blues Festival, one of the city's biggest events, is held in late summer/early fall. It's a great reason to plan a visit to New Brunswick during this time.
Winter (December-March) offers the opportunity to enjoy winter sports, such as cross-country skiing and snowshoeing, while still being able to explore indoor attractions such as the New Brunswick Museum or Imperial Theatre.
Spring (April-May) is a great time for outdoor activities, with temperatures beginning to warm up and flowers blooming throughout the city. It is also a less busy time for tourists, with potential deals on accommodations and attractions.
No matter what time of year you visit Saint John, there will always be plenty to do and see in this vibrant and charming city.
Best Things To Do In Saint John, New Brunswick
Whether you are visiting for a weekend or a week, Saint John offers plenty of activities and attractions for visitors of all ages. Here are our Saint John's must-see attractions:
1. Explore Area 506 Container Village
Area 506 is a creative haven providing the perfect environment for locals and tourists to explore new possibilities. This eclectic space gives locals and visitors a great opportunity to support dozens of vendors and artisans while appreciating varying art styles.
The shipping containers house locally owned businesses on Saint John's waterfront, making this unique spot an urban shopping destination. The shops and food trucks provide visitors with delicious food options in addition to great live music or events.
Every year, this waterfront container village hosts the AREA 506 Festival over the New Brunswick Day long weekend. During this festival, you'll get to browse a huge, diverse group of vendors, craftspeople, and local artists. Every day during the festival, there are live music performances by several different acts.
Our Tip: Be sure to check out the graffiti wall showcasing some of Saint John's talented artists. It's the perfect spot for that Insta-worthy selfie to commemorate your Saint John visit.
2. Immerse Yourself In History At The Loyalist House
Loyalist House is a National Historic Site that offers an insight into the lives of American Loyalists who settled in Saint John during and after The Revolution.
It features period furnishings with exhibits about local history, giving you new knowledge on this topic while also shedding light onto old stories from generations past.
If you are interested in learning more about American history or Canadian architecture, then be sure to add Loyalist House to your list of must-see attractions.
3. Visit King's Square
King's Square is a hub for Saint John's arts, culture, and heritage. From the Imperial Theatre, which hosts various performances throughout the year, to the Farmers' Market, where local vendors sell fresh produce and handmade goods, there is always something happening in Kings Square.
The square also features historical buildings such as City Hall and Trinity Church, making it a must-see destination for history buffs.
Our Tip: Check out the rotating exhibitions at The New Brunswick Museum, located in Kings Square.
4. Stroll The Waterfront Boardwalk
Saint John's boardwalk boasts stunning views of the Saint John River and harbour area. It offers glimpses into New Brunswick's natural resources and rich history dating back centuries before Confederation.
The boardwalk, which was in the middle of a major renovation project during our visit, features various restaurants, shops, art galleries, and outdoor fitness equipment for those who want to exercise while enjoying the beautiful views of the harbour and its colourful fishing boats. It's going to be a huge focus point and attraction in the city, so be sure to spend some time there during your visit.
5. Shop At Saint John City Market
The Saint John City Market is the oldest continuous market in Canada, dating back to 1830. Located downtown Saint John, this vibrant market offers a variety of locally sourced products, including produce, crafts, and prepared foods.
You don't want to miss out on delicious aromas, including fresh products such as meats, bread, and cheeses. It's a great place to pick up some souvenirs or grab a bite to eat and sample some local flavours.
Our Tip: Be sure to visit Saint John City Market on a Saturday for the bustling atmosphere and widest selection of vendors
6. Join A Moosehead Brewery Tour
For those 21 and over, the Moosehead Brewery Tour offers a behind-the-scenes look at how one of Canada's largest independent breweries operates to create award-winning beers. The tour also includes beer tastings, making it the perfect stop for craft beer lovers.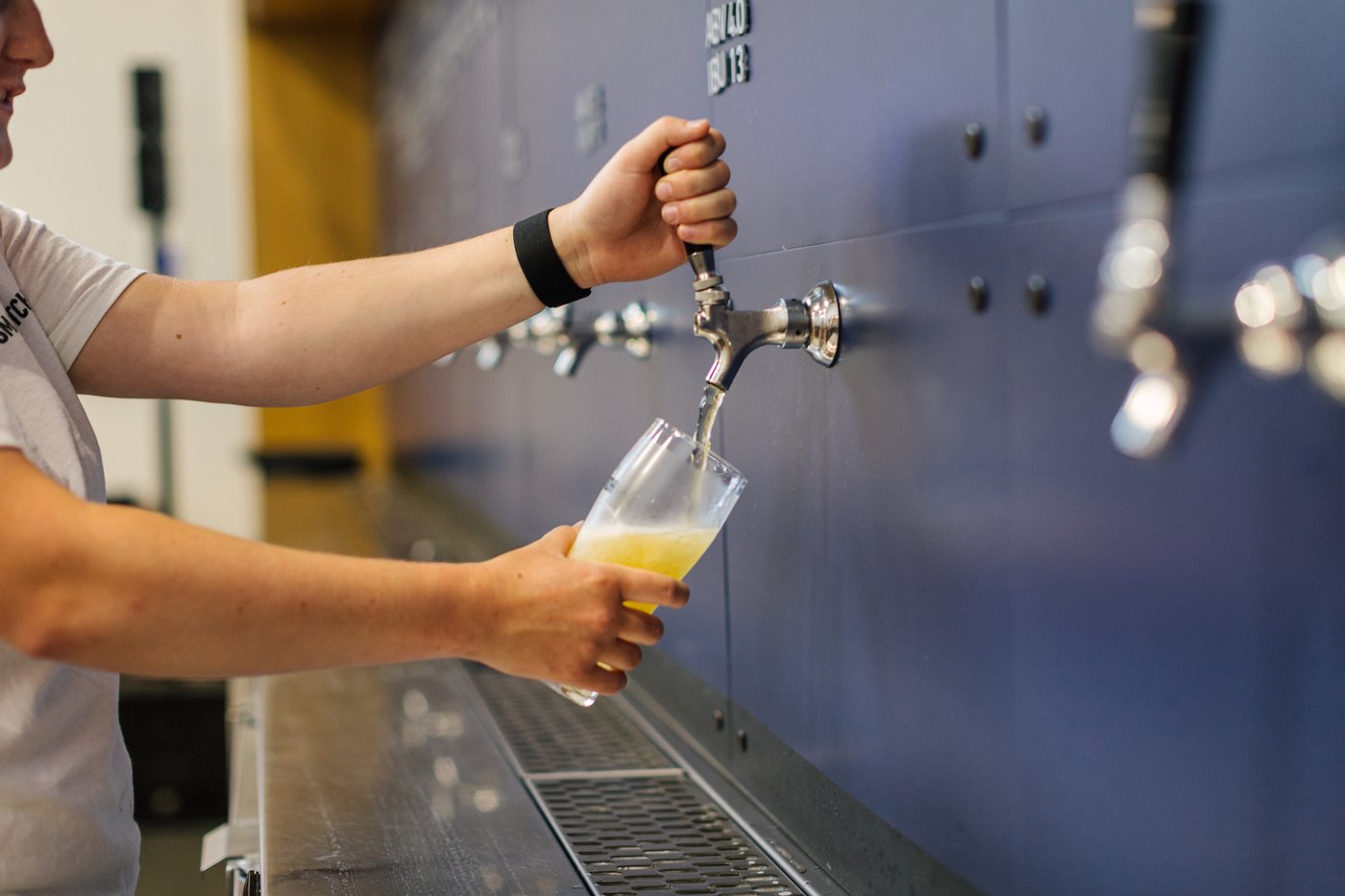 7. Go On A Prince William Walk
Located in the heart of Saint John, New Brunswick, the Prince William Walkway offers visitors gorgeous views of the city and the harbour area. This 4km trail winds through various parks and historic sites, including Rockwood Park, Irving Nature Park, Fort Howe National Historic Site, and Carleton Martello Tower National Historic Site.
Prince William Street itself is a popular spot for photographers looking to capture the beautiful Saint John skyline. Be sure to bring your camera along on this walk.
8. Go Local At Queen Square Farmers Market
Queen Square Farmers Market is a seasonal market, open May through October, offering locally grown produce and handmade goods. Located in the heart of uptown Saint John, it is a popular spot for locals and visitors to grab fresh groceries or browse unique crafts and artwork.
9. Shop At Market Square
If you're looking for a unique shopping experience, you'll love exploring the local boutiques in Market Square. You'll find clothing shops, beautiful home decor, and handmade jewelry. The restaurants offer a variety of cuisines, from Belgian waffles to Mexican food.
And if you're looking for a place to relax with a cup of tea or a beer, there are plenty of options to choose from. Whether you're looking to do some serious shopping or just window shopping, you'll find what you're looking for in this vibrant community.
Pro Tip: Market Square hosts various events throughout the year, including live music and holiday markets, so be sure to check their event calendar for any upcoming happenings.
10. Irving Nature Park
Located just outside of Saint John, on the edge of the Bay of Fundy, Irving Nature Park offers 600 acres of woods with eight walking trails and recreation areas. The park offers breathtaking views of the ocean and chances to see wildlife like seals, whales, and bald eagles.
Take a stroll along the boardwalk, learn about the park's six different ecosystems, and get a 360° view of the rugged Bay of Fundy coastline from Lookout Tower.
The park features plenty of facilities, including accessible washrooms, barbecues, a children's forest with two cedar hedge mazes and a playground. Whether you're looking for a place to relax or an adventure, Irving Nature Park is sure to have something for everyone.
It is a natural beauty and a must-see destination for anyone who wants to get outdoors and explore Saint John beyond the city centre.
Our Tip: If you are short on time but still want to enjoy the beauty of Irving Nature Park, you can drive the main trail around the park in your vehicle. Park up at a number of lookouts, enjoy the view and continue on.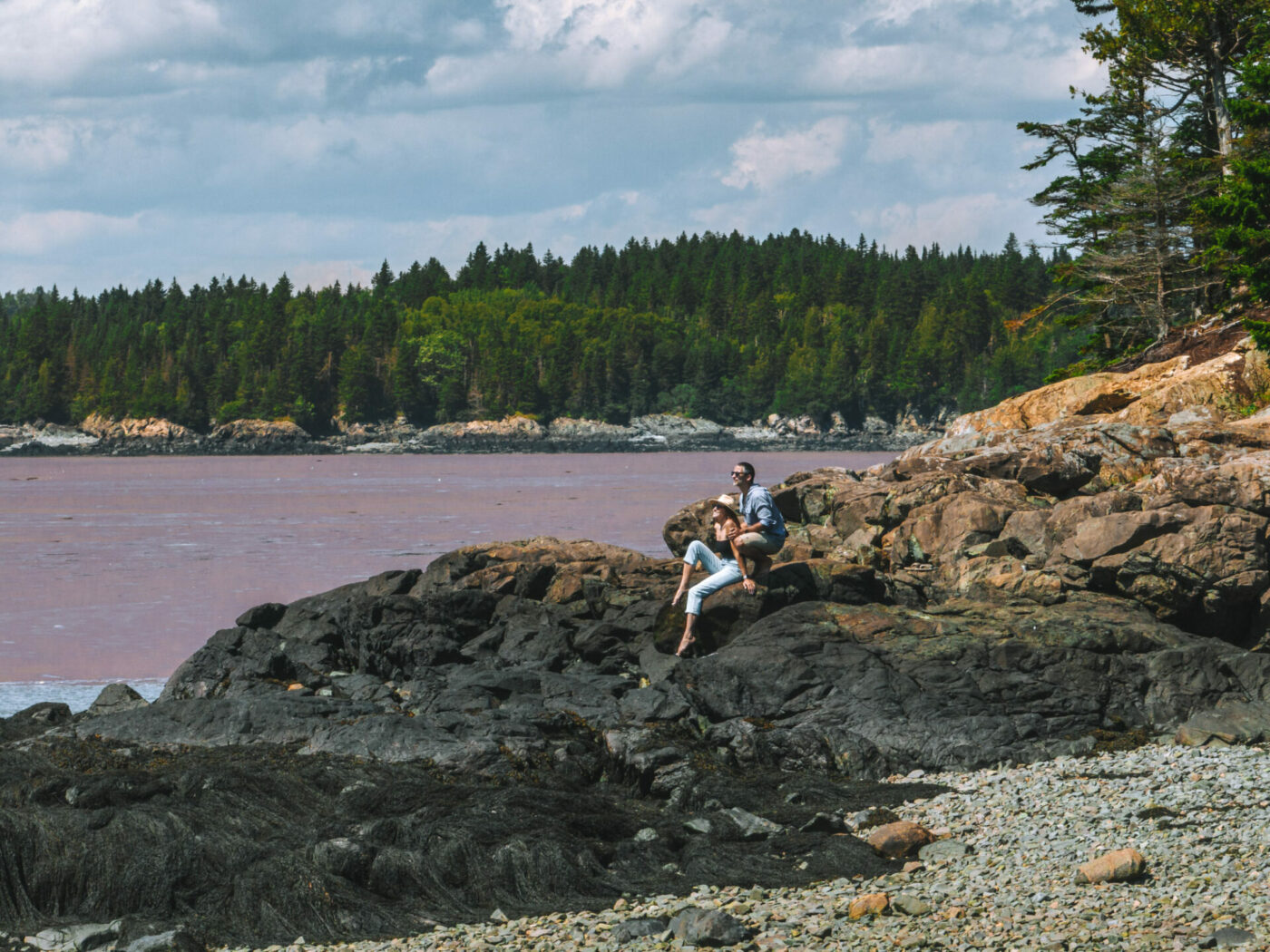 11. Reversing Falls
Reversing Falls is one of Saint John's most popular attractions, offering the unique experience of seeing nature fight against the tides of the Bay of Fundy.
These series of rapids and tiny waterfalls can be viewed from the Reversing Falls Bridge or, even better, on a jet boat tour where you can experience them up close.
The tides in the Bay of Fundy are some of the strongest in the world, and twice a day, they change direction. As the tide comes in, it pushes against the Saint John River flow and creates powerful rapids known as Reversing Falls.
Don't expect a massive waterfall but a series of interesting rapids. The view from above is definitely worth it!
Our tip: Plan your visit during high tide for the most impressive reversing falls rapids experience. Check tide times before visiting to ensure you don't miss out on this natural phenomenon.
12. Fort Howe National Historic Site
Fort Howe is a designated national historic site located in the city of Saint John, New Brunswick. During the American Revolution, the British built the fort in 1777 to defend the city from the American rebels.
Today, the fort is open to the public and is a popular tourist destination. Visitors can explore the fort's many buildings, including the barracks, powder magazine, and guardhouse. The fort also has a museum that displays artifacts from its long history.
Fort Howe is an important part of New Brunswick Saint John's history and is a must-see for anyone visiting the city.
13. Bay Shore Beach
Bay Shore Beach is a beautiful beach located just outside of Saint John, offering stunning views of the Bay of Fundy and a picturesque long sandy beach.
The beach is popular for swimming in the summer months and exploring the tidal pools at low tide. It's also a popular spot for birdwatching, with various species often spotted along the shoreline.
Our Tip: Be sure to look out for migratory and marine birds during the fall months, as they often stop at Bay Shore Beach during their long journey.
14. Take a Self-Guided Historic Walking Tour
History buffs have their choice of walking tours that take you through the history and landmarks unique to this city. The Loyalist Trail and the Victorian Stroll are packed with interesting history and fascinating stories about Saint John's early settlers, plus they are totally free! Visitor Information Centres all around Saint John have Historic Walking Tours brochures, or you can download an electronic version.
15. Browse the Art Galleries on Princess Street
Take a stroll down Princess street and pop into the many shops and art galleries. You'll also come across bookstores, cafes, and more brewpubs as you get closer to the Saint John River, where Princess Street leads to AREA 506 Waterfront Container Village. The Saint John Theatre Company is also located on Princess Street, where you can catch a variety of live music performances and plays.
Housed in a historic building dating back to 1878, Cobalt Art Gallery features a variety of paintings, drawings, prints, and sculptures created by Canadian and international artists. The collection holdings emphasize art of the Atlantic region and Inuit sculpture.
Trinity Galleries features two levels of beautiful gallery space that display works by artists from the Maritimes, New York City, and Rome. Subjects include landscapes, cityscapes, coastlines, wildlife, and abstract and surrealism.
16. Visit Dominion Park Beach
Located on Saint John's west side, Dominion Park provides locals and visitors with convenient access to the river. You can swim, explore the hiking trails, go rock climbing, and sign up for a zip line tour with Timbertop, an aerial adventure park located in Dominion.
Dominion Park is a year-round destination, and a popular spot for ice fishing during the winter months. While visitors have access to the water throughout the year, lifeguards are only on duty during the summer months.
Best Restaurants In Saint John
There are no shortages of delicious dining options in Saint John. Whether you simply want a quick bite to eat or a more upscale dining experience, here are some top-rated restaurants in the city.
Slocum And Ferris
Slocum and Ferris is a fast-casual eatery located in the Saint John City Market. Founded in 1895, it is one of the oldest establishments in the market and has become a popular destination for breakfast, lunch, and brunch.
The menu is eclectic, taking inspiration from street vendors and food trucks around the world. In addition to a variety of made-from-scratch baked goods, the menu features breakfast items, sandwiches, soups, and salads.
The Saturday morning brunch menu is especially popular, with dishes such as mixed berry French toast and traditional breakfast items. Slocum and Ferris is a convenient stop for market-goers looking for a quick meal or snack.
Garden Grove Cafe
Garden Grove Café is a local favourite for many reasons. They pride themselves on using only the freshest, locally sourced ingredients in all of their dishes. But what really sets them apart is their commitment to the community they serve.
Whether you're looking for a delicious meal or just a friendly face, you'll always find it at Garden Grove Café.
Our Tip: Be sure to visit on wine Wednesday, as wine is half-price.
Italian By Night
This urban Italian restaurant offers a unique dining experience in the heart of Saint John's uptown. Italian by Night menu features classic Italian dishes with a modern twist and an extensive wine list.
Their outdoor patio is a popular spot in the warmer months, and their cozy atmosphere makes it the perfect destination for date nights or special occasions.
Thandi Restaurant
Look no further than Thandi's if you're looking for a delicious, flavourful meal that will tantalize your taste buds. This family-owned restaurant offers a fusion of East and West flavours that is sure to please even the most discerning palate.
The menu features a mouth-watering selection of steaks, seafood, chicken, and authentic Indian curries, all of which are prepared with the utmost care and attention to detail.
And because the owners have extensive experience in Indian cooking, they're able to offer "made-to-order" dishes that allow customers to choose exactly how they want their curry prepared.
VEGolution
VEGolution is a fun mixture of culinary and comfort food done vegetarian style. A variety of fresh, to-go items is available in their TOGO fridge for those who cannot dine in or are looking for a quick and healthy meal or snack.
Whether you're a vegan, vegetarian, or just looking to incorporate more vegetables into your diet, VEGolution is the perfect spot for you.
Our Tip: Don't miss their homemade desserts. They are sure to satisfy any sweet tooth.
Where To Stay In Saint John
Saint John has a variety of accommodation options, from cozy bed and breakfasts to luxurious hotels. Here are some top-rated places to stay.
Delta Saint John By Mariott
During our visit to Saint John, we stayed at the Delta Saint John by Marriott. Located on the waterfront, this hotel offers stunning views and comfortable rooms with modern amenities. Its location in the heart of uptown offers convenient walking access to shopping, dining, and attractions. The hotel also features an indoor pool, fitness centre, and on-site dining at The Sushi Bar.
We loved the hotel's convenient location in the heart of the city and appreciated Marriott's continuous commitment to sustainable initiatives across their properties.
Other Recommended Hotels In Saint John
Château Saint John Hotel & Suites
Château Saint John – Hotel & Suites is the perfect choice for travelers who are looking for a luxurious and convenient stay in Saint John, New Brunswick. The hotel is located downtown, across from Harbour Station arena, and close to popular attractions like the City Market.
They offer elegant accommodations that combine the best of yesterday and today with unique décor that pays tribute to Saint John's long and storied history as the oldest incorporated city in Canada.
The guests can enjoy modern amenities like free WiFi and a fitness center, as well as top-notch service from the friendly and helpful staff. Whether you're in town for business or pleasure, they are confident that you will have an enjoyable and memorable stay at ChâteauSaint John.
Mahogany Manor
Looking for a cozy and intimate bed and breakfast experience? Look no further than Mahogany Manor. This Victorian home, built in 1882, offers a relaxing atmosphere with its beautiful gardens and elegant décor.
Each room is unique and features antique furnishings, private bathrooms, air conditioning, and free WiFi access.
A delicious homemade breakfast is served every morning, with options to accommodate dietary restrictions upon request. The friendly and knowledgeable hosts are happy to offer recommendations for things to do and see in the city as well.
Earle of Leinster B&B
Locally owned and operated, this 11-room B&B is conveniently located within a short walking distance from King Square and several other attractions in downtown Saint John. The Leinster B&B is housed in a historic home – one of the first built after the great fire of 1877.
Guests can choose Victorian style, country style, or contemporary accommodations, each with private bathrooms. Apartment-style accommodations are also available, featuring fully-equipped kitchens.
Hot breakfasts are served daily in a cozy dining space and can be made gluten-free and vegan.
Have you ever been to Saint John? What other things to do in Saint John would you add to this list as suggestions for first-time visitors?