Prince Edward Island is a Canadian province like no other. With a total land area of just over 5,660 square kilometres and a population of around 150,000 people, it may be the smallest province in Canada, but it's certainly worth a visit!
*This post may contain affiliate links, as a result, we may receive a small commission (at no extra cost to you) on any bookings/purchases you make through the links in this post. As an Amazon Associate, we earn from qualifying purchases. Read our full disclosure
Located in Atlantic Canada, Prince Edward Island, or PEI is known for its stunning coastal scenery, red sand beaches, rolling farmlands, and fantastic food and drink experiences. There are plenty of things to do on Prince Edward Island, including swimming, hiking, biking on the Confederation Trail, wine tasting, and even whale watching. It's a popular destination for families but is a fun place to visit for any outdoor enthusiast.
PEI was one of our favourite destinations on a recent Atlantic Canada road trip. Although we only spent a week exploring the island, it was plenty of time to see most of its top attractions and even to explore a bit off the beaten path. We hope this article will inspire you to plan your own PEI road trip and help you put together a fun PEI itinerary for your holiday.
---
As sustainable travelers, we always look for ways to reduce our impact on the destinations we visit and help to support the communities and small businesses we come across on our travels. So keep an eye out for our top responsible travel tips scattered throughout this article.
---
Traveling Soon?

Here is a list of our favourite travel providers and accessories to help get you ready for your upcoming trip!
About Prince Edward Island
Prince Edward Island Province is located in Atlantic Canada. It is one of the three maritime provinces in Canada, which also includes New Brunswick and Nova Scotia. PEI is connected to New Brunswick by the 13-kilometre Confederation Bridge. The bridge was completed in 1997 and is the longest bridge over ice-covered waters in the world!
The island is separated into 5 touring regions: Points East Coastal Drive, North Cape Coastal Drive, Central Coastal Drive, Charlottetown, and Summerside.
Points East Coastal Drive is home to many PEI beaches, including the Basin Head Provincial Park known for its unique "singing sands" beach.
North Cape Coastal Drive is famous for the North Cape Hiking Trail with its iconic red cliffs.
Central Coastal Drive encompasses two sections: Red Sands Shore and Green Gables Shore, popular with fans of the iconic novel "Anne of Green Gables" by author Lucy Maud Montgomery.
PEI's capital, Charlottetown, is the largest city on the island and is a must-visit for great restaurants, bars, shopping, and entertainment.
Summerside offers visitors an authentic island experience in the City by the Sea! It is PEI's second-largest city with culinary, cultural, and coastal experiences.
There are lots of things to do while visiting PEI, Canada for visitors of all ages and interests! A PEI trip offers everything from fascinating history and mouthwatering foods to an unbeatable coastline adventure. When it comes to PEI tourist attractions – there are plenty of options to choose from!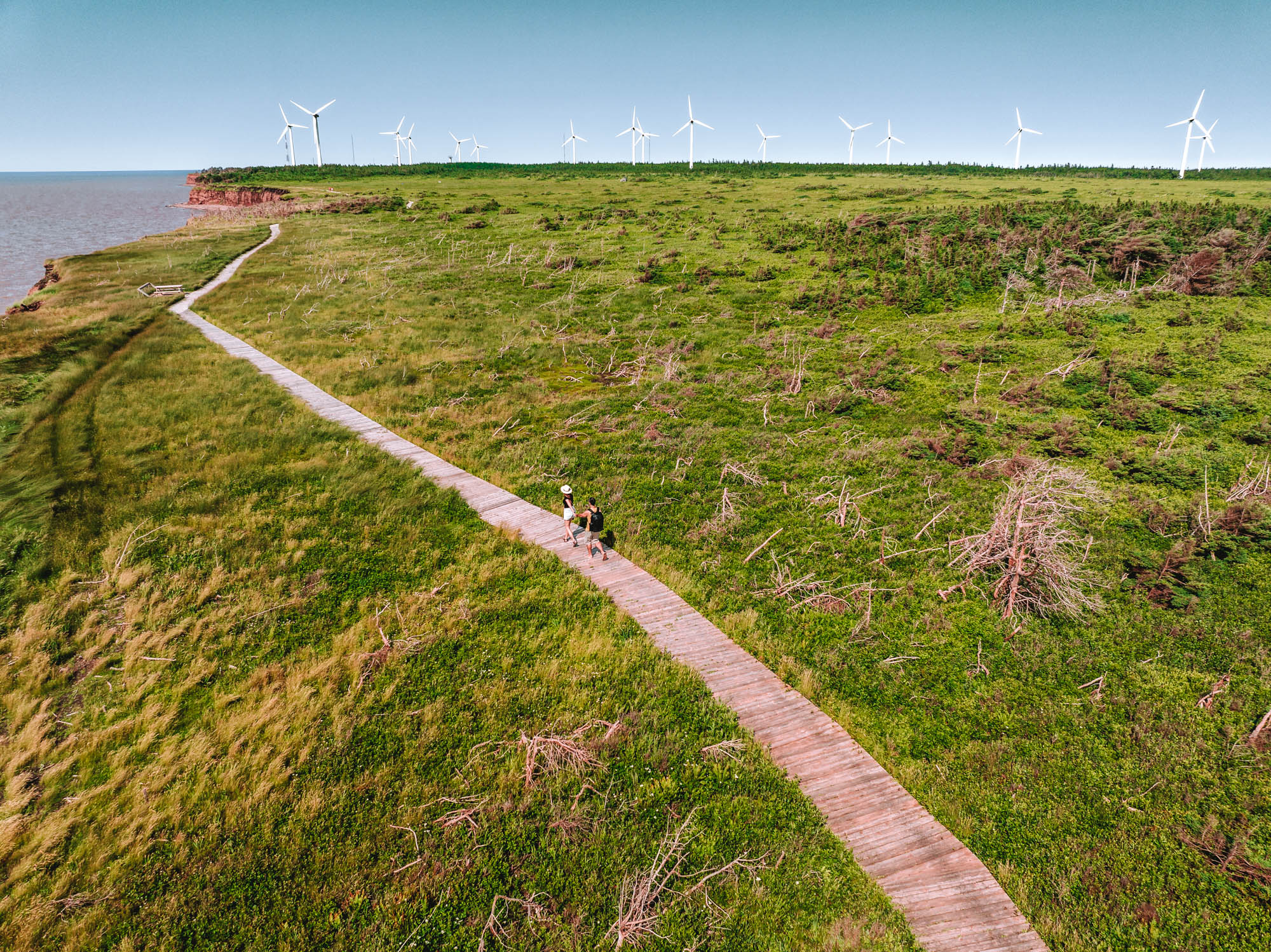 Best Time To Visit Prince Edward Island
The best time to explore PEI is from June through September. This is when attractions in PEI are operating in full swing, and nearly all Prince Edward Island activities remain open. The island itself is rarely crowded, but the peak travel season for Prince Edward Island is typically in July and August.
Spring
Spring is a fun time of year to visit PEI. Early spring can be a bit unpleasant as the snow melts on the ground, creating muddy conditions. But as the season progresses and gets closer to summer, the sun grazes the island with longer daylight hours, and the weather becomes quite enjoyable. Spring also marks the start of the festival season, with celebrations like wine festivals and theatre productions. Flowers are in bloom, and, best of all, lobster season in PEI begins in May.
Summer
Summer in PEI is known for an abundance of festivals and beach activities. The days are long and sunny, and the vibe on the island is particularly inviting. Restaurants are brimming with the freshest lobster dishes, lifeguards are busy on PEI beaches, and the Provincial and National Park's camping grounds are buzzing with activity.
Unsurprisingly, summer is the peak season in PEI, so expect the highest prices and some booking challenges, especially around festival times. We visited PEI in the middle of summer and saw firsthand the impact the high season can have on room availability and rates.
---
Responsible Travel Tip: If your schedule permits, book a trip to PEI for early September. The weather is still fantastic but due to the start of the school year, most families would have already departed PEI, leaving you opportunities to enjoy the best of the island without the crowds!
---
Fall
Fall is arguably the most beautiful time of year in PEI, despite significantly fewer activities available than in summer. The spooky-inclined go all out for Halloween, communities celebrate harvest festivals, and the island becomes covered in colourful fall foliage as the chillier days arrive.
If the fall colours aren't enough to sway you, consider the community feasts, farmer's markets, haunted houses, and scarecrow festivals throughout the island.
Winter
With shorter daylight hours and ample snowfall, winter tends to be the chilliest time of year. Thankfully, PEI rarely gets unbearably cold, and temperatures rarely drop below -15°C / 5°F.
You're in for a treat if you're big on celebrating Christmas. PEI goes all-out with ballet, markets, musical performances, theatre productions, festivals, and lights.
How To Get To Prince Edward Island
Several different modes of transportation can get you to Prince Edward Island. Choose to travel by car, shuttle, ferry, or on one of the regional flights.
By Car Via Confederation Bridge
To get to PEI by car, you can drive yourself or take a shuttle or bus. The 13-kilometre Confederation Bridge connects Prince Edward Island with New Brunswick and is the world's longest bridge over ice-covered waters. The bridge connects Bordon-Carleton, PEI, to Bayfield, New Brunswick, and takes just 10 minutes to cross. The Confederation Bridge tolls are charged based on a vehicle's axle count and are calculated for the round-trip. The toll for a regular single-axel vehicle is $50.25 CAD. You can check rates and fees for other vehicles HERE.
By Ferry Via Pictou, Nova Scotia
The ferry ride from Pictou, Nova Scotia, to Prince Edward Island is a scenic one, crossing the Northumberland Strait. The ferry ride is about 2 hours long and offers a pleasant break from driving. It's especially worth it for those traveling to PEI from Nova Scotia, as it cuts the drive by 4-6 hours.
The ferry terminal in Pictou is located just a few minutes from the town centre, and there are several restaurants and shops in the area. You can hop onto the ferry for free on a first-come-first-serve basis, but if you want to have a guaranteed spot for a particular time/date, you'll need to pay for a ticket. The ticket for a single vehicle up to 7' high is $84 (including passengers) or $23 for each walk-on passenger. You can buy your tickets online or in person and check other rates and fees HERE
If you plan on traveling with an RV, as we did, we highly recommend making that reservation, as RV spots on each ferry are very limited.
By Shuttle Or Bus
Offering daily bus service between Borden-Carleton and Charlottetown, Summerside, the Maritime Bus is a great alternative to driving your own vehicle. The bus has an extensive network of over 40 locations across the Maritimes and is one of the most eco-friendly options for visitors planning a trip to PEI
Shuttle services by van are available to and from Charlottetown (and selected other Island locations) and Halifax from several companies. Contact each company for details about their specific services as they operate from various places and on different schedules.
By Air
Catch the breathtaking patchwork of farm fields from the sky during the incredible experience of flying over Prince Edward Island. The Charlottetown Airport (YYG) offers a variety of direct and connecting commercial flights and is conveniently located in central Prince Edward Island. Some of the airlines that offer flights out of Charlottetown Airport include Air Canada, Westjet, Swoop and Flair
How To Get Around Prince Edward Island
Unless you drive the Confederation Bridge or take the ferry to Prince Edward Island, you'll have to figure out how to get around once you get to PEI. Here are a few of your options.
Car Rentals
AVIS, Budget, Enterprise, Hertz, National, and Thrifty offer car rentals in PEI. PEI Car Rental Co is a small business and a newcomer in the car rental space on PEI. Worth giving them a shout for a chance to draw you up a quote.
Car/Ride Sharing
If you wish to rent a vehicle from a local car owner, Turo helps make the connection.
Kari is a locally owned and operated ride-sharing service on Prince Edward Island. Kari is the perfect option for those looking to get around without having to drive themselves, and it's a great way to meet some of the friendly locals. Prices are comparable to those of Uber and Lyft, and there's no surge pricing or added fees.
Public Transit
T3 PEI Public Transit spans island-wide and operates Monday – Friday. T3 City Transit services Cornwall, Charlottetown, Stratford & Summerside. While T3 Rural Transit offers island-wide transit on provincial highways connecting Georgetown, Montague, Souris, St. Peter's, Summerside, Borden, O'Leary, Alberton, Tignish & Charlottetown.
Taxis And Shuttle Services
Taxis on PEI charge based on the number of individuals in the vehicle and the distance traveled. Check with the PEI Taxi App or the Yellow Cab App to ask about service to and from destinations across Prince Edward Island.
FAQs
Is Prince Edward Island Worth Visiting?
A PEI vacation should be on every Canadian's bucket list! It's also a popular destination for Europeans and our friends from the US. With everything from red sandstone cliffs, beautiful beaches, lots of hiking trails, and the famous Confederation Trail, travel to Prince Edward Island lends itself well to an active outdoor vacation and is a great destination to visit with kids.
What Do People Do In Prince Edward Island?
Beach activities, hiking, biking along the Confederation Trail, road trips, food and wine experiences, and following the Anne of Green Gables trail are the main things to do on Prince Edward Island.
What Is Prince Edward Island Best Known For?
Prince Edward Island is the home of Anne from the Lucy Maud Montgomery novel, Anne of Green Gables. It's also known for fresh lobster (when in season), and iconic red sand beaches.
How Many Days Do You Need In Prince Edward Island?
Plan for 5 to 7 days on Prince Edward Island to ensure you see everything the province offers. Stay for 2 weeks to relax, unwind, and take in Prince Edward Island at a slower pace.
Things To Do In Prince Edward Island
If you're looking for the best things to do on Prince Edward Island, you've come to the right place. Keep reading for our breakdown of the best PEI attractions, including unmissable places to visit in PEI and unique and fun things to do.
So let's get started!
1. Visit Charlottetown
One of the best things to do in PEI is to visit Charlottetown – the province's capital city. This vibrant and charming city is home to a variety of cultural attractions, including art galleries, museums, and theatres. In addition, Charlottetown offers a great selection of restaurants and cafes, as well as plenty of shopping options.
Things to do in Charlottetown, Prince Edward Island
Take a Stroll along Victoria Row. Victoria Row is a pedestrian-only street in the heart of Charlottetown's historic district. Lined with charming Victorian-era buildings, this popular spot is home to a variety of restaurants, cafes, and boutiques. It's the perfect Charlottetown attraction to enjoy on a sunny day, as you can appreciate live music and street performers on most days.
Visit PEI landmarks and Historic Sites. Visit St. Paul's Anglican Church, known for its striking red sandstone architecture and impressive stained glass windows. Great George Street Historic House is another must-see for history buffs. This house was home to some of Charlottetown's most prominent residents in the 1800s, and features a number of interesting historical artifacts.
Enjoy the Waterfront. Charlottetown's waterfront is a beautiful spot for a walk or bike ride. The lovely views of the harbour and the cityscape make for a relaxing stroll, and there are plenty of places to stop for a bite to eat or a drink. The bicycle path along the waterfront is also a great way to explore Charlottetown.
Catch a Musical at Confederation Centre of the Arts – a must for fans of the Lucy Maud Montgomery novel, Anne of Green Gables. This centre is home to a variety of cultural attractions, including an art gallery, a museum, and a theatre. In addition, the Confederation Players offer great walking tours about the history of Charlottetown. And finally, don't miss one of the Confederation Centre of the Arts' most popular attractions – the annual production of Anne of Green Gables, the Musical!
Visit St. Dunstan's Basilica – St. Dunstan's Basilica is a beautiful example of Romanesque Revival architecture, and is home to a number of fascinating historical artifacts.
Check out art galleries in Charlottetown for an opportunity to view local art. Some of the most popular galleries include Gallery 1858, The Guild, and The Murphy Centre.
Visit Sqmaqn-Port-la-Joye-Fort Amherst National Historic Site to learn about the provincial history of Prince Edward Island. This historic site is home to a number of fascinating exhibits, including replica buildings and fortifications, as well as interactive displays that allow visitors to explore the site's history.
Visit Blockhouse Point Lighthouse – it's another one of popular Charlottetown activities. This picturesque lighthouse offers lovely views of the city and the harbour and is a great spot to watch the sunset.
Take a trip to Orwell Corner Historic Village. This charming village is home to a variety of historical buildings and exhibits, including a blacksmith shop, a general store, and a schoolhouse.
Try the locally sourced, delicious seafood at Charlottetown's Restaurants: our favourites include Salt & Sol and The Cork and Cast. To satisfy a sweet tooth, visit Cows Ice Cream, famous for serving some of the best ice cream on the island, including the popular PEI Apple Crisp flavour.
Best Hotels In Charlottetown
There are lots of great hotel options in Charlottetown with a few eco-friendly accommodations to choose from.
We stayed at The Arts Hotel, conveniently located close to Charlottetown attractions. The Arts Hotels is a great choice for a unique and charming hotel experience in the heart of Charlottetown. This historic hotel is housed in an old Victorian-era building and features beautiful artwork and furniture throughout. The Arts Hotel's basic rooms are quite small but cozy, but more luxurious options include suites with fireplaces and Jacuzzis.
Other sustainable hotels in Charlottetown include the Rodd Charlottetown, Prince Inn, and Delta Hotels by Marriott. Don't forget, if you are visiting in the summer, be sure to book ahead.
2. Go Clam Digging With Tranquility Cove Adventures
This may seem like an odd activity to include in our list of top things to do in PEI, but it was truly the highlight of our time on the island. Clam digging with Tranquility Cove Adventures is probably one of the most unique things you can do in PEI.
This 4-hour adventure starts in historic Georgetown, just 1 hour outside of Charlottetown, and takes place on "Tranquility," a new 45-foot lobster-style boat. The mission is simple – learn a bit about the fishing, crab and lobster industries on PEI and try your hand at clam digging! The activity is so fun and the reward of raking the ocean floor in search of bar clams is a treasure hunt like no other. Find enough clams and watch the captain and his crew boil them on the beach for the freshest seafood feast you've ever had!
3. Visit PEI National Park
One of the unmissable places to visit in Prince Edward Island is PEI National Park. This national park features rolling hills, wind-shaped dunes, and red cliffs and consists of three different sections: Brackley-Dalvay Beach, Cavendish Beach, and Greenwich.
Brackley is located on the north shore of PEI and is known for its beautiful beaches, sand dunes, and wetlands. Brackley Beach is a great place for swimming, bird watching, and hiking.
Things to do in Brackley-Dalvay Beach, Prince Edward Island National Park
Go on a deep sea fishing excursion out of Covehead Harbour
Check out one of many sandy beaches, including Brackley and Dalvay beach, Shaws, Stanhope Cape, and Ross Lane beaches
Enjoy walking and biking trails along Robinson's Island
Rent bikes and admire the Queen Anne Revival architecture at Dalvay-By-The-Sea
Cavendish Beach, Prince Edward Island National Park is the most popular section of PEI National Park and is home to various attractions including Green Gables Heritage Site.
Things to do in Cavendish Beach, Prince Edward Island National Park
Green Gables fans will love a tour of the Silver Bush house, inspiration for the Anne of Green Gables Lake of Shining Waters
Walk along the Homestead Trail
Explore the red rocks of the North Rustico section
Snap a photo of Mackenzie's Brook
Admire the rugged coastline and red cliffs of Cape Turner
Hike the Haunted Woods trail, a 1.1km interpretive loop through the grove that inspired the "Haunted Wood" in Anne of Green Gables.
Greenwich, Prince Edward Island National Park is located in the east part of PEI and is known for its rugged coastline and red cliffs. This section of the park offers excellent hiking trails and opportunities for wildlife viewing.
Things to do in Greenwich, Prince Edward Island National Park
Walk across the floating dock and across different PEI terrains along the Greenwich Dunes Trail
Follow the Tlaqatik Trail along the edges of St. Peter's Bay to learn the history of the area and the story of human interaction with the land over time.
Where to Stay near PEI National Park
There are plenty of places to stay near PEI National Park, including campgrounds. The most popular campgrounds are Cavendish Campground and Stanhope Campground. Both campgrounds offer a variety of camping options, including campsites with electrical hookups, as well as showers and laundry facilities. Staying at a PEI National Park campground is the best way to experience the beauty of the region.
If you are not a camper, there are a number of small charming B&B's in the area, including Kindred Spirits Inn & Cottages and Cottages on The Cape. Water sports enthusiasts will enjoy a stay at The Inn at the Pier, a waterfront hotel in Cavendish that offers kayak and SUP rentals for guests.
4. Visit the Fishing Village of North Rustico
This traditional fishing village is conveniently located close to PEI National Park and has some wonderful natural areas of its own. North Rustico Beach is a great place to go to escape the tourist crowds, and the North Rustico Sea Walk Park offers a beautiful view of the water with stone sculptures along the boardwalk path.
Things to do in North Rustico:
The Farmers Bank of Rustico & Doucet House National Historic Site feature examples of historic PEI architecture that tell the story of Acadian survival. The historic bank-issued loans with reasonable interest rates to farmers during difficult times.
Doucet House is one of the most historic buildings on the island, dating back 250 years. The house has been lovingly restored over the years and is now open to visitors. During July and August, Doucet House hosts experiential meals where you get to make traditional Acadian dishes using ingredients from the site's heritage gardens.
Enjoy a traditional lobster supper. North Rustico is full of cafes and restaurants serving up the fresh catch brought in by the island's lobster fishermen, but to experience a PEI tradition, head to New Glasgow Lobster Suppers, a restaurant located just a few minutes south of North Rustico. Since 1958, New Glasgow Lobster Suppers has been serving the same traditional lobster supper made with ingredients sourced from PEI.
Catch a show at the Watermark Theatre. Nearly every day of the week, you can watch a play cast with actors from PEI. There is also a lovely outdoor area and veranda to enjoy during intermissions.
Join a kayaking tour. Outside Expeditions offers guided kayak tours of the coastline along PEI National Park, Cavendish Coves, and Rustico Bay. If you prefer a self-guided tour, this outfitter also rents kayaks, canoes, and SUP's.
5. Explore Green Gables Shore
For lovers of Anne of Green Gables, Green Gables Shore is a dream come true. This area of PEI is home to beautiful sand beaches, and plenty of other attractions.
Visit the Anne of Green Gables Museum dedicated to the life and work of Lucy Maud Montgomery, who wrote the Anne of Green Gables series of novels. The museum contains exhibits on Montgomery's life and work, as well as on the history of Prince Edward Island.
Tour Green Gables Heritage Place, used as inspiration for the fictional home of Anne Shirley in the Anne of Green Gables novels. The house is open for tours from May to October.
Relax on the beach. Green Gables Shore is home to some beautiful sand beaches, perfect for relaxing in the sun or taking a swim. Cavendish Beach, PEI National Park was our favourite!
Admire the scenery of Green Gables Shore. This region of PEI boasts beautiful rolling hills and ocean views. It was one of our favourite drives on PEI thanks to the charming villages and lush green setting of the area.
Where to stay near Green Gables Shore
Cavendish Campground offers easy access to all attractions of Green Gables Shore. It is where we stayed during our trip, but those looking for more comfortable accommodation options can check out these small B&Bs/rentals nearby: Osprey Nest, North Rustico Harbour Inn, It's 5 O'Clock Somewhere, or Rustico Studio.
6. Visit Summerside
The second largest city on Prince Edward Island, Summerside, is home to a number of historic buildings, as well as coastal, cultural, and culinary experiences. It's a great spot for a day trip from Charlottetown or a lunch stop en route to the North Cape Coastal Drive touring region.
Things to do in Summerside
Catch a show at the College of Piping and Celtic Performing Arts of Canada
Peruse the Summerside Farmers Market
Take a leisurely beach walk at low tide at Indian Head Lighthouse or kick back at The Knot Beach Bar, the only licenced beach bar in PEI.
Check out an art gallery at Eptek Art & Culture Center
Sample some craft brews at the Evermoore Island Brewery
6. Visit Victoria-by-the-Sea
Victoria-by-the-Sea is a charming small town located along the Red Sands Shore of Prince Edward Island. It is known for its art galleries, as well as its restaurants and pubs. We stopped for lunch in Victoria and enjoyed a delicious lobster roll at The Lobster Barn.
Things to do in Victoria
Stroll along Main Street and pop into galleries and art shops en route
Get on the water with a kayak or paddleboard
Grab a bite to eat at the Lobster Barn or Landmark Oyster House.
Stock up on sweets at the Island Chocolates
8. Take A Coastal Drive Road Trip
There are a couple of coastal drives in PEI, each of which can be done as a day trip from Charlottetown or as its town 1-2 night adventure. The drives take you away from the main cities and tourist attractions of PEI and offer an opportunity to get off the beaten path, admire nature and get a bit lost. Each one is worth a trip!
Points East Coastal Drive
The Points East Coastal Drive is a scenic route that wraps around the east coast of Prince Edward Island. It features the famous Basin Head Beach and plenty of opportunities to stop and explore the area's rich history and culture. There are plenty of things to do on eastern PEI, and the Points East Coastal Drive is a great way to see as much of the island as possible.
Some highlights of the drive include the famous silica sand beach at the Basin Head Provincial Park and Basin Head Fisheries Museum, Souris Lighthouse, the charming Georgetown, Panmure Island Provincial Park and Lighthouse, Murray Harbour.
At the south end of the Coastal drive, you'll reach Beach Point, Cape Bear Lighthouse, and the gorgeous Wood Islands Provincial Park.
Don't miss an opportunity to go wine tasting – yes, wine tasting, at PEI's oldest winery – Rossignol Estate Winery and try their famous fruit wines and liquors. Plus, make sure to book a sunset dinner at the Wheelhouse in Georgetown. It was one of our favourite meals in PEI, amazing fresh seafood, great sunset views and perfect island vibes.
Where to Stay along Points East Coastal Drive
You can complete the drive in one long day as a day trip from Charlottetown, or stay the night or two in a small town along the drive. In the town of Murray River, there's The Olde Anchor Bed & Breakfast, which offers lovely wharfside accommodations right off of the Points East Coastal Drive. We spent 2 nights at the floating wine barrel, The Cabernet, in Murray Harbour, a brand new unique accommodation option right on the harbour. Expect shared toilets/shower facilities, but a cozy bed and a very cool bucket list experience. Wine not included.
North Cape Coastal Drive
The North Cape Coastal Drive covers the whole western part of the Island and is home to PEI's second largest city, Summerside. The region known as The Canadian Oyster Coast, boasts world-renowned Malpeque oysters and other culinary specialties like potato fudge, Acadian tourtieres, and more. But in our opinion, the highlight of the region is the beautiful North Point Lighthouse and trail, offering stunning views of the red sand beach and coastline that don the covers of PEI's travel literature. Be sure to give yourself a few hours to enjoy this easy trail- photo ops are plentiful!
Don't miss a stop in Tiny Valley to visit the Tiny Valley Teas Cafe– the best tea shop on the island. Be sure to stop at Valley Oysters and grab a box of super affordable fresh oysters to shuck for dinner or try them shucked at a restaurant like Blue Mussel Cafe or Claddagh Oyster House.
Just across Richmond Bay is Cabot Beach Sand Dunes Natural Area and Thunder Cove Beach, a hidden gem in Darnley. The shoreline here is striking – the beach is lined with sandstone cliffs, sea stacks, and cave formations that are always changing shape because of the wind and water. When it comes to beaches, PEI can't be beat when it comes to diversity.
If you have time, visit Lennox Island, a First Nation reserve on Prince Edward Island. Stop by the Canadian Potato Museum to snap a picture with the world's largest potato and relax with an afternoon yoga with beach goals.
Where to Stay Along North Cape Coastal Drive
We found that spending 1-2 nights in the region was necessary to see the Western part of the island. We spent 2 nights at the Cedar Dunes Campground in Cedar Dunes Provincial Park, but discovered the West Point Lighthouse Inn during our time there. It offers stunning views of the Northumberland Strait and is the only place on PEI where you can stay inside the lighthouse – a true PEI bucket list activity and a perfect place to relax and enjoy the beauty of North Cape.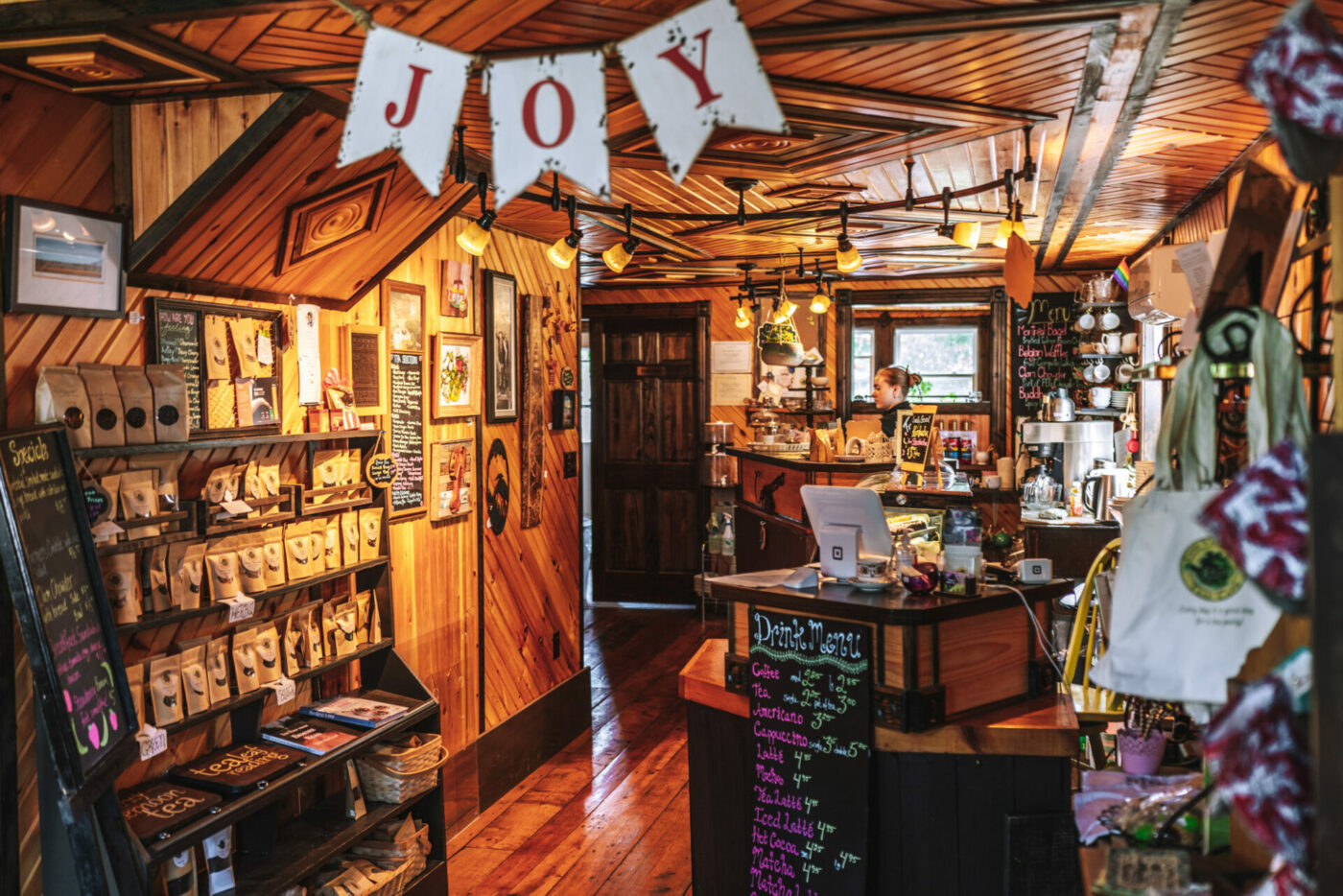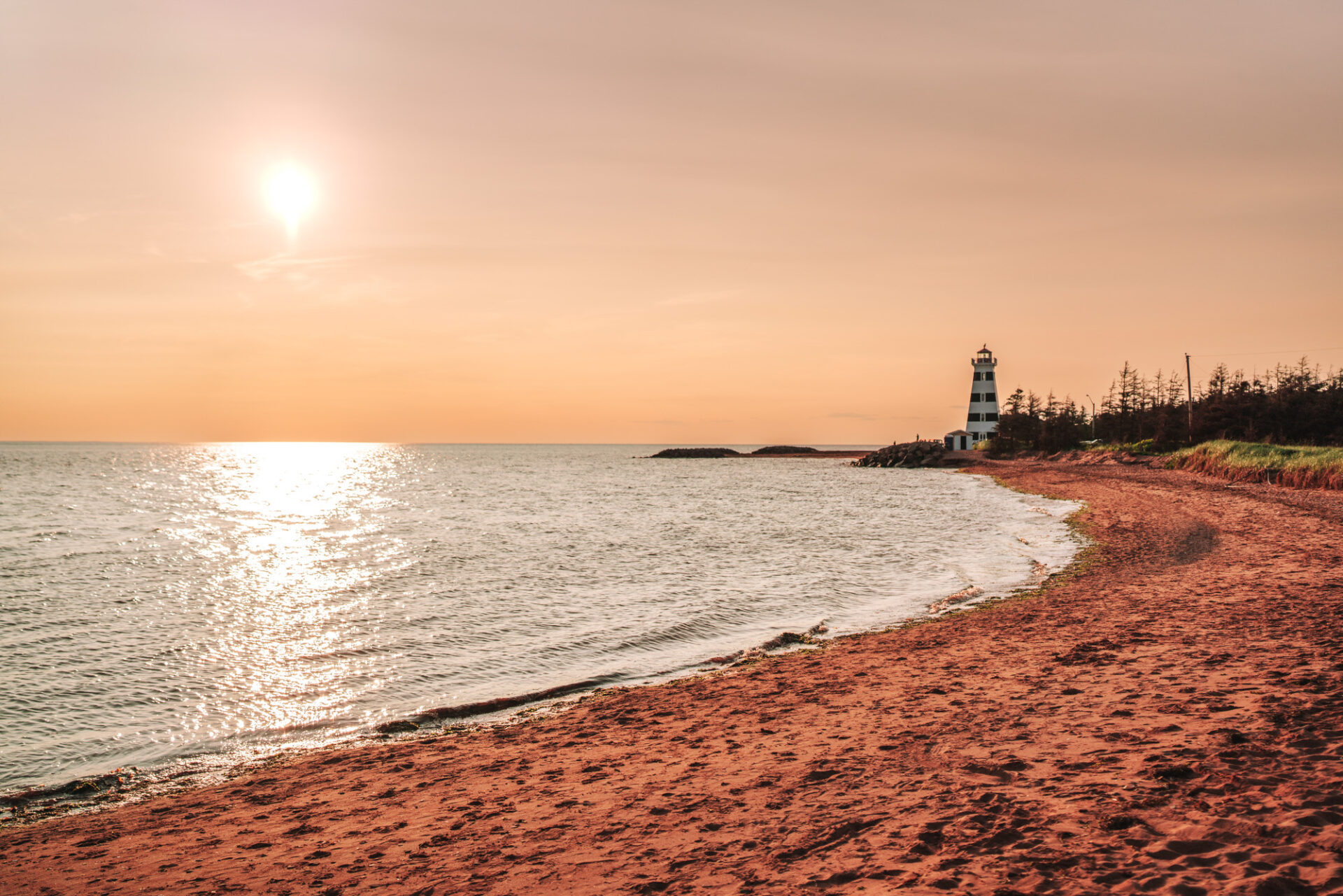 Other Fun Things to do in PEI
There is no shortage of activities and adventures to be had on Prince Edward Island. Whether you choose to explore the island's stunning coastal drives, indulge in fresh seafood, and feed your Anne of Green Gables passion, we're sure you'll fall in love with Prince Edward Island and will want to come back here again and again. We know, we do!
Disclaimer: We visited PEI as guests of Tourism PEI, but, as always, all opinions expressed in this article are our own.