Deemed the Seafood Capital of Australia, Port Lincoln is a coastal paradise on the Eyre Peninsula in South Australia. The city of 16,000 is a fish lover's dream with access to some of the best, most sought-after seafood in the world.
*This post may contain affiliate links, as a result, we may receive a small commission (at no extra cost to you) on any bookings/purchases you make through the links in this post. As an Amazon Associate, we earn from qualifying purchases. Read our full disclosure
While many visit to shark dive, Port Lincoln is also a popular destination for 4WDing and getting out into nature. Home to beautiful beaches, award-winning restaurants, and two national parks, Port Lincoln offers a lot to do in a small area!
After spending a week exploring this small part of Eyre Peninsula on our half lap of Australia, here are our top things to do in Port Lincoln for your next trip.
How to Get There
Getting to Port Lincoln is a bit of a trek from the nearest city of Adelaide. Although the two look close on a map, Port Lincoln from Adelaide is 650 km and takes about 7 hours. From Adelaide, you'll head to Port Augusta where you'll follow the Lincoln Highway all the way down the Eyre Peninsula. There is also a bus service that travels from Adelaide to Port Lincoln and takes about 10 hours.
You can shave off a bit of time by taking the ferry across the gulf from Wallaroo to Lucky Bay, but not much. Because of the long drive, many people opt to travel to Port Lincoln by plane. Both Rex and QantasLink offer direct flights that are much quicker with only 45 minutes spent in the air.
Traveling Soon?

Here is a list of our favourite travel providers and accessories to help get you ready for your upcoming trip!
Best Time to Visit Port Lincoln
Port Lincoln is a lovely year-round destination but ideal weather conditions are in the summer and fall. From December to February, summer days are hot and dry with temperatures averaging around 24°C. It's the perfect time to enjoy the beautiful beaches of the area.
In the autumn months of March and April, days are mild and the crowds have died down from peak season. The weather is still nice, accommodation is plentiful, and while the ocean may be a bit chilly, it's still a great time to explore the national parks and enjoy the great outdoors
Best Things to do in Port Lincoln
Whether you're looking to dine, explore, or just soak in the sights, there are lots of exciting things to do in Port Lincoln.
Go Diving With Great White Sharks
Getting face-to-face with great white sharks is a huge draw for visitors of Port Lincoln. It's the only place in Australia where you can dip in the Southern Ocean and go cage diving with sharks. Seeing these mighty predators in their natural habitat is a unique experience fit for any adrenaline junkie's bucket list.
If you choose to partake in this thrilling activity, opt to go with a responsible tour operator, a company that does not chum the waters to attract the sharks or affect their natural environment in another way.
We recommend Adventure Bay Charters, an eco-tourism certified operator, that offers full-day shark experience with an optional cage dive!
Swim With Sea Lions
Affectionately considered "puppies of the sea," sea lions make for great entertainment! Swimming with sea lions is an interactive wildlife experience like no other! Head to Port Lincoln Marina and set sail on a boat tour where you'll swim alongside these adorable creatures.
Respectfully, tours are committed to minimizing impact on sea lion colonies so they only operate 4 times a week.
Check Out Local Artwork at Galleries
Be sure to check out the vibrant cultural displays as you walk the streets of Port Lincoln town. The Nautilus Arts Centre features unique exhibits from all over Australia that change regularly. For local flare, our personal favourite is Quirky Owl which even offers art classes…with tea!
See Animals at Glen Forest Tourist Park
Just 15 minutes outside of town, Glen Forest Tourist Park offers meet-and-greets with some of Australia's favourite animals. See kangaroos, koalas, wombats, and more before hitting balls at the mini-putt or going on a Segway ride. A visit to Glen Forest is one of the top Port Lincoln tourist attractions for families with kids.
Enjoy the View at Winter Hill Lookout
Take in panoramic views of the city, Boston Bay, Lincoln National Park, Boston Island, and other nearby islands from Winter Hill Lookout. Just a short drive from the centre of town, the lookout offers one of the Eyre Peninsula's best views.
Go for a Stroll Along
Parnkalla Walking Trail
Spend an afternoon taking a leisurely stroll along the scenic coastline of Port Lincoln. Pass by gorgeous fig trees, towering grain silos, and the oldest jetty site on the Eyre Peninsula. The trail is mostly flat and has easy access from Port Lincoln Tourist Park. It made for a great running track during our stay at the Tourist Park.
Visit Lincoln National Park
Lincoln National Park is one of two amazing national parks in the region. Venture down the Jussieu Peninsula to walk the white sand beaches of Memory Cove, part of a Wilderness Protection Area. This secluded paradise is reached by a rough 4WD track that's well worth the bumpy ride. We recommend staying a couple of days so be sure to book your entrance and camping ahead of time. Access to Memory Cove is limited to 15 vehicles per day with a gate key.
On the northern tip of the peninsula, there are other amazing beaches in the park that can be accessed with 2WD, like September Beach and Donington Beach. If you're looking for things to do in the park – go fishing, whale watching, or take a scenic hike. Our top pick is the Stamford Hill hike which offers sweeping views of the bay and Port Lincoln. It's no surprise this short 1.6 km trek is one of 40 Great Australian Short Walks.
Check out Fishery Bay
A day at Fishery Bay is the perfect addition to any Port Lincoln plan. Drive onto the beach (4WD only!) and park up for the day to enjoy crystal clear water and a beautiful setting. Sink your toes in the soft white sand or catch a wave at this former whaling station. It's a local favourite of the Eyre Peninsula.
Explore Whalers Way
Explore the rugged coastline with some of the best coastal views in all of South Australia. The dramatic rock pools are filled with perfectly clear water and sit alongside the mist of the Baleen Blowhole. One of the pools even doubles as a swimming hole! Because the land is privately owned, you'll need to obtain a permit to enter and pay an entrance fee —but it's well worth it.
Visit Mikkira Station
Have a picnic surrounded by koalas and other wildlife at Mikkira Station. This former European homestead is lined with blue gum trees that koalas love to munch on. The site is closed in the summer but offers tours or a self-guided tour with a permit from the Port Lincoln Visitor Centre other times of the year.
Visit Coffin Bay
Take a short 30 min drive to visit South Australia's oyster haven in spectacular Coffin Bay. Oyster farm tours at Coffin Bay Oyster HQ sample some of the tastiest oysters in the state. You can even try shucking your own!
Or take a day-long Seafood, Wine and Nature Tour to taste what Coffin Bay is all about. Or pick up a dozen of fresh oysters, a shucking knife and pair them with a lovely bottle of unwooded Chardonnay for a feast on the senses.
Visit Coffin Bay National Park
A true hidden gem, Coffin Bay National Park is brimming with sand dunes, pristine beaches, and authentic coastal wilderness.
If you have a 4WD vehicle, venture to the north on a soft sand track to reach unspoiled beaches. Black Springs, a shelled beach, is one of our favourites on the coast with great campsites to spend a few days. Remote Seven Mile Beach is another stunning stretch of 4WD-only track lined by white sand and bay views.
If secluded 4WD camping isn't on your agenda, Yangie campground is a good spot for 2WD vehicles. There are a few enjoyable walks around the campground with easy trails and nice views. Admittedly not the most spectacular, but still worth checking out.
Point Avoid and Golden Island Lookout can be easily reached from the park entrance or from Yangie Bay. Here you'll be spoiled with magical island views. Alternatively, spend a day at Almonta Beach and enjoy some of the whitest sand and bluest water on the Eyre Peninsula. A great spot for fishing, swimming, or just hanging out!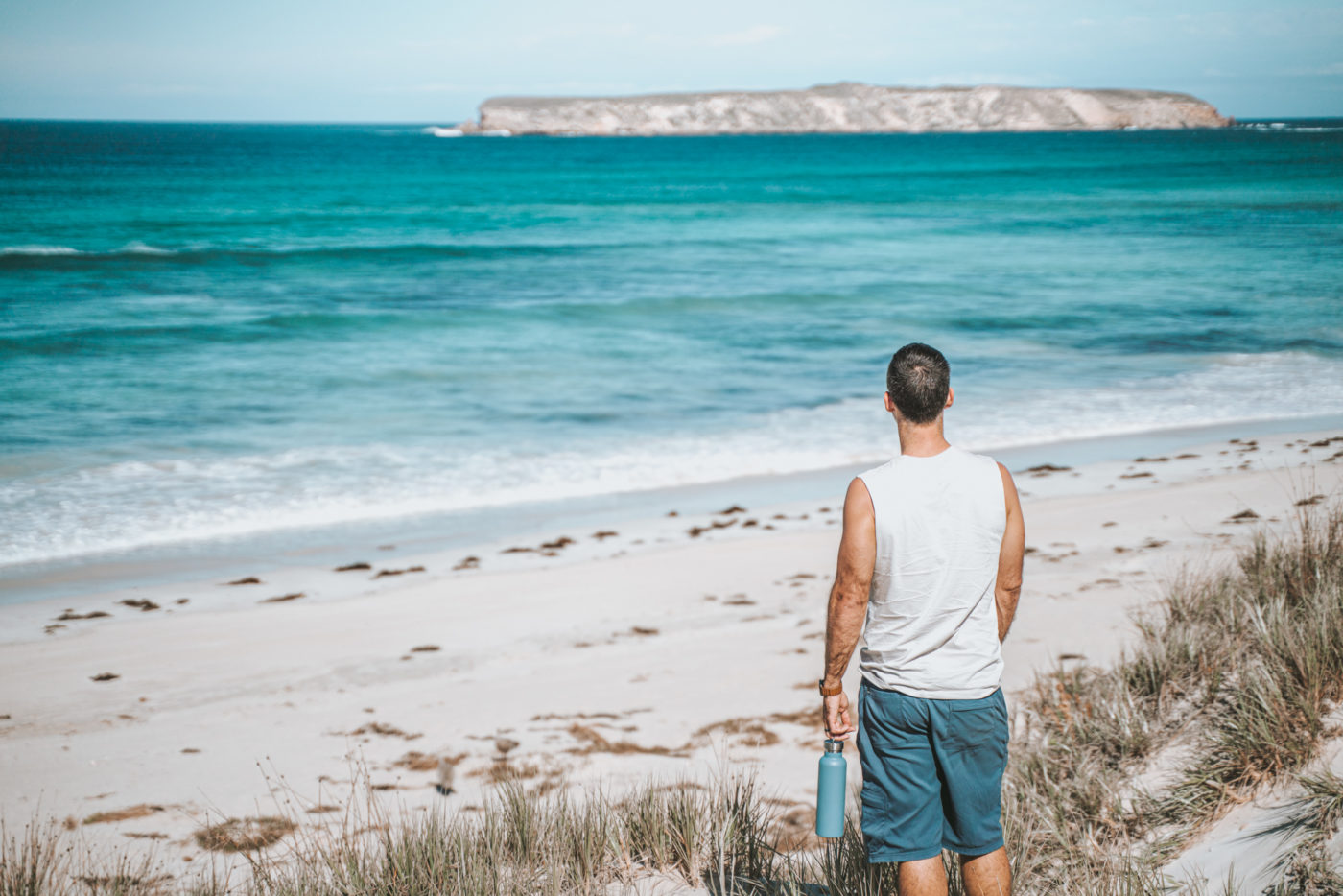 Port Lincoln Day Trips and Tours
While there are plenty of things to do in Port Lincoln, the surrounding area has some attractions you can't miss.
Greenly Beach and Rock Pools
If you're looking for a picture-perfect Eyre Peninsula beach, Greenly Beach is just that. The stunning shoreline is dotted with rock pools that are a gorgeous spot to swim. The pools are 1 hour away from Port Lincoln in Coulta so plan for a day trip. And if you're keen to surf, the area gets 1 meter waves on average.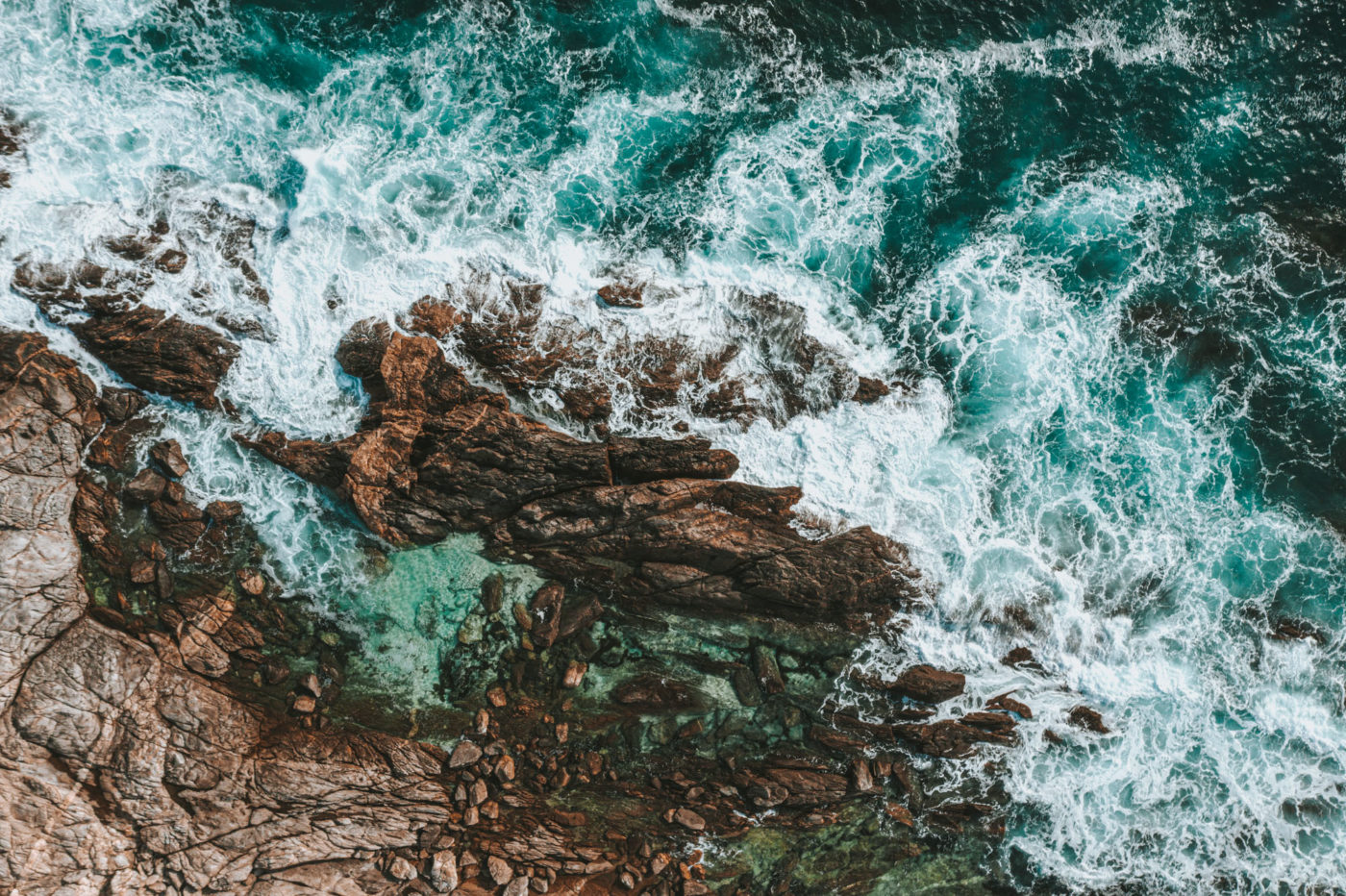 Cummings Monument
The Leo Cummings Monument is like a taste of the 12 Apostles on the Great Ocean Road. Located in Kiana, 1 hour north of Port Lincoln, the site boasts amazing views of rugged cliffs and open ocean. It's not to be missed!
READ NEXT: Great Ocean Drive Itinerary: Best Way To Tour Great Ocean Road
Talia Caves
Plan a full day trip to the Talia Caves set on breathtaking Waterloo Bay. The drive takes about 2.5 hours each way from Port Lincoln, but the journey is totally worth it. Talia Beach sees huge waves that have carved out two granite caverns on the shore. You can walk beneath the honeycomb ceiling of The Woolshed cave or climb into a deep crater coined "The Tub."
Looking for a Tour?
Australian Coastal Safaris offers one, two, or multi-day tours highlighting some of the top Port Lincoln activities. Experience swimming with sea lions, reeling in fish, or a day of hand-picked seafood indulgence.
Where to Eat and Drink: Restaurants in Port Lincoln
With world-class seafood at its banks, Port Lincoln restaurants are truly top-notch.
Peter Teakle Wines
Perched on a hill overlooking Port Lincoln and Boston Bay, Peter Teakle is leading the way for Eyre Peninsula wineries. The vineyard harvests grapes from estate-grown vines and bottles a mean Riesling. You can visit the Cellar Door for tours or dine at the winery's award-winning restaurant, The Line & Label.
Beer Garden Brewing
Using local grains, Beer Garden Brewing brews delicious craft beers alongside a menu stacked with local produce. It's the only established independent brewery on the Eyre Peninsula and a popular venue for live music and events. Pop in here for lunch or an afternoon drink.
The Rogue & Rascal
For a laidback café to grab breakfast or sip on a glass of wine, The Rogue & Rascal is the place to be. Conveniently steps away from the town jetty in Port Lincoln, the menu offers tasty sandwiches and packed breakfast bowls.
Fresh Fish Place
The name says it all; The Fresh Fish Place is Port Lincoln's destination for the best sustainable seafood. We loved their fish and chips, and also tried their oysters! But the shop has a large selection of other fresh fish they bring in daily that are complemented by local produce.
Where to Stay: Accommodation in Port Lincoln, South Australia
There are many great options for Port Lincoln accommodation from hotels to camping. We hopped around mixing staying in town with campgrounds inside the parks.
In Town
The Port Lincoln Tourist Park is a great spot for waterfront accommodation that's close to city amenities. We stayed at an unpowered campsite with a great view and easy access to the Parnkalla Walking Trail. The park also offers powered campsites, modern cabins, and waterfront apartments with views of the marina.
Take a dip in the solar-heated swimming pool overlooking Boston Bay at The Port Lincoln Hotel. This modern hotel features luxe oceanview rooms, an onsite bar and restaurant, and live entertainment on weekends. It's steps away from the Old Mill Lookout and close to bustling Port Lincoln beaches.
Just 20 minutes outside of town, Tanonga Luxury Eco Lodges are the ultimate Eyre Peninsula getaway. Featuring two architecturally striking buildings, these lodges have panoramic views in a secluded setting. Tanonga utilizes solar energy, rainwater collection, and all environmentally-conscious products to preserve the beauty of the area.
Camping in Lincoln National Park
Camping in Port Lincoln National Park is an awesome way to experience the wildlife and scenery of the area. If you're staying for 2-3 nights, Memory Cove campground has a lovely beach in true coastal wilderness. There are 5 sites that are only accessible via a bumpy 4WD track. Besides the toilets, there are no other facilities so be sure to pack it in, pack it out. Booking ahead is essential and you'll need a key (requires a $50 deposit) to enter the area. Camping is $22 per night.
If you're travelling with a caravan or don't want to head too deep into the wilderness, Surfleet Cove Campground offers sheltered bayside camping. There are a mix of tent and vehicle sites, along with clean drop toilets. Camping is $13 per night.
Another beautiful spot on the shore is September Beach Campground. There are 12 campsites that are steps away from soft, white sand. Campfires are permitted here and the grounds have picnic tables and drop toilets. This spot is perfect for tents and caravans and even offers two glamping tent options. Camping is $13 per night.
Coffin Bay National Park
Nestled in a sheltered cove, Black Springs Campground is a 4WD spot with 8 beachside sites. It's surrounded by lush trees and is our favourite place to camp in the park. There are drop toilets and fire pits but no other facilities so be sure to take your rubbish with you. Camping is $13 per night.
Less secluded is Yangie Bay Campground, which is busy but still comfortable. It's the only 2WD accessible campground in the park so it's great for caravans and those wanting to paddle in the calm bay. There are communal fire pits, drop toilets, picnic tables, and a kayak launch. Camping is $13 per night.
Coffin Bay Caravan Park
If you want to stay outside of the park, Coffin Bay Caravan Park is an option that's closer to Coffin Bay town. There are 130 powered and unpowered campsites with access to BBQs, bathrooms and even WiFi. It's decent for an overnight stay but we didn't particularly enjoy staying here. The sites are on one big grassy knoll so they don't have much of a view or any privacy. Powered sites are $25 per night.
Have you ever visited Port Lincoln? What were your must-see Port Lincoln attractions?