Tucked away on the southern coast of Victoria in Australia, Phillip Island is a beautiful destination for outdoor lovers, wildlife enthusiasts or good food aficionados. The small island packs a punch with lots of exciting things to do!
*This post may contain affiliate links, as a result, we may receive a small commission (at no extra cost to you) on any bookings/purchases you make through the links in this post. As an Amazon Associate, we earn from qualifying purchases. Read our full disclosure
Located less than 2 hours from Melbourne, the island is a popular weekend getaway for those looking to experience something different. No matter what time of the year you visit, the island is always buzzing with activity. Famous for its international racing circuit and colony of penguins, Phillip Island's unique charm is truly special.
We recently visited Phillip Island on a Sydney to Melbourne road trip and found it to be a very worthy detour. If you're planning a visit to Phillip Island, here are some of the best things to do in Phillip Island.
Traveling Soon?

Here is a list of our favourite travel providers and accessories to help get you ready for your upcoming trip!
How to get to Phillip Island
Despite being an "island," Phillip Island is easily reachable by car from Melbourne or elsewhere in the Gippsland region. Getting to the island from Melbourne takes less than 2 hours (142 km) along the Monash Freeway. After leaving the city, you'll venture along the perimeter of Western Port Bay and cross the bridge in San Remo.
Don't have wheels? You can still access Phillip Island by public transport on the V/Line coach that departs from Melbourne daily. Another option is to take the Western Port Passenger Ferry from Stony Point on the Mornington Peninsula. The sailing takes about 45 minutes with a stop on French Island.
Things to do in Phillip Island
This island is a haven for family activities, excellent dining, and beautiful natural scenery. Whether you're visiting for adventure or to unwind, there are lots of great things to do in Phillip Island.
Hike Cape Woolamai
Just past the bridge from San Remo, Cape Woolamai is home to breathtaking coastal views and amazing surf breaks. The Cape Woolamai Circuit Walk takes you to the highest point of the island. You can enjoy panoramic views of the beautiful coastline. The Pinnacles are another highlight of the hike, with rocky granite formations that stand tall during low tide. Cape Woolamai is part of Victoria's National Surfing Reserve and considered one of the best surfing beaches in Australia.
See Penguins at the Penguin Parade
Phillip Island is home to the largest colony of little penguins, or fairy penguins, in the world! These tiny penguins weigh just 1 kg and can only be seen at sunset, when they make a nightly stroll up to their burrows. The nightly phenomenon is called the Penguin Parade and you can witness it every night year-round from the Penguin Parade boardwalks and viewing area. Tickets to the Penguin Parade start at $27.25 for adults and $13.50 for children.
Visit Nobbies Centre
It's no secret that Phillip Island is a haven for unique wildlife and magical scenery. On the westernmost tip of the island, the Nobbies features interactive exhibits and displays to dive deeper into the island's charm. Outside of the ecotourism centre, you can stroll along the boardwalk, soak up ocean views and even see fur seals!
The Nobbies is one of the best Phillip Island tourist attractions for kids and adults alike.
Visit the Koala Conservation Reserve
Journey through native bushland at the Koala Conservation Centre to experience koalas in their natural habitat. We learned a lot about koalas and their habitat on our visit. We particularly enjoyed getting up close with koalas here. There, you can walk along treetop boardwalks and watch koalas hang from eucalyptus trees as they go about their day sleeping and eating.
Walk Alongside Red Rocks and Sea Caves
Red Rock Beach is one of the most popular attractions for a beachside stroll or a swim. Vibrant red rocks line the beach on the northern coast of the island in Cowes. Over in Surf Beach, head onto the shore at low tide to discover rocky sea caves.
The Forrest Caves are two huge caverns that were formed by cliff erosion. Many say that hanging out in the Forest Caves is one of the best free things to do in Phillip Island, Victoria!
Visit the Purple Hen Winery
Located on the east coast of the island, Purple Hen is a family-owned winery producing cool climate wines. The vineyard is surrounded by a picturesque view of the bay and nearby Churchill Island. Purple Hen's farming techniques and unique climate create award-winning wines that are surely Phillip Island's finest.
READ NEXT: Best Wine Regions in Australia
Shop at The Store
After a day of sightseeing, pop into The Store for a gourmet treat. The Store carries a wide selection of high-quality, local products ranging from coffee to cheeses. A tip for any Phillip Island visitor: enjoy a toasty on the garden patio or pack some sourdough to-go!
Other Phillip Island Attractions & Tours
Visit Churchill Island: Cross the bridge to Churchill Island to experience the site of the first farm in Victoria. The Churchill Island Heritage Farm is a glimpse into the past where farmhands still do activities like sheep shearing and cow milking.
Go on a Scenic Flight With Phillip Island Helicopters: Exploring Phillip Island, Victoria, is a beautiful experience by foot so imagine how amazing it looks from the sky! See the beaches and cliffs that make the region so iconic from a different view onboard a soaring helicopter. You may even spot wildlife at Seal Rocks, where resident fur seals make up the largest colony in Australia.
Explore the Water With Ocean Adventures: Ocean Adventures offers fun activities and experiences in the water including snorkeling, scuba diving, or seeing the water from a boat.
Go on a Seal and Whale Watching Cruise: Embark on an environmentally friendly ocean cruise around to see incredible wildlife attractions. See seals up close on a seal-watching cruise while soaking in stunning views of the cliffs and beaches. Visit in the winter for an unforgettable whale-watching experience.
Visit Phillip Island Chocolate Factory: Panny's Amazing World of Chocolate is one of the best places to visit in Phillip Island for those with a sweet tooth. The chocolate factory boasts over 190 varieties of chocolate. Moreover, it has a chocolate waterfall! Entrance to the shops is free but tours offer a unique experience into the world of chocolate making.
Have Fun at A Maze'N Things: If you're looking for fun things to do in Phillip Island for a family, A Maze'N Things is a worthy stop. Filled with illusions, puzzles, mazes, magic and mini-golf, this theme park is loaded with activities.
Go Go-Karting at Phillip Island Grand Prix Circuit: Along with its impressive beaches and wildlife attractions, Phillip Island hosts an exhilarating Grand Prix circuit. Each year, the Australian Motorcycle Grand Prix is held at the Phillip Island Grand Prix Circuit. Adults and kids can ride like the pros on a 750 m replica go-kart track meant to mimic the famous racing circuit.
Where to Stay in Phillip Island
This destination has many great accommodation options scattered across the island. We always prefer to get the most of our experience by staying somewhere unique and memorable. These hotels are set in beautiful locations with convenient access to the best Phillip Island activities.
Oak Tree Lodge
Relax and unwind at a luxurious coastal escape set in a picturesque English garden at Oak Tree Lodge. Located in Rhyll, this bed and breakfast has 4 self-contained suites that have been elegantly designed for an ideal getaway. It's perfect for couples and is steps away from great restaurants like Outback Chef's Wild Food Farm.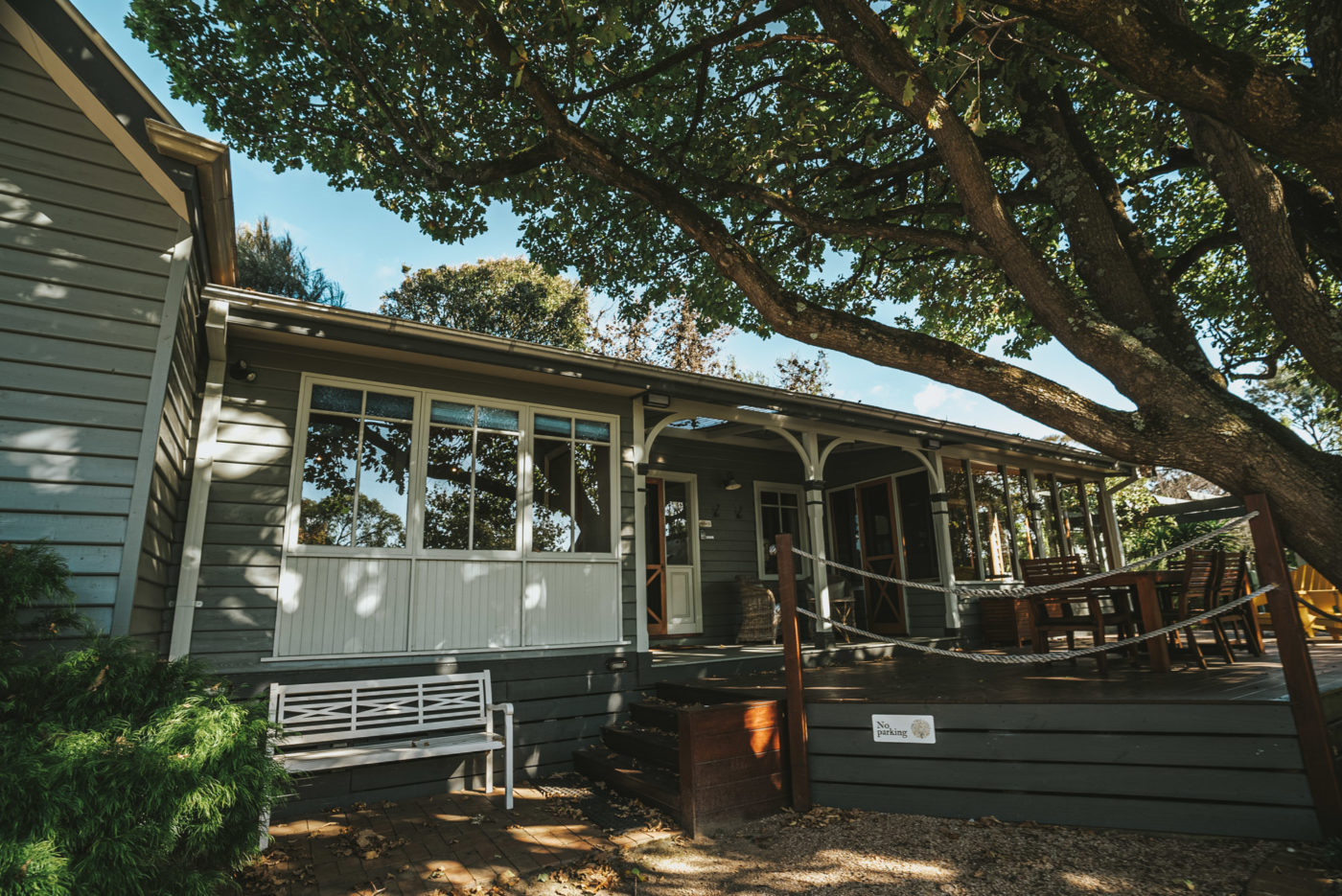 Ramada Resort
Set on 65 acres of bushland, the Ramada Resort is a beautiful escape close to many great things to do in Phillip Island. Conveniently located in Cowes, the Ramada has 3 swimming pools, an on-site restaurant, and a variety of villas, cabins, and studios. It's a perfect family getaway but also offers a relaxed setting for couples in suites with a peaceful outdoor deck.
Clifftop Boutique Accommodation
Perched on the cliffs overlooking Smiths Beach, Clifftop Boutique Accommodation is one of Phillip Island's most luxurious hotels. Soak in a sparkling view of the ocean with floor-to-ceiling windows overlooking a National Surfing Reserve beach. The hotel is surrounded by lush vegetation and has 8 beautifully designed suites.
Kaloha Holiday Resort
Centrally located in Cowes, the Kaloha Holiday Resort is Phillip Island's tropical oasis. Dotted with palm trees, the hotel has a saltwater swimming pool and spa and is walking distance to the beach. There is an on-site restaurant along with a choice of rooms, beachfront cabins or campsites. Kaloha is close to all the great things that Phillip Island has to offer.
Best Restaurants in Phillip Island, Victoria
In Phillip Island, you are spoiled for options for delicious, locally sourced and harvested food.
Outback Chef's Wild Food Farm
If you're lusting for local Outback Chef is the place to try some of the best bushfoods in Phillip Island. Outback Chef, started out as a catering business that focused on infusing local herbs and spices into their dishes. Today, the Outback Chef has expanded to a farm and on-site restaurant experience. The shop offers tea, nuts, and preserves all proudly sourced in Victoria and surrounding areas. Visit the homestead cafe and take a guided tour of the native food trail. The farm is one of the best things to see in the island for a true taste of local.
Beach HQ Restaurant & Bar
Beach HQ has some of the best waterfront dining in Cowes. Their menu features a range of dishes highlighting Gippsland beef and local produce. Plus, their list of Gippsland wines and local ales is sure to complete any meal.
The Westernport Hotel
Located on the beach in San Remo, The Westernport Hotel features modern Australian pub food in a laid-back atmosphere. The menu is filled with local favourites from Victoria with a refreshing twist on the classics. Stop by on a weekend to catch live music and have a glass of Gippsland wine at the bar.
Phillip Island Winery
Dining at Phillip Island Winery is all about sharing delicious food with friends—with a glass of wine, of course. They craft mouthwatering charcuterie and vegetarian grazing boards that are perfect for sharing. Their extensive wine list proudly showcases what Gippsland wines are all about!
The Cape Kitchen
Perched on the cliffs near Cape Woolamai, The Cape Kitchen is your spot for oceanside local dining. The restaurant pairs sweeping views of the Southern Ocean with a thoughtfully prepared menu of regional cuisine. All dishes feature seasonal produce from farms in Victoria with a great selection of delicious vegan options. We highly recommend their 2-3 course set lunch!
Rusty Water Brewery Restaurant & Bar
Enjoy a seasonally inspired menu of local ingredients and hand-crafted ales at Rusty Water Restaurant & Bar. Using seasonal produce, Rusty Water serves up a range of dishes from light lunches to hearty dinners. They offer vegetarian and vegan options and proudly serve a great selection of Gippsland wines. It's a convenient lunch stop after seeing the koalas at the Conservation Reserve.
How Many Days Do You Need in Phillip Island?
You can easily explore the island and its attractions in 2-3 days, an ideal weekend getaway! While you can do a day trip to Phillip Island from Melbourne, it deserves a minimum of two days.
Have you ever visited Phillip Island? What was the highlight of your trip?
Disclaimer: Big thanks to Destination Phillip Island and Visit Victoria for hosting us during our time on Phillip Island. Always, all opinions expressed in this article are our own.