*This post may contain affiliate links, as a result, we may receive a small commission (at no extra cost to you) on any bookings/purchases you make through the links in this post. As an Amazon Associate, I earn from qualifying purchases. Read our full disclosure.
A lot of people have New Zealand on their bucket list – with its' otherworldly beauty, friendly people, and the fact that it feels like the country sits on the edge of the earth – how could you not want to visit?
Since it is a relatively remote location and takes a fair bit of effort to travel to from most places in the world, visiting for an extended period of time – anywhere from 2 weeks to 3 months – gets you the most bang for your buck plane ticket-wise. Plus, there are so many New Zealand destinations, that you will never run out of places to visit and things to do!
Here's our recommended New Zealand itinerary:
South Island
Experience the Garden City of Christchurch
Christchurch is the largest city on the South Island. It's known as the "Garden City" – it's full to the brim with trees – and is a great place to start getting a feel for the incredible nature and culture that often makes it onto "what to do in New Zealand" lists from various publications.
Here are some of our top picks for things to do in Christchurch:
The Botanic Gardens
Fully experience the "Garden" part of Garden City by popping into these world-renowned botanical gardens.
Fun fact: it's the second largest city park in the world (only topped by Central Park in NYC)!
International Antarctic Centre
Seeing as you're at the edge of the world, why not learn everything there is to know about Antarctica? This is an interactive museum – complete with an Antarctic storm simulation room, an all-terrain vehicle tour, exhibits about the first expeditions to the frozen continent, and so much more!
The Christchurch Farmers Market
Every Saturday morning from 9 to noon at the Riccarton House at the Christchurch Farmers Market you can browse fresh produce, delicious local food, and live cooking demonstrations!
Hike Around the Wanaka Region
Wanaka New Zealand is the gateway to Mount Aspiring National Park – an incredible place to hike through the Southern Alps. You can either do day hikes or longer treks through the park and surrounding regions.
Lake Wanaka is a very popular summer destination – as it's the perfect place for water sports. And in the winter, the Wanaka region has incredible ski conditions – Treble Cone is one of the most popular ski resorts and is the closest one to the city of Wanaka. It's also possible to see the Southern Lights from Wanaka in winter. We would have to say that Wanaka is one of the best places to visit in New Zealand!
Experience the Southern Alps via Queenstown
This small town nestled on the edge of Lake Wakatipu will be one of the most picturesque, beautiful trips you've ever taken. Pretty much every major attraction in town accentuates the incredible view of the Remarkable Mountains (that's their name – and an appropriate adjective to describe them) and the lake below. A quick trip up to Glenorchy is one of the most beautiful scenic drives in the world, and takes less than an hour – it's definitely a New Zealand must see!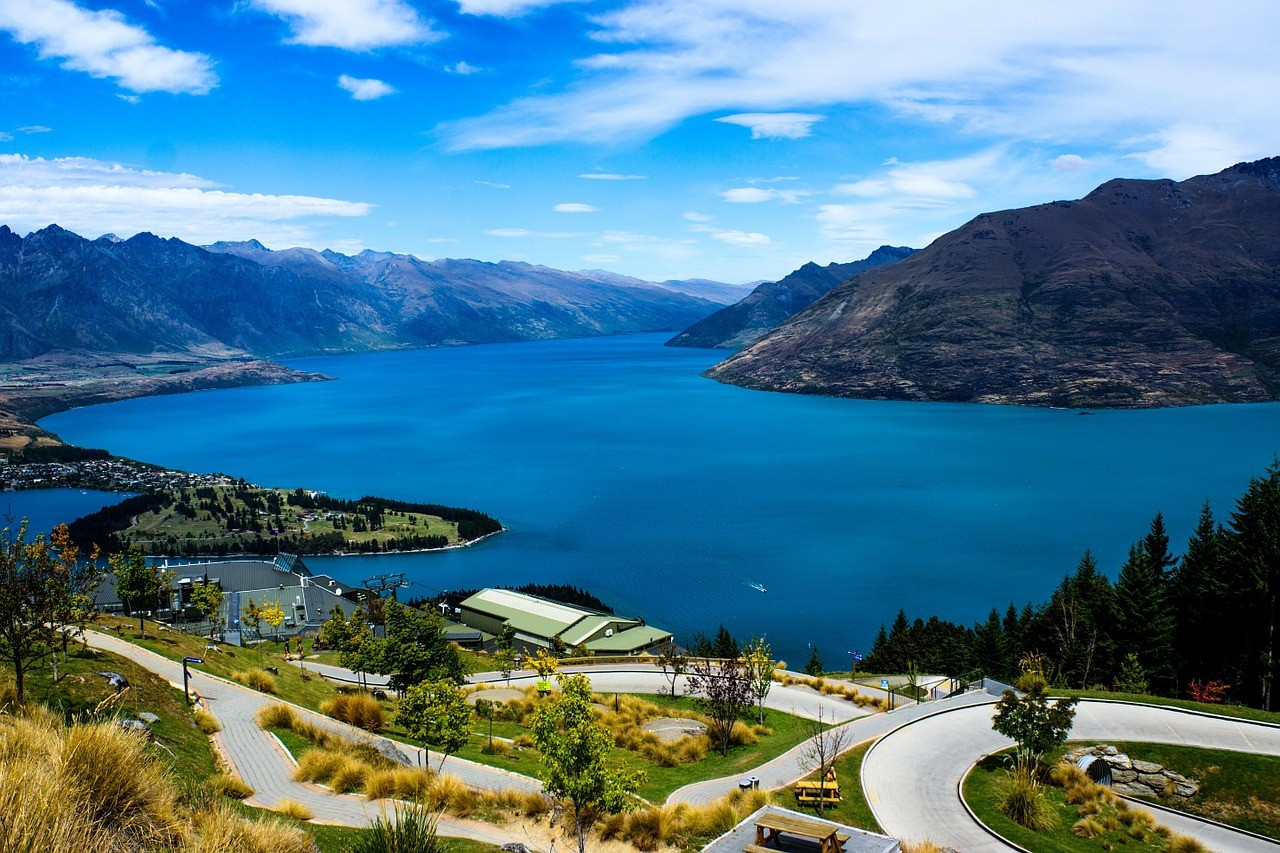 Travelers that yearn for extreme sports will find no shortage of things to do in Queenstown New Zealand. You can go bungee jumping, zip-lining, mountain biking, horseback riding, jet-skiing, skiing, snowboarding, skydiving, parasailing… the list goes on and on.
There is something for every level of adventure enthusiast – at any time of year!
Queenstown is also home to arguably the best burger on the planet – the Fergburger. Make sure you stop in at this world-famous restaurant while in town, as it really is a New Zealand must-see (and eat)!
Take a Boat Trip Around Milford Sound
Milford Sound is one of the most popular things to do in New Zealand- and for very good reason! It's home to a variety of marine life – dolphins, seals, penguins and even bioluminescence (glow worms!) – alongside stunning waterfalls and cliffs along the water.
The best way to see Milford Sound is by boat. There are countless tour operators that circle the area – our favourite is Eco Tours!
Experience Unique Wildlife in Dunedin
For those of you who love to incorporate wildlife experiences into your holidays, Dunedin is a New Zealand must see! It is home to sea lions, fur seals, yellow penguins, and – most notably – it is the only mainland colony of Royal Albatross in the world.
There are a handful of really awesome responsible tour operators in the area – Elm Wildlife Tours is a great place to start!
Go Kayaking in Abel Tasman National Park
This park is most known for its incredible beaches. You can experience the bay that the park encompasses in kayaks – it's truly a once in a lifetime experience and one of the best places to visit in New Zealand! You can either participate in a guided tour or rent kayaks and set off on your own – both options available from the national park itself.
Visit One of the Country's Many Glaciers
There are quite a few substantial glaciers in New Zealand, and there's nothing quite like experiencing one of them up close. Whether you sea-kayak, ice-hike, ski on top of them or simply take in their beauty on a hike – it's definitely worth a day of your holiday.
Our top three recommendations are all located near to each other and are along the west coast of the South Island – the Fox Glacier, Franz Josef Glacier and the Tasman Glacier. Make sure to visit at least one of them on your New Zealand itinerary!
Experience the Night Sky at Lake Tekapo
Not only is this lake region a stunning resort town, but it is currently on track to become the first world heritage site for starlight preservation. It is far away from any major towns – located about 3 hours from both Christchurch and Queenstown by car – and the night sky shines brighter than you've ever seen it!
If you're into astrophotography, astronomy, stargazing, or just simply taking a break from city lights – you'll love Lake Tekapo. Make sure to stop by the observatory to do a stargazing tour and you won't regret adding Lake Tekapo to your New Zealand Itinerary.
Hike Around Mount Cook
Mount Cook is the tallest mountain on the continent, and for many, is a New Zealand must-see. Experiencing the mountains is pretty straightforward regardless of your hiking abilities – there are trails for all levels of difficulty throughout Aoraki Mount Cook National Park!
If you're looking for a more luxurious (but still responsible) tour option for the Mount Cook region, check out Air Safari's Grand Traverse flight.
Take a Scenic Drive Through Arthur's Pass National Park
If you've only got time to go on ONE scenic drive in New Zealand (though there are countless), we recommend renting a car and driving through Arthur's Pass along the Great Alpine Highway as it is one of the most unique things to do in New Zealand. There are plenty of short walks/hikes along the highway so you can stop, stretch your legs, and take in the expansive mountains and forests within the park.
This national park is located at a higher elevation than most of the country (up in the mountains) so it's a bit chillier than surrounding regions. And driving in this region in the dead of winter can be a bit dangerous – especially if there is ice on the road – so prepare accordingly. It is well worth it, though – this is definitely one of the best places to visit in New Zealand.
North Island
Explore the Southernmost Capital City in the World, Wellington
Most people mistake Auckland as the capital of the country, but it is, in fact, the quaint harbour city of Wellington.
Some of our top picks for Wellington:
Panoramic views
Mount Victoria offers an incredible 360 view of the city and harbour, and you can drive or walk to the top. Mount Kaukau is also beautiful, but a little further out of town.
Zealandia Karori Wildlife Sanctuary
This picturesque reservoir is the largest urban wildlife sanctuary in the world. Zealandia Karori Wildlife Sanctuary offers the most convenient way to see some of the more rare wildlife species in New Zealand, protected from predators.
Te Papa Museum
An immersive, interesting museum that has exhibits about the geography, history, culture and indigenous population.
Relax in the Hot Springs of Lake Taupo
This lake is the product of supermassive volcanic eruption thousands of years ago and continues to be a geothermal hotspot to this day. Making it one of the most popular New Zealand north island attractions.
Fun fact: Lake Taupo is the size of the country of Singapore!
You can visit the most active part of the geothermal valley – either Craters of the Moon or Orakei Korako – and walk among all of the active geysers in the area to really feel the heat! But our absolute favourite thing to do in the area is to enjoy the hot pools. One of the most popular options is the Taupo DeBretts Hot Springs Resort.
See the Beauty of Huka Falls
Just north of Lake Taupo is a New Zealand north island attractions you should add to your visit. Here you can visit one of the most interesting and beautiful waterfalls in New Zealand – Huka Falls.
The most exciting way to experience the falls is to hike along the river building up to the falls. It starts at Spa Park and takes about an hour to complete. There's an array of vista points all around the falls, too, so you can take a peek at it without hiking.
Experience Bioluminescence in the Waitomo Caves

Just outside of the town of Waitomo are the Waitomo Caves. These caves are one of the top tourist destinations in the country because they're home to bioluminescence – aka glow worms!
You can experience the caves in a variety of ways – from a relaxed boat tour to black water rafting (yeah, that exists!) – it just depends on the level of adventure you're interested in.
Hike Through New Zealand's First National Park, Tongariro
There are so many different hiking trails within this national park, it can be a little overwhelming to choose! If you're looking for an all-day adventure trek, definitely do the Tongariro Alpine Crossing. It is challenging but well worth it – you see breathtaking views of mountains, volcanic terrain, and pristine lakes. This is a day-trek that is extremely popular during the summer months, so expect to share the trail with lots of people throughout the day!

Experience More Geothermal Activity at Waiotapu
Waiotapu is an expansive geothermal reserve in the Taupo volcanic area. A part of the reserve is called the Wai-O-Tapu Thermal Wonderland – and is an incredible way to experience the mineral-rich hot pools, mud pools and geysers. It's also owned by a local Mauri family that runs the park with "kaitiakitanga" – guardianship, conservation & sustainability – in mind.

Experience the City of Auckland
Most likely, you are going to be flying into the city of Auckland.
To make the most of your time in the city before heading out to experience New Zealand's nature, here are our top recommendations:
Sky Tower
This is the tallest free-standing building in the southern hemisphere! From the Sky Tower, you can see up to 80km from the top of the building, dine in one of the 20 restaurants inside, or bungee jump off of the building via the Sky Jump.
One Tree Hill
This is probably the most famous volcanic cone in the Auckland region and will give you incredible views of the city.
Rent a Bicycle
An awesome way to cover a lot of ground in a short amount of time and see the city from a new angle.
You don't need to spend more than two or three days in Auckland – there are so many things to do in New Zealand outside the city where you should definitely budget most of your time!
Get Your Nerd on in Hobbiton
If you're a Lord of the Rings fan, you undoubtedly already have Hobbiton on your itinerary for things to do in New Zealand!
But even for those of you who have no interest in the movies, a visit to the Hobbiton movie set is a once in a lifetime experience and is one of the top rated New Zealand destinations.
Relax on a Beach Near Auckland
Whether you're looking to sprawl out on a towel and sunbathe, hit the waves or poke your feet in the water, the beaches along the northern shores are incredible. When planning what to do in New Zealand, make sure to pencil in a beach day!
If New Zealand has been on your bucket list, but you've yet to take the leap – now's the time! You can experience a little bit of every kind of holiday – relaxation, adventure, nature, and city – in one place. And next time a friend asks you what to do in New Zealand, be sure to share some of these great destinations with them!
What is the one thing on this list you're most looking forward to seeing?