Located in the Kimberley region of Western Australia, Broome is a small town home to just 14,000 people. Known as the pearling capital of Australia, this town is surrounded by the crystal clear turquoise waters of the Indian Ocean and is renowned for its iconic 22.5 km long white sandy Cable Beach.
*This post may contain affiliate links, as a result, we may receive a small commission (at no extra cost to you) on any bookings/purchases you make through the links in this post. As an Amazon Associate, we earn from qualifying purchases. Read our full disclosure
Broome is a place where the sun dips into the ocean, red cliffs and blue waters coexist in perfect harmony, and red dirt meets white sandy beaches. It's a true highlight of Australia's unique Dinosaur Coast and a must-visit in North-Western Australia.
It's one of our favourite destinations in Australia.
If you're itching for a Western Australia road trip, this Broome travel guide covers everything you need to know about visiting Broome.
How To Get There
Broome is located in northern Western Australia, nearly 2,000 km away from both Perth and Darwin. Needless to say, the easiest way to get there is by flying into Broome's International Airport. There are daily flights from Perth and Darwin and seasonal flights from Sydney, Melbourne, and Brisbane.
While the 2.5-hour flight from Perth is a lot quicker than the 22.5-hour drive, a road trip to Broome is pretty awesome. You can reach Broome by traveling along Highway 95 from Perth or via the Gibb River Road or Stuart Highway through Kununurra from NT or Queensland. Both trips offered incredible scenery that you just can't find anywhere else in Australia.
Traveling Soon?

Here is a list of our favourite travel providers and accessories to help get you ready for your upcoming trip!
Best Time To Visit Broome
The best time to go to Broome is during the dry season, typically from May to October, when the days are warm, the nights are balmy, and the skies are clear. Think sunny 30C° days and crisp 15C° evenings.
Because of Broome's tropical climate, the wet season can get pretty sticky hot and you guessed it, rainy. You'll find cheaper travel rates during the summer, but many tours and hotels don't even operate during this time.
Things To Do In Broome, Australia
Broome tourist attractions are all about enjoying the incredible wilderness of the Broome coastline and soaking in unique cultural experiences. Explore the beaches, eat delicious food, and get a taste of laid-back living.
Enjoy The Laid Back Lifestyle
Mosey through the streets lined with bohemian-style caravans while kids saunter around in the grass. Here, laughter mixes with the notes of Bob Marley's classics echoing in the distance. This once sleepy outback pearling town is now a haven for outdoor adventure and relaxed, beachside living. It's also a favourite for Australia's grey nomads who leave their homes on the East Coast to spend 3-6 months in Broome to escape the cold. It's easy to grab a chair and join the holidaymakers lounging with a book or beer in hand, soaking in the late afternoon sun.
Visit Cable Beach
If there's one thing to do in Broome, it's to get yourself a blanket and make your way to Cable Beach. We promise you'll be pleasantly surprised! Despite being the biggest attraction in Broome, it's so big it feels almost secluded. You can visit the beach on a busy day and find only about a dozen lounge chairs dotted in the sand.
Take a walk down towards the southern end of the beach by the swim area and enjoy one of the best Broome beaches. Or drive your 4WD onto the northern end of the beach for the ultimate beach hangout!
You can also find a trailer at the back of the beach offering visitors a pick of activities for a fun beach day. Hire umbrellas, lounge chairs, boogie boards, stand-up paddleboards, surfboards, or even a bucket of toys for the little ones. There are lots of things to do in Cable Beach, whether you're feeling active or just want to relax.
The water can be a bit chilly, but it's crystal clear and nothing short of dreamy. If you don't fancy a refreshing dip in the ocean, just stretch out on the white sand and enjoy the sunshine. Cable Beach is generally croc-safe, although be vigilant and follow local warnings, as saltwater (estuarine) crocs have been known to move into the waters along the beach.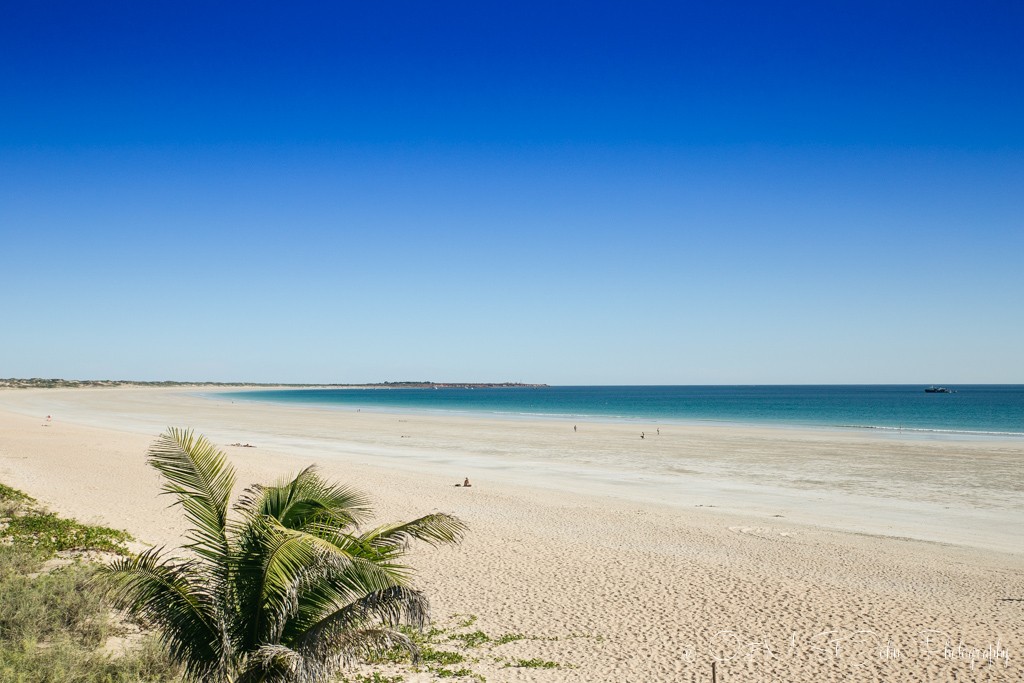 Catch A Magnificent Cable Beach Sunset
If you're on a budget and searching for free things to see in Broome, you can't go wrong with a sunset! There is something really magical about watching the sun dip into the ocean. Especially for us, having lived on the East Coast for so long. Admittedly, we're not committed enough to wake up for sunrise, so sunsets are something we never get tired of seeing.
Sit back and watch as the colours start to change. Blue shades blend with the golden rays of the sun and fill the beach with a warm glow.
Just as the sun grazes the horizon, you're likely to see a train of camels appear in the distance. They'll slowly meander along Cable Beach, loaded with tourists enjoying a sunset camel ride. Keep your camera handy for the perfect photo moment.
And, of course, you can't visit beaches in Broome without a sundowner. Finish the day with cocktails and snacks at Zanders on the Esplanade before taking a leisurely sunset walk up the beach.
Enjoy A Camel Ride
As we just mentioned, one of the top things to do in Broome is to take a camel ride along the splendour of Cable Beach. There are many different operators providing camel rides in Broome, and prices range from $40 to $95. You can go for a camel tour that uses a reputable and sustainable provider and makes sure the animals are well cared for. You can opt for a morning, afternoon, or sunset stroll along the pristine sand atop one of these unique animals.
Go Bargain Hunting At The Broome Courthouse Markets
One of our favourite things to do in Broome (or anywhere for that matter!) is to wake up early and head to the markets. The Courthouse Markets have been a fixture in Broome town for over 20 years, operating weekly on Saturdays and Sundays (May to October). They are truly at the heart of the Broome community, where local flare meets rich history.
Not only will you get an enjoyable shopping experience, but it's a great way to support small, local businesses, artisans, and organic farmers.
Soak up the atmosphere as stallholders joyfully chat with one another, catching up on the week's events while you browse the stalls. You'll find local pearls, local produce, handmade clothing, jewellery, and local art as live music fills the air. Plus, don't forget to try goodies from Kimberly Coffee and crepes from the Patty Wagon. Worth getting up early for!
Take A Day Trip Or Weekend Getaway To Cape Leveque
An absolute must on the list of things to do in Broome is a visit to Cape Leveque. It's located on the tip of the Dampier Peninsula, just 200 km north of Broome, Australia. It takes about 2-3 hours to reach, but the road is freshly sealed, so 4WD is no longer required. If you don't want to drive it, you can join one of the Broome tours to Cape Leveque.
Once you get there, you'll be greeted with colourful, natural beauty. We love Cable Beach, but Cape Leveque takes the beaches of Broome to a whole new level. Pristine white sand runs into turquoise water, backed by red sandstone cliffs that seem to turn to gold in the sunshine.
There are plenty of activities to keep you entertained at Cape Leveque. Go snorkelling in the azure waters, try a spot of fishing, or jump aboard a glass-bottom boat. If you have a day to spare, take a scenic flight over Horizontal Falls for an adventure like no other. It's one of the Broome attractions that you will never forget!
Visit Gantheaume Point
Gantheaume Point is another great spot to visit in Broome. It's a popular sunset spot, a fun rock formation to explore, and a site for some unique dinosaur history. Here, you can view 130 million-year-old dinosaur footprints, which can be spotted on the red rock cliffs overlooking the water. You'll want to visit at low tide for the best view, but there's also a replica of the footprints at the entrance. This allows visitors to see the signs of ancient life even at high tide!
You may also find remains of Anastasia's Pool, a once sprawling pool carved out by a former lighthouse keeper for his wife. The red rocks hug the jagged shore, offering a stark contrast and ideal opportunity for photo enthusiasts.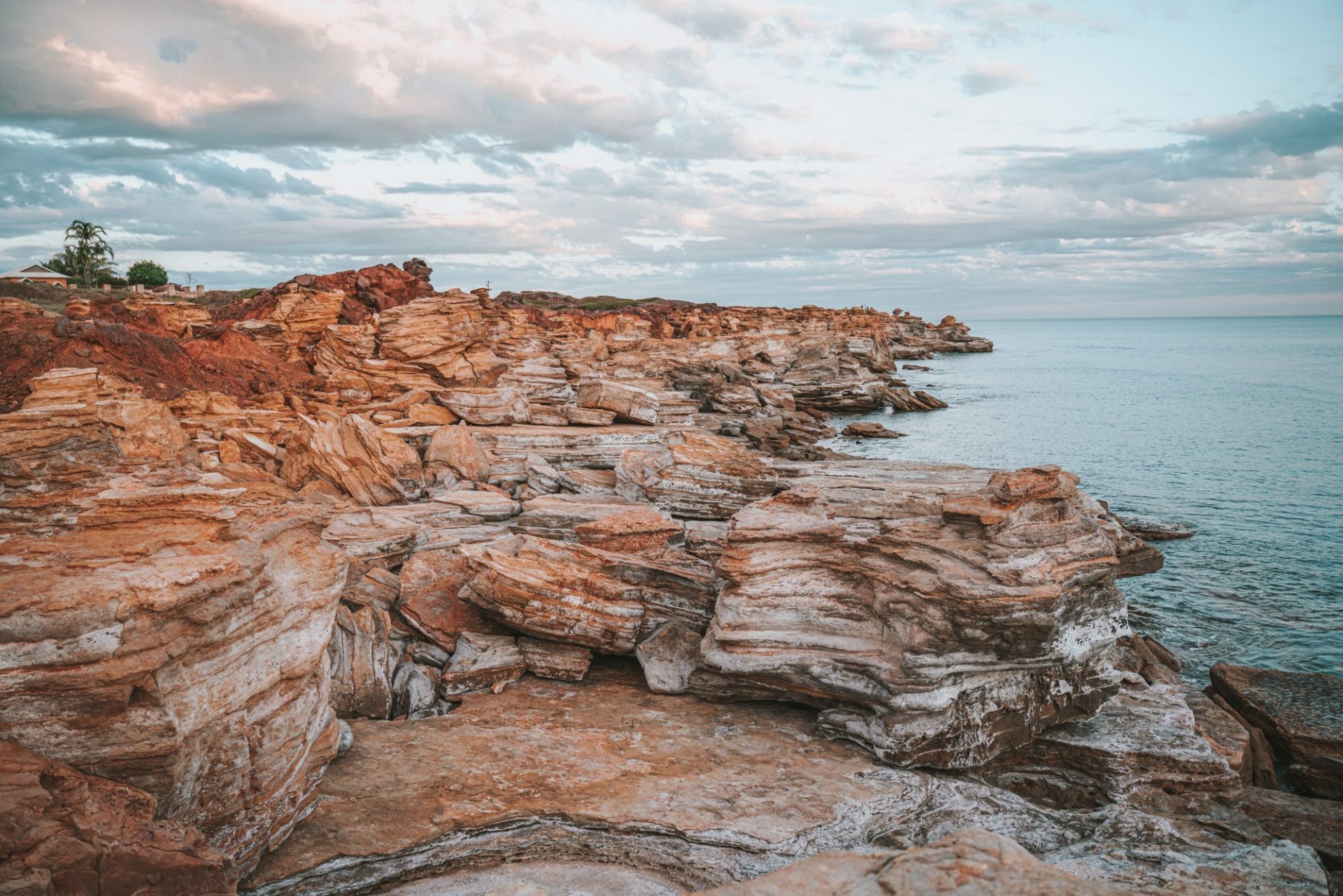 Witness The Staircase To The Moon Over Roebuck Bay
One of the most unique Broome attractions is its seasonal phenomenon called Staircase to the Moon. Visit from March to November to see a spectacular optical illusion that's guaranteed to be an unforgettable experience. If you can time it right, it's one of the best free things to do in Broome.
When a full moon rises, the moonlight reflects over the tidal flats at Roebuck Bay, creating the illusion of a staircase. The coolest part is that at low tide, the stairs appear to stretch all the way to the moon! You can sit back on the sand at Town Beach and admire the view.
During Staircase to the Moon, Broome also hosts "Moon" or "Staircase Markets" where local vendors set up a festival-style market. There's a huge variety of snacks and art to take over to the beach for the sunset festivities. Alternatively, head to The Mangrove Hotel to watch the moonrise from their lawns overlooking Roebuck Bay.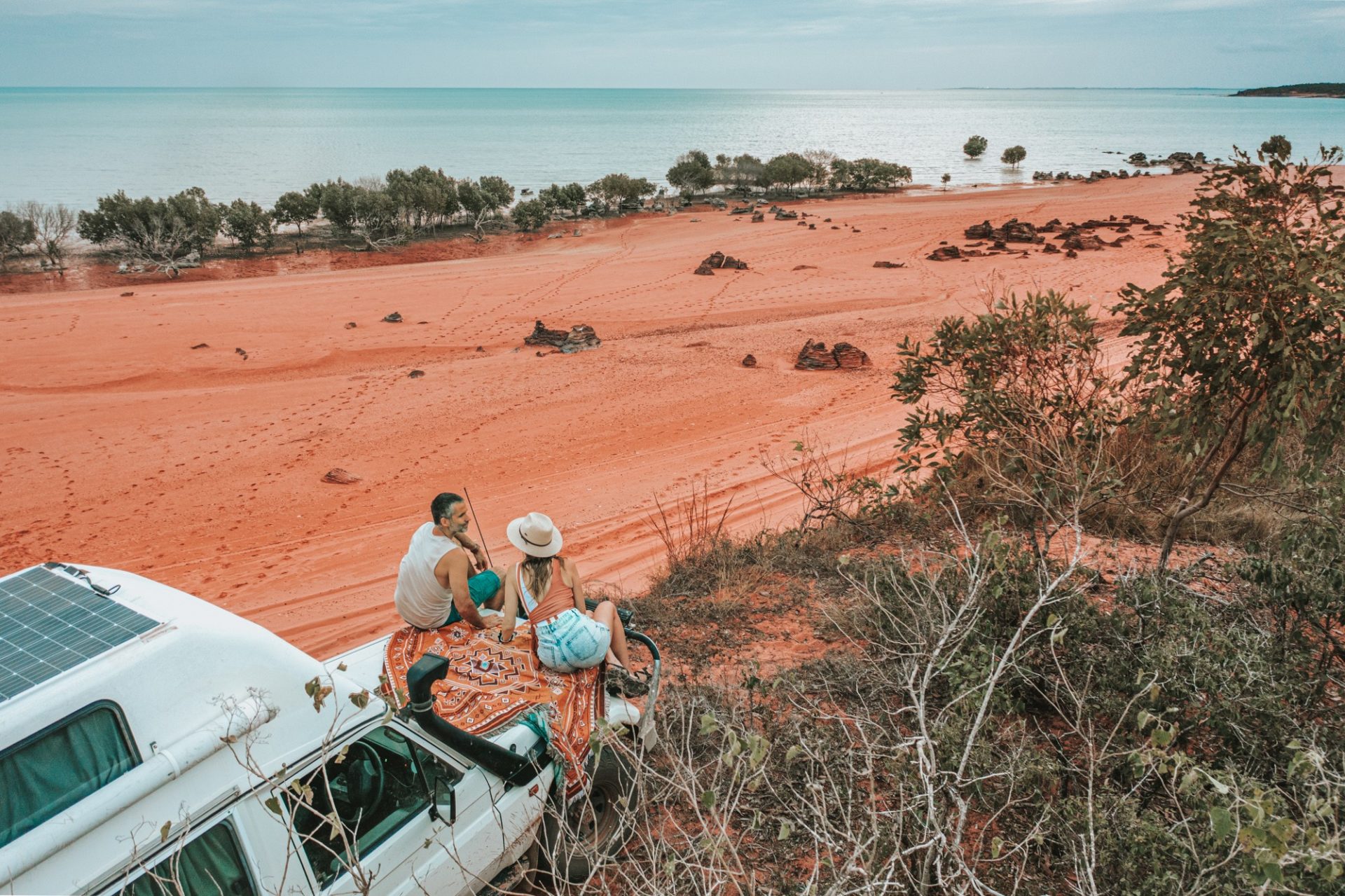 Fall In Love With Broome's History And Culture
Broome has made its way onto the list of our favourite places in all of Australia. Its simplicity and uncomplicated ways make it a perfect place to wind down and enjoy Western Australia's life. Yet, learning about Broome's history in the pearling industry makes it even more intriguing.
You can easily spend a day walking around Broome's centre, where shops and restaurants line Robinson Street. For a dose of history, stop into the Broome Historical Museum for snapshots of former pearling glory circa World War II. Or, wander through the Japanese Cemetery, which pays homage to the many divers who contributed to the gruelling pearling industry.
For a hands-on experience, join in on tours at Willie Creek Pearl Farm. You'll learn all about how modern pearling has evolved and even get to enjoy a delicious homemade lunch. Given that the town is built on pearling, this tour offers one of the most interesting things to do around Broome.
For another slice of history, head to Sun Pictures to catch a film at the oldest operating picture garden in the world! The 100-year-old outdoor cinema is a Broome staple in its northern Chinatown area.
Join a Whale Watching Tour in Kimberley Marine Park
If you happen to be in Broome during the winter months (June to October), this is a great time for a whale watching tour. Every year during this time, 35,000 humpback whales seek refuge in Kimberley's warm, tropical waters to mate and calve.
The Broome Visitor Centre provides information on whale-watching tours, as well as recommendations for responsible operators in the area. As always, it's best to go with a tour company that is experienced and focused on sustainable practices.
Cruise the Kimberley
Broome is the gateway to the Kimberley Coast, and serves as the starting point for several boat cruise operators. Day cruises visit destinations like King George Falls, the Buccaneer Archipelago, Hidden Island, Silica Beach, Horizontal Falls and much more. This is a great way to see some stunning natural beauty that you just can't reach any other way. Plus, you get to kick back and not worry about logistics.
Go on a Turtle Kayak Adventure
The warm, turquoise waters off the coast of Broome are home to a large variety of marine life. Sea turtles and dolphins can be seen throughout the year, and humpback whales are often seen close to the shore during their migratory season.
Visit a Local Distillery or Brewery
Sample locally produced spirits at one of the nearby distilleries. Located in Broome town, Moontide Distillery produces gin and other spirits with local botanicals using sustainable practices. The Moontide Distillery Cellar Door offers gin tastings paired with curated cheese boards.
Famous for its ginger beer, Matso's Broome Brewery offers tasting paddles that feature their permanent and seasonal brews. The onsite restaurant offers a wonderfully varied menu, including unique vegan options.
Where To Stay: Broome Accommodation
Here are the best places to stay in Broome, from caravan parks to luxurious hotels. The local tourist office also has a comprehensive list of accommodations for visitors with specific needs.
Cable Beach Holiday Park
Just off the shores of Cable Beach, the Cable Beach Holiday Park is a lovely destination for caravans. The park is covered in lush tropical gardens with a refreshing saltwater pool and mini-golf course. It's a favourite for families but offers a range of options for accommodation in Broome. Book a powered campsite, self-contained cabin, or family cabin for bigger groups. Rates range from $45-260 per night.
Broome Bird Observatory
Some 30 minutes outside of town, the Broome Bird Observatory is our favourite campground in Broome. The peaceful sounds of birds in the distance are the ultimate way to relax under the stars. And it's an ideal spot for any bird lover. The Observatory has a birdbath right outside of the camp kitchen that attracts hundreds of bird species on a daily basis.
The Observatory offers unpowered campsites, basic rooms, and a self-contained chalet. It's the best place to stay in Broome for pure tranquillity. Rates range from $20-160 per night.
Beaches Of Broome
For travellers on every budget, Beaches of Broome has it all. A budget-friendly resort, the grounds take backpacker luxury to a new level. The hotel has a variety of dorm-style and private rooms, along with an outdoor pool and sundeck, with the famous Cable Beach just a 5-minute walk away.
Bicycle and motorbike rentals are available to guests, and the onsite tour desk will help arrange your adventures in and around Broome. Bunks start at just $23, while private rooms start at $106.
The Billi Resort
Settle into a tropical escape at The Billi, a gorgeous boutique resort at the north end of Cable Beach. The contemporary design is complemented by lush outdoor gardens, a swimming pool, and meandering timber walkways. The resort offers standard rooms, villas, and luxurious eco-safari tents.
The resort tour desk can arrange car and scooter rentals, camel riding tours, and scenic flights. Rooms start at $186 per night
Eco Beach Resort
Along the other side of Roebuck Bay, Broome's Eco Beach Resort is a stunning wilderness retreat. It's 130 km south of Broome and offers luxury eco villas and safari tents on a stretch of pristine coastline. Guests get the option of either garden view or sunset view tents, all with private ensuite bathrooms and balconies.
There is an onsite restaurant and bar, and on certain dates, long table dinners are held, which feature dishes made with local produce and single vineyard wines. The resort provides complimentary kayaks and SUPs, free yoga sessions, as well as guided nature tours throughout the season. Enjoy what Kimberley living is all about as you reconnect with nature. Tents start at $140 per night.
Have you got more ideas for the best things to do in Broome? Share them with us!