*This post may contain affiliate links, as a result, we may receive a small commission (at no extra cost to you) on any bookings/purchases you make through the links in this post. As an Amazon Associate, I earn from qualifying purchases. Read our full disclosure.
If you are anything like us, you may find yourself struggling to strike a balance between the desire to participate in the gift-giving festivities with a desire to minimize our possession and encourage others to consume less.
When it comes to eco friendly gift giving, we believe in a few principles:
Buy less

– the concept of reuse and recycle works great even for the holiday season. Because not all gifts need to be brand spanking new and because it's all too easy to get sucked into great Black Friday deals and end up buying stuff you don't actually need.

Choose experiences over things

– because we believe that memories and time spent together have a much bigger impact than a pair of socks ever could.

Buy local/buy ethical

– choose smaller companies over big conglomerates, choose ethical and responsible manufacturing practices because every dollar that you spend this holiday season, is a vote towards more sustainable producers and manufacturing practices.
We know that searching for sustainable experiences or a great eco friendly gift can be a challenge.
So we hope this guide will help you find a few great eco friendly gift ideas for you, for your family, and for other sustainable travelers in your life. If you are choosing to spend money this holiday season, we hope that you choose to spend it on sustainable and ethical products!
Eco Friendly Gift Ideas for the Travel Buff in Your Life
Clothing and Footwear
prAna Clothing
First on our list, a catch-all of clothing for any sustainably-minded traveler in your life is prAna, a brand committed to sustainable sourcing and manufacturing practices. In our mind, prAna is one of the leading brands in this space and we'll be honest with you, we don't own an item from prAna that we don't love.
Their clothing is functional, stylish, and comfortable. Plus their sustainability movement really resonates with our own beliefs.
Prana offers a wide range of clothing from basic and casual pieces to more specialized items. They are suitable for yoga, working out, swimming, climbing, and other outdoor and travel activities.
Bluffworks
Bluffworks clothing is perfect for the adventurous traveler with a sense of style! Their clothing line is made up of formal, performance clothing pieces like dress shirts, blazers, suits, and pants. Ideal for business professionals who travel for work or travelers who just like to look good while exploring the world.
Max's love affair with Bluffworks started with their chino pants. However, now their jeans, dress shirts, and blazers are a staple in Max's travel wardrobe. This year, Bluffworks has also introduced a women's line!
Bluffworks is a small startup and their team put great effort into manufacturing each piece of clothing. All of their products are designed and manufactured in the US with high-quality fabrics that are free of harmful toxins and allergens. Plus, their items last for years and their garments are really easy to care for. They can be machine washed and literally thrown into luggage, only to come out wrinkle-free.
Unbound Clothing
A fairly new player in the men's apparel space, Unbound is committed to reducing consumption and is a great eco-conscious brand for the minimalist traveler. Their simple product line up is made from organic biodegradable merino wool (mulesing free/Woolmark certified). It doesn't contain chemicals and provides natural odour resistance.
Their clothes are not made to be disposable, they last longer, need to be washed less and are perfect for just about any travel occasion. Max has worn his Unbound boxers, socks, t-shirt, and zip up merino hoodie in warm and cold climates, urban settings, and remote outdoor destinations and thanks to the unique properties of Unbound Merino, he's been able to wear them for days without any washing.
Organic Basics Intimates
Sustainable intimates are one of the more challenging items to find, so if you or your loved one is in the market for some sustainable basics, check out Organic Basics. It's our personal choice for sustainable basics.
Not only are the pieces comfy and well-fitting but Organic Basics is a sustainable brand committed to providing better fabrics, ethical manufacturing practices, and longer-lasting pieces.
The Organic Basics women's line consists of underwear, socks, bras, shirts and basic activewear. Men's line has a selection of briefs, t-shirts, and socks.
There is an Organic Cotton line and a SilveTech line that uses silver technology (yes, real silver) to combat odour. And as you may have guessed, the colours are pretty basic too.
Shop Organic Basics and use our coupon code TEAOBC for an additional discount on your order!
Teeki Yoga Wear
Teeki is a brand of yoga-inspired clothing that is on a mission to change the way the fashion industry does business. Their shorts, leggings, and crop tops are made from recycled (BPA-free) water bottles and 100% organic cotton and are manufactured using fair trade practices in the US.
Every Teeki item is hand-sewn and embellished using Teeki's own eco-printing process that uses 90% less water than the standard fabric printing process and does not result in polluted water waste or ground contamination.
Their products are easy to take care of, they dry fast, keep their shape, and are some of the most comfortable and versatile items of clothing Oksana owns.
Chaco Footwear
We'll admit it, you can find us in flip flops a majority of the time and Chacos are our go-to brand. Chacos footwear is made to last (trust us, these won't wear out like a regular pair of Havaianas). They feature a non-marking EcoTread outsole made from 25% recycled rubber, which makes them a great eco friendly gift option.
Aside from flip-flops, the brand has a plethora of other footwear. Their best-sellers are sandals that have great grip and traction for hiking, they can be taken through the water, and they are comfortable enough to be worn the whole day. Chacos also come in some more fashionable styles, like these great winter boots.
Each pair of Chaco Sandals provides arch support approved by the American Podiatric Medical Association and their straps are adjustable for a customized fit. Plus, they are truly made to last! However, if your Chacos do need a little love down the line, the ReChaco program will repair them for you. This is a really refreshing concept when most companies would encourage consumers to throw out and rebuy.
Eco Friendly Bags
Peak Design Camera Bag
Peak Design is a great brand of stylish and a great eco friendly camera for the photographer in your life. Their bags are so well designed, with flexible compartments, a plethora of pockets, comfort, modular straps, and zipper tabs. We particularly love their Everyday Bag!
We feel good knowing that Peak Design cares about the environment as much as we do! Bags are made with 100% recycled nylon shell, some use recycled interior materials and even recycled aluminum. The company also offsets its carbon footprint, is striving to become fully carbon-neutral, and donates 1% of their annual revenue to grassroots environmental nonprofits!
Granite Gear Duffle
The Granite Gear brand is known among travelers for its high-quality products (hence the "tougher than granite" slogan) and great value. We love their wheeled duffel bags and have been traveling with our 26″ Cross Trek 2 Wheeled Duffel for a few years now. It has loads of compartments, it's durable, and has both wheels and backpack straps. But that's not the only great bag in their line-up.
All their gear is produced in the USA, so buying Granite Gear you will be supporting local business and will be able to rest assured the quality of the construction will be high. Plus their Grounds Keepers program is inspiring thru-hikers to clean the trails of trash!
GOT Bag
GOT Bag is the ultimate eco friendly bag and it's our best travel companion. This bag comes with us no matter where we go. A day at the beach, a hike in the mountains, or a carry on en route to a new destination.
It is 100% waterproof, has a capacity of 23 liters, and is really comfortable to carry around. The roll-up top and compression straps make the bag expandable in size and easy to adjust.
We love that each bag is made from 3.5kg (7.7 pounds) of recycled plastic. The plastic is collected by community fishermen. They have seen the effect plastic has had on the oceans and who are now dedicated to cleaning up our oceans! Practical, comfortable, and good for the planet. That's something we can get behind.
Travel Accessories
Hydro Flask Water Bottle
Our recommendation of this high-performance reusable water bottles won't surprise our regular readers. We've been raving about our love Hydro Flask for years now. It really is a perfect eco friendly gift for anyone looking to reduce their consumption of single-use plastic bottles.
Hydro Flask is not just a regular water bottle. Its TempShield™ double wall vacuum insulated technology sets these bottles apart from other reusable water bottles, as it allows cold liquids to stay cold for up to 24 hours or hot for up to 12 hours.
Plus to top it off, all Hydro Flask products are only produced at meticulously chosen factories that practice social responsibility, fair labour, and strong ethics.
Organic Tea
If you've got a tea-connoisseur on your Christmas shopping list, then a pack of organic loose leaf tea is going to be a winning gift! We have done our fair share of research and tasting and have come up with this list of utterly delicious organic tea.
Steripen Water Treatment Stick
If the sustainable traveler on your list is traveling to a country where the water isn't recommended for drinking. Have them skip the plastic bottles and treat the water with a Steripen instead.
We never leave home without ours and it has been an incredible tool to help us reduce our consumption of plastic water bottles while on the road! It is super easy to use and kills 99.9% of bacteria, viruses, and protozoa. We specifically recommend Steripen Ultra, as it can be easily charged via a USB. Combine this Steripen with a HydroFlask and you've got an amazing eco friendly gift pack!
Metal Drinking Straws
We have all seen those horrifying turtle vs. straw videos and its safe to say they've got lots of people rethinking their straw usage.
So we recommend keeping the straws out of the ocean by adding these metal drinking straws to travel bag. This pack even comes with a handy wooden case and cleaning brush.
Eco Friendly Makeup
If you or your loved one is looking to make the switch to eco friendly, zero waste makeup but don't know where to begin then this list is for you. It features some great brands that are good for both your skin and the planet.
These brands stay away from harmful ingredients like parabens, sulphates, and phthalates found in most traditional makeup products and they do their part to keep plastic out of landfills by using environmentally friendly packaging.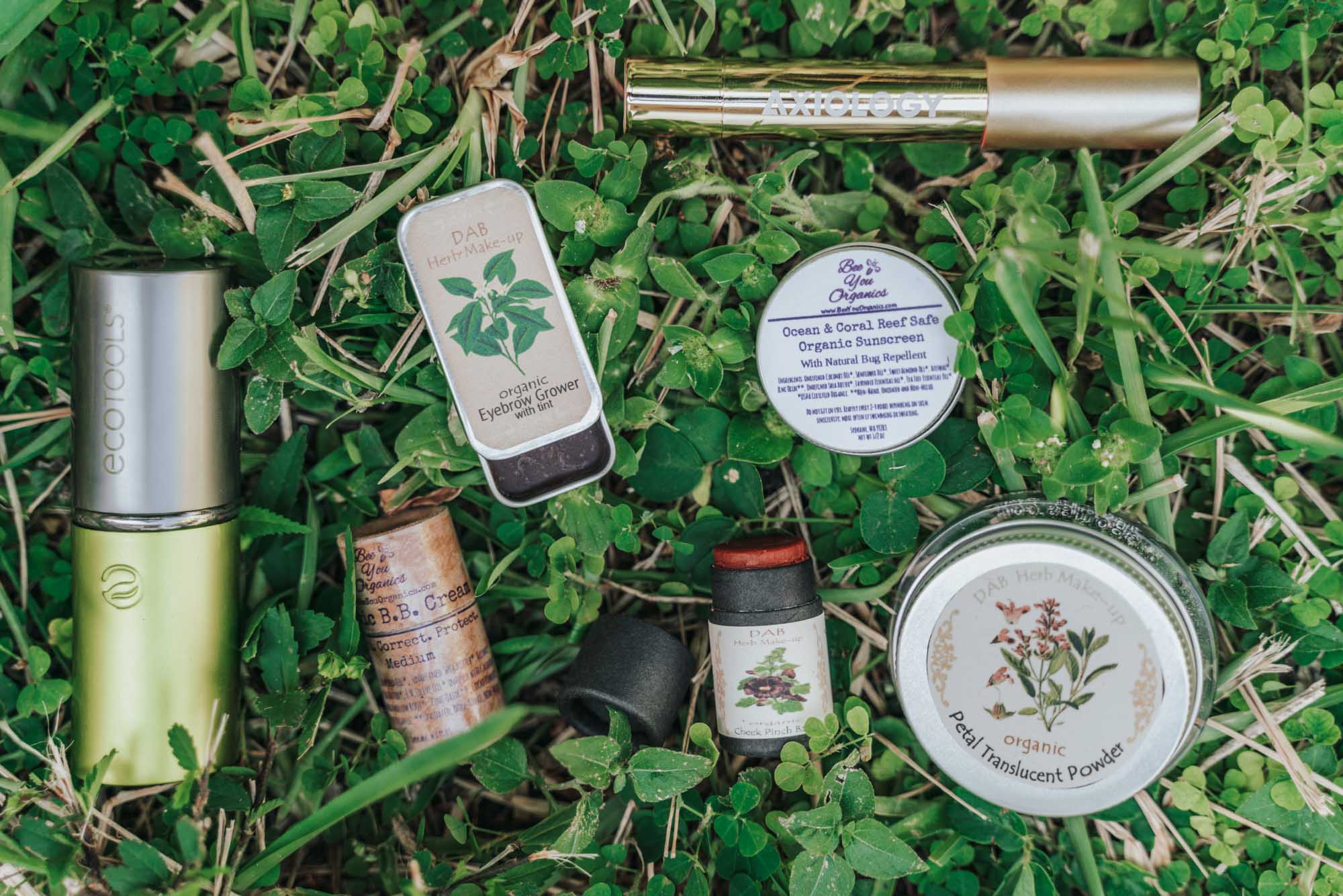 Skyroam Wifi Hot Spot
Staying connected on the road is not always easy. We have battled our way through many connectivity issues over the years but now whenever we are in doubt we use Skyroam wifi hotspot.
This handy little device is perfect for the traveler that needs to stay connected on the road. Plus it eliminates the need for buying SIM cards in every destination you visit! It connects to cellular data providers to offer you unlimited wifi in over 120 countries. The Skyroam Solis offers 4G LTE speeds and has a built-in power bank at the low cost of only $9 per day!
Essential Oils Set
When it comes to skincare on the road or at home, there is nothing more eco friendly than making your own, so we recommend starting with this essential oils kit from ArtNaturals and trying out a few simple recipes. We use ours for skincare, as air fresheners, laundry fresheners, and even as cold and flu medication!
We love that that the ArtNatural oils are 100% natural. They don't have any artificial fillers, they are therapeutic grade, and GC/MS tested. So you know you won't be putting any chemicals back into the environment or on your body.
Experiences & Inspiration
G Adventures Tours
Prefer to spend on experiences vs things? Then consider taking advantage of holiday discounts to book a trip to one of the destinations on your 2020 travel wish list. We don't recommend a lot of tour companies, as we usually prefer to travel independently. But if there is one tour company that we trust to do things responsibly – it's G Adventures! Their focus on local culture, their commitment to animal and child welfare, and their partnerships with foundations like Planeterra are something we love.
We traveled with them to Jordan last year and had a great experience and they offer tours all around the world! They have budget-friendly trips for 18-30-year-olds, classic tours that offer great value, wellness tours that focus on recharging the body and nourish the mind, and more premium trips like their National Geographic Journeys.
Comfortably Wild
We stay in glamping accommodation quite a lot on our travels. It's often a sustainable alternative to traditional hotels. But, believe it or not, there has not been a travel guide on the topic. Until now!
Written by our good friends, Mike and Anne of HoneyTrek.com, Comfortably Wild is the culmination of their three-year, nine-country, 73,00-mile quest to find the best glamping destinations in North America. In this coffee-table-meets-guide book, they dive into the history of glamping and this 21st-century craving for unconventional experiences that effortlessly connect us with nature, our families, and ourselves.
There are over 70 destinations, plus 80 extra getaways by region in their directory so you'll be sure to find something nearby and fabulously far-flung. More than dreamy places and inspiring stories, they offer practical tips to find the best deals, local secrets, and tested-and-approved travel advice to help you mobilize a lifetime of unforgettable adventures.
All of the products on the list above pass our rigorous research first-hand testing! We have personally used, worn, and read all the suggestions on this list. We can wholeheartedly recommend them as great eco friendly gift options for eco-conscious minded friends and family on your list.
What is the best eco friendly gift you have received? What are you adding to your holiday wishlist this year?