Peru really has something for everyone – whether it be the almighty ruins of Machu Picchu, the vast biodiverse Amazon jungle, the deserts lining the coast, or the rich history and culture!
*This post may contain affiliate links, as a result, we may receive a small commission (at no extra cost to you) on any bookings/purchases you make through the links in this post. As an Amazon Associate, we earn from qualifying purchases. Read our full disclosure
Anyone looking to explore the Sacred Valley of the Incas (the heart of the ancient Inca empire and home to the world-famous ruins) will be spending at least a few days in Cusco – the closest city and capital of the Incan Empire.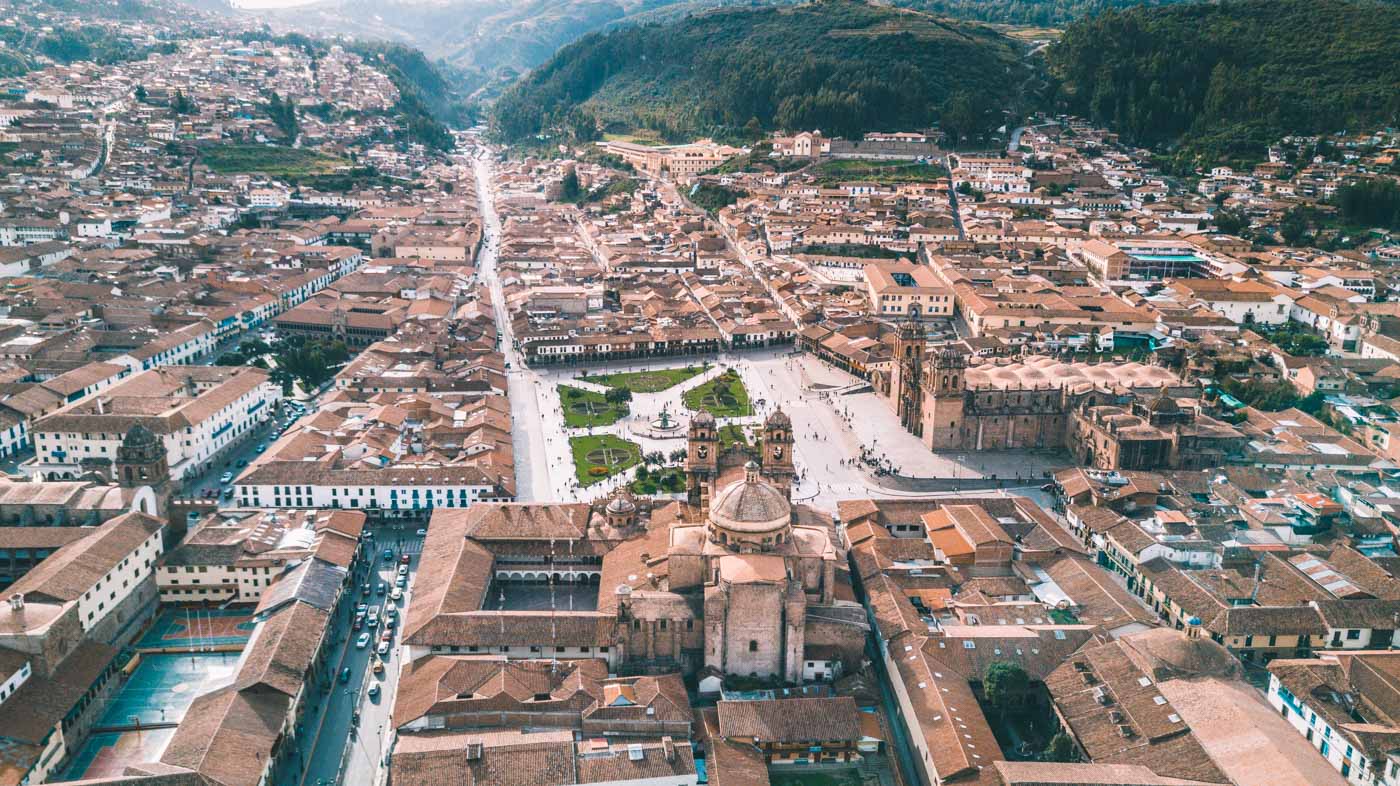 Traveling Soon?

Here is a list of our favourite travel providers and accessories to help get you ready for your upcoming trip!
But before you write off Cusco as merely a stopover on your way to ancient cities – check out everything this beautiful city has to offer!
Best Time To Visit Cusco
Peak tourism in Cusco occurs between June and September. The temperature hovers around 15°C (60°F) all year long, but rain tapers off during Peru's winter months.
We recommend visiting in either May or late September – chances of rain are still pretty low, prices in accommodation dip, and there will be fewer people cramming the streets of Cusco and the trails of Machu Picchu.
And don't worry – there are still plenty of things to do in Cusco during the shoulder- and off-season!
Top Things To Do In Cusco
Explore the Ancient Incan City, Machu Picchu
No trip to Cusco is complete without visiting Machu Picchu – it is one of the most popular destinations in the world! And while it's amazing that so many people are interested in learning about the rich Inca history of the area, the oversaturation of tourism is taking its toll on the ruins themselves.
The trails leading to the ruins are steadily being eroded and polluted by the massive uptick in visitor traffic. And while the Peruvian government is doing everything in its power to preserve the ruins – like require a time-slotted ticket to visit – the survival of this ancient city lies in the hands of conscious travelers.
Machu Picchu is one of the most important places to embrace "take nothing but photographs, leave nothing but footprints!"
There are two main ways to access the city. You can either do a multi-day trek or take a train from Cusco to Machu Picchu. The Inca Trail is the most famous of treks, but there are plenty of alternative treks in Cusco that are just as beautiful, and much less impacted by tourism and erosion.
Hike the Epic Moonstone Trail
Our favourite Machu Picchu alternative trail is the Moonstone Trail. It's a 25-mile trek and it does require you to be in good physical condition. Unlike the Inca Trail, no permit is required for taking this route. Along the way, you'll be able to see and interact with local communities and usually have the trail completely to yourself.
Go off the Beaten Track in Choquequirao
Just 30 miles from Machu Picchu, this ancient city wasn't fully explored until about 40 years ago. This site gets hardly any tourists in comparison to its' neighbours – partially because it's only accessible by foot.
The trek to Choquequirao takes about 5 days starting in the town of Cachora. We did the guided hike with Apus Peru and had a fantastic time! Check out our full article about this trek here.
Brave the Hike Up Rainbow Mountain
Rainbow Mountain – also called Vinicunca or Montaña de Siete Colores is a 3-hour drive from Cusco. Once reaching the trailhead, it's a 6 mile, challenging hike each way at high altitude. We recommend acclimating in Cusco for a few days before attempting this hike!
It is especially important to dress appropriately and wear lots of sunscreen for this hike. The weather on Rainbow Mountain can change in the blink of an eye, so make sure to layer up.
Explore the Ruins of Sacsayhuamán
The ruins of this fortress-temple are located just beyond Cusco's northern city limits and date back to 1100 AD. It was the largest structure built by the Incas during their reign and also one of their most incredible feats of engineering.
The entire fortress encompasses a 12-mile radius and is perfect for those of you who love your ruins with a side of hiking.
Explore Sacred Valley With a Sustainable Tour Guide
The Sacred Valley of the Incas was one of their main settlements during the peak of the Incan Empire. It encompasses all of the aforementioned destinations and many more, such as Pisac, Ollantaytambo, Chinchero, Maras Moray, Calca, and Urubamba.
Acclimatization hack: we recommend doing this tour on your first full day in Cusco. It's a bit lower-altitude, and spending the day there can help you adjust to the thinner air at higher elevations.
Visit the Maras Salt Ponds
Though located within the Sacred Valley, the Maras Salt Ponds actually predate the Inca Empire. They are an intricate system of small ponds that stagger down the mountainside and are incredible to behold. Each individual pool is owned by a local family and the salt is still hand-collected, bagged up, and sold locally. It's also shipped worldwide and the salt is said to have massive healing properties that are wonderful for people with hypertension.
Wander Through Barrio de San Blas in Cusco
If you've only got time to do a little bit of exploring within the city of Cusco, this neighbourhood is a must-see. It's primarily composed of pedestrian-only streets, filled with artisanal shops, quaint cafes, and provides some of the best panoramic views of the city.
Find Handmade Treasures at Cusco Markets
One of our favourite things to do in Cusco is to wander through the outdoor markets that can be found all around the city.
If visiting markets is also your thing, then check out this list of the best food and flea markets throughout Cusco!
Where to Stay in Cusco
Whether you are looking for budget options or a luxurious holiday, there are Cusco hotels to fit every budget and type of traveler wish list! Here are a few eco-friendly options throughout the city and region:
Casa Andina
Casa Andina has several locations all around Cusco, each hotel providing a beautiful, unique experience. Your stay also helps the hotels donate to local nonprofits.
Ecopackers Hostel
Ecopackers Hostel has super affordable private room options and state that they have a "role as managers of social responsibility and sustainable tourism."
Inkaterra La Casona
Inkaterra La Casona is a serene oasis in the middle of bustling Cusco. They're one of the first eco hotel chains native to Peru and are dedicated to both environmental and social sustainability projects.
Where to Eat and Drink in Cusco
There plenty of places to eat and drink in Cusco, offering everything from traditional Peruvian food to Italian. Vegetarians and vegans are also catered for with a handful of incredible eco-friendly restaurants in Cusco:
Greens Organic
Greens Organic offers a great selection of vegan, vegetarian and gluten-free options and is located right in the city center.
Green Point Vegan
Green Point Vegan has been reviewed as the "best place for vegans in Cusco!" They have a great set lunch menu for about $4 which includes a soup, a salad, a main meal, drink, and dessert.
Organika
The ingredient list for almost everything on the Organika menu is from The Sacred Valley. It's all about providing healthy, organic, and sustainable food and even has its own vegetable garden.
For even more Cusco restaurant options, check out this awesome list of the best vegetarian spots in Cusco.
How Much Time Do You Need in Cusco?
Most people (unfortunately) only spend a day or two in this bustling town, and solely use it as a jumping-off point for Machu Picchu. But there are so many things to do in Cusco and the surrounding Sacred Valley – it deserves at least a week!
Have you had the pleasure of visiting Cusco, Peru? Share your travel tips for Cusco in the comments below.
Disclaimer: This post contains affiliate links which means that we receive a small commission on your purchases at no additional cost to you.