Ever since we quit our 9-5 jobs and left our last place of residence in Brisbane, Australia in August 2015, we've been living a nomadic lifestyle.
*This post may contain affiliate links, as a result, we may receive a small commission (at no extra cost to you) on any bookings/purchases you make through the links in this post. As an Amazon Associate, we earn from qualifying purchases. Read our full disclosure
We no longer have a place we call home…
We no longer have a steady income…
We no longer have a routine…
…but we are living the life that many can only dream about!
When we tell people about our alternative lifestyle, they automatically assume one of the following:
We come from rich backgrounds and our travels are funded by someone else's money

We saved up a lot and are taking a gap year (or two) and are living off our savings until they run out
Neither one of those assumptions are true. Over the last 5 years, we have built a financially sustainable alternative lifestyle that allows us to travel full-time from a variety of businesses.
Traveling Soon?

Here is a list of our favourite travel providers and accessories to help get you ready for your upcoming trip!
Our ability to sustain our travel lifestyle didn't come overnight. In fact, back in 2014, we had over $100,000 in debt, $0 in savings, and nothing more than a dream to travel the world. We wanted to travel full time and we were willing to do whatever it takes to chase that dream. But we didn't sit on our hands hoping to win a lottery or get a big payout. We worked hard and made a number of sacrifices. It took 2 years of hard work and dedication to set ourselves up for this lifestyle.
Preparing for the Travel Lifestyle
1. Paying off Debt
Getting rid of loans and credit card debt was the first and the biggest step we had to take to set ourselves up for a life of travel. We consolidated our debt, reduced our expenses, and chipped away at the big scary $100,000 figure one month at a time. It took 2 years for those accounts to finally go into the green again, but the satisfaction of being debt-free was absolutely worth it!
Want to know how we paid off $100,000 of debt in just a few years?
2. Building Up Some Savings
While I worked hard on paying off my debt, Max worked just as hard to put away some money into our savings account every month. In the 2 years that it took me to pay off $100,000 in debt, he was able to save up over $50,000.
Want to know how we managed to save this much in such a short time?
3. Investing in Real Estate
Having savings is great, but we had no interest in living off our savings and traveling the world until our money would run out. Instead of keeping savings in the bank, we decided to invest in real estate. $50,000 may not seem like a lot, (it's certainly not enough to buy property in Canada or Australia), but as it turned out, it was enough to buy a small investment property in Florida where the housing market had taken a dive after the financial crisis. The investment was going to bring us a 10-15% annual return.
As we started to travel and earn money on the road, we continued to save and invest in real estate. Today, we own 4 rental properties in the US that bring monthly recurring income and help us fund our travels.
4. Learning New Skills
We knew that in the beginning, our investments would not earn us enough money to travel full time, so we had to find other ways to earn money while on the road.
We started this blog, took up freelance writing, invested time in learning how to design and build websites, created and executed social media strategies, shot and edited photos and videos, and more.
By the time we left to travel the world, we didn't have it all figured out. But we had about $20K in savings, a blog that was making a few hundred dollars a month, some investment properties, a few freelance writing gigs, and a few web design/marketing clients.
We took a leap of faith hoping that our little start-ups would take off and our hard work would eventually pay off.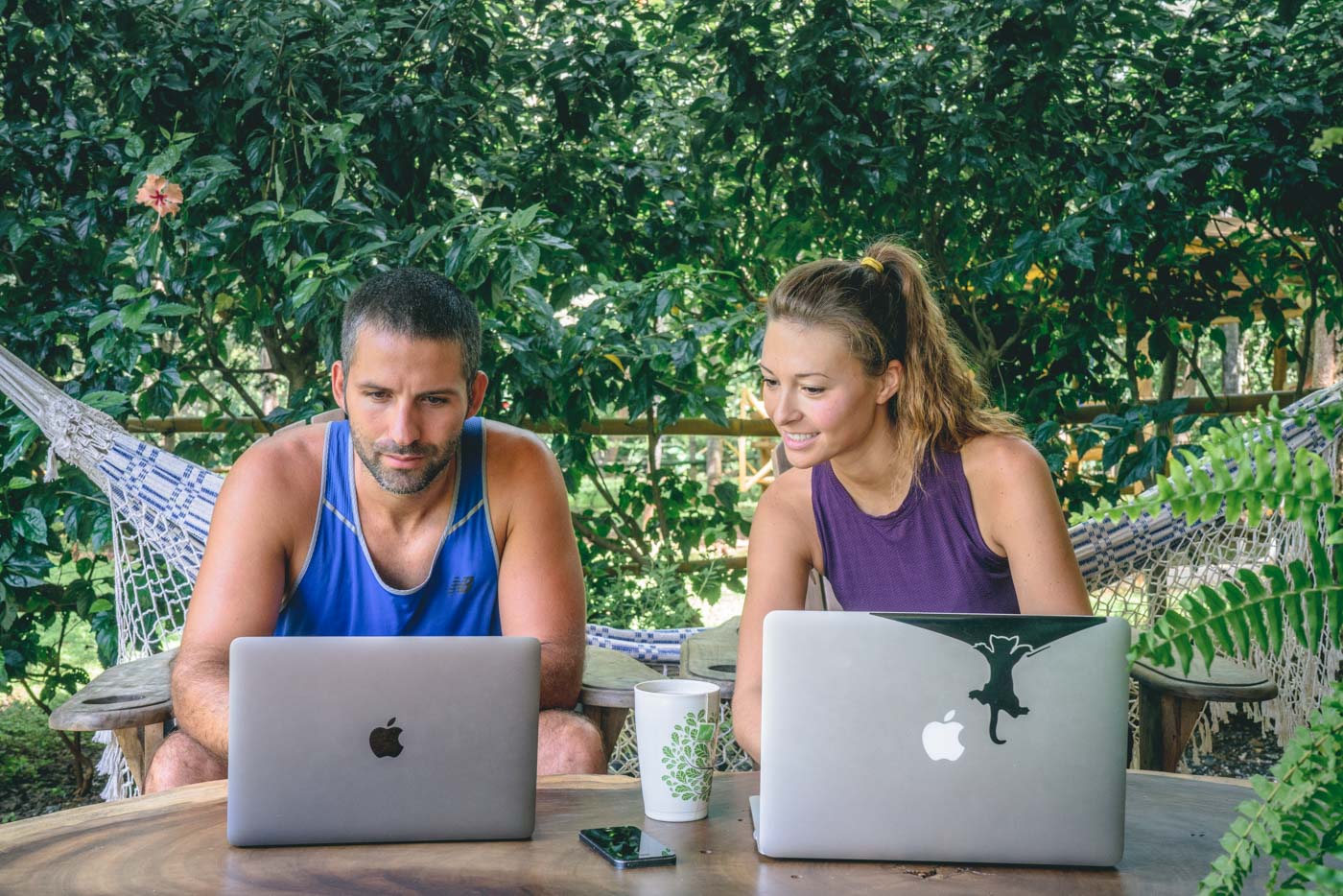 Earning Money While Traveling
Today, 5 years later, we continue to support our lifestyle with a number of income sources.
Travel Blogging
DrinkTeaTravel.com is now 6 years old and the income we make from the blog is enough to keep us on the road full time. We shared all the ins and outs of the business side of travel blogging in our post "How We Make Money from Our Travel Blog", revealing the different streams of income we have gained from our blog.
These range from advertising and affiliate links to branded campaigns. Our blog income brings in roughly about 60% of our total income.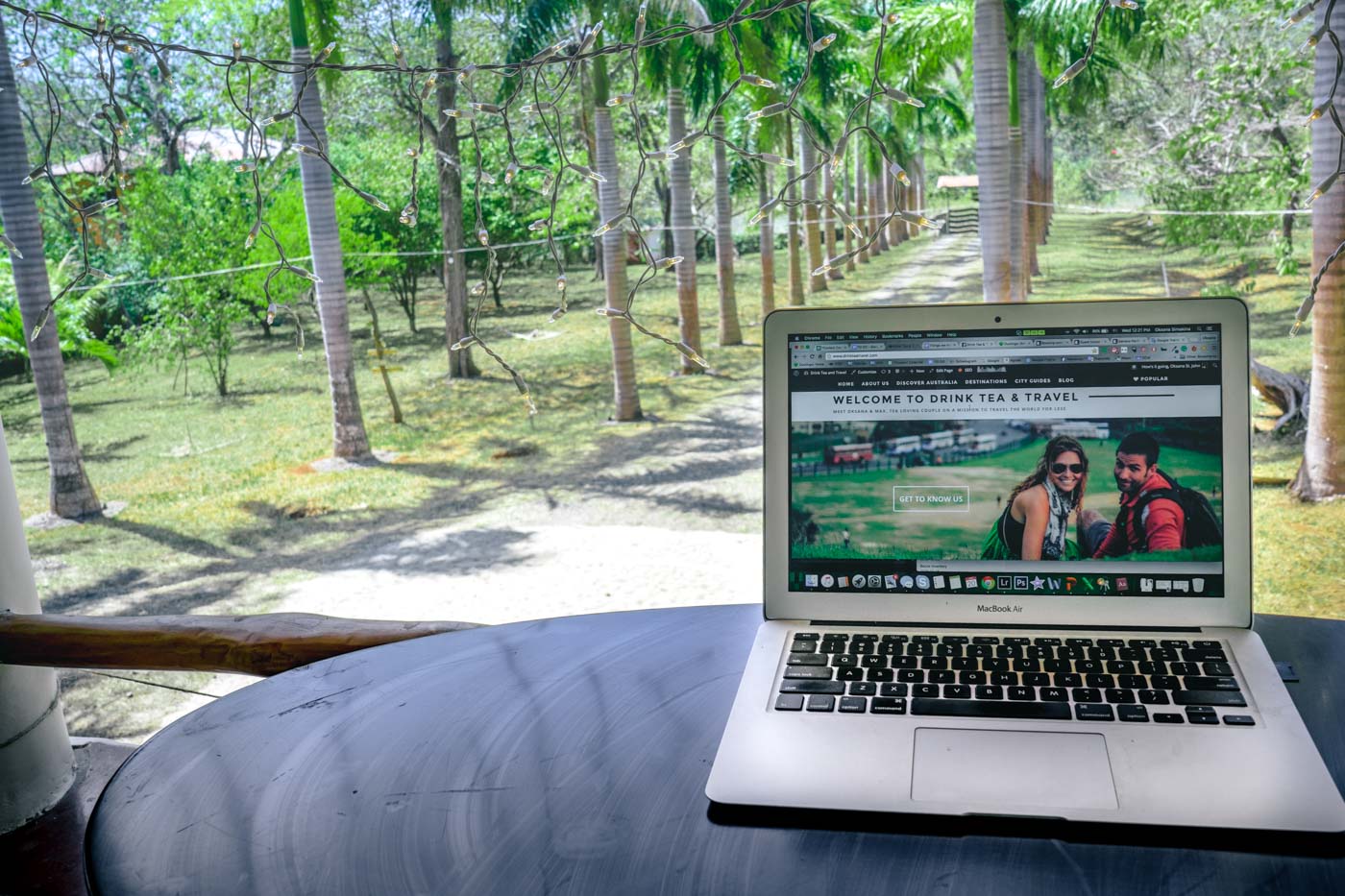 Photography/Videography
In addition to partnering with destinations and tourism boards on editorial features on our blog, we also work with hotels, tour operators and DMO's (Destination Marketing Organizations) on photography and videography assignments. We create promotional videos and photography that are used in marketing materials to promote tours, properties and destinations.
Sunrise Travel Agency
Sunrise Travel is a host travel agency based out of Canada that brings in another 20% of our income. Sunrise Travel was our first big web development project which we took on in 2014 when the agency was in need of a website redesign and system rehaul.
We jumped in to rebuild the website and then stayed on to provide maintenance, IT, and systems support to the agency on an ongoing basis.
Investment Properties
When we first started traveling, we had 2 investment properties in Florida that brought us about 20% of our total income. The great thing about these properties is that we managed to scoop them up really cheap, invest a bit in repairs and are now able to reap 10-15% ROI on each one of these properties. It's the best way to generate passive income! In 2018, we purchased our 3rd property and in 2020, we invested in our 4th.
Drift Away Eco Lodge
In 2017, we invested in a 12 room hotel in Playa Avellanas, Guanacaste, Costa Rica. We spent 8 months tirelessly working on converting this run-down property into a beautiful space, now known as the Drift Away Eco Lodge. The renovated boutique hotel has been welcoming guests since September 2018. For more on this wild experience, take a peek behind the scenes of our hotel journey.
Operating a profitable hotel was not easy, so after 4 years of operations, we sold the property to a new owner. While the hotel didn't make us a lot during its operations, the sale of the hotel allowed us to general some substantial earnings to help fuel future projects in Costa Rica and beyond.
Our lifestyle today is in every way better than the 9-5 lifestyle we used to live and that to us is worth more than any money in the world!
Have a question about our lifestyle? Leave a comment below and we'll be happy to share more info!