*This post may contain affiliate links, as a result, we may receive a small commission (at no extra cost to you) on any bookings/purchases you make through the links in this post. As an Amazon Associate, I earn from qualifying purchases. Read our full disclosure.
Lefkada, a small
Greek island in the Ionian Sea may not be well known to the masses, but its
beaches are hard to beat! In fact, it wouldn't be a stretch to say that they are some of the loveliest in all of the Mediterranean.
After spending a week in Lefkada in 2018 and experiencing the beaches first hand, we can attest that Lefkada beaches should not be missed!
There is no shortage of beautiful sandy spots and crystal clear waters in Lefkada, but when it comes to the best the island has to offer, we found these beaches to be the best.
Lefkada Beaches
Lefkada beaches span the entire island and can be found on both the western and eastern side of the island.
The Western beaches are often considered the best beaches in Lefkada. Their stunning blue waters, flanked by white vertical cliffs, and white sand will make you think you're dreaming.
The Eastern Lefkada beaches, although somewhat less popular with foreign tourists, should not be discounted. Their sheltered coves and bays are surrounded by lush vegetation and their calm, clear waters make them ideal for swimming and snorkeling away from the crowds.
The Best Beaches in Lefkada
Mylos Beach, Lefkada
Mylos Beach, Lefkada is one of the island's most popular beaches and it was definitely our favourite! This beautiful stretch is located 14 km south of Lefkada town and while the beach can be accessed on foot, the road to get down to the shore is bound to get your heart pumping.
The rocky path is steep and narrow and a walk down takes about 15-20 mins. If you don't fancy a hike, a taxi boat offers an alternative transportation option.
There are no restaurants on Mylos Beach so pack some snacks and lots of water. Sun chairs and umbrellas can be rented for 5-10 EUR per day.
Porto Katsiki Beach, Lefkada
The beauty of Porto Katsiki beach is undeniable. In fact, it is often voted among the most beautiful beaches in Europe and always tops lists of the best beaches in Lefkada. At Porto Katsiki beach you can expect to find blue waters and Lefkada's characteristic near-white cliffs framing the white sandy beach.
Like Mylos Beach Lefkada, Porto Katsiki Beach is only accessible by descending a series of steps (about a 100!) or by boat. It is located just over 30 km from Lefkada town.
There are sunbeds for rent on the beach. There is no restaurant on the beach itself, but there is one right at the base of the stairs and servers are also patrolling the beach, so it is possible to order off the restaurant menu and have your meal delivered to you right on the beach.
Egremni Beach, Lefkada
Egremni Beach is located just minutes from Porto Katsiki Beach and boasts similar natural beauty. It is a nice alternative to Porto Katsiki Beach since, due to its length and accessibility, it does not get as crowded as its neighbour.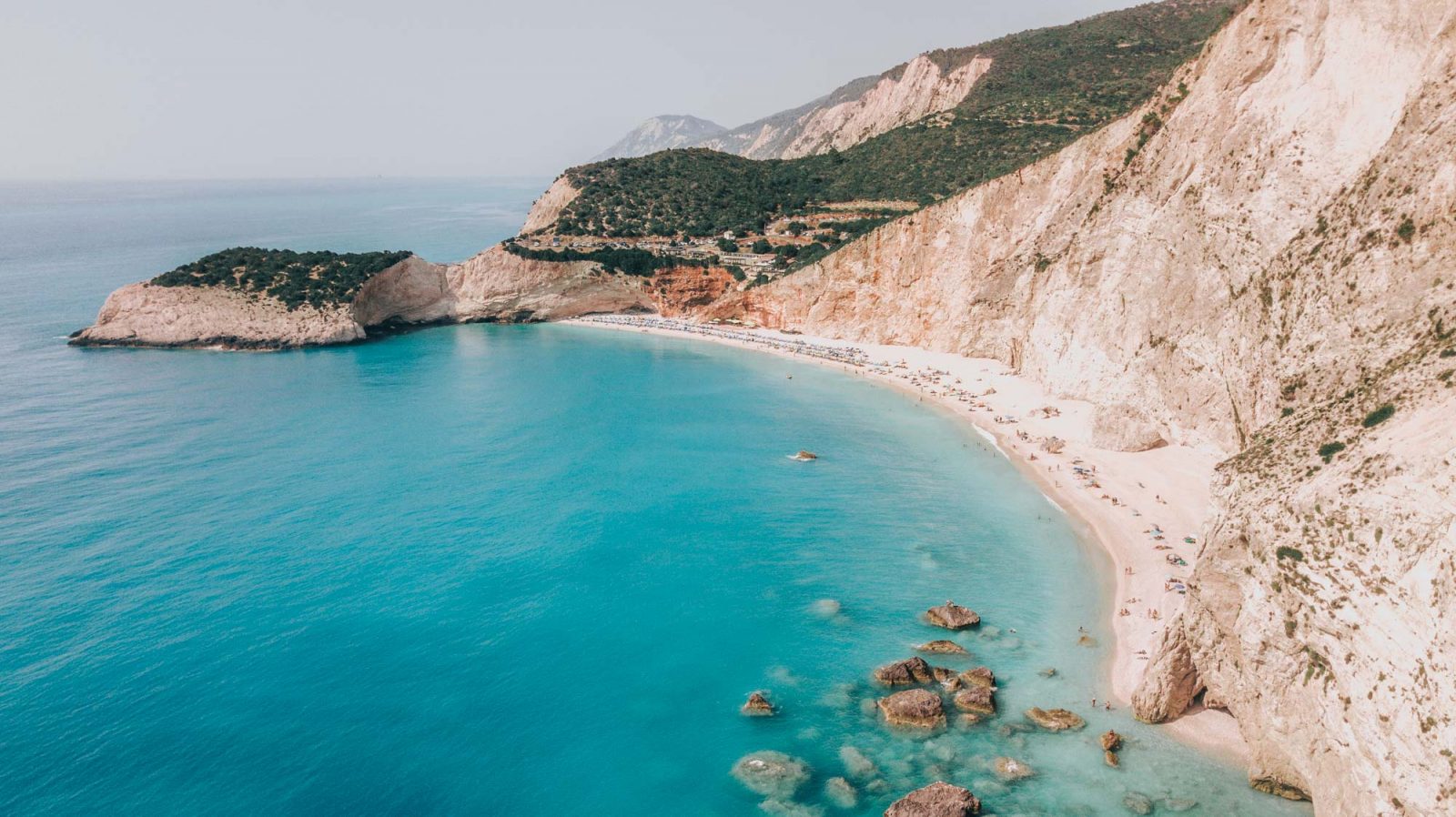 Because of the 2015 earthquake, Egremni Beach can only be reached by boat. Whereas in the past it could be reached by a few hundred steps from the mainland. There are no facilities on the beach so bring everything you'll need for a day in the sun.
Kathisma Beach, Lefkada
Kathisma Beach, Lefkada is one the most developed Lefkada beaches but stunning nonetheless with its overhanging cliffs and turquoise waters. Restaurants, bars, and even swimming pools are abundant on this busy beach. Thus it's a very popular spot to spend the day in the sun.
Unlike many of the other west coast beaches, you can drive right down to Kathisma Beach on a well-paved road. There is lots of car parking but the lots fill up fast, so to get a good spot arrive early.
Agiofili Beach, Lefkada
Located about 40 km south of Lefkada town, Agiofili Beach is one of the Lefkada's true gems. The beach can be reached by a water taxi from Port Vasiliki for just 6 Euros/person. This little, white pebble beach is insanely picturesque and is definitely worth a visit.
It is a great spot for sunbathing, swimming or snorkelling (but bring your own equipment!). Unlike some of Lefkada's other beaches which have cloudy blue waters, Agiofili Beach's waters are crystal clear. You'll spot little fish skirting around the waters scattered boulders.
You can rent a sunbed but there are no restaurants at Agiofili beach so bring snacks and water to spend the day.
Afteli Beach, Lefkada
Reaching Afteli Beach by land is an adventure in itself. You'll have to traverse a gorgeous, narrow twisting road to get there. However, you'll be rewarded with one of Lefkada's quieter beaches.
Located on the east coast, Afteli Beach is tucked into a small bay. It is covered with pebbles and like Agiofili Beach has crystal clear waters. There is a restaurant on-site and sunbeds for rent here, but the beach is rather small and we would only recommend a visit here in the offseason.
Ammousa Beach, Lefkada
This intimate beach sees few visitors outside of locals. So it perfect for those looking to get away from the bustle and hustle of some of Lefkadas more popular beaches.
The beach has crystal clear waters and white pebbles surrounded by lush greenery. There is a beach bar and sunbeds for rent, as well as a nearby tavern. The beach is easily accessible by car.
Gialos Beach, Lefkada
Gialos Beach is the longest beach on Lefkada. You'll find lively pockets of the beach filled with bars, restaurants, and sunbeds for rent. As well as secluded bits of beach to have all to yourself.
It is characteristically west coast Lefkada with its towering white cliffs, white beach, and incredible blue waters. However, it is fairly exposed so it can be windy, waves tend to be high and swimming is sometimes unadvisable.
Up until recently, the road to Gialos Beach was closed due to the effects of the 2015 earthquake but it is open once again. The car park backs directly onto the beach and a small restaurant near the parking lot served up basic drinks and snacks.
Vassiliki Beach, Lefkada
Vassiliki Beach is a windsurfers dream. Thanks to the great afternoon wind conditions, Vassiliki Beach has been dubbed one of the top windsurfing destinations in Europe.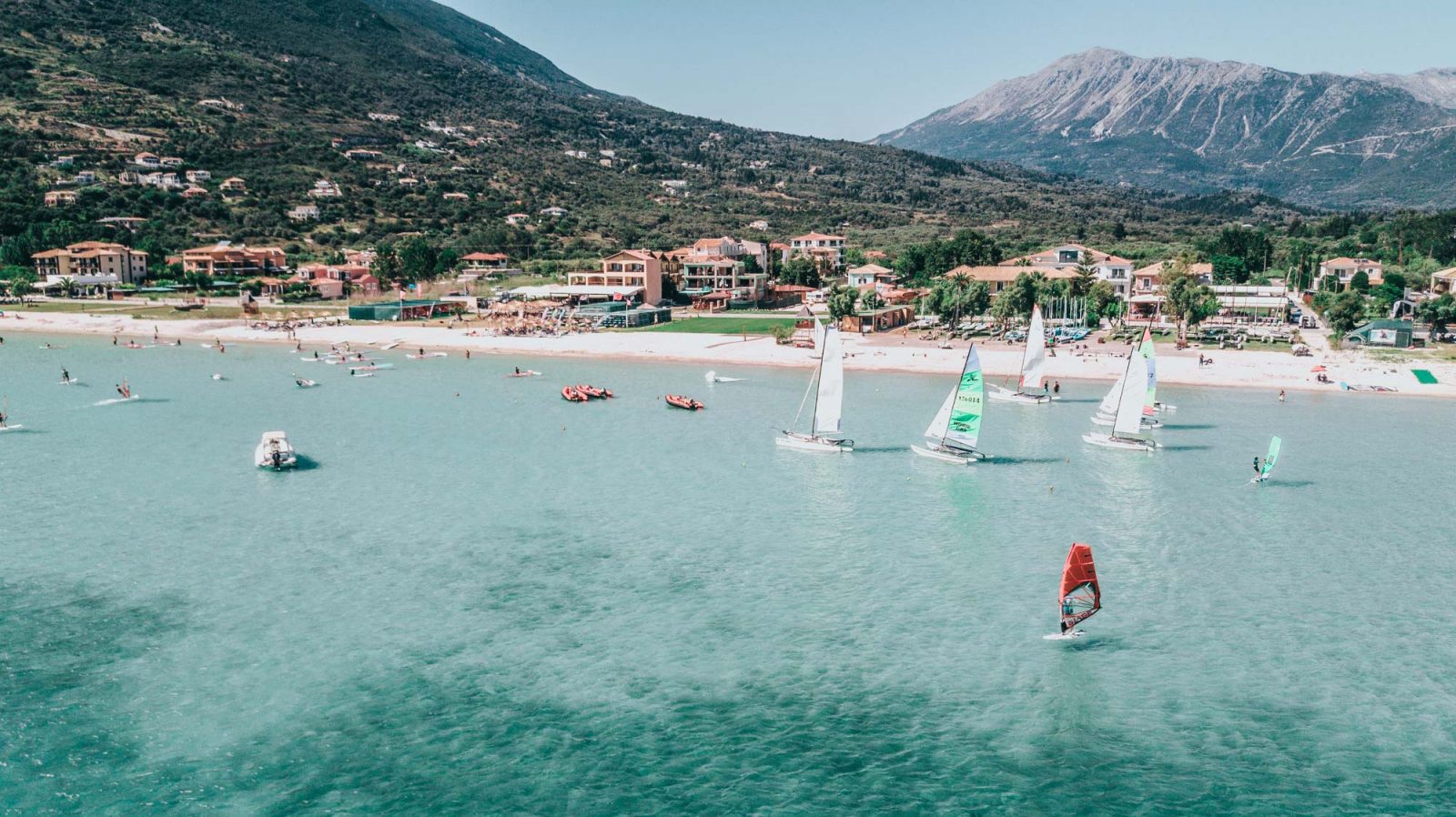 However, if windsurfing isn't your thing, don't fret, there are a few designated swimming areas.
The beach is located in a large sheltered bay, about 40 km south of Lefkada town, in the tourist hub of Vasiliki Port. Here you'll be welcomed to countless restaurants, bars, and nearby cafes.
Kalamitsi Beach, Lefkada
Located near one of the oldest villages on Lefkada, Kalamitsi, the town's namesake beach is one of the islands most stunning.
The beach itself is made up of white sand and met by Lefkada's characteristic blue waters. But the rock formations just offshore make this beach truly unique.
Kalamitsi Beach is located less than 20 km from Lefkada town, and there is a restaurant and sunbeds for rent here.
Skorpios & Meganisi Islands
If you get tired of exploring Lefkada beaches and are looking for a day trip that's a little bit different, consider taking a trip to the group of islands that lie just east of Nydri Village on Lefkada.
Skorpios Island, Sparti Island, and Meganisi Islands are the most frequently visited islands of the bunch. They are easy to explore on a day trip and offer some incredible views and swimming bays.
One of the best ways to explore this group of islands is on this Full Day Sea Kayaking Tour. The tour starts in Nydri Port and takes you to some spectacular spots like the Red Rock Beach, mythic caves of Messini, the uninhabited island of Thilia, Meganisi and Skorpios.
Kalamos Island
Kalamos Island is one of the least known inhabited Greek islands, located past the islands of Meganisi and Skorpios, to the east of Lefkada.
Kalamos is a very mountainous island with two settlements – Kalamos and Episkopi. The island is located only 15-20km from Lefkada. The only way to reach the island is by taking a Kalamos Islands Boat Tour to take you out to the islands.
This trip starts in Perigiali port in Nydri Town and combines a visit to Meganisi and Skopios Islands and includes lots of stops along the way for swimming and cliff jumping. Papanikolis Cave was one of our personal highlights of this tour!
There are dozens of other beaches around Lefkada that are worth a visit, so if you are planning to visit Lefkada, make sure you stay for at least a week to give yourself lots of time to enjoy these beautiful beaches.
BEFORE YOU GO: DON'T FORGET TRAVEL INSURANCE

We can't stress enough the importance of travel insurance, especially in a country like Greece. Whether you just plan to explore the cities, do a little bit of hiking, or go extreme, being protected on your travels is an irreplaceable peace of mind. We learned about the importance of travel insurance the hard way and now we never travel without coverage.

From the US? Get a quote through Allianz Travel Insurance, our recommended travel insurance provider for US citizens/residents.
Live elsewhere? Check out World Nomads, a great travel insurance provider for those based outside of the US.
Have you been to Lefkada? What are your favourite Lefkada beaches?