There is no shortage of exciting adventures in Iceland, but the opportunity to snorkel between two continents is by far the most unique of them all! On our recent trip to Iceland, we jumped into the freezing waters in Silfra fissure in Þingvellir National Park to experience this cool activity firsthand!
*This post may contain affiliate links, as a result, we may receive a small commission (at no extra cost to you) on any bookings/purchases you make through the links in this post. As an Amazon Associate, we earn from qualifying purchases. Read our full disclosure
Traveling Soon?

Here is a list of our favourite travel providers and accessories to help get you ready for your upcoming trip!
About Þingvellir National Park
The world-renowned Silfra fissure is located in Thingvellir National Park (also spelled as Þingvellir National Park), a UNESCO World Heritage Site, thanks to its historical and cultural significance and geological and natural uniqueness.
Thingvellir National Park is located about an hour from Reykjavík and is known for its incredible geological rock formations, canyons and lakes. It is also said to have been the sitting place of the Icelandic parliament between AD 930 and 1798. Historians have deduced that the location was likely used for parliamentary meetings because the surrounding canyons' walls could help voices carry further. The park surrounds the largest lake in Iceland, Thingvallavatn, right on the Atlantic Ridge.
About Silfra
Silfra is the name given to the fissure that formed between the Eurasian and North Atlantic tectonic plates after an earthquake in 1789. Since then, the continents have continued to drift apart by around 2cm every year, making the Silfra fissure ever s slightly bigger year over year.
The Cleanest Water in the World
When the Silfra fissure was formed, it cut deep into the underground spring that is fed by the Langjökull glacier. The water flowing from the spring into Silfra today has been filtered by underground porous lava for over 100 years and is exceptionally clean and clear.
The lack of microorganisms in the clear water of Silfra meant that there is no fish or aquatic life here either, only troll-hair algae that keep the water clean and add additional beauty to the surrounding.
With a visibility of over 100m, snorkeling in Silfra, Iceland, is an incredible experience that should not be missed!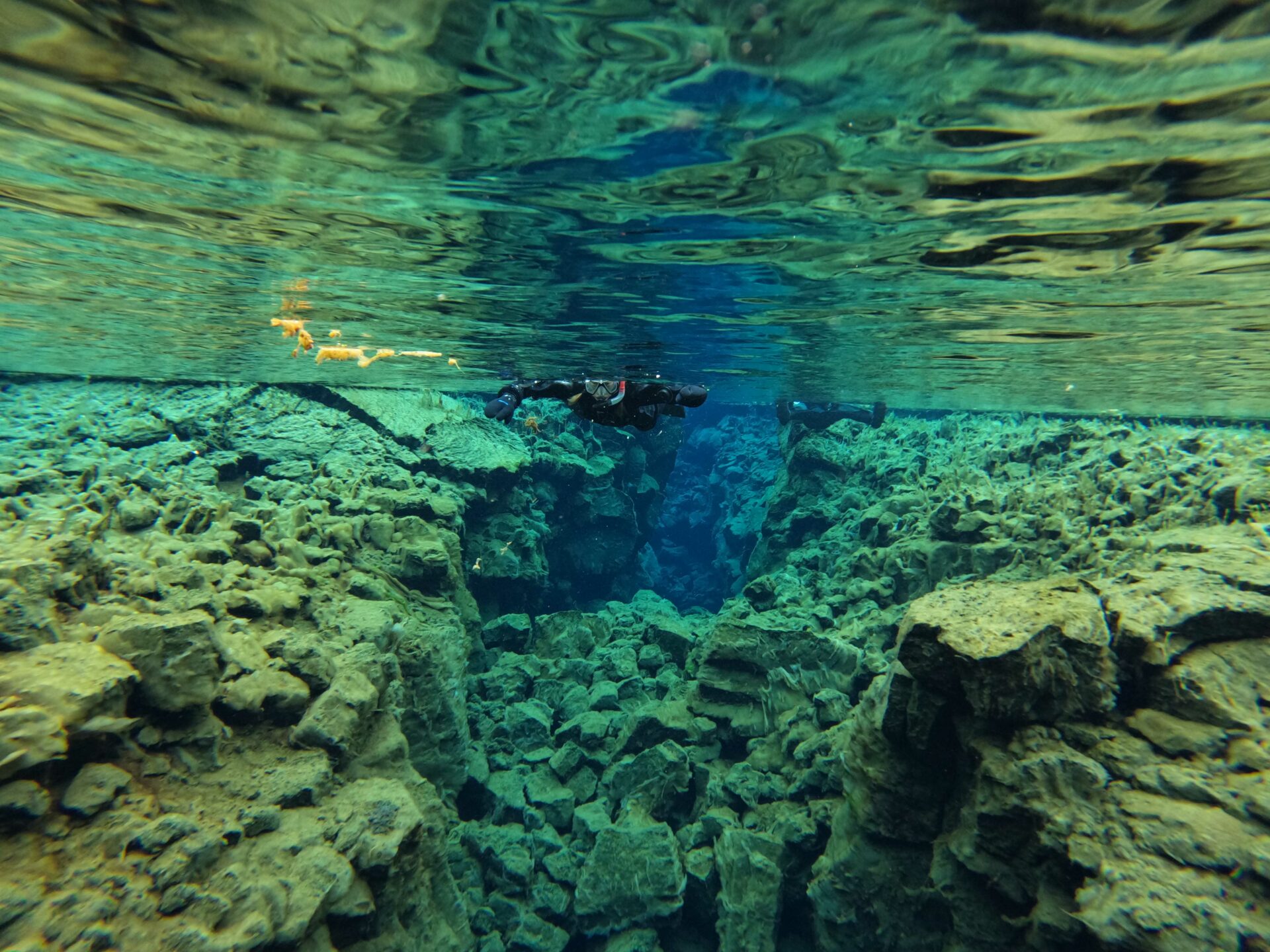 Silfra Snorkeling Tour FAQs
Is Silfra Snorkeling Tour Worth it?
Yes, snorkeling in Silfra is definitely worth it. The views of the two tectonic plates are breathtaking, and snorkelers can experience glacial waters that have been filtered for up to 100 years. It is the clearest water in the world, with a visibility of up to 100 meters.
Can You Snorkel at Silfra on Your Own?
No, snorkeling in Silfra requires a guide, and there will always be one guide for every six guests during the Silfra snorkeling tour. Strong currents in Silfra can be dangerous, and expert guidance and instruction are necessary to enjoy Silfra fissure safely.
How Much Does it Cost to Snorkel in Silfra?
The cost of snorkeling in Silfra varies depending on the tour provider and type of snorkel tour, but ranges from 25,990 ISK to 30,000 ISK.
How Long Does Snorkeling in Silfra Take?
Silfra snorkeling tour usually lasts around two hours to two and a half hours. This includes preparation time as well as roughly an hour in the water.
Snorkeling vs Diving in Silfra
Both Silfra snorkeling tours and diving trips are available to experience the fissure in Thingvellir National Park. However, it's important to note that while snorkeling in Silfra is accessible to al, diving in Silfra requires a number of certifications, including Open Water Diving Certification and Dry Suite Diving Certification.
Due to the extreme water temperatures in Silfra (just 2°C), any water activities in the fissure must be performed in a dry suit. You may snorkel in a dry suit with minimal or no dry suite experience. Dry Suite Diving Certification, on the other hand, is a 1-day course that must be completed before diving in Silfra.
Snorkeling in Silfra (Pros & Cons)
Pros:
Opportunity to snorkel between two tectonic plates

Clear and pure glacial water with visibility of up to 100 meters

Suitable for snorkelers of all abilities (with a guide)

Exceptional exploration opportunities above the surface and below it

A chance to get an incredible view from underwater without getting too deep.
Cons:
Expensive

Must be accompanied by a guide
Very cold water (the temperature is between 2°C and 4°C throughout the year)

Some areas have strong currents, so snorkelers should take their time and be extra careful.
Diving in Silfra (Pros & Cons):
Pros:
A deeper exploration of the area

Unparalleled visibility and clarity

The chance to explore several layers of the springs

Opportunity to go as deep as 18m (60ft) at one of the most unique dive sites in the world
Cons:
Must have Open Water diving certification and Dry Suit diving certification

May require additional equipment

Must be accompanied by a guide

Exploring underwater caves and overhead environment is strictly prohibited
Despite being avid scuba divers with lots of experience under our belt, we opted for snorkeling in Silfra, Iceland, with Dive.is, a reputable local tour company offering snorkeling and diving experiences in Silfra. We were so happy with our choice and our overall experience.
Our Experience Snorkeling in Silfra, Iceland
Dive.is offers 4-5 Silfra snorkeling tours daily, starting from as early as 9am. We opted for the earliest tour and were happy to learn that it was the best time to snorkel in Silfra. Our guide explained that as the day progresses, sediment from the rocks gets kicked up by other snorkelers, murking the water.
We arrived at Thingvellir National Park just before 9am, meeting the tour guide and the rest of the group at the designated Silfra meeting point. The guides unloaded all the snorkeling equipment and invited us to use their Sprinter van for changing if needed. The van was heated and very high, providing a surprisingly comfortable place to get into our dry suits.
The Prep
The dry suits were a new experience for us, but the guides did a great job explaining what to expect and how to navigate the waters while looking like a Michelin man. The dry suits had hoods and were paired with neoprene booties and gloves to keep our feet, hands and head warm throughout the activity.
On recommendation from the guides, we put on an extra base layer – thermal leggings and long-sleeve shirt. The get-up promised to keep us dry and help our bodies maintain a comfortable temperature in the water for as long as 45-60 minutes.
Fins in hand, we walked from the parking lot to the edge of Silfra and got ready for our big descend!
The Descend
Snorkelers descended into the Silfra fissure in small groups at 5-10 minute intervals. Given the early start, the platform was not yet busy, and we could descend into the Silfra waters within a few minutes of arriving at the fissure.
It was mere moments before the cold temperatures started to creep up our fingers and freeze our faces. Our bodies were warm, but our noses, cheeks and lips grew numb as we floated away from the docks. The floatation of the dry suites and the freezing water on our faces took a moment to get used to.
"Put your heads in the water", reminded our guide. "Don't worry about the suits, and enjoy the beauty beneath you! And don't forget to take a sip of the water. It's the cleanest water you'll ever have!"
And so we did! It was a breathtaking moment. Not only because of the cold water but because of the incredible sight and natural beauty of the fissure. Rock formations jetted out from both sides of the fissure for as far as our eyes could see. The crystal clear blue water made it feel like the fissure was a million miles long.
Drifting through the four main areas of Silfra: Silfra Hall, Silfra Cathedral, and Silfra Lagoon, we forgot all about the cold and the bulky suits and lost ourselves in the beauty of Silfra. The intricacies of the naturally formed rocks and hardened lava created a terrain that was unearthly in its appearance.
Our guide was wonderful throughout, consistently checking that everyone was safe and comfortable as we floated through the experience. Baby Silfra, in the end, felt like an absolute honour, especially as this shallow oasis was only formed in 2008 and is still very new.
Tie flew by, and before we knew it, it was time to say goodbye to Silfra and exit the water.
Back on land, we got out of our dry suites, pleasantly surprised to find our base layers to be completely dry. Warm drinks and snacks awaited as we marvelled at the experience with fellow snorkelers. What an incredible adventure that was!
Tips and Advice
If you want to make the most of your snorkeling Silfra day tour, some tips and tricks are worth sharing.
Note that the

minimum age

for snorkeling at Siflra Fissure is 12 years old. Anyone under 18 must be accompanied by a guardian or parent on the same tour. Additionally, all tour members must be able to swim independently.

Parking for Silfra snorkeling experience is at Silfra Car Park, about 5-10 min walk from the meeting point of the Silfra Tour, take note and make sure you bring your change of clothes, GoPro and other items you might need for the tour with you to the meeting point.

Don't forget to

pack a few essential items

to make your Silfra snorkeling tour as comfortable and enjoyable as possible. Your snorkel guide will provide you with a dry suit, but you must bring the following:

Long underwear and a top layer (preferably thermal)

Thick socks (two pairs add warmth)

Change of clothes suited to the current weather

Contact lenses for those who wear glasses

Opt for an early tour.

If you want to make your experience better when visiting Silfra for snorkeling, we highly recommend picking a time slot in the early morning. While the water is always clear, the visibility is always best in the early hours.

Ensure that your gear fits well

before you enter the water. Once you are in the water, you can't get back out. You'll be given the option to turn back around a few minutes into the session, but once you pass the entry section, there is no opportunity to turn back or get out until the end of the tour. So, if something feels wrong with your gear or you dont think you can handle the cold, you need to speak up!

Bring a GoPro

to document your experience! Alternatively, you can pre-book a photo package and grab a few photos and videos from the guide. The pictures are absolutely worth it!
The Perfect Ending
Cap off your fantastic day by going to Hvammsvik Hot Springs to warm up after snorkeling in Silfra. Iceland is renowned for its natural hot springs, one of the country's most natural hot springs, so it's worth a little detour for a warm soak!
Thingvellir National Park also has exceptional hiking routes that will take you across the entire area and past the clear waters. The walking routes are perfect if you want to take a little time to breathe in the fresh Icelandic air and take advantage of its natural beauty.
Öxarárfoss Waterfall is another landmark of historical significance. Its past is dark, having been used to drown women accused of adultery and child murder and being prominent in the Icelandic witch trials. However, it remains a stark and beautiful part of the area.
Snorkeling in Silfra: The Bottom Line
Is Silfra snorkeling worth it? Absolutely. It may sound very cold, but snorkeling in Silfra is a unique and unforgettable experience you won't find anywhere else in the world. The surreal beauty of the icy waters will leave you in complete awe!
Snorkeling in Silfra was probably one of the coolest adventures we had in Iceland. It's one of those moments that changes your perspective and gives you new insights into the world around you.