There's a chance you haven't heard about Cozumel before. Cozumel is a fairly undeveloped Mexican Island, located off the coast of Playa del Carmen in the Caribbean Sea. Home to the Mesoamerican Barrier Reef, Cozumel is a popular destination for beach vacations. However, what really makes it stand out is the amazing scuba diving in Cozumel!
*This post may contain affiliate links, as a result, we may receive a small commission (at no extra cost to you) on any bookings/purchases you make through the links in this post. As an Amazon Associate, we earn from qualifying purchases. Read our full disclosure
Encompassing 12,000 hectares of sea and coastline, Cozumel's Marine Park is home to 105 different species of coral and 262 species of fish. Running along the coast of the southern half of the island, this park was established in 1996 in an effort to protect the environment and marine life of the area.
How To Get To Cozumel
To get to Cozumel, you can either take a direct flight to Cozumel Airport from a variety of cities in Mexico or make your way to Cancun Airport and take the ferry from Playa del Carmen.
Cozumel Island is also a popular stop for many Caribbean cruises. Still, due to the negative impact the cruise industry has on the environment, we recommend that you do not travel to Cozumel on a cruise ship.
Traveling Soon?

Here is a list of our favourite travel providers and accessories to help get you ready for your upcoming trip!
Scuba Diving In Cozumel
Cozumel is one of the best locations in the world to explore amazing coral reefs and marine wildlife such as turtles, sharks and all kinds of fish. Cozumel boasts a number of dive sites for different levels, with plenty of opportunities for beginner, intermediate, and advanced divers. With such an amazing variety of marine life and some of the top dive sites in the world, Cozumel is a hotspot for visitors in pursuit of a dive vacation. If you plan on staying on the island overnight, there are even operators that offer night dive excursions! On a night dive, you'll see all kinds of nocturnal marine life that you would otherwise never get to experience.
On our first trip to Cozumel, we had an opportunity to scuba dive in the reefs of the Cozumel National Marine Park. The park protects the second largest barrier reef system in the world, the Meso-American reef, and is home to some 100+ different coral and over 260 species of fish.
Scuba Diving In Cozumel With Scuba Mau
We joined Mau from Scuba Mau (one of the best Cozumel dive shops) and his great crew for a day of scuba diving in Cozumel! Scuba Mau is not the biggest Cozumel dive shop, and that's what makes it great. The shop's owner, Mau, had no problem with waiting for us to disembark from our cruise ship and made us feel like a part of his family from the second we stepped into his shop.
Check out our video from the day below and see for yourself!
Our experience scuba diving in Cozumel was pretty spectacular. We dove at Punta Sur and Santa Rosa wall, and both sites more than lived up to our high expectations. In fact, we agreed that Cozumel deserves a spot in our top 3 dive destinations we've experienced thus far (behind only Sipadan in Malaysia and Komodo National Park in Indonesia). The waters were clear, the visibility was great, the marine life was plentiful, and the intricate caverns and corals that lined the ocean floor were just spectacular.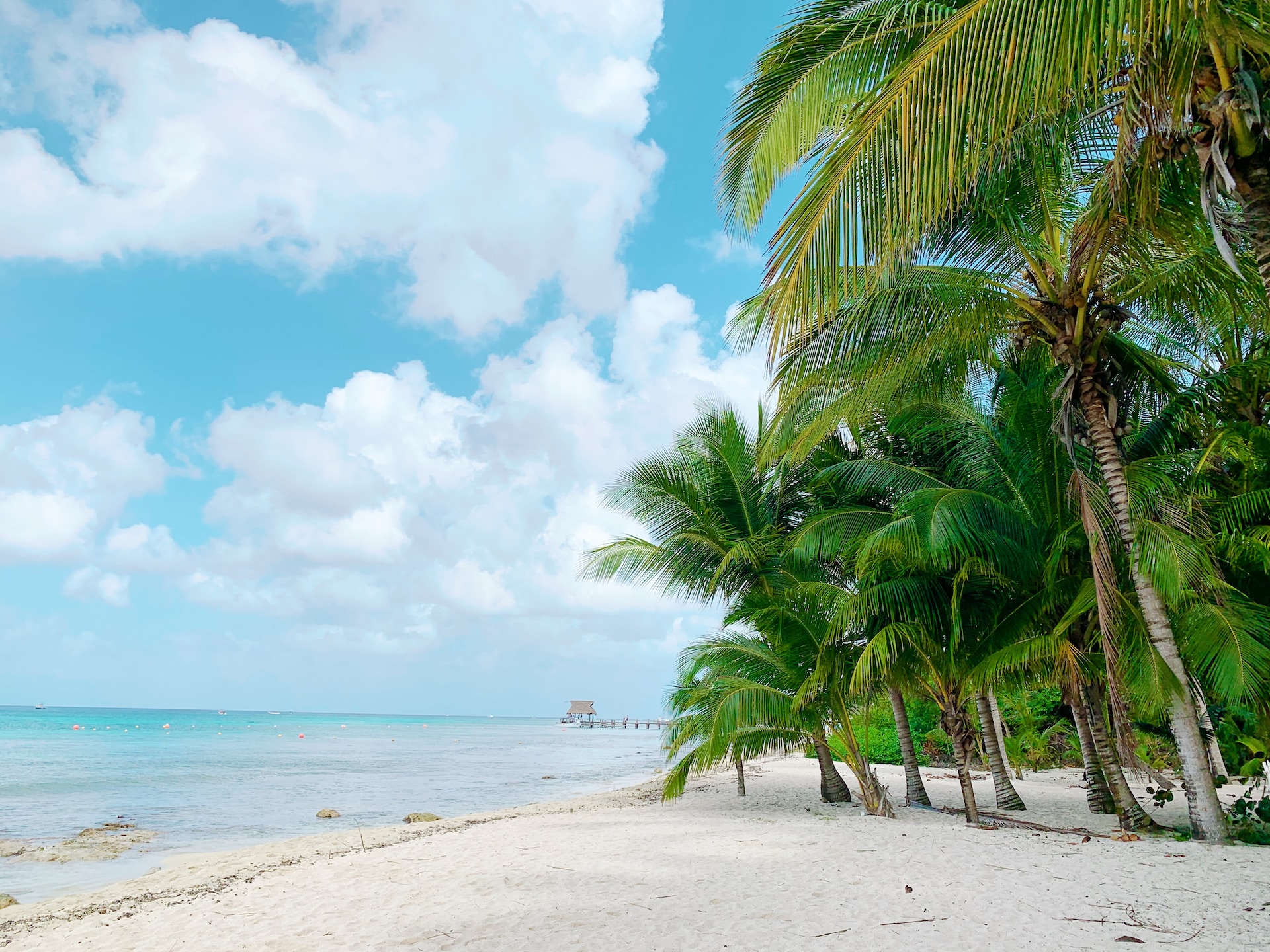 Dive Sites In Cozumel, Mexico
There are over 40 Cozumel dive sites appropriate for all experience levels. There are wall dive sites, reef sites, and sites where you get a chance to swim through some pretty cool cavern structures.
Due to the currents present around Cozumel, many of Cozumel dive sites are drift dives. Some are slow and gentle, others, particularly those in the south, are suitable only for experienced divers.
With so many options for Cozumel scuba diving, it can be really hard to choose where you might want to dive. So, we decided to ask Mau for his recommendations. After all, the man has now experienced them all!
Best Cozumel Dive Sites
Punta Sur
Punta Sur isn't just Mau's favourite, as it often tops lists for being one of the best Cozumel dives sites. Known for its intricate tunnels and an impressive wall reaching down to 165ft/ 50m, this Cozumel dive site is so much fun to explore! Punta Sur consists of two different dive sites: the Devil's Throat and the Cathedral, but each one offers an opportunity to experience some amazing caves, beautiful coral, and lots of marine life. Damselfish, barracuda, grouper, jackfish, and spotted eagle rays are all frequent visitors to this Cozumel dive site. During the warmer summer months, you might see some reef sharks.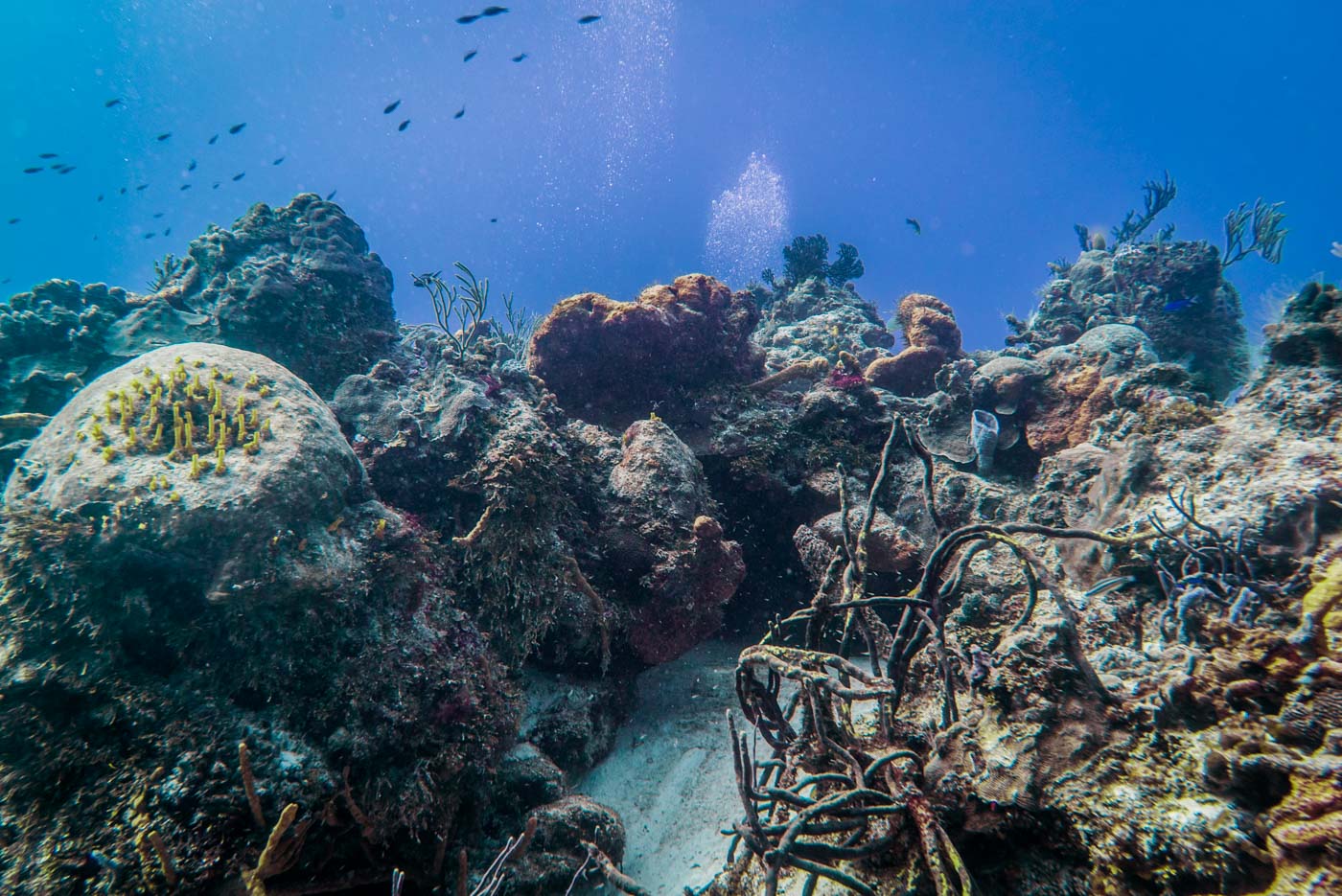 Colombia Deep
Colombia Deep is said to be a beautiful wall dive with lots of healthy coral, sponges, and lots of marine life. Turtles and blue creole wrasse are particularly common here.
Palancar Reef
This Cozumel dive site is meant to be a great spot for beginner divers, as the moderate currents make it easier to navigate the waters. This dive site is divided into four sections that are distinctly different – the bricks, caves, gardens, and horseshoe. Depths range between 9 to 36 metres, and you might see nurse sharks, sea turtles, eagle rays, and barracudas. The marine life on this site isn't as abundant as some of the other Cozumel scuba diving sites, but its caves, canyons, and beautiful coral gardens make Palancar Reef one of the best dive sites in Cozumel.
Santa Rosa Wall
Santa Rosa Wall was the second dive site we personally experienced during our time with Mau, so we can definitely attest to its awesomeness. It's a wall dive with some swim-throughs and more beautiful coral with lots and lots of marine life. We saw schools of grunt fish, angelfish, honeycomb cowfish, butterfly fish, and quite a few turtles.
Cedar Pass ( Paso Del Cedral )
Last but not least on Mau's list is Cedar Pass, a beginning to intermediate dive known for being home to big schools of fish and for being a photographer's paradise. We'll have to come back for more scuba diving in Cozumel to experience Cedar Pass.
Paradise Reef
Located off the western shore of Cozumel Island, Paradise Reef is popular with both scuba divers and snorkelers. This reef is excellent for beginners, with a depth range of about 10 to 20 metres. There is a deeper section right off the coast, and more experienced divers can make this a shore dive, but the currents here can be a bit strong. You'll see angelfish, barracuda, seahorses, and spotted moray eels swimming through the bright corals and sponges.
Best Time To Go Scuba Diving In Cozumel, Mexico
There is no bad time to go scuba diving in Cozumel. The temperatures are pretty consistent throughout the year, with daily highs ranging between 28-32°C (82-90°F) and daily lows hovering around 20-23°C (68-73°F).
The water temperature varies slightly 26-27°C (79-80°F) between December and April and 28+ the rest of the year. Precipitation and hurricane season are the only things that can hinder the conditions of the dive. August to October are the wettest months which also coincide with hurricane season.
The busiest season is December through March. While that won't make much of a difference for your diving experience if you go with Scuba Mau (these guys are all about small groups), it might make it harder or more expensive to secure accommodation or other tours on the island.
Your best bet would be to book your diving trip between March and April, as the weather and prices are the best during this shoulder season. During this time, the high-season crowds thin out, prices drops, and the summer rains haven't quite come in yet.
Why Dive With Scuba Mau
There are a number of Cozumel dive resorts and dive shops, so if you have never done any scuba diving in Cozumel, you should definitely do some research ahead of your trip. Make sure to avoid the cheapest options and don't go with the first company that you find. Instead, spend some time reading about available options ahead of your trip.
We take dive safety seriously no matter where in the world we choose to dive. So when we were looking for Cozumel dive shops, it was Scuba Mau's Certificate of Excellence and over 300 positive reviews on Tripadvisor that caught our attention. Mau was awesome at staying in touch leading up to our arrival, but what won us over was the atmosphere on the boat during the day.
Scuba Mau boat on our surface interval while scuba diving in Cozumel quickly realised that when you dive with Mau, you are diving with a small crew of friends that just love diving! Mau isn't stuck in the office dealing with paperwork; he's right there in the water with you. A small crew means a more personalized approach. It means that when you are out of air, you come up to the surface with one of the instructors. No fuss, easy-peasy.
Mau runs a great shop, and it really looks like a great spot for divers of all levels, from beginners looking to get their Open Water Certification to anyone who is looking to advance his or her skills. Don't be surprised if you see us back in one of Mau's Cozumel dive shops in a few years (maybe with a few kids in tow), ready to do our Dive Master Certification!
Have you been scuba diving in Cozumel? Share your favourite Cozumel diving sites with us below!
Disclaimer: Big thanks to Mau and his crew for hosting us for a day of diving in Cozumel. As always, all opinions expressed in this article are our own, regardless of who is footing the bill.