If the stresses of everyday life have gotten you down and you need to reconnect with your partner, it might be time for a romantic getaway. That doesn't mean you have to spend a ton of money and fly to the other side of the world. There are so many great places to visit as a couple right in the USA.
*This post may contain affiliate links, as a result, we may receive a small commission (at no extra cost to you) on any bookings/purchases you make through the links in this post. As an Amazon Associate, we earn from qualifying purchases. Read our full disclosure
If you're looking for romantic getaways in USA, you won't come up empty-handed. There are tons of great options for you and your loved one, but in our opinion, these are the six best vacation spots in the US for couples.
The Best Romantic Getaways in USA for Eco-Conscious Travelers
New York City, New York
New York City isn't considered the most sustainable destination, but those who want to visit this vibrant city can still find lots of eco-conscious activities to add to their to-do lists, and it's one of the top vacation spots in the US for a reason.
For starters, there are lots of beautiful green spaces to visit. Central Park is the clear favourite, with tons of trails, plazas, and lakes to enjoy.
If you want a romantic stroll with fewer crowds, head to the Highline, where you can walk along an abandoned railway line-turned-public walking route. Raised up above the city, the route offers a beautiful overview of the west side of Manhattan.
When you reach Hudson Yards, climb the Vessel, a massive, interactive sculpture that has just recently opened to the public.
If you want to escape the crowds, even more, head across the river to Liberty State Park in New Jersey for stunning views of lower Manhattan. It's also a great jumping-off point to visit the Statue of Liberty and Ellis Island.
You can also venture across the Brooklyn Bridge to downtown Brooklyn or take the train to Coney Island for a trip back in time.
Where to Stay in New York City
There are a number of fantastic eco-hotels in New York City. A few of our favourites are the Benjamin Hotel for its style and minimal carbon footprint, as well as the 1 Hotel Central Park for its amazing views and sustainability practices.
Where to Eat in New York City
Head to Rosemary's in the West Village for an amazing rooftop-farm-to-table experience or to Hearth in the East Village for a romantic and locally sourced date night dinner.
Portland, Oregon
With Mt. Hood in the distance and green policies abound, the eco-friendly traveler is sure to fall in love with Portland, Oregon right away. It's a fantastic romantic getaway in USA for those who just like to spend time outdoors, strolling hand-in-hand through countless public parks.
If you want to stay active, rent bikes and cycle through Portland. There are lots of bike paths that make it easy to explore Portland with minimal impact on the environment.
Make sure not to miss downtown Portland with its eclectic street art, music, and theatre. If you have a few days to spend in the city, see what concerts and performances might be in town. And if you're craving more nature on your romantic short breaks, then hiking or skiing in Mt. Hood can be a great weekend getaway option.
Where to Stay in Portland
Sleep in the Nines Hotel, an energy-efficient beauty, or the Ace Hotel, a recycling machine with cozy, historic vibes.
Where to Eat in Portland
If you're a foodie, you'll be happy as a clam. There is an incredible food scene here as well as tons of microbreweries, coffee shops, and tea houses. Some of our favourite organic tea brands have storefronts in Portland.
Don't miss, Blossoming Lotus is an excellent organic vegan restaurant located right in the heart of town.
California Wine Region
The wine region of California is world-famous for romantic vacations in the US. With rolling vineyards and antique wineries, it's easy to see why this is one of the best romantic getaways in USA.
Start your journey in San Francisco, visiting the famous piers, the "painted lady" houses, and the famous Ghirardelli Chocolate factory. Then, rent a car and drive through the wine region, and spend quality time with your partner on the road. You can also loop around to Sacramento along the way.
You can explore the vineyards on foot and walk through the wine cellars with a winemaking expert. You'll taste tons of different varieties of red, white, and rose, surely finding your new favourite wine. At the end of the day, soak in the pool at your wellness resort and enjoy the peaceful feelings.
Where to Stay in California Wine Region
Bardessono is an amazing eco-hotel with a world-class spa, green buildings, and an organic restaurant.
Where to Eat in California Wine Region
Lucy Restaurant is the on-site dining choice at Bardessono, offering fresh, local ingredients that will melt in your mouth. In San Francisco, pop into Greens, an innovative vegetarian restaurant right on the bay.
Western Colorado
Colorado is a vast and beautiful state, but one of the best romantic getaways in USA is the western part of the state. You'll likely start in Denver, spend a few days in Boulder, and then head west to get into nature.
The Rocky Mountains are the star of the show here, with their jagged peaks overlooking much of the west. There are plenty of amazing places to visit along the way such as Hanging Lake and Glenwood Springs. If you head south from there, you'll also reach stunning nature reserves, such as Mesa Verde National Park and the San Juan National Forest. You'll also want to stop in Telluride, a sleepy ski town surrounded by picturesque mountain peaks.
If you want to see more of the state, consider road-tripping! There's nothing more romantic than driving down scenic routes with your partner and just taking in the surroundings. A Colorado road trip is one of the most unique romantic getaways in USA for anyone who loves to spend time in nature.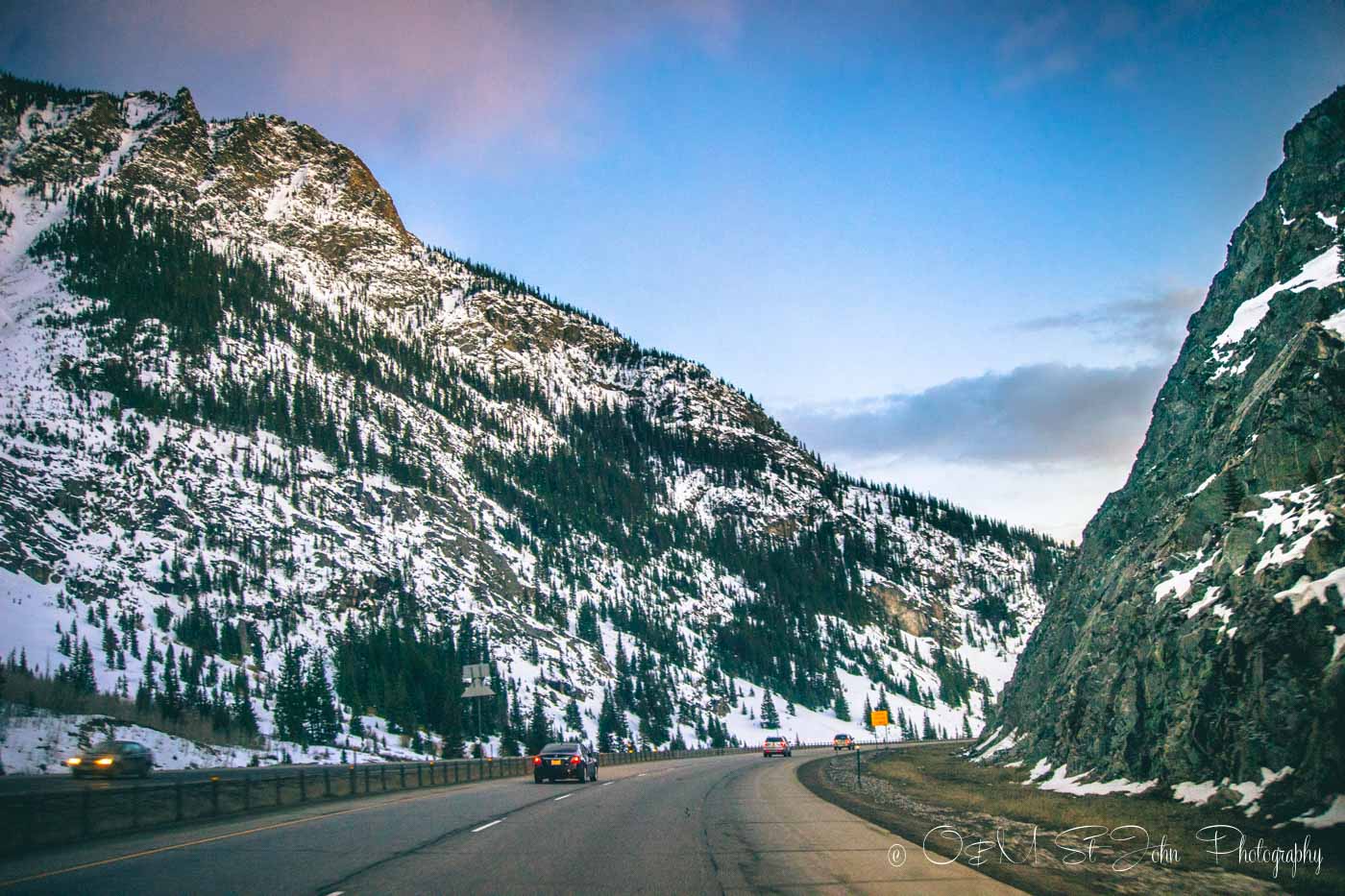 Where to Stay in Western Colorado
The Briar Rose Bed & Breakfast in Boulder is a wonderful place to stay if you're on a budget but still want some charm at your accommodation. Try the Glenwood Springs Cedar Lodge in Glenwood Springs or the Far View Lodge near Mesa Verde National Park for awesome sustainable practices.
Where to Eat in Western Colorado
While in Boulder, make sure to eat at either Black Cat Bistro or Bramble & Hare, two eco-friendly restaurants right next to each other that are run by a local farmer. Farm to table food doesn't get much better than this!
Bar Harbor, Maine
Some of the best romantic getaways in USA can be found in New England, but Bar Harbor is one that stands out. Located on Mount Desert Island right next to Acadia National Park, Bar Harbor is one of the most beautiful and romantic places in Maine, making it perfect for romantic holidays for couples.
Start your trip with a hike to one of the beautiful, dark lakes on the island, such as Jordan Pond. Make sure to bring your swimsuit so you can jump in when you reach your destination. It's also wonderful to rent bikes and pedal through the forest on the old carriage roads that used to be utilized only by horses and carts.
Later on, visit Sand Beach for a day in the sun or Thunder Hole for some magnificent waves and sound effects right by the sea.
Perhaps the most romantic thing you could do in Acadia National Park is to visit the top of Mount Cadillac for sunrise. In fact, it's the first place you can see the sunrise in the USA. For another excellent sunset spot, head to Bass Harbor Head Light, a lighthouse on the southern tip of the island.
Where to Stay in Bar Harbor
The best places to stay in Bar Harbor are family-run bed and breakfasts. Try the Acadia House Inn, Kingsleigh Inn, or the Salt Air Inn.
Where to Eat in Bar Harbor
In Bar Harbor, the best things to eat are freshly picked Maine blueberries and sustainable seafood, especially lobster. Head to Jordan's Restaurant for unbeatable blueberry pancakes and Stewman's Lobster Pound for a delicious lobster dinner.
Seattle, Washington
Seattle is one of the best romantic getaways in USA for so many reasons. It's eco-friendly, charming, and right between the mountains and the sea. Nicknamed the "Emerald City," Seattle is the perfect place to visit if you love the charm of farmer's markets and conscious consumerism in a city, but also like to be in the outdoors.
While spending time in the urban center, pay a visit to the Space Needle, Seattle's most distinct landmark. You'll also want to check out Pike Place Market and go on a food tour to discover the thriving culinary scene. Make sure to taste one of the countless craft beers or wines made locally.
Seattle has a lot more to offer than just the city. Right nearby are two magnificent national parks, Olympic and Mt. Rainier. Olympic is filled with majestic waterfalls, cozy wooded trails, and a gorgeous coastline. Mt. Rainer is the highest mountain in Washington and the holy grail for hikers on the west coast.
Where to Stay in Seattle
For a stunning hotel featuring an organic spa and an eco-certification from LEED, book your room at the Olive 8 Hyatt.
Where to Eat in Seattle
Right on the water, Seattle is all about seafood. Try Taylor Shellfish or Anchovies & Olives for some fresh, sustainable, and locally caught fish.
Though there are tons of options for romantic getaways in USA, these are just some of our favourites. They're perfect places to have fun as a couple and reconnect with each other while discovering some of the best destinations in the country.
Have you ever gone on a romantic getaway in USA? What destinations in USA did you visit?