If you're in need of a couple's getaway, then you'll be hard-pressed to find a destination with more variety in romantic destinations than Australia. With paradise beaches, rolling valleys, beautiful National Parks, and buzzing cities, you'll always have tons of things to do together.
*This post may contain affiliate links, as a result, we may receive a small commission (at no extra cost to you) on any bookings/purchases you make through the links in this post. As an Amazon Associate, we earn from qualifying purchases. Read our full disclosure
Whether you love to wine and dine in the lap of luxury or prefer roughing it on the trail in the wilderness, you can find any kind of experience in Australia. What's more, there are plenty of great romantic accommodations options in Australia as well, so you can be sure that no matter where you choose to go, you'll find great hotels nearby. For all kinds of romantic getaways, Australia has you covered!
After many years of exploring Australia, we've discovered some of the best romantic getaways in Australia. Here are our favourites!
Romantic Getaways in NSW, Australia
Hunter Valley, NSW
The Hunter Valley is our favourite wine region in all of Australia. It's affordable, accessible, unpretentious, and has some of the best wines in the entire country. There are tons of tasty restaurants and fun entertainment options in the region as well. The region has a variety of accommodation options ranging from no-frills to luxury offerings, so you can spend some time with your loved one in Hunter Valley regardless of your budget.
Traveling Soon?

Here is a list of our favourite travel providers and accessories to help get you ready for your upcoming trip!
Blue Mountains, NSW
The Blue Mountains is another popular destination for a romantic getaway in NSW and for a good reason. These rugged, majestic mountains have lots to discover, including rocky gorges, waterfalls, eucalyptus forests, and charming nearby towns. This destination is particularly suitable for couples with an adventurous outdoor spirit.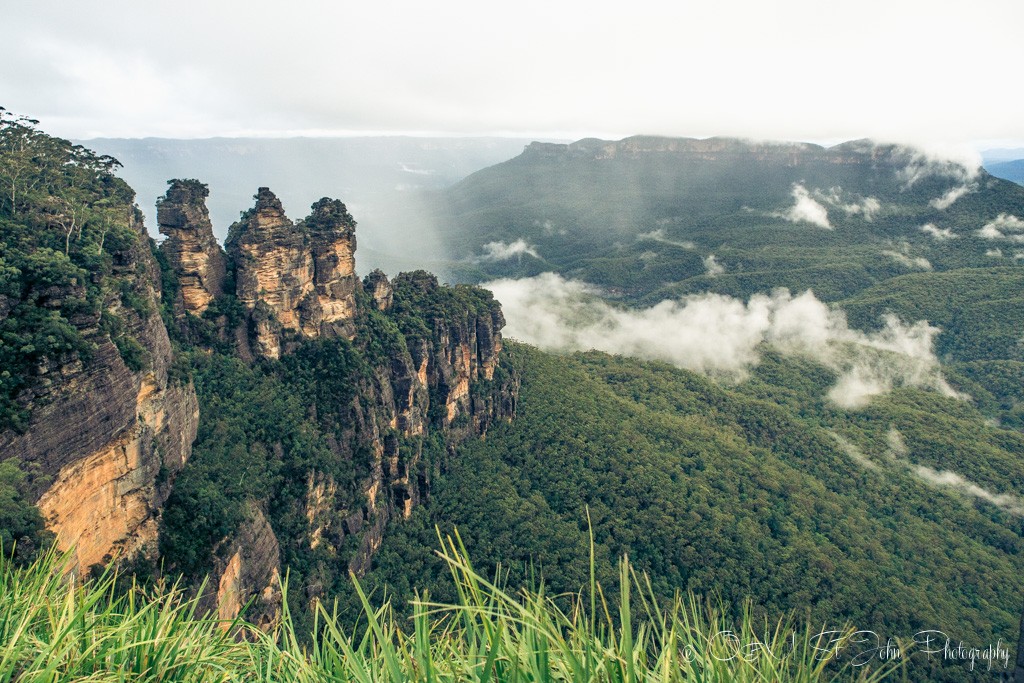 Head to the Blue Mountains with your partner to reconnect both with nature and each other.
Sydney, NSW
The capital of NSW, Sydney, can be one of the best romantic destinations Australia has to offer. The city is full of interesting sights, great restaurants, fabulous hotels, and romantic activities. But in our opinion, nothing is more romantic than experiencing Sydney harbour. Take a sunset cruise and watch the light wane and stars and city lights light up the sky from the deck of a boat while enjoying cocktails and/or dinner with your loved one.
Romantic Getaways in QLD, Australia
Scenic Rim, QLD
For active romantic getaways, Australia has lots to offer not too far from Brisbane. One of our favourite places to escape the city and enjoy the beauty of the region in a romantic yet active setting is the Scenic Rim Walk by Spicers. This all-inclusive luxury guided walking experience includes 2-nights luxury accommodation, all meals & beverages and two days of guided walks through World Heritage Listed National Park, Gondwana Rainforest.
The Whitsunday Islands, QLD
What could be more romantic than spending a few days enjoying some of Australia's most beautiful beaches? Those looking for the most romantic getaways in QLD should definitely consider a trip to the Whitsunday Islands. Stay in Airlie Beach or on one of the islands and take a day trip or even an overnight trip to the Whitsundays and the Great Barrier Reef.
Cairns, QLD
Cairns might not be the most romantic destination in QLD, but this city is all about action and those looking for an adventurous romantic getaway will find Cairns to have some excellent offerings. Base yourself in one of the many beautiful hotels in town and fill your days with adventures like skydiving, scuba diving, hiking and wildlife encounters.
Broadbeach, Gold Coast, QLD
Most people come to the Gold Coast to enjoy the incredible beaches, so why not make the most of it with your partner? Enjoy a romantic getaway on the Gold Coast with sunny days on the beach, great surfing, wonderful restaurants and a relaxed laid back atmosphere.
Alternatively, there's a lot to do in the region aside from the beaches. Springbrook National Park, Currumbin Rock Pools, and Mount Warning offer plenty of opportunities for active adventures nearby. Broadbeach is probably one of the best areas to base yourself for a romantic getaway in Gold Coast, QLD.
Romantic Getaways in Victoria, Australia
Great Ocean Road, VIC
If are looking for romantic getaways in the Melbourne area, you absolutely cannot miss the Great Ocean Road. This incredibly scenic route follows the southern coast starting in Torquay just outside of Melbourne and spanning 243km (150 miles) all the way to Warrnambool. The Great Ocean Road is considered one of the best road trips in Australia and in our opinion, any road trip is an amazing opportunity to reconnect with your loved one, especially one as picturesque as the Great Ocean Road.
While most choose to experience the Great Ocean Road by car, adventurous couples may want to hike the Great Ocean Road instead! Plan a 3 day drive, go rugged for a week-long camping and hiking experience or opt for all-inclusive 4-day luxury walk, you are bound to enjoy this destination no matter how you choose to experience it!
Yarra Valley, VIC
Yarra Valley is another renowned wine region in Australia known for great wine, laid back pace and mellow atmosphere. The beautiful scenery and incredible wine and food experiences make this one of our favourite destinations in Victoria and one of the best romantic getaways Australia has to offer.
When you've had your fill of wine, make sure to try out the local ciders and beers that are also brewed nearby. For something really romantic, take a hot air balloon ride over the valley.
Romantic Getaways near Perth, Western Australia
Margaret River
If you're in the Perth area and looking for a romantic getaway, head to Margaret River. This small town is idyllic and quaint, the perfect setting to enjoy time with your significant other. Spend some time exploring the Margaret River wine region, enjoy the famous stretches of sand in the area, or check out the sea cliffs of the nearby Leeuwin-Naturaliste National Park.
Kick your romance up a notch with fabulous meals at local restaurants serving craft beers, local wines and farm to table produce!
Romantic Getaways in Tasmania
Hobart
If you're visiting Tasmania, Hobart should be your first stop. Grab your partner and spend the day hand in hand exploring the bustling Salamanca markets, take a deep dive into the history at Battery Point, or get arty at Hobart's Museum of Old and New Art (MONA). Enjoy great seafood and make sure you head out for an evening walk along the waterfront or an afternoon stroll through the botanical gardens.
Cradle Mountain National Park
Feeling more adventurous? Then Cradle Mountain National Park may be a better romantic getaway in Tasmania for you. This large national park is full of thick wilderness and romantic scenery. The diversity of landscapes are truly incredible ranging from dense rainforests and sharp mountains to alpine lakes and cozy grasslands.
Settle into a cozy romantic hotel at the base of the park and enjoy hiking trails all around the area. For a truly exciting adventure through the park, consider hiking the Overland Track that crosses the park from north to south.
Romantic Getaways from Adelaide, South Australia
Kangaroo Island, South Australia
For one of the most unique romantic getaways in Australia, consider Kangaroo Island, a rugged island off the coast of South Australia. Explore Flinders Chase National Park, spot seals on the rocks, admire the beautiful coastline, get up close and personal with kangaroos and eat your fill of organic and locally sourced food. There are lots of luxurious accommodation options on the island that can make this trip feel especially romantic.
Barossa Valley, South Australia
For yet another dive into the world of Australian wine, head to the Barossa Valley. With gorgeous wineries, charming guesthouses, and rolling vineyards, you could spend days here simply admiring the views and connecting with your loved one. Although it's not the cheapest destination, a romantic getaway destination like Barossa is definitely worth the splurge.
If you're searching for romantic getaways, Australia will certainly spoil you with options.
Beaches, rainforests, mountains, valleys – Australia has it all. From the stunning vineyards of the wine regions to the magnificent coastlines, you really can't go wrong when choosing a couples holiday spot. The only thing you have to do is grab your partner and set off on the romantic escape of a lifetime.
Which of these romantic getaways in Australia would you want to take first?