A Singapore stopover is almost inevitable for many travelers making their way to Southeast Asia, Australia, or other parts of Asia Pacific. The Singapore Changi Airport is one of the biggest airports in the world, serving more than 100 airlines with over 6,400 weekly flights connecting Singapore to 300 cities in about 60 countries and territories worldwide.
*This post may contain affiliate links, as a result, we may receive a small commission (at no extra cost to you) on any bookings/purchases you make through the links in this post. As an Amazon Associate, we earn from qualifying purchases. Read our full disclosure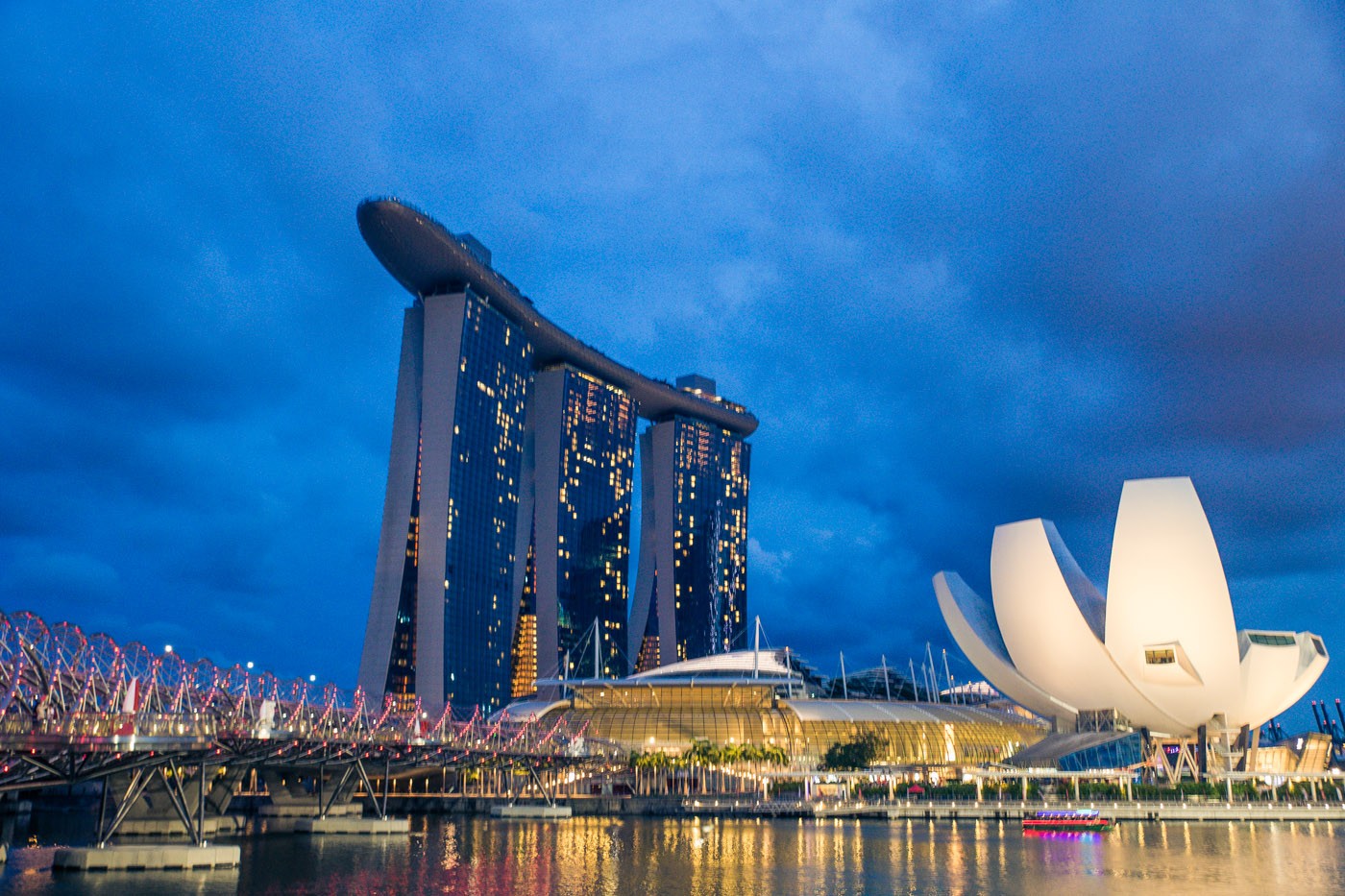 Traveling Soon?

Here is a list of our favourite travel providers and accessories to help get you ready for your upcoming trip!
Needless to say, there are lots of routes that connect in Singapore and our route from Australia to Toronto, to visit family and friends while living in Brisbane, was one of them. We managed to score this flight for under $2,000 return – a great deal for this time of the year.
At first glance, the flight itinerary didn't look appealing – two 7-hour stops along the way and a total door to door time of over 40 hours! "Yuk" you might say, but we saw it differently. We saw it as an opportunity to make the most out of our stopovers, and in Singapore, we did exactly as we planned – WE ROCKED OUR SINGAPORE STOPOVER!
Singapore is One of The Greenest Cities in the World
This urban island nation may seem like it's nothing more than a concrete jungle at first glance – but it's actually one of the world's leading environmentally responsible metropolises! It has amazing Yale EPI scores in air quality, sanitation, water resources, energy and climate.
Singapore is one of those cities that makes it easy to enjoy a long layover, if you are prepared and well informed you too can rock your Singapore layover. Here are a few of our tips for a layover in Singapore!
Give Yourself Enough Time to Enjoy a Singapore Stopover
From the Airport to the City, and Back
Singapore Changi airport is located about 20 km from the city center, making it easy to get in and out of the city. But keep in mind that you'll need at least 1-2 hours to get off your first flight, find a place to store your luggage, and get out into the city.
You'll need another 2-2.5 hours to get back to the airport, pick up your luggage, and check into your next flight. Unfortunately, if you have less than a 5 hour layover in Singapore, it just won't be enough. You want to have at least 2-3 hours in the city to make it worthwhile. So aim for 8 hours or more in between your flights.
Book Both Flights on One Itinerary
Save Yourself the Logistical Hassles
The benefit of having flights on both sides of your layover operated by the same airline or by airline partners is that they will save you the logistical hassles during your Singapore layover.
You'll be able to check your luggage all the way through, get both of your boarding passes before the first flight and not have to worry about any of this when you arrive in Singapore. You'll be ready to step off the plane, go through immigration and head straight to the city.
Leave Your Luggage and Carry-Ons at the Singapore Airport
There are Great Luggage Storage Services at the Airport
If you aren't able to book both flights on the same itinerary, don't worry. Singapore makes it easy and cheap to leave your luggage at the airport while you explore the city.
Every terminal (there are 3 of them at Singapore Changi) offers Luggage Storage services, available for just SGN $8 per small bag for the first 24 hours. Follow the signs at the Terminals or ask one of the Customer Service Reps for assistance in finding the Luggage Store Offices.
Check Your Carry-On Too
Even if your luggage is checked through to your final destination, it might be a good idea to leave your carry on luggage in storage while you explore the city during your stopover in Singapore.
A little 5-7kg backpack doesn't feel heavy when you are carrying it onto the flight, but trust me, 4 hours of walking around the city with a 7kg backpack on your shoulders is NOT a good idea. (We speak from experience, a rather painful one!)
Make Sure You Can Legally Leave the Airport
Most nationalities can enter Singapore without a Visa, however, there are exceptions, countries like Russia, China, Ukraine, Moldova, Hong Kong and others. So check the Immigration Authority Website to avoid surprises at immigration.
Take Advantage of the Free Singapore City Tour
Great for Travellers On a Time Crunch
Changi Airport offers free Singapore City tours to all transit customers. It's a perfect way to get an overview of the city if you only have 5-6 hours in Singapore.
Tours last 2 hours and visit many of the major sights in Singapore, like the Marina Bay Waterfront Promenade, Marina Bay Financial Centre, Bugis Village, Chinatown, Little India, and more. Tours depart at designated times daily between 9 am until 4 pm (for the Heritage Tour). Find the itinerary here.
Do Not Pass Through Immigration/Security!
Free Singapore Tours are only available to transit customers and thus have to be booked prior to passing through security and immigration. The kiosks where one can book these tours are easy to miss (we did), so it's best to ask a Customer Service Representative for help as soon as you get off the plane.
If You Have More Time, Opt to Explore on Your Own
The tours are certainly great for those that want a little overview of the city on their Singapore layover, but they only make one stop at the Marina Bay Promenade and don't allow you much time to explore the city.
If a bus tour doesn't sound like your cup of tea, don't do it. Exploring Singapore on your own is easy, and in our opinion, a much more enjoyable way to spend your Singapore stopover!
Take the MRT Into the City
Getting to The City Centre
If you have decided to explore the city on your own, you have 2 options for getting into the city center: MRT (Singapore's Subway System) or taxi.
A taxi into the city will take roughly 20-25 minutes and cost S $20, while the subway will be closer to an hour but cost only S $3 each way. If you are traveling in a group, taking a taxi is a no-brainer. If you are traveling solo, as a couple, or if you simply have the time, take the MRT.
Taking the MRT Subway in Singapore

Did you know?: the MRT has committed to green transit – they're working to keep their metro system eco-friendly in regards to air, energy, water and waste!

Most of the subway lines from the airport to the city run above ground giving you great views of the different suburbs of Singapore along the way. The subway is clean, air conditioned, and comfortable and unless you are traveling in rush hour, you are almost guaranteed a seat.

One of our favourite things about taking the MRT in Singapore is that it allows for great people watching. It truly gives you a taste for the local life, local culture, and customs. To me that's worth the extra 30 mins on the train!
Pick Only 1 or 2 Areas to Explore
Once you get into the city don't try to do everything on your Singapore stopover! Singapore may seem small, but it's a massive city with a ton of little neighbourhoods all offering their own sights and attractions. Pick 1 or 2 areas (depending on how long your Singapore layover is) and stay awhile.
Top Areas to Explore on Your Singapore Stopover
Need advice on where to go and what to do? Here are a few of our suggestions: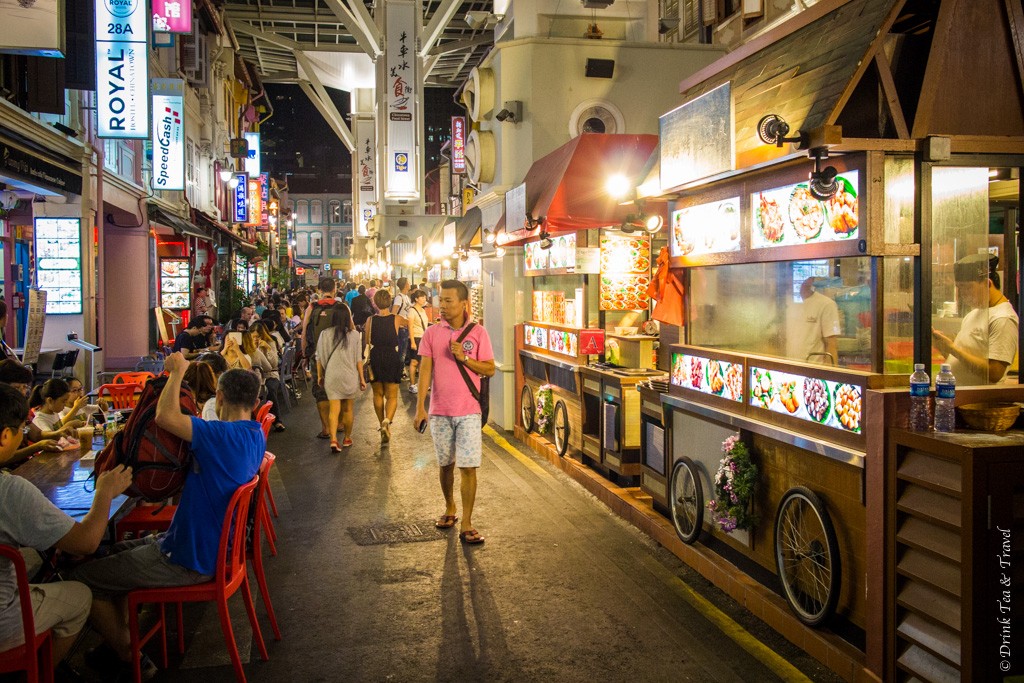 Chinatown
One of the best areas for culture and cuisine in the city. The area is contained between Pagoda Street and Smith Street, although the official Chinatown borders extend further south and east.
Check out the Buddha Tooth Relic Temple, grab a bite to eat at the hawker stalls set up on Smith Street, or shop for souvenirs and Chinese trinkets at the shops all around the pagoda. Finish off your Singapore layover evening with a beer at one of the local pubs or a cup of tea meticulously brewed at Tea Chapter.
Marina Bay/Financial District
The area is best known for the Marina Bay Sands Resort that is home to a hotel, casino, shopping mall, convention center, and museum. It also features Gardens by the Bay, an absolute delight for nature and photography lovers. You could spend hours roaming around the gardens and admiring the views of the Marina Bay. (We definitely did)
Pop over to the other side of the Gardens by the Bay and you'll find the Marina Barrage – one of the world's largest urban hydrodams. If you're interested in learning more about how Singapore is committed to sustainability, spend some time walking through the Sustainable Singapore Gallery located inside of the dam!
Or, take the Secrets of Marina Bay Walking Tour and visit the areas top attractions all in just 3 hours. The good thing about this tour is that if your flights are delayed and your layover in Singapore is no more, you can cancel up to 24 hours in advance and receive a full refund.
Orchard Road
If your heart goes "boom boom boom" at the idea of shopping, then look no further than the main shopping streets in Singapore – Orchard Road and Scotts Road. Here you'll be greeted with several kilometers of road lined entirely with upmarket shopping malls. Not our idea of fun, but hey it's heaven for some!
Southern Islands
The islands off the southern coast of the city allow you to step away from the hustle and bustle without really leaving the city. This is a great spot if you want to have a chilled Singapore stopover. If you're interested in learning more about Singapore's first marine protected area, book a guided tour of the island's intertidal area.
The guide will teach you all about the local marine life and the importance of conservation in Singapore! These specific tours only happen a couple days out of the month. However, you can visit several of the southern islands any day, any time!
Riverside
If you are into art, museums, and culture head to Riverside where you'll find the majority of Singapore's historical attractions. This area is home to the Merlion, Singapore's official symbol, as well a number of museums, theatres, and concert halls.
Little India
This vibrant area is the center for the Indian community in Singapore. Head over to Serangoon Road, right into the heart of the action. Enjoy some shopping, people watching, and make sure you try the uniquely Singaporean dish – fish head curry.
You could also take the Little India Guided Walking Tour which lasts just 2.5 hours, which would be perfect even if you only have a 5 hour layover in Singapore. You'll be guided through the charming and bustling narrow street, taken to the best spots for saris and spices, and hear some fascinating stories along the way.
Kayakasia
If you're lucky to have 12 hours in Singapore or 24 hours in Singapore are looking to get active, Kayakasia offers guided kayaking trips all around the island nation!
This company boasts itself as an eco-adventure tour group – they work directly with locals to plan trips, participate in local sustainability events, and make sure they minimize their carbon footprint as much as possible. The tours last about 5 hours, and the dates/times can be found on their Facebook events page.
Sentosa Island
If you are traveling with the little ones (or maybe you are a little one at heart?) the Sentosa Island is the place for you. Get there by taking the monorail from the MRT station called "Harbourfront" and spend your free time checking out Singapore's Universal Studios Theme Park.
There are also gardens, nature trails, and sandy beaches that are probably more suitable for a shorter layover. What could be better than spending your 6 hours in Singapore than chilling on a beach or checking out Singapore's only fully restored historical fort?
Don't Forget to Eat
Try a Uniquely Singaporean Dish
One of the best things about Singapore is the food. From hawker centers to upscale restaurants, this city has it all. Try Singapore's famous chicken rice, chilli crab, and char kway teow, or go beyond the usual choices to try something wacky and different.
If you're a vegetarian/vegan, this website is an awesome resource to help you find restaurants you'll enjoy on your layover in Singapore!
Another great option for foodies with a layover in Singapore is a Private Guided Food Tour with Tastings. Not only will you get to see the sights of the city, but you'll get to taste a wider variety of typical dishes than if you just went for one meal.
Come Back to the Airport Early to Enjoy a Much Needed Foot Massage
Conclude Your Stopover in Singapore
If you spent a few hours roaming around Singapore your feet will be begging for some pampering! Plopping down in a comfy chair and having your calves and feet massaged after hours of walking around the city is not a luxury, it's a necessity!
But don't worry an airport foot massage won't cost you an arm and a leg. Do get back early to snag a seat right in front your departure gate and enjoy a much deserved FREE foot massage to conclude your stopover in Singapore!
Want to Extend Your Stay by a Few Days?
Singapore has so many great hotels and places to stay if you have a little more time. If it is your first time to Singapore check out our guide to the best neighborhoods to stay in Singapore to choose the area that is right for you.
Eco Hotels in Singapore
Oasia Hotel is located in the heart of Singapore's business district and is most well known for its unique, vertical garden. Its rooms are modern, comfortable, and the hotel boasts a long list of green credentials.
JW Marriott Hotel South Beach is thoughtfully designed and utilizes green technology like their unique microclimate canopy. They offer great service and stylish rooms in Singapore's South Beach, a perfect spot if you have more than 24 hours in Singapore.
Parkroyal on Pickering is a luxury hotel based on the concept of a 'hotel in a garden'. They have a plethora of sustainable practices in place.
If you're looking for accommodation at the airport, consider the Crowne Plaza Changi Airport. Their beautiful sustainable hotel has won the Singapore Green Hotel Award several times.
Have you ever rocked a layover in Singapore or another city?