When I lived in London, long weekend getaways were easy! Cheap flights weren't hard to come by and last minute trips were often planned on a whim. In spring, summer and autumn, there was never a shortage of amazing destinations to choose from, but when winter rolled around, the travel forecast would always look a bit gloomier and a lot less fun. Sure, there is a certain charm in visiting Christmas markets in Germany, skiing in Switzerland, or experiencing the quintessential fairy-tale winter in Denmark, but what if you are dreaming of warm weather and sunny beaches?
*This post may contain affiliate links, as a result, we may receive a small commission (at no extra cost to you) on any bookings/purchases you make through the links in this post. As an Amazon Associate, we earn from qualifying purchases. Read our full disclosure
Queue Portugal with its beautiful country side, incredible beaches, and unique culture, it also happens to be one of the warmest European countries. While the rest of Europe braves through cold and windy weather, Portugal enjoys winter averages of about 15°C in the North, 18-20°C in the South and the best of the Mediterranean sun in the Madeiro archipelago.
What To Do in Portugal in Winter
Wine Tasting in Porto
At first glance, Porto may seem like another rugged shipping port and an industrial metropolis, but its beauty and charm lie in the medieval old city, the Ribeira, stretching from Douro River to the hills. In the summer the waterfront square, Praça da Ribeira, is filled with cafes and restaurants that overflow with tourist crowds, but in the winter, this UNESCO World Heritage site is peaceful, somewhat undisturbed.
Cobblestoned streets and medieval charm aside, there is no secret that the real allure of Porto is its port wine! From riverside wine caves in Vila Nova de Gaia, to the outskirts of the Vinho Verde region, Douro, and the Dão, the options for wine connoisseurs and young enthusiasts are plentiful. Take a guided tour and discover the inner workings of the wineries or admire the rolling hills of vineyards that maintain their appeal, even in the winter months.
Traveling Soon?

Here is a list of our favourite travel providers and accessories to help get you ready for your upcoming trip!
New Years Eve in Lisbon
If you are looking for a unique way to ring in the New Year, look no further. The country's capital invites you to share the Portuguese spirit at the famous Torre de Belém (Belém Tower). Admire the incredible fireworks over Rio Tejo (Tagus River), then spend the night dancing away at street festivities and club parties all over town.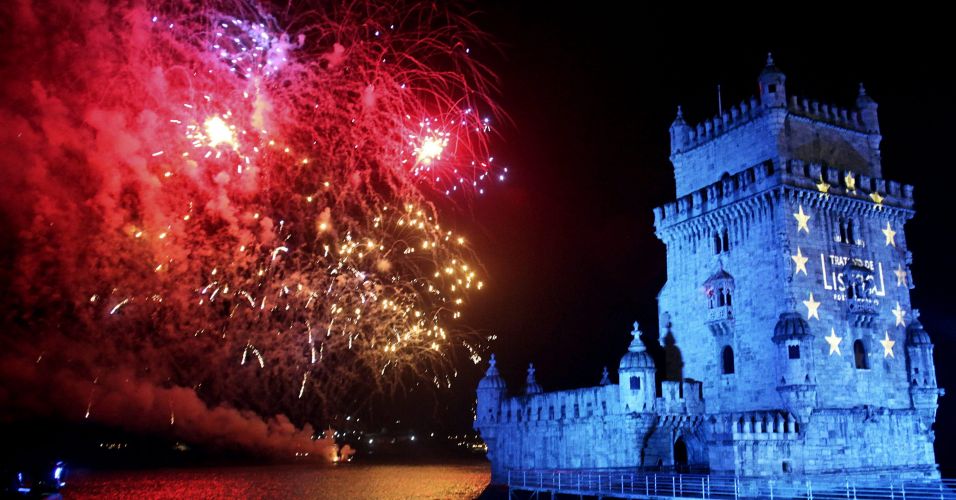 When the magical night comes to an end, you can spend a few days indulging in traditional Portuguese cuisine near Chiado square, refreshing your wardrobe in Baixa, the famous shopping district in the city, getting lost in the maze of alleyways in Alfama, the city's oldest district, or exploring the monument packed Belém neighbourhood.
Relaxing in Algarve
Winter in Algarve, Portugal's most popular holiday destination, is short and mild. During the day, the temperature hovers around 15-20 degrees, warm enough to ditch your winter coat and expose your skin to the warm rays of sun. Without the hustle and bustle of the summer crowds, Algarve in the winter is a great place to enjoy the beauty of the surroundings in a relaxed atmosphere.
Winter is also a perfect time to try many outdoor activities in the region: from kayaking to explore 200km of Algarve coastline, unspoiled by the crowds of tourists that normally flock here in the summer, to golfing at some of Algarve's famous golf courses. For those craving a bit of local interaction, there is no better time to learn about the local life then during the quieter winter months.
Explore the Remote Madeira and Azores
If paradise is what you are after, then the subtropical archipelagos of Madeira, Porto Santo, and Azores are what you need.. Located just 1.5hr by flight from mainland Portugal, these Pearls of the Atlantic are home to some of the best resorts in all of Europe. The islands are unpopulated, but are visited by over 2 million people per year.
Beautiful coastal drives, hikes, scuba diving, mountain biking, horse riding, and surfing, are accompanied by spectacular views of the Atlantic and volcanic rock formations, famous Madeira wine, and flowers. The plethora of activities makes these relatively undiscovered islands ideal spots to get away from the cold and snowy weather, no matter where in the world you come from.
Like this post? Pin it for later
Have you ever visited Portugal in the winter? What activities would you recommend to others?