Located in Central America on Costa Rica's southern Pacific Coast on the Osa Peninsula, across the bay from Panama, Corcovado National Park is the premier wildlife destination in southwest Costa Rica.
*This post may contain affiliate links, as a result, we may receive a small commission (at no extra cost to you) on any bookings/purchases you make through the links in this post. As an Amazon Associate, we earn from qualifying purchases. Read our full disclosure
Established in 1975, the park encompasses an area of 424 square kilometres but holds 2.5% of the world's biodiversity and over 50% of all the species in Costa Rica. National Geographic once proclaimed it as one of the most biologically diverse places on Earth, with mangrove swamps, highland cloud forest, a palm forest, and the last old-growth wet forests on the Pacific Coast, among other ecosystems.
Having visited the park firsthand, we can definitely see the truth in that claim. Corcovado protects some of the most incredible biodiversity in the Osa Peninsula area, Costa Rica itself, and even in Central America.
The abundance of wildlife in the park is second to none. This remote rainforest is home to tapirs, feline species like jaguars, pumas, ocelots, coatis, and all four species of Costa Rican monkeys, including the white-faced capuchin. Even hammerhead sharks have been spotted in the water, and crocodiles lurk in the Laguna Corcovado. It's the crown jewel of wildlife viewing in Costa Rica, with an abundance of exotic mammals, reptiles, insects, and birds.
If the idea of wild trails beneath tall trees filled with three-toed sloths and scarlet macaws sounds exciting to you, you need to visit Corcovado National Park!
This guide will cover everything you need to know about visiting Corcovado in Costa Rica.
Traveling Soon?

Here is a list of our favourite travel providers and accessories to help get you ready for your upcoming trip!
How To Get To Corcovado National Park
The Corcovado National Park location on the Osa Peninsula may be remote, but there are several ways to get there. Getting to Corcovado National Park starts from two points:
From Drake Bay
Many visitors to Corcovado National Park will arrive via Drake Bay, which has excellent access to San Pedrillo and Sirena Ranger Stations.
The easiest way to get to Drake Bay from other parts of Costa Rica is to fly. You can fly into the local airport in under an hour from San Jose with one of the small domestic airlines.
You can also drive to get to Drake Bay. The roads can be rough, especially outside of the dry season and 4WD is essential for river crossings.
Public transportation is available. You can take the bus to Sierpe, where you'll have to hop on a boat. The boat ride is stunning, making up for the 6+ hour bus ride!
Book the Best Car Rental in Costa Rica

Renting a car in Costa Rica can be one of the most challenging parts of your visit! Unfortunately, car rentals in Costa Rica often come with significant hidden insurance fees, result in many frustrations at pick-up. The experience has ruined many trips and ballooned trip budgets for friends, family and followers. After years of not having a good solution, we finally found an honest car rental company that we proudly recommend to our readers.

We recommend booking with Vamos Costa Rica – a local car rental company that offers fantastic service and NO HIDDEN FEES and get 10% of your rental rate plus FREE additional driver, FREE child seat and other perks and benefits when booking through our link below!

Book early as rental car availability all across Costa Rica is currently lower than demand!
From Puerto Jimenez
Like Drake Bay, getting to Puerto Jimenez is most accessible by air. Nature Air and Sansa operate daily flights from San Jose Airport that land a few minutes from town. Driving conditions are also not the best, so you'll want 4WD or at least a car with good clearance.
Bus trips are also available, with two direct routes from San Jose to Puerto Jiménez daily. The journey takes 8-10 hours, with the option to arrive in Golfito instead. If you arrive in Golfito, you can take the ferry to Puerto Jiménez and have access to Sirena Ranger Station and La Leona.
Best Time To Visit Corcovado National Park
Any trip to the Osa Peninsula will likely see some rain year-round. Temperatures range between 21-31 degrees Celsius (69.8-87.8 degrees Fahrenheit), depending on the time of year.
Rainy Season
May until early December is considered the rainy season. September-October are the wettest months, with humidity at a frequent 90%. The silver lining is that these quieter months offer great deals: cheaper travel rates, and fewer crowds suited for wildlife watching! Mud and rainfall are expected, so pack the right hiking shoes and be prepared to track in potentially muddy conditions.
If storms and rains are persistent, watch out for flooding from nearby rivers. In especially dire conditions, the rivers may become uncrossable, which might put a stop to any plans.
Dry Season
Dry weather is expected from December to April, with March and April as the driest. There may be a few scattered showers here and there but with less risk of flooding. The temperature is more consistently above 27 degrees Celsius (80.6 Fahrenheit), which is better for overnight camping or outdoor trips.
Expect more crowds around this time, with busier trails and more visitors that might not make for the best company while wildlife viewing.
How to Visit Corcovado National Park
To explore Corcovado National Park, you need to have a local guide certified by the park service, and you'll need a permit.
Park Fees & Hours
A tour operator can help you obtain a permit more seamlessly, but you can also do so on your own with a bit of patience. There are fantastic tour operators in Drake Bay, like the Corcovado Information Centre and Osa Wild in Puerto Jimenez.
Daily entrance to the park costs USD $15 for foreigners. So, if you plan to make an overnight trip, you'll need to pay $15 each day, on top of camping fees. Thankfully, camping fees are pretty cheap, at just USD $4 per night at San Pedrillo and Sirena Stations.
There are five sections in the park with four accessible ranger stations. Each has a different park entrance with tourist trails along the beach and forests.
Park ranger stations are open daily from 7 AM to 4 PM.
San Pedrillo Ranger Station
This station has two trails, the Catarata-San Pedrillo trail (0.9 miles / 1.5 km) and the Llorona trail (4.3 miles / 7 km). This part of the park is rich in unique flora but has fewer animals than other sections.
Sirena Ranger Station
The Sirena Ranger Station is the most developed of all the ranger stations in the park and has helpful facilities for overnight trips. There are 20 km (12.5 miles) of trails winding through the forest and along the Calor and Sirena Rivers. There are tons of animals around, and at high tide, you may even be lucky enough to spot bull sharks and crocodiles.
La Leona Ranger Station
This area doesn't have too many trails, but the beach is a popular spot to see all four sea turtle species during nesting season.
Los Patos Ranger Station
Though the Los Patos station is only accessible on a multi-day trip, the Los Patos trails are home to several species of monkeys, sloths, and birds like harpy eagles. You can enter through the small town of La Palma and see waterfalls, lush forests, and the Rincón River.
El Tigre
The El Tigre sector begins just outside of the park and is perfect for a day tour. You won't find wild animals like sloths or monkey species here, but reptiles like the red-eyed tree frog and snakes are plentiful. The trail is a moderately challenging 7 km (4.3 miles) loop that doesn't connect with the rest of the park. We recommend exploring the trail with a local guide who can help point out birds, incredible wildlife, and natural wonders on the trail.
Tours in Corcovado National Park
As Central America's most biologically intense place, Corcovado National Park is best explored on tour.
There are multiple types of tours to pick from in Corcovado National Park. A day tour is the most common option and the most affordable, but there are also overnight tours and multi-day tours that offer more time in the park.
For the best experience, you'll want a tour that is well-planned and a knowledgeable guide. We highly recommend joining a tour with Corcovado Information Centre in Drake Bay.
Day Tours
The most affordable option is the San Pedrillo day tour, which costs USD $100 per person and lasts up to six to seven hours. The tour starts at 6 AM with a boat ride to the park, followed by two separate walks inside the park with a break in between. It includes lunch back in town afterwards.
Day tour to Sirena Ranger Station is another good option. The tour costs USD $120 per person and lasts six to seven hours. At 6am, a boat will take you into the park, followed by a 4-hour walk around the trails at Sirena Station. By the time you get back on the boat around noon, you'll likely have seen a whole host of tapirs, scarlet macaws, sloths, and a spider monkey or two, among other wildlife. You'll get lunch back in town.
If you're feeling up for a longer day and a lot more walking, there are also a couple of combo tours. For $150, you can go on the Sirena/San Pedrillo tour or the San Pedrillo/Cano Island tour. There is a minimum requirement of at least four people in both cases. The Sirena/San Pedrillo tour starts at 6 AM and lasts about 10 hours. It starts on a boat, followed by a 5-hour walk around Sirena, and then another boat to San Pedrillo Park Ranger Station. You'll get a chance to have a boxed lunch there before going on another hike to the waterfall. By the time you get back to town, you'll likely have walked about 15 kilometres.
The San Pedrillo/Cano Island tour starts at 6:30, with a short boat ride to San Pedrillo, followed by a 3-hour hike and a picnic lunch. After lunch, you'll take another boat to Cano Island and snorkel for about an hour–keep your eyes open for sea turtles, like the olive ridley–before heading back into town.
Overnight Tours
We chose one of the overnight tours when we toured Corcovado National Park, Costa Rica with the Corcovado Information Centre. It was a unique experience to spend a night in the park, and we highly recommend it (more on that below).
There are two options to choose from, each one costs $345. There's the Sirena Overnight Tour, or the Sirena/San Pedrillo Combo Overnight Tour.
Both options start at 6 AM on the first day via boat to Sirena. Both provide lunch and dinner on the first day and breakfast the next morning.
On the Sirena Overnight Tour, you'll spend the tour getting very well acquainted with the forests and paths around Sirena Ranger Station, including a swim at the Rio Claro; make sure to pack a bathing suit and water shoes. You'll spend the night at the ranger station and be back in Drake Bay by around 2 PM on the second day.
If you opt for the Sirena/San Pedrillo Overnight Tour, you'll spend the first part of the day exploring Sirena before boating to the next station. You'll get to hike to the Corcovado Backyard station and reach camp around 4 PM. We recommend that you bring insect repellent with you. You'll spend the second day hiking, including a swimming break at the waterfall, before taking a taxi back to Drake Bay. You'll get back to town a little after noon.
2-Night Tour
For $565, you can go on the Sirena/San Pedrillo 2-night tour. If you've read this far, you have a pretty good idea of the sort of hiking and exploring you'll be getting.
You'll start at 6 AM on the first day, heading for Sirena Ranger Station. You'll take a boat to the next station the next afternoon. On the third day, you'll return to Drake Bay in time for lunch. While you're on the tour, lunch and dinner will be provided for the first and second days, and breakfast will be provided for the second and third days.
Our Experience At Corcovado National Park, Costa Rica
Day 1 – Sirena Ranger Station
At barely 6:30 am, we were buzzing with excitement as we climbed aboard the boat for our hour-long ride to Sirena Station inside Corcovado National Park, Costa Rica. We were gearing up to spend two days with our guide, David, from the Corcovado Info Centre.
David explained that we'd never find what we're hoping to see if we're looking for it. Still, Max and I beamed with excitement in hopes of seeing a puma or an ocelot.
It wasn't long before all 12 of us were safely inside the park. The paths from the beach veered in 2 different directions and David reminded us again to be patient. "If we look, we won't find. Sometimes it takes hours for us to see the first animal. You never know."
And with those words ingrained in our minds, we followed David into the park as the sun lit up the beach. We walked in silence, our eyes peeled on the trees.
Suddenly we heard a sound. A familiar roar and movement in the trees gave away our first sighting, a group of howler monkeys. We've seen howlers many times before (they hang out on the trees just outside of Max's mom's house in Playa Avellanas daily), but there was something so special about seeing them in the park.
A few meters further, a family of coatis had claimed their own tree. David explained that the animals often interact since they all grew up together in this forest. We had our fingers crossed to see a baby monkey and baby sloth!
And just like that, the other guide yelled out, "Look up! Mom and baby sloth!" There was no baby monkey beside them, but there was a baby sloth! We could only spot them through the telescope. But, it was the cutest thing we've seen in the park.
Over the next few hours, we continued to explore the paths near Sirena. Our efforts were rewarded with some baby caymans, a sounder of wild pigs/peccaries, a large family of spider monkeys, many more families of howlers, squirrel monkeys, and lots of birds.
Just before lunch, David led us to the river, where another group was lucky to spot a Baird's Tapir, the biggest mammal in all of Costa Rica. The tapir and her baby were napping in the bushes. So, we only caught a glimpse of them before heading back to the beach for a little lunch break.
We met up with other tour groups and shared a picnic lunch on the beach. Max used his free time to catch some footage from above with the drone. Surrounded by a crowd of onlookers, we flew along the beach and hovered over the river.
Suddenly I perked up when we heard the voice of another guide yelling, "Hey, guy with the drone!" I worried he might ask Max to take it down, but that wasn't his intention. "Look down!" he yelled, pointing to where the jungle meets the river.
I followed his gaze and saw a Baird's Tapir meandering out of the bushes. I grabbed the camera and ran towards him, using my longest zoom to catch him as he approached the ocean. He was no more than 100 m away. I froze in complete awe. I couldn't stop looking at him, admiring his unique features in fascination. He lingered on the beach for another few minutes and disappeared back into the bushes.
With smiles on our faces, David reminded us, "If you look, you won't find, but if you don't look, sometimes the animals find you."
"How common is it to see a Tapir in the park?" I asked curiously.
"We often see them sleeping like you did today, but walking along the beach like that….very rare. Just as rare as seeing a puma."
Satisfied with our time in Sirena, we hopped back into the boat en route to San Pedrillo. It's our second stop of the day and our camping spot for the night.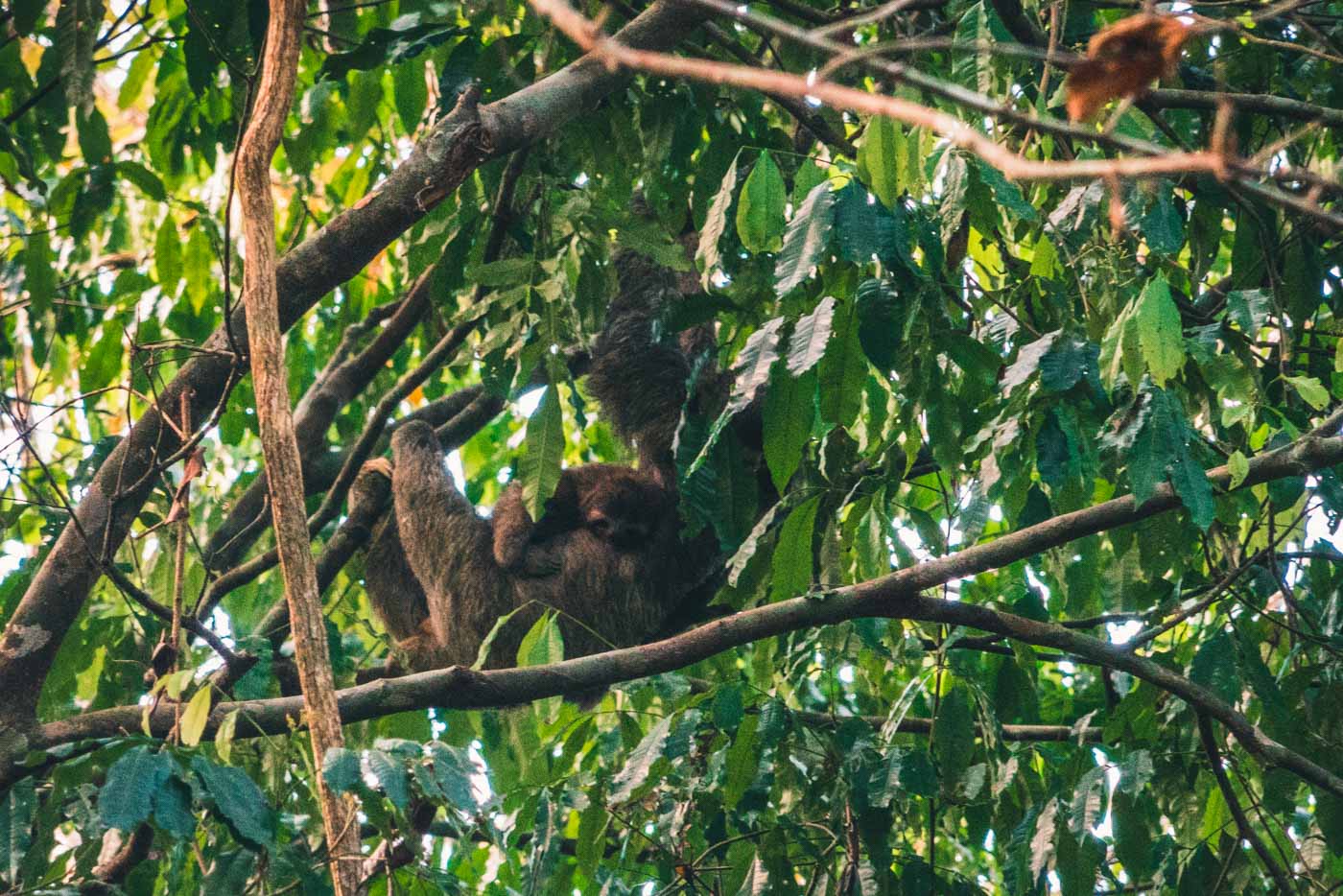 Day 1 – San Pedrillo Station
We arrived to two tents set up right on the beach in front of the ranger's station. We took a walk while other boat tours departed and returned to the rangers station just in time for sunset. Then, we watched the sun set behind the horizon from the hammocks that hung outside of our tents, enjoying the explosion of colour over the ocean.
After a simple meal, we tucked into our tents, staring up into the starry sky. We fell asleep to the sound of waves crashing on the shore while crickets sang and the jungle hummed.
Day 2 – San Pedrillo Station
The next morning we awoke before dawn and caught the sunrise on the beach about a kilometre away from the ranger station. After another unsuccessful puma search hike, we boarded the boat back to Drake Bay.
We searched (for the puma), and we didn't find it, but it didn't matter. The experience of roaming the park and seeing this intrepid corner of Costa Rica up close was enough for us to mark Corcovado National Park as one of our favourite spots in all of Costa Rica.
Where To Stay In Corcovado National Park, Costa Rica
Camping Areas
There is camping available at both San Pedrillo and Sirena Stations. Camping fees are USD $4 per night, and visitors must bring their own gear. Some tours, like ours with the Corcovado Info Centre, can arrange this for you.
Drake Bay
Several hotels in Drake Bay make a perfect home base for exploring Corcovado National Park.
Jaguars Jungle Lodge is the most remote rainforest lodge in Costa Rica. The 130-acre beachfront property shares its jungle with Corcovado National Park, Costa Rica, and they even have an in-house tour company ready to take you on exclusive eco-tours. The property has a restaurant with delicious homemade recipes as well as vegan and vegetarian options, an exotic garden, jungle trails for wildlife spotting, and a private beach for fishing, snorkeling, kayaking, and paddleboarding.
For first-class treatment in a remote location, SCP Corcovado Wilderness Lodge is a good choice. The lodge has a palm-fringed beach and tropical gardens that are surrounded by 189 acres of pristine rainforest. Their accommodations range from a private garden villa, or a 3-bedroom beach house, depending on your needs. They're also part of the Every Stay Does Good program, which partners with several organizations worldwide to support the youth and their communities, as well as reforestation and coastal clean-up efforts.
Puerto Jimenez
Cabinas Jimenez, located along the Gulfo Dulce, is a sustainable property that puts you right at the heart of Puerto Jimenez. Here, you'll have great ocean views as well as tons of outdoor adventures to choose from such as whale and dolphin tours, snorkeling, horseback riding, and hiking that can be arranged through the property. Each cabina comes with its own unique artwork, and guests can explore the nearby area using the free kayaks and bikes. There's also a pool, perfect for relaxing and enjoying the lush scenery.
Outside of town, La Leona Eco Lodge offers guests a unique experience with tent-cabins that get fresh ocean breeze and scenic views of the Costa Rican rainforest. They have a lot of tour packages to choose from, and all activities at the lodge consider the environment as the property is very involved in the conservation, recycling, and preservation of natural resources.
Have you ever visited Corcovado National Park? Which of Costa Rica's National Parks are next on your list?
Disclaimer: Our overnight trek to Corcovado National Park was provided courtesy of Corcovado Info Centre. As with all of our posts, all opinions expressed in this article are our own, regardless of who is footing the bill for our experience.