*This post may contain affiliate links, as a result, we may receive a small commission (at no extra cost to you) on any bookings/purchases you make through the links in this post. As an Amazon Associate, I earn from qualifying purchases. Read our full disclosure.
A lot has changed in our lives in 2015. We quit our jobs, traded our 9-5 routine for a life of travel, jumped head first into running our own businesses, moved to the other side of the world, and officially became husband and wife. It's a lot to take in, and to be honest, we are still working on wrapping our heads around it all.
Over the last week, we have found ourselves spending a lot of time reflecting. Looking back on the year that passed and the amazing adventures that we've been on. But also looking forward, to the year ahead and the exciting plans we have for the future.
It feels like the right time to think about what we want to get out of 2016 and give ourselves a bit of direction for the year ahead. Call them our New Year's resolutions, if you will.
For many years our list of New Year's resolutions included something about travel. We always wanted to travel more, to see more, to experience more. This year, for the first time in a long time we feel like we have that nailed. Our 2016 travel plans include an amazing list of 5 countries and a slew of what are bound to be memorable experiences. So this year it's time for us to focus our resolutions on something else.
Work/Travel Balance
We won't be the first ones to admit that traveling full time and living the life of digital nomads is tough work. Just last week alone, yet another travel blogging couple admitted that the truth behind their smiling Instagram photos was that they were becoming jaded, numb to travel, and finding themselves in an uncharted world of misery that threatened to tear them apart.
And they are not alone. Over the course of our 4 months of non-stop travels last year, we too have found ourselves stressed, tired, and in a few too many arguments. We managed to nip all problems in the butt before they got serious, but we could easily see how unhealthy our lifestyle and relationship could become.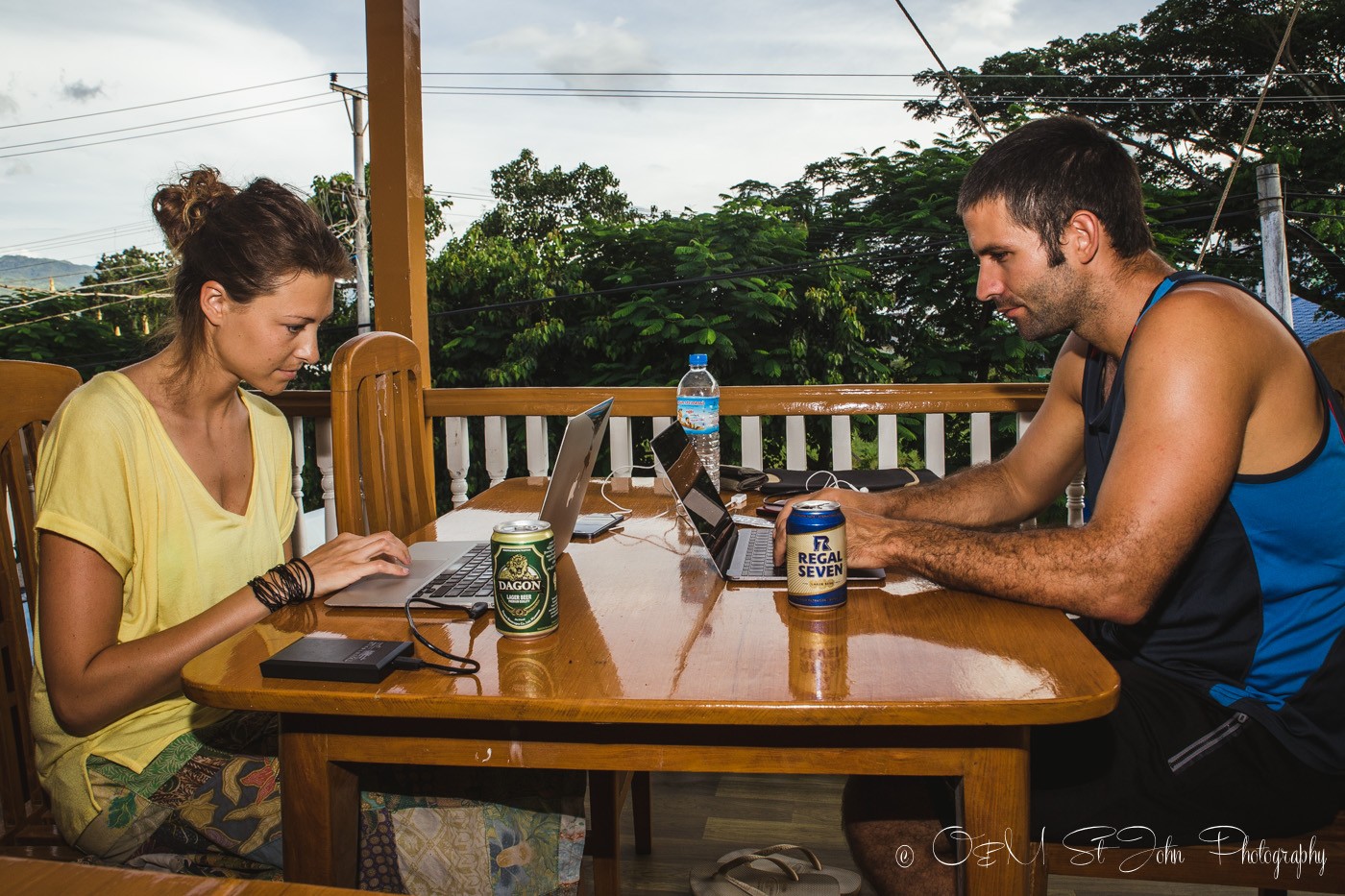 So this year we are trying a new approach to finding a balance between work and travel. Instead of staying on the road for extended periods of time, we plan on breaking up our travels with time off in Costa Rica. We hope that staying put for weeks at a time will help us enjoy our time on the road that much more without letting our work suffer. It worked well for us when we were based in Australia, and we hope it'll work well for us on this side of the world too. And let's be serious, Costa Rica is not a shabby place for a home base, so we are pretty excited for this new arrangement.
Health and Fitness Balance
Staying healthy and fit while traveling full time is another issue that we have struggled with ever since we left behind our routine in Australia. Some trips, like our month in Indonesia were great: we ate a balanced diet, we walked a lot, we hiked, we spent lots of time diving, and doing yoga. We stayed active and felt really healthy.
Other times, like during our trip to Romania, we ate way too much (food in Romania is very hearty), we didn't exercise enough, spending most of our days in the car getting from town to town, and our activity levels suffered due to cold weather. At the end of our 10 days we felt sluggish and unwell.
Finding time to exercise on the road is tough, but it's something we really want to focus on this year. Costa Rica will be wonderful for us in that respect. There is a great Yoga Retreat that offers daily yoga classes just 10 mins away from our house, and we have the luxury of being based in between 2 incredible surfing beaches, Playa Negra, and Playa Avellanas, making it easy to add a daily surfing session into our schedules.
We also want to make a conscious effort to try and stay active while on the road, be it with daily activities (walking, hiking, swimming, etc), morning runs (where possible), or daily power yoga sessions. We vowed to ourselves to slow down when needed and ensure that we are never sacrificing a good night's sleep to finish a post or edit our next video. We know you guys are understanding and would support our decision.
Additional Income Streams
I hope none of you are surprised to learn that this blog is not our main source of income. To tell the truth, there is probably only a handful of travel bloggers that are able to make a solid living from their blog. Drink Tea & Travel is still fairly new (we just celebrated our 18 month anniversary in December) and it's doing incredibly well all things considered, but it'll be many more years before we can make enough money from the blog to sustain our lifestyle. Last year, we scored a few other freelance gigs that have helped us stay afloat, including writing, photography, video content production, and website design/development. But even that isn't enough to sustain our nomadic lifestyle long term.
Sure, we have savings, but we don't want to dip into them only to find ourselves with nothing to our name in a few years time. Our goal is to build a sustainable lifestyle and the best way to do this is to diversify our income streams. So this year there are a few additional projects that we are hoping to focus on.
1. Sunrise Travel
Sunrise Travel Services is a host travel agency owned by Max's family in Canada that supports over 250 home-based agents across the country. The opportunity to get involved with Sunrise landed in our lap early last year when the business urgently needed a website redesign and a restructure of their tracking and reporting systems and we jumped to help. As we learned more and more about the agency, we recognized its potential and were able to negotiate a stake in the business going forward. This year, we are putting a big focus on growing the agency. Max has taken on a role as an IT Manager, working to make the tech side of the business run as smoothly as possible and I am responsible for Business Development, by helping our agents book more travel and recruiting more agents to join Sunrise Travel.
As with all family businesses, the job comes with a lot of ups and downs. The best part of it is that we can work from anywhere in the world, which means that it seamlessly fits with our travel lifestyle, but the downside is that our success and income are directly correlated to the amount of work we put into it.
2. Handmade Jewelry/Home Decor Shop
They say that ideas and opportunities can come from anywhere and opening a jewelry/home decor shop was something I was always interested in every since my mom gifted me a jewerly from a site which sold rose gold wholesale jewelery online and I would have never moved forward with that the idea until I was hit by inspiration right here in Costa Rica. I'm finding myself wanting to put my creativity to good use and create some arts and craft items inspired by wanderlust and the pura vida lifestyle that Costa Rica is renowned for. I use the term "arts and craft" very loosely because the ideas are still in very early stages, but as you can tell, i'm pretty excited to make something of it. Costa Rica and specifically the region of Guanacaste, seems like the perfect environment for something like that.
3. Property Development
Having grown up in Costa Rica, Max has always been interested in developing property here and now that we have spent some time exploring the area, we see tons of opportunities. We are investigating options for development of a new hostel/hotel in the area. Having traveled all over the world, we've had the pleasure of staying in some great hostels/hotels and have also experienced some really crappy ones. We have the ideas, Max and his family have the necessary network to help us bring them to life, and we know that there are a ton of travelers out there who would love the kind of Costa Rican experience we've got in mind.
Our plans for additional income streams are very different. Some of these have the potential to bring us income in short term, others are more long term focused, but we think that's exactly the strategy we need to follow.
As with all resolutions, some of these may fall by the wayside, but we hope others will flourish. Sharing our hopes and dreams with such a large audience is not easy, but that's partially why I wanted to do it. Maybe words on paper (or on the screen) will push us to stick to these more and give us the motivation we need to make them a reality.
And maybe, just maybe, reading about our plans, our ideas, and our resolutions will inspire some of you to make a few resolutions of your own. Our goal, and the goal of this blog has always been and will always be to inspire others to travel more, travel for longer, and travel for less. Sometimes that means sharing our inspiring travel tales, sometimes it's about sharing the truth about the costs and advice on how to see the world for less, and other times, it may be a post that helps others get a sense for what goes on in our lives behind the scenes.
Like this post? Pin it for later!
Are you writing down any New Years resolutions for this year?