Ontario is home to many green spaces, lakes, parks, forests and outdoor adventure playgrounds. The province is home to over 100 Provincial Parks and 6 National Parks. From sprawling islands to tree-lined lakeshores, Ontario boasts some of the most beautiful parks in the country.
*This post may contain affiliate links, as a result, we may receive a small commission (at no extra cost to you) on any bookings/purchases you make through the links in this post. As an Amazon Associate, we earn from qualifying purchases. Read our full disclosure
Ontario parks may not have mountains or rugged ocean rocks; these national parks have a unique charm. They're filled with hiking trails and incredible canoe routes, bordered by rock faces, highlighting under-the-radar landscapes worth discovering.
Many of the National Parks in Ontario are within a few hours' drive of Toronto and offer nature-filled escapes away from the hustle and bustle of the city.
As Ontarians, we've had the pleasure of visiting many of these national parks over the years and are passionate about experiencing more!
Looking to add a new adventure to your list? Skip the annual trip to Algonquin Provincial Park this summer and head out to one of the National Parks in Ontario instead.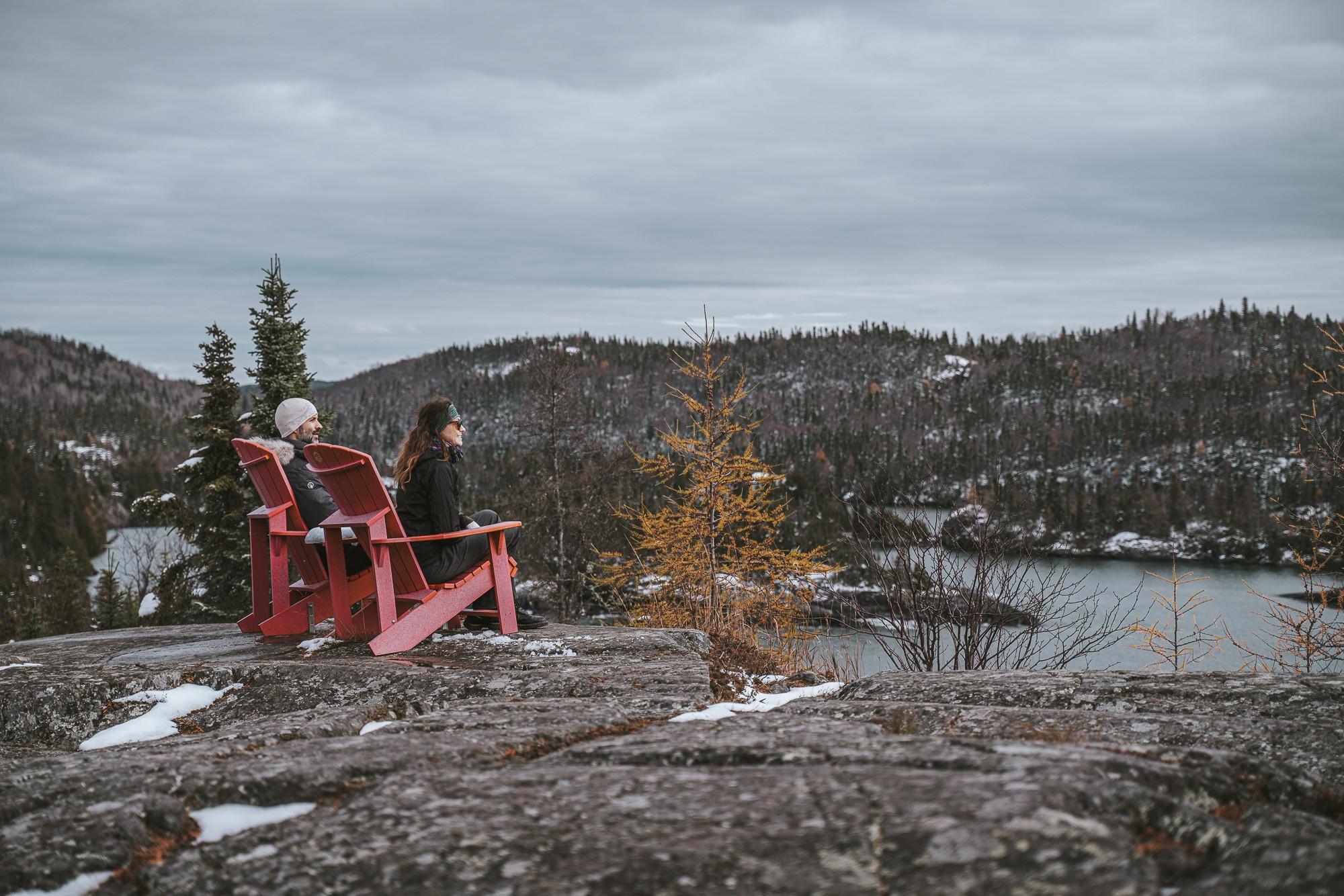 Traveling Soon?

Here is a list of our favourite travel providers and accessories to help get you ready for your upcoming trip!
Best National Parks in Ontario
From the wetlands of Lake Erie to the roaring shores of Lake Superior, add these six national parks in Ontario to your list.
Bruce Peninsula National Park
Size: 154 km2 (59 sq mi)
Distance to Toronto: 273 km (170 mi) / 3 hours 15 minutes
Distance to Ottawa: 670 km (416 mi) / 7.5 hours
Opening times/Season: Year-round
Famous for the turquoise waters of Lake Huron, Bruce Peninsula National Park is a true Ontario gem. Along with Fathom Five National Marine Park, this area makes for a popular destination for camping and lakeside activities.
A highlight of the park is The Grotto, and its dramatic cliffs carved out of limestone. Follow the Georgian Bay Trail (3.2 km/2 mi), a relatively easy and well-travelled path, to see the sight for yourself. Once you get a glimpse of the hidden sea cave and shimmering waters, you'll understand what makes it one of the most popular attractions in Ontario Canada Parks.
Beyond the Grotto, Bruce Peninsula National Park also has several other hiking routes with opportunities to see wildlife and unique rock formations. One of our favourites is the Wild Garden Trail (3 km/1.8 mi) which winds through sand dunes and orchid-lined forests.
Bruce Peninsula Park is great for day trips and even better for camping. Plus, you can visit nearby Manitoulin Island and Killarney Provincial Park, that's just a boat ride away.
Where to Stay – Bruce Peninsula National Park Camping
The main campground in Bruce Peninsula National Park is called Cyprus Lake Campground. It offers over 200 drive-in campsites close to the park's network of trails. These sites get very busy and require reservations from May to October, with self-serve tent camping available in the off-season.
If tent camping isn't your thing, Cyprus Lake also offers yurt camping, complete with actual beds and a woodstove. These yurts make for a comfortable wilderness experience without extra preparation. Just be sure to book your spot ahead of time, as all camping at Bruce Peninsula fills up fast.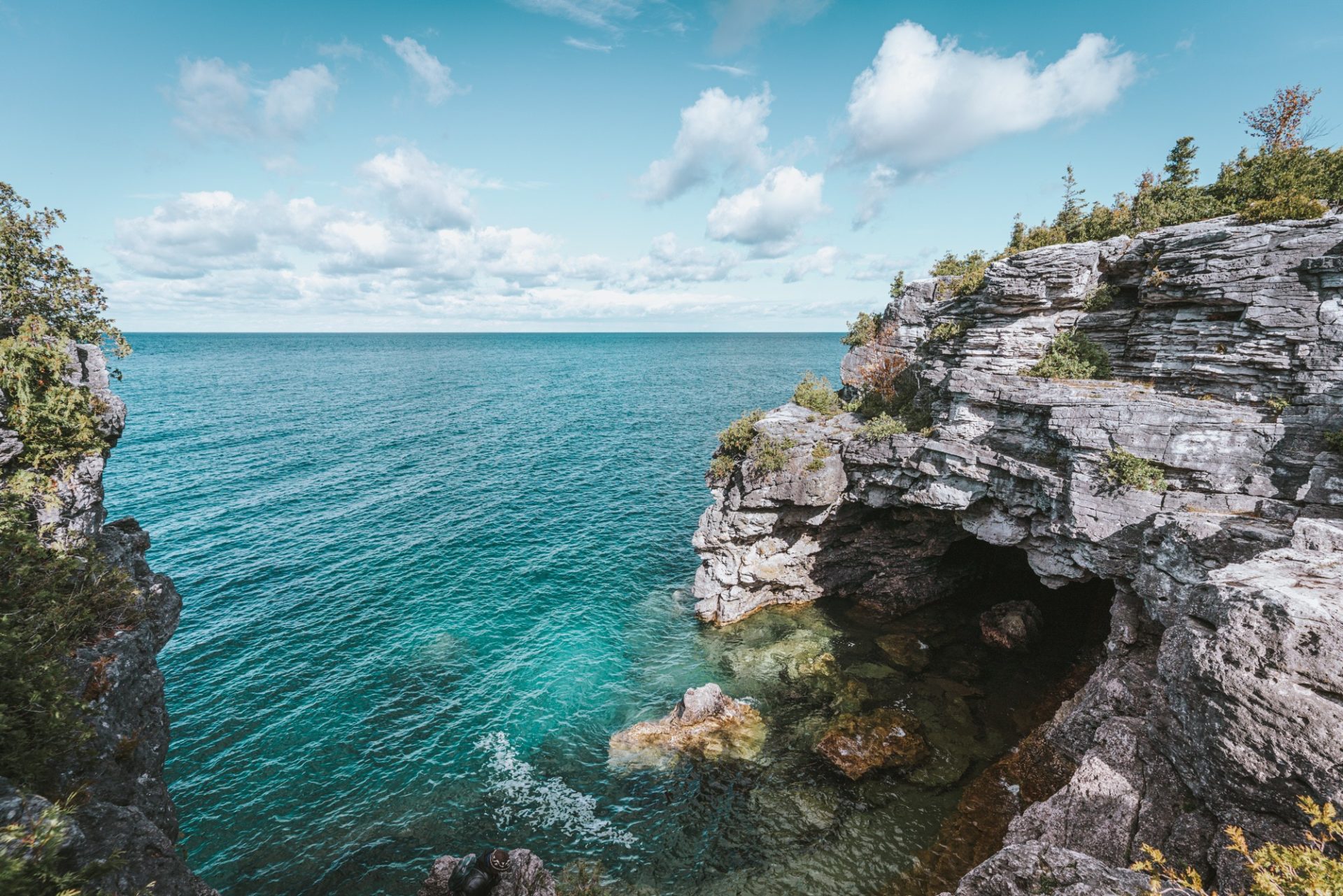 Georgian Bay Islands National Park
Size: 13.5 km2 (5.2 sq mi)
Distance to Toronto: 178 km (110 mi) / 2 hours
Distance to Ottawa: 428 km (266 mi) / 5 hours
Opening times/Season: May-October
The spectacular granite islands of Georgian Bay form the world's largest freshwater archipelago. A visit to Georgian Bay Islands National Park is the perfect way to experience the beauty of pink rocks and windswept pines.
The largest of the 63 islands is Beausoleil Island, which offers hiking, biking, and camping. Georgian Bay Islands park is accessible by boat only. A ride on the DayTripper from Honey Harbour to Beausoleil takes about 15 minutes, but the views are stunning.
Beausoleil Island has 12 hiking trails ranging from easy nature walks to long forested treks.
The Fairy Loop

(2.5 km/1.5 mi) is a must and is popular to explore on foot or bike.

Rockview Trail

(1.5 km/0.9 mi) offers picturesque lighthouse views.
There are many others, and although hiking is a popular activity in the park, the best way to explore the park is by boat.
Where to Stay – Georgian Bay National Park Camping
Camping in the park is available at Beausoleil Island's 9 different campgrounds. Since these are boat-access only, you'll need to pack your tent or book a rustic lakeside cabin. The largest campground is Cedar Spring, with 45 semi-serviced sites, and primitive camping is available at 8 different sites.
There are 20 options spread across the island for cabins and 6 oTENTiks that can be reserved online. All other campsites are first-come, first-served, and fill up fast in summer.
Point Pelee National Park
Size: 15 km2 (5.8 sq mi)
Distance to Toronto: 354 km (220 mi) / 3.5 hours
Distance to Ottawa: 790 km (490 mi) / 8 hours
Opening times/Season: Year-round
Famous for its marshy wetlands and migratory birds, Point Pelee National Park is the southernmost point of mainland Canada. It's a dark sky preserve void of any light pollution and has been deemed a "Wetland of International Significance" by UNESCO. The park offers unforgettable birdwatching on the shores of Lake Erie.
Outdoor enthusiasts will love the variety of wildlife and trees at Point Pelee. Though Point Pelee National Park is Canada's second-smallest park, it's the most biologically diverse. It's easily one of the best parks in Ontario for birdwatching, with almost 400 species of birds present.
Point Pelee National Park has 12 km (7.5 mi) trails through its changing landscapes. The Marsh Boardwalk (1km/0.6 mi) is a lovely loop along a floating boardwalk with telescopes and an observation tower. Visitors can also join a birding hike during May to explore the DeLaurier Trail at twilight. Point Pelee National Park is also a great place for paddling and kayaking.
Where to Stay – Pelee Island National Park Camping
Camping at Point Pelee National Park is far from roughing it. The accommodation options in Pelee Island National Park are limited to oTENTiks cabins only. These 24 comfortable A-frame cabins can be booked year-round and can sleep up to 6 people.
Pukaskwa National Park
Size: 1,878 km2 (725 sq mi)
Distance to Toronto: 1,108 km (688 mi) / 12 hours
Distance to Ottawa: 1,200 km (745 mi) / 13.5 hours
Opening times/Season: Year-round
On the other side of the bay from Lake Superior Provincial Park, Pukaskwa National Park is a wilderness wonderland. It's the only Ontario National Park in Northern Ontario and is filled with fantastic hiking trails, paddling routes, and abundant wildlife.
Pukaskwa is one of the least visited Canada national parks in Ontario and has only 4 km (2.5 mi) of roads within its bounds. It's ideal for hikers and is undoubtedly the wildest compared to its southern Ontario counterparts. Watch for black bears snacking on berries while trekking along the 60 km Coastal Hiking Trail. Or, paddle your way through Hattie Cove to the 135 km Coastal Paddling Route—not for the faint of heart!
The park also celebrates the area's rich Anishinaabe First Nations history with cultural tours and events. It's become a popular destination for fishing and offers lots of beach activities for visiting families.
Where to Stay – Pukaskwa National Park Camping
Camping in Pukaskwa National Park is available for all types of visitors with frontcountry, backcountry, and oTENTiks camping options. Hattie Cove is the central place to camp if you're travelling with a vehicle and is only open from May-October. The oTENTiks are available in the summer only.
Rouge National Urban Park
Size: 79 km2 (30.5 sq mi)
Distance to Toronto: 33 km (20.5 mi) / 30 minutes
Distance to Ottawa: 382 km (237 mi) / 4 hours
Opening times/Season: Year-round
If you're searching for Canada national parks near Toronto, Ontario, look no further than Rouge National Urban Park. It's a fantastic retreat from the hustle and bustle of the city and is only a 30-minute easy drive from downtown Toronto.
There are plenty of parks in Toronto with grassy green spaces, but Rouge takes nature parks in Toronto to new heights. It's one of the newest national parks in Ontario that combines natural, cultural, and agricultural landscapes. Rouge includes a large marsh and is home to some of Toronto's last remaining working farms.
Rouge offers several easy and moderate hiking trails, including guided walks. It's close to town (you can take public transit!), allowing visitors to scope out the trails virtually ahead of their visit. It's the perfect place to discover nature and camping for first-timers and get a dose of the outdoors.
Where to Stay – Rouge National Park Camping
Home to the City of Toronto's only campground, Glen Rouge Campground offers tent and RV camping. There are also 5 newly added oTENTiks, perfect for those without camping gear. Rouge also runs a Learn-to-Camp program, helping introduce families and new residents to the joy of the outdoors.
Thousand Islands National Park
Size: 24.4 km2 (9.4 sq mi)
Distance to Toronto: 318 km (197 mi) / 3 hours 15 minutes
Distance to Ottawa: 134 km (83 mi) / 1.5 hours
Opening times/Season: May-October
Another paddling hotspot, Thousand Islands National Park is located in eastern Ontario, just 1.5 hours south of Ottawa. Situated on the St. Lawrence River, it's a popular destination for Canadians and Americans alike and is one of the busier national parks in Ontario.
The Thousand Islands region is best explored by boat from Mallorytown Landing to the 20-island archipelago. Whether arriving from Kingston or after a day at the Sandbanks Provincial Park, the Thousand Islands Paddling Trail is a must-do. Travel for short outings or embark on a multi-day trip through the incredibly diverse biosphere.
Rent a kayak and cruise around for views of granite shores, shipwrecks, and the quirky Thousand Islands Castles. If you prefer to stay on land, explore the trails of Jones Creek and Landon Bay for peaceful forested walks. Whichever you choose, you'll enjoy the lovely riverside landscape and water activities.
Where to Stay – Thousand Islands National Park Camping
Thousand Islands National Park has a mix of mainland and island campsites. Mainland campsites at Mallorytown Landing have 5 reservable oTENTiks right on the river's edge. Island camping is available on McDonald Island and Gordon Island, with 28 reservable spots and 16 walk-ins. Camping on the islands requires a boat and is limited to tents only.
Fees & Park Passes
Almost all Canadian national parks in Ontario have a daily entrance fee to cover your admission. For adults, this fee ranges from CAD $6-9 (USD $4-7) per person per day or CAD $13-17 (USD $10-13) for a family/group. A family/group includes up to 7 people in one vehicle, and youth under 17 are free. Keep in mind that even if you're camping, you'll need to pay these daily fees on top of your camping fees.
A great way to cut down on costs while exploring the best national parks in Canada is to get an annual pass. You can either get an annual pass for one specific park or a Discovery Pass that's valid nationwide. An annual pass for single Ontario parks is CAD $30-40 (USD $24-42) per adult or CAD $60-80 (USD $47-63) for a group.
Parks Canada Discovery Pass will run you CAD $72.25 (USD $57) per adult or CAD $145.25 (USD $115) per group and includes admission to National Historic Sites.
We're big fans of the Discovery Pass since you can use it to visit Canada's many parks without worrying about daily entrance fees. Having the pass saves time and money and encourages you to get out there and explore!
Best Time to Visit Ontario National Parks
Ontario's national parks are best visited in the summertime. Since the summer months are packed, we prefer visiting in May/June or September during the shoulder season. This time of the year offers pleasant weather without the crowds.
Have you visited any of these national parks in Ontario, Canada? Which one is your favourite?