After our trip to Morocco last year, we are convinced, Moroccan food has got to be one of our favourites. And no, it's not just because we fell absolutely in love with Moroccan Mint Tea!
*This post may contain affiliate links, as a result, we may receive a small commission (at no extra cost to you) on any bookings/purchases you make through the links in this post. As an Amazon Associate, we earn from qualifying purchases. Read our full disclosure
There is a lot more to enjoy at a Moroccan dinner table than tea. The cuisine here is renowned for the use of complex spices and herbs that make even the most basic dishes full of flavour! Here are just a few of our favourites.
Tagine: the Poster Child for Moroccan Food
Tagine or tajine is one of the most popular dishes in Morocco and is one that you are guaranteed to find in any Moroccan restaurant. Tagine is historically a North African Berber dish that is named after the tajine pot in which it is cooked. There are dozens of different tagine variations across the country, each one is worth sampling! Yes, that might mean that you need to eat tagine on a daily basis to get through all the varieties during your time in Morocco.
( In case you are wondering, we did exactly that!)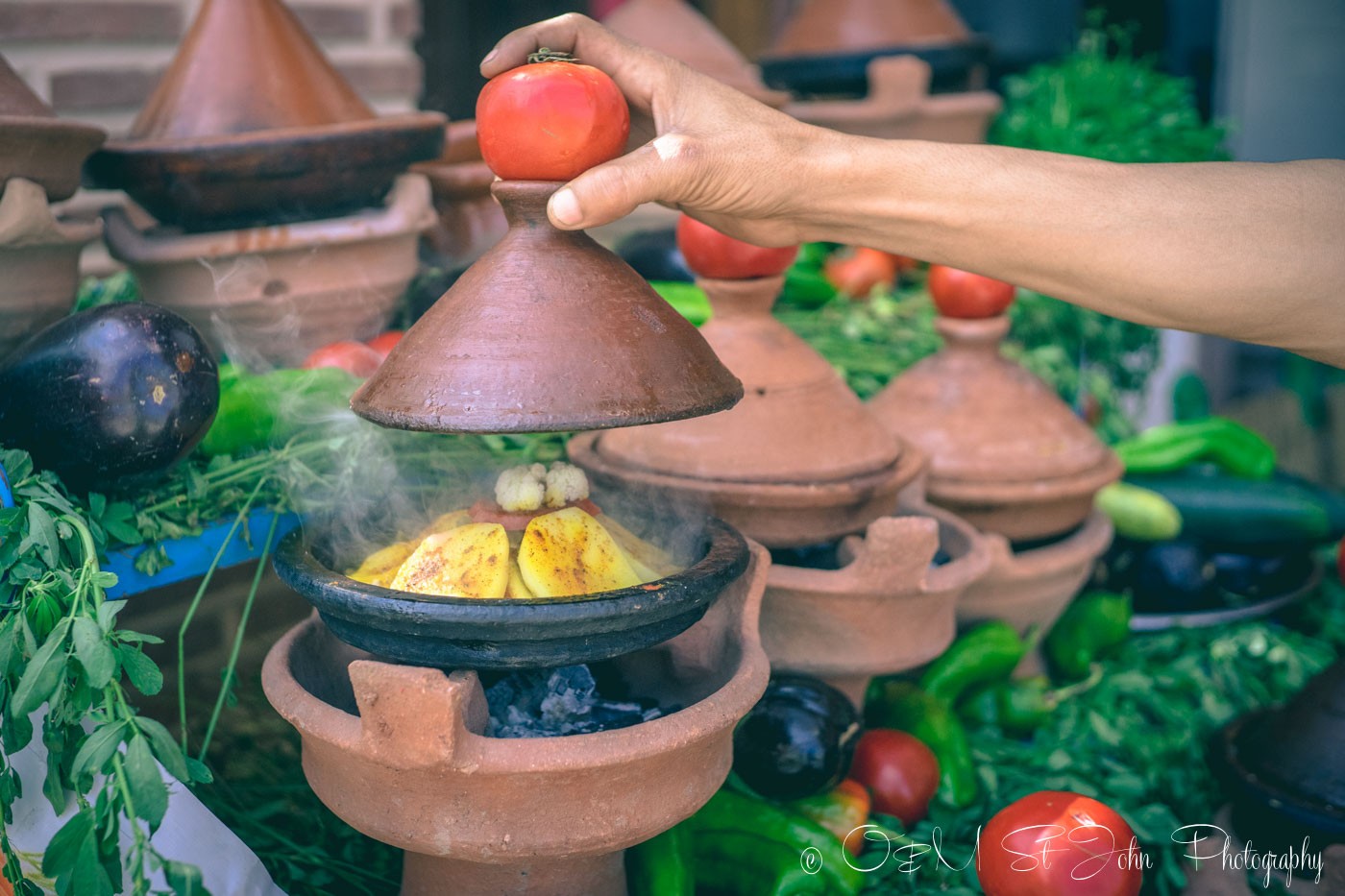 Traveling Soon?

Here is a list of our favourite travel providers and accessories to help get you ready for your upcoming trip!
Chicken with Vegetables Tagine
The most basic and common one of all the tagine varieties is a straight up chicken with carrots and potatoes, with a few bell peppers added to the mix. We found it to be the least flavourful and unique version.
Beef Kefta Tagine
Beef Kefta was probably the second most popular tagine variety that we came across during our time in Morocco. Kefta is essentially ground meat (beef, lamb, etc), sometimes rolled into meatballs and mixed with spices, like garlic, coriander and parsley. If you order a Beef Kefta Tagine expect it to taste somewhat similar to ground beef, except 10 time better thanks to the abundance of spices/sauces/goodness that it is typically cooked in.
Another variation of the Beef Kefta includes a fried egg added to the dish at the very end of the cooking process. We'd opt for the Egg Beef Kefta over a regular Beef Kefta every time!
Lamb, Plums, and Eggs Tagine
Before arriving in Morocco, we were under the impression that Lamb is a staple in Morocco, but as it turned out we were wrong. We struggled to find lamb tagine on the menus in restaurants across the country, but when we did, boy was it delicious!
Lamb, Prunes and Almonds Tagine
The most delicious, finger lickin' good variety of tagine we had the pleasure of sampling in Morocco. There was something particularly yummy about the sweet, crunchy, and spicy taste of this incredible dish. Best eaten with a simply loaf of bread, used to soak up all the leftover juices.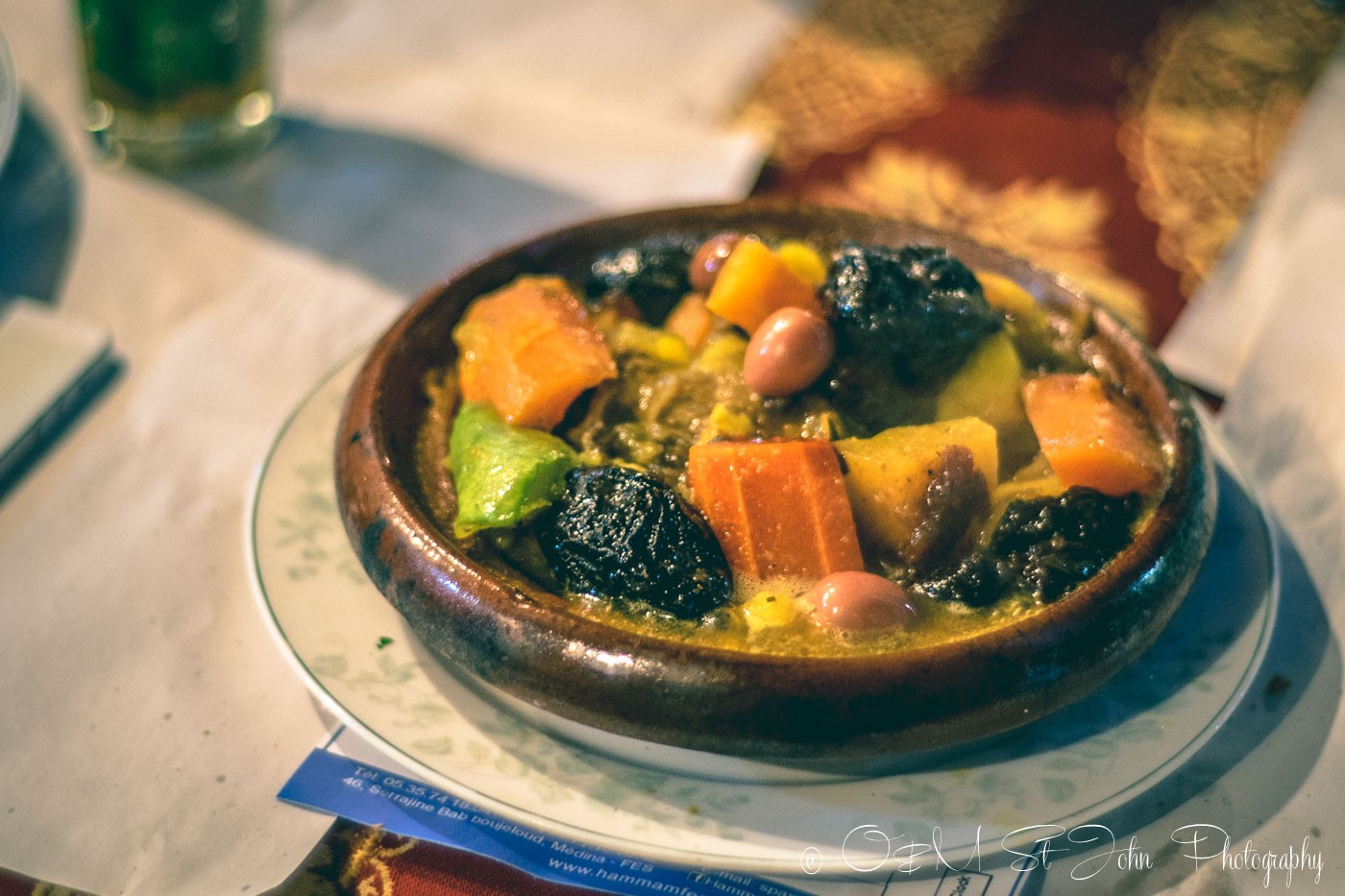 This variety sometimes also came with figs instead of prunes.
Couscous
Couscous is the second most common dish found in Morocco. Just like with Tagine, couscous can come in a number of varieties, although chicken with vegetables was, again, the most common one we encountered. Couscous base is made from a traditional North African semolina, which is steamed and served with meat and vegetables.
Harira
Harira is a delicious soup made from flour, lentils, chickpeas, vegetables, and small amount of meat. It is commonly served as a starter, but can also be eaten on its own as a main. We lucked out with our first taste of harira and got a chance to try the homemade version of it in Imlil.
Bastilla
The name Bastilla comes from the Spanish word for pastry, or "pastilla" which after being adapted into Arabic language saw the transformation of "p" into "b". Bastilla is made by layering thin pieces of flakey dough between meat filling. Icing sugar is often sprinkled on top for that perfect balance of sweet and savoury. While today bastilla can contain beef and chicken, the traditional recipe calls for pigeon. We didn't come across a pigeon bastilla during our time in Morocco, although perhaps we did and just didn't know about it.
Moroccan Mixed Salad
Don't be fooled by its name, the Moroccan mixed salad is not a side dish to order alongside your favourite tagine. This dish warrants your undivided attention, so we always made sure to order it as one of our mains. And every time, the plate came out with a perfectly assembled combination of potatoes, tomatoes, onions, corn, lettuce, rice, eggs and whatever else the cook might've found in the kitchen that day.
Moroccan Breakfast
There is something to be said about a traditional Moroccan breakfast served in a lot of riads and many restaurants across the country. It's simple, filled and very delicious. The basic formula is Moroccan Mint Tea, freshly squeezed orange juice, bread, cheese, olive oil, olives, egg, jam, honey, and sometimes a bit of meat.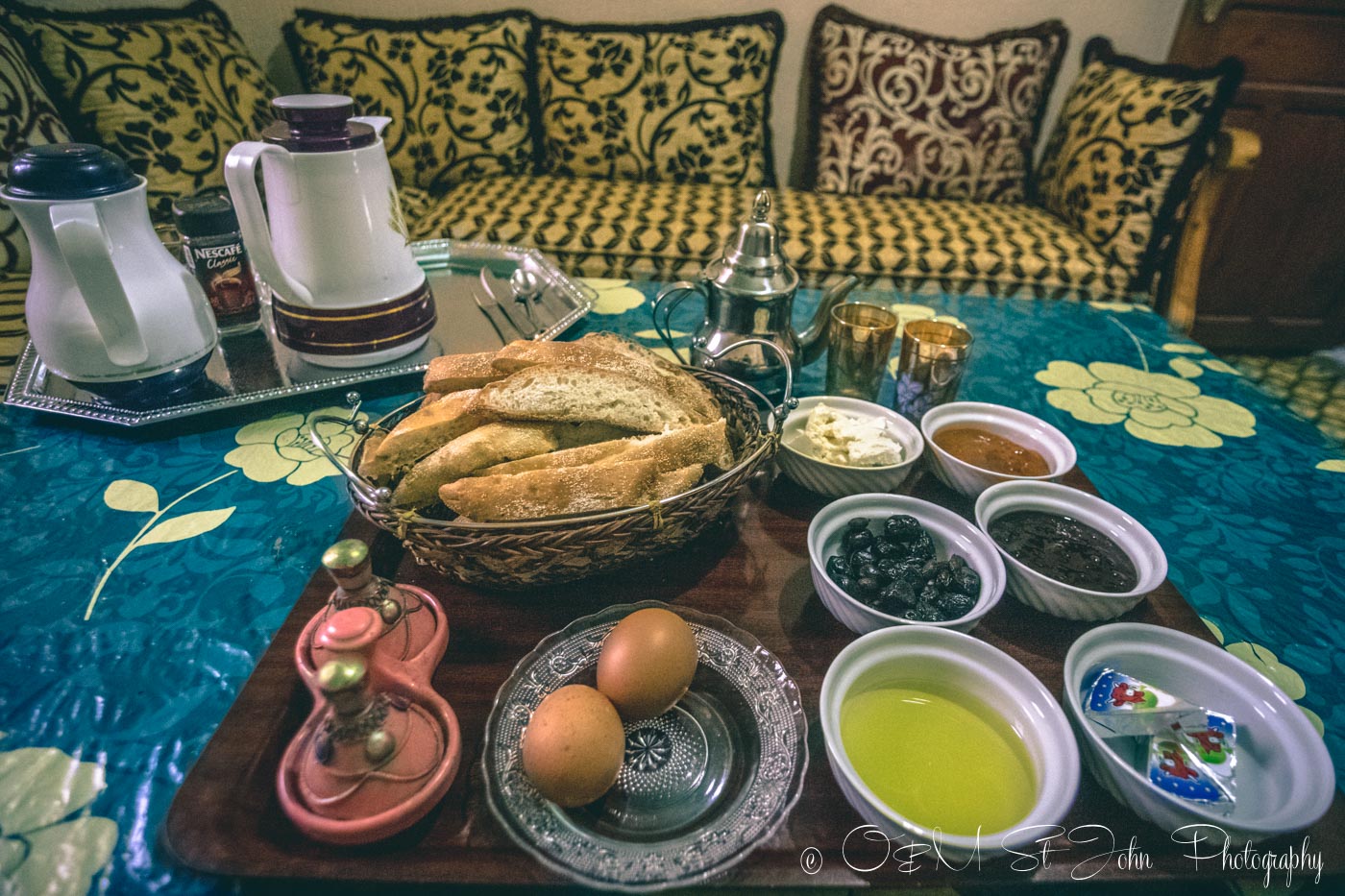 Moroccan Pastries
In between meals, we mowed down on some delicious Moroccan pastries, everything from mlawi and msemmen, pancake-like flatbreads, to more traditional sweet pastries with jam and sugar inside. And, surprise, surprise, they go really well with Moroccan Mint Tea!
Needless to say, our worries for the lack of variety of food in Morocco never materialised. We left wanting more and in the end decided to rank Morocco as one of our favourite countries visited last year – a title largely attributed to good food and amazing mint tea.
Like this post? Pin it for later!
What cuisines have you fallen in love with during your travel?