November was a month of hard work, fun & play, and lots of rain! We kicked off the month in the beautiful region of Arenal Volcano, located in Alajuela province here in Costa Rica. Joined by a few fellow Canadians and our good friends, Chris and Shalini, we spent a few great days enjoying walks, hot springs, and other adventures in the region.
*This post may contain affiliate links, as a result, we may receive a small commission (at no extra cost to you) on any bookings/purchases you make through the links in this post. As an Amazon Associate, we earn from qualifying purchases. Read our full disclosure
It's such a rarity for us to be able to share our adventures with like-minded travelers, that we feel extremely lucky to have had our friends join us in Costa Rica for the whole month of November.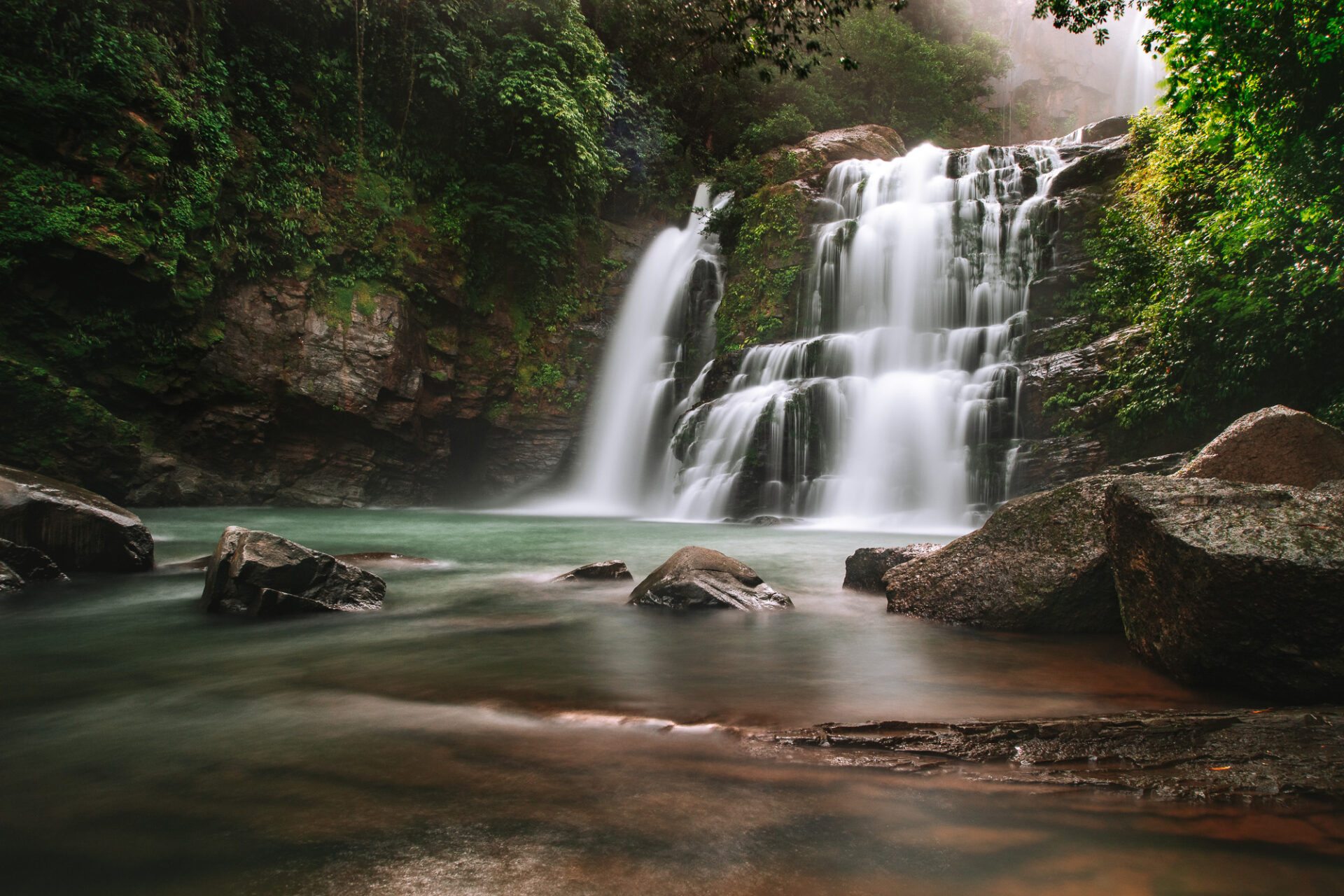 Traveling Soon?

Here is a list of our favourite travel providers and accessories to help get you ready for your upcoming trip!
Together, we took a number of trips around the country, exploring great beaches (like Playa Conchal and Playa San Juanillo), beautiful national parks (Arenal, Tenorio, and Manuel Antonio), and even the underwater world off the coast of Papagayo Peninsula.
Here are some stats from the month of November:
Countries/Cities/Towns Visited
Costa Rica: La Fortuna/Arenal, Playa Avellanas, Tamarindo, Playa Ostional, Playa del Coco, San Juanillo, Bijagua, Manuel Antonio, Playa Conchal
Photos Taken
This month our photo count was just over 1,000 as we focused our efforts on improving our videography with our new DJI Drone and DJI OSMO Mobile gimbal. This was our most popular photo of the month according to our Instagram followers.
Money Spent
This month we split our time between our home base and short trips in Costa Rica, managing to keep our spending to just over $1,500 between both of us.
Travel Highlights
This month we had a chance to experience one of the most amazing natural phenomena in Costa Rica – "Arribada" at Playa Ostional. Arribada is a Spanish word for "arrival" and is used to describe mass turtle nesting of Olive Ridley Turtles that occurs twice a year on the Ostional Beach in Guanacaste, Costa Rica.
This year, arribada took place on November 23 and we were lucky to be able to witness it first hand. We traveled to Ostional early in the morning and got a chance to see hundreds of baby turtles hatch on the beach and run for the waters and dozens of grown turtles coming ashore at once to lay eggs on a 2-mile stretch of this black volcanic sand beach.
The highlights of this amazing morning at Playa Ostional was featured in this week's Vlog Episode.
…and Lowlights
Unfortunately, this month a lot of our trips were interrupted by bad weather and the effects of Costa Rica's rainy season put a bit of a damper on our experiences. First, it was the rainy weather in Tenorio National Park, then a ruined beach day at Playa San Juanillo, a murky dive at Catalinas Islands, and then the impact of Hurricane Otto and the tropical storms that poured over the country in the days following the hurricane.
Our area in Playa Avellanas wasn't impacted much, but the heavy torrential rains and the closing of many national parks across the country forced us to cancel our trip to Osa Peninsula.
Favourite Accommodation
Costa Verde Hotel in Manuel Antonio National Park has once again won our favourite accommodation vote for the month of November. It was our 2nd time staying at the Costa Verde, but it seems that our love for this place grows with every visit. This time around we got up close and personal with lots of full-time residents at Costa Verde, including a large family of white-faced capuchin monkeys and a very affectionate Alley Cat (who we named Gustav).
We were there shooting a promo video for the newly opened Cockpit Cottage, yet another brilliant idea by the founder and mastermind behind Costa Verde, Allan Templeton. Check out this beauty!
Favourite Meal
This month we discovered the Costa Rican version of poke, a Hawaiian raw tuna fish salad made with soy sauce, green onions, and sesame oil. We first spotted it on the menu at Nogui's, our favourite beach hang out in Tamarindo and quickly became obsessed with this healthy dish.
After some investigation, we learned that Poke is actually really easy to make (here is a recipe that we use), so we've been buying fresh fish from a local fish truck and have learned to enjoy homemade ahi poke.
Popular Posts
Here are the most popular posts from the blog published in November:
New Vlogs
Here are the new vlogs posted on our YouTube Channel this month:
Episode 18: Tamarindo, Costa Rica: A new vlog is now live on YoutTube! Our first week in Costa Rica was pretty laid back so in this vlog we take you behind the scenes of our day to day life in Costa Rica. We visit the nearby town of Tamarindo that serves as our main hub for shopping, restaurants, and civilization.
Episode 19: Exploring Arenal, Costa Rica – In this Episode, we bring you along on last week's adventure in Arenal Volcano area. Get an inside scoop on the awesome hotel that we called home during our time at Arenal, come along on a hike to Arenal Volcano National Park, join us as we go rafting at Balsa River, and relax at the natural springs at the Tabacon Hot Springs.
Episode 20: Rio Celeste, Costa Rica – In this Episode, we travel to a small town of Bijagua, in Alajuela Province of Costa Rica to visit the beautiful Rio Celeste, Tenorio National Park, and Miravalles Volcano. We arrive excited to explore the area and enjoy a few days in the wild, but quickly realized that our weekend may not go as planned.
Episode 21: Diving in Catalinas Islands, Costa Rica – In this Episode, we travel to Playas del Coco in Papagayo Peninsula here in Costa Rica and set off on a dive trip to Catalinas Islands with Deep Blue Diving. Catalinas Islands are often rated as one of the top dive spots in Costa Rica. Despite the strong currents and poor visibility, we managed to spot a ton of marine life during our dives.
Next Month
In just a few days, we'll be saying goodbye to Costa Rica and setting off on an adventure in Colombia! We'll be spending the month of December and part of January in Colombia, spending most of our time on Colombia's Caribbean Coast.
We've got lots of exciting plans in place for our time in Colombia, including hiking to Colombia's Lost City, diving, and celebrating New Years in Cartagena!
Where did you travel to in November?