*This post may contain affiliate links, as a result, we may receive a small commission (at no extra cost to you) on any bookings/purchases you make through the links in this post. As an Amazon Associate, I earn from qualifying purchases. Read our full disclosure.
December was one of the most exciting months of travel this year because we finally touched down in Colombia, a country that has been on our bucket list for over 2 years!
The first stop on our 5 week adventure in Colombia was Bogota. We stayed in La Candelaria, Bogota's historic town centre and spent our time there exploring the town, learning more about Colombia's past, eating delicious food, and warming up with hot cups of coca tea.
From Bogota, we traveled north to the Caribbean coast where we spent the rest of the month. We based ourselves in the town of Santa Marta while we made plans for activities in the region (the options there are endless). In the end, we opted for a challenging yet extremely rewarding 5-day Lost City Trek, a few beach bum days in Tayrona National Park, some diving, and a few days in the sleepy town of Minca.

We celebrated Christmas in the jungle overlooking the mountains in Minca together with our friends Chris and Shalini (remember them from last month's update?), who once again joined us on this leg of our travels. There were no presents, no Christmas trees, and no Santa Claus for us this year, instead, there were shared experiences, good food, and beautiful nature!
To cap off the month and this year we traveled to the gem of Colombia's Caribbean Coast, the city of Cartagena! We rented an apartment with our friends and spent the last few days taking in the beautiful colonial setting of Cartagena, enjoying great food (have we mentioned how good the food is in Colombia?), good vibes, and a fun New Year's Eve celebration!
Countries/Cities/Towns Visited
Panama: Panama City (overnight layover)
Colombia: Bogota, Santa Marta, Taganga, Minca, Cartagena
Photos Taken
With so many beautiful landscapes in Colombia it's been hard to put down the camera, especially in the remote corners of the Sierra Nevada mountains. We snapped over 1500 photos this month. Here is the one that you liked the most:
https://www.instagram.com/p/BOfZtOjAq80/?taken-by=drinkteatravel
Money Spent
We have been astounded with the prices in Colombia. We knew that Colombia was budget friendly but we had no idea just how affordable it is to travel here.
We came in well under budget for the month of December (our total for the month was just under $2000), averaging just over $70/day between both of us. That's just $35/person for decent accommodation, transportation, activities, and good restaurants. Colombia has definitely been one of the cheapest countries we have traveled to so far!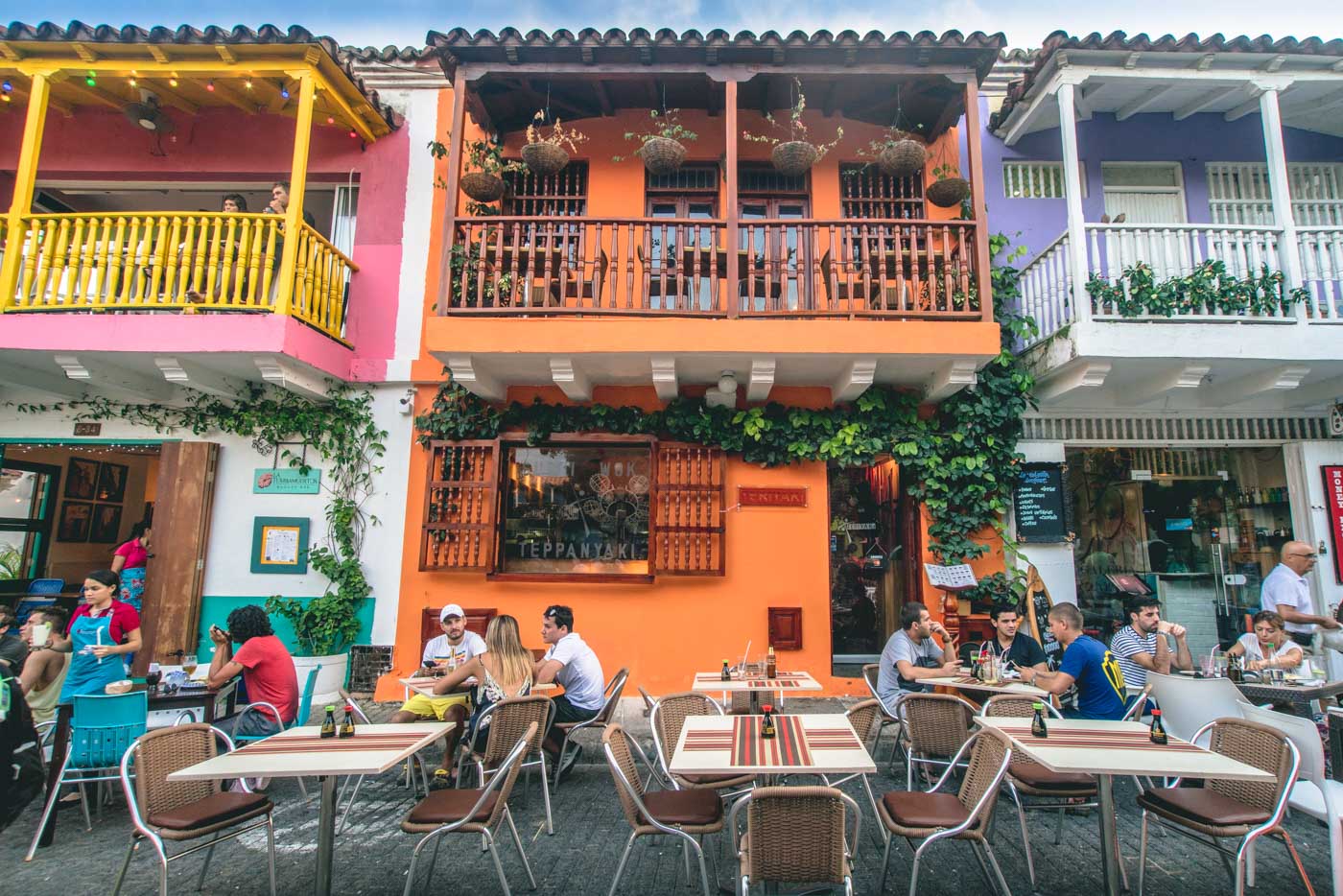 Travel Highlights
While there were many amazing travel moments for us in December, the highlight for us was the trek to the Lost City with a great crew from Guias y Baquianos.
Despite being challenging and exhausting, it was an amazing journey that taught us so much about the history of Colombia, the local culture, and traditions, and allowed us to get off the beaten track to experience some amazing scenery of the valleys, rivers, and the Sierra Nevada mountains.
Watch below for the highlights of our trek!
…and Lowlights
This month the highs came with the lows. As some of you may already know from our Facebook update, our Lost City trek had a pretty crappy (pun intended) ending. On the 3rd night of our trek, half of our group, including Oksana, caught a gastro bug which made the last 7-8 hours of our trek incredibly difficult. Luckily, unlike the rest of our group, we choose to do a 5 day trek and not a 4-day trek and were able to split up the remaining distance into 2 days of trekking. This made it much easier for Oksana to finish the trek on her own without having to rely on mules to bring her back. Such a champ!
Favourite Accommodation
Majority of our accommodation this month was nothing to write home about. In fact, we spent about 30% of the month sleeping in bare bones accommodation options (in tents or beds in open air campsites), and the other 70% in simple budget rooms.
But on Christmas, we decided to splurge on a nice room in Minca. We stayed in a hotel called Minca EcoHabs in a private Eco hut overlooking the lush jungle. Our room was big (for once), had an amazing hot shower (a first for us in Colombia), and two hammocks on the balcony. It was the perfect place to spend Christmas, relax and unwind!
Favourite Meal
I don't know where to even begin to try and choose our favourite meal in Colombia this month. The truth is, food in Colombia is good, ohhh soooo good! And it certainly helps that your dollar stretches so far here that you can eat like a kingd for less than $10/meal per person. So needless to say we have indulged in a number of amazing meals during our time here.
At the top of our list is Lulo, a restaurant in Santa Marta that offered a unique take on a local specialty. Lulo serves a variety of gourmet arepas (arepa – a flat round patty made out of corn flour) loaded with a variety of fish, veggies, and fruits. Our favourite was Lula Marina loaded with shrimp ceviche, avocado, and mango.
The food was so delicious we ate there more than once!
Popular Posts
Here are the top posts published on Drink Tea & Travel in December. Check out what you might have missed!
New Videos
Here are the new videos posted on our YouTube Channel in December:
Turtle Nesting on Playa Ostional, Costa Rica – Check out this week's amazing vlog from Playa Ostional where we witness La Arribada! Arribada is a Spanish word for "arrival" and is used to describe mass turtle nesting of Olive Ridley Turtles that occurs twice a year on the Ostional Beach in Guanacaste, Costa Rica.
Manuel Antonio, Costa Rica from Above – If you are visiting Costa Rica, you'll have no problems exploring Manuel Antonio National Park and the beautiful beaches that surround it on foot. But seeing the area from above will give you totally new perspective!
Exploring La Candelaria, Bogota, Colombia – In this Episode, we explore the historic centre of Bogota, La Candelaria. We have our first bites of Colombian cuisine, admire the old colonial architecture, and learn more about the history of street art in Bogota. Click on the image below to watch it now!
Next Month
We'll be spending the start of January in Colombia getting adventurous in San Gil and later wrapping up our trip with a few days in Medellin.
From Medellin we'll head up to the US where we'll spend the remainder of January. First, we are heading to New Orleans for a conference and a few days of exploring the city, followed by a week in Florida with family. At the end of the month, we'll make our way to New York. We'll be attending the New York Times Travel Show and catching up with some blogger friends.
Any tips for our upcoming travels?