April was a busy month here at Drink Tea & Travel. We kicked off the month with a trip to Florida to see family and attend a conference in Orlando, then traveled down to Costa Rica for some R&R before heading back up to US for our much anticipated US road trip. This was our first big trip since my injury and one that reignited our 2016 travel plans.
*This post may contain affiliate links, as a result, we may receive a small commission (at no extra cost to you) on any bookings/purchases you make through the links in this post. As an Amazon Associate, we earn from qualifying purchases. Read our full disclosure
If you've been following us on Facebook or Instagram you have probably seen some photos from our amazing road trip and heard a bit about how much we enjoyed being back on the road. US was not high on our travel list before this road trip. Being from Canada, we always thought of the US as a good option for a short weekend away, but we considered it to be a bit too close to home and not exciting enough to warrant a long 2-week trip. It's fair to say that's no longer the case.
Traveling Soon?

Here is a list of our favourite travel providers and accessories to help get you ready for your upcoming trip!
Our US road trip took us from Chicago to L.A, through the crop fields of Iowa and Nebraska (which we drove through as quickly as we could), the scenic drives and beautiful mountain settings in Colorado (where we lingered a bit too long), the stunning canyons of Arizona, and the rugged rock formations and stark desert landscapes of California's Joshua Tree National Park. We took thousands of photos, saw dozens of amazing natural wonders, and were reminded of our love for road trips. Having seen the amazing scenery, particularly in Colorado, California, and Arizona, we can't wait to get out and explore more of the US!
Countries Visited
Costa Rica, US
Cities/Towns Visited
Costa Rica: Playa Avellanas, San Jose
US: Orlando, Chicago, Omaha, Boulder, Colorado Springs, Glenwood Springs, Grand Junction, Ouray, Durango, Flagstaff, Los Angeles
Money Spent
We stuck to our travel budget of $50/day/person, which works out to be about $3,000/month (between the two of us), but only thanks to the fact that our slightly over-budget road trip was offset by cheap days in Costa Rica.
Our road trip itself ended up costing us around $2,500 for 15 days, or roughly $167/day. We'll go over a detailed budget breakdown of our road trip in an upcoming post.
Travel Highlights
The highlight of our travels in April would have to be the week we spent in Colorado, the most scenic state we had visited on our trip with the most amazing drives, breathtaking views, and lots of great activities.
We loved our trip to the top of Pikes Peak on the Cog Railway, the afternoon we spent soaking in the Iron Mountain Hot Springs in Glenwood Springs, the day at the Orvis Hot Springs outside of Ouray, and the scenic drive along the Million Dollar Highway.
…and Lowlights
No trip is ever perfect, and our US Road Trip wasn't an exception. The biggest hiccup on our journey was a breakdown of the furnace in out Cruise America RV. Despite being brand new (we picked up the RV with only 170kms on the dashboard) and really awesome, it wasn't trouble-free.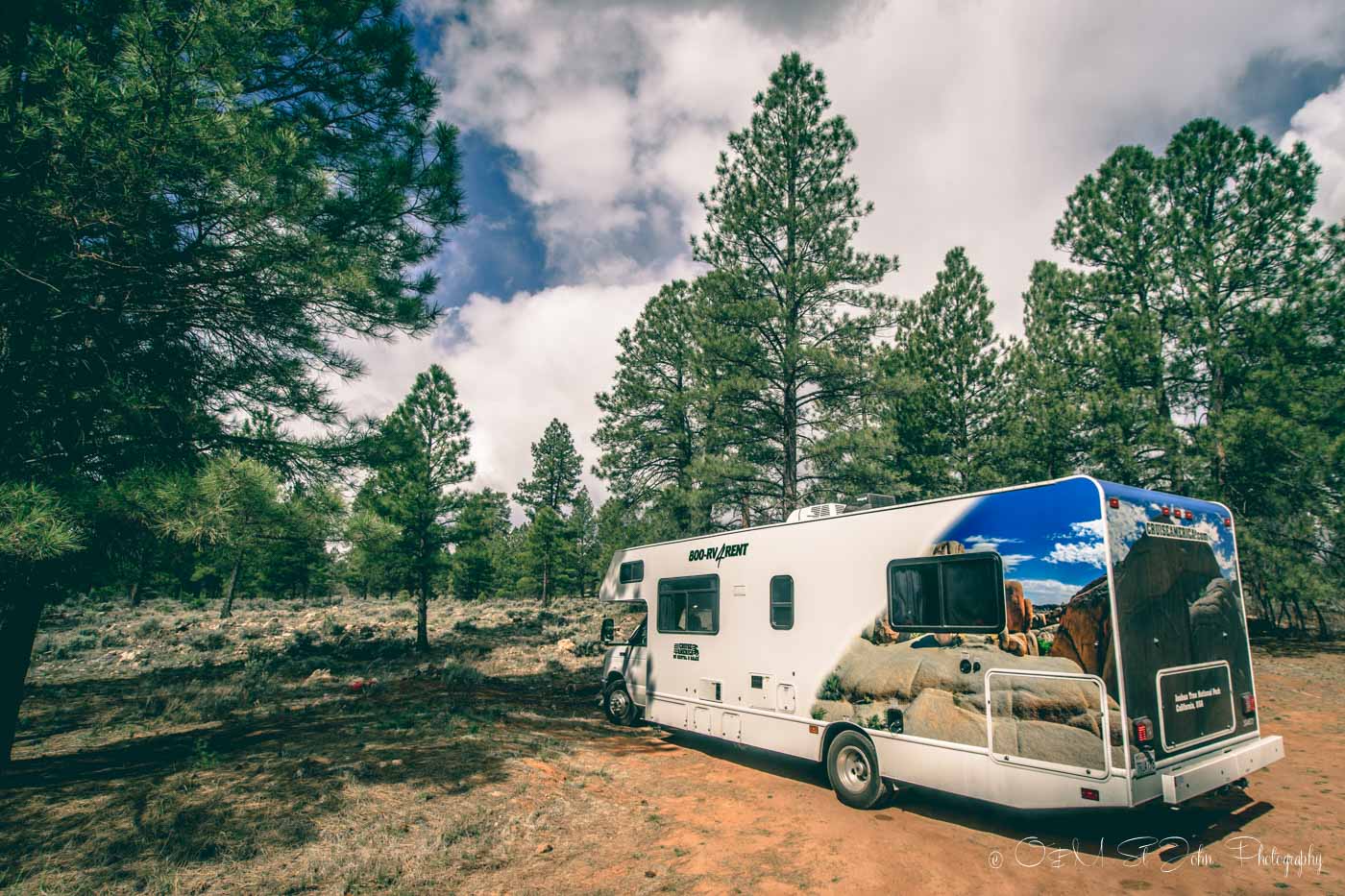 The furnace broke down while we were in Colorado and it took 2 days of back and forth with the Cruise America support team to resolve the issue. They couldn't get us to a repair shop on the first day, so we had to purchase a space heater to keep us warm overnight (it didn't do a great job), and spend the entire following day diverting from our original route to go to Flagstaff where an RV repair shop was finally able to fix the issue. The team kindly compensated us for our lost time, but it it still left an unpleasant memory in our minds.
Favourite Accommodation
We stayed in a few hotels while in Florida and Costa Rica but the majority of April was spent in our luxurious RV. Over the course of our trip, we parked in a variety of locations, everything from Walmart parking lots to national parks.
One of the best campsites we stayed at was Indian Cove at the Joshua Tree National Park. The campsite was nestled right inside the park, allowing us to spend the night under the stars among the boulders and Joshua trees. It was a night to remember!
Popular Posts
Here are the most popular posts from the blog published in April.
Next Month
We are spending the first week of May in Toronto, visiting friends and family and attending yet another travel show (you can never do too much networking right?). From here we fly to Miami and after a few days there we board a cruise to the Dominican Republic courtesy of Fathom Travel.
After my less than fantastic cruise experience on the Norwegian Escape, I was hesitant about signing up for a cruise again. But the more we learned about cruising with Fathom Travel, the more we realized how different this experience promises to be. This cruise will be an impact cruise, which means we'll be traveling to Dominican not only to relax and enjoy the amenities on board the ship and in the port but also to get involved with various community projects on the ground. We are really stoked for the experience and can't tell you all about it when we return.
We'll be spending 7 days on the cruise and heading down to Costa Rica for some R&R for the remainder of May.
Did you travel anywhere in April?