The locals call it the Bay of Descending Dragons, or Halong Bay, an enchanting region in Northern Vietnam, famous for its unique landscape of towering limestone islands.
*This post may contain affiliate links, as a result, we may receive a small commission (at no extra cost to you) on any bookings/purchases you make through the links in this post. As an Amazon Associate, we earn from qualifying purchases. Read our full disclosure
Halong Bay is dotted with over 1900 islands and islets covered with lush green vegetation, luring in travelers with a promise of a picturesque setting and a fairy tale surrounding. The destination often graces the lists of top attractions in Vietnam and draws thousands of visitors to its shores on a daily basis.
Traveling Soon?

Here is a list of our favourite travel providers and accessories to help get you ready for your upcoming trip!
Unfortunately, few realize the impact that mass tourism has had on this beautiful natural wonder. Hundreds of cruise ships now operate in the area, the majority with very little regard for the environment. Travelers cite that the bay is now crowded, the water is severely polluted, and the air is full of engine noise and exhaust smoke. The bay has become a victim of its own beauty.
Hearing first-hand accounts of the state of Halong Bay, we almost crossed this destination off our list. We didn't want to support the industry that's having such a negative effect on the environment. And then, completely by chance, we discovered an alternative!
Bai Tu Long Bay – Halong Bay's Lesser Known Region
Halong Bay spans a massive area of over 1,500 square kilometers, but it occupies only a portion of the Halong Bay World Heritage Site. The site also includes a lesser-known but equally as beautiful Bái Tử Long Bay, an area that has not yet been polluted and spoilt by tourism.
At the moment, tours to Bai Tu Long Bay are limited as only a few cruise lines and simple "junks" are allowed to sail in these protected waters. And they try their best to minimize their environmental impact on the area.
Indochina Junk – An Environmentally Responsible Halong Bay Cruise Option
Happy to have found an alternative to the crowded and polluted Halong Bay, we signed up for a 3 Day/2 Night Bai Tu Long Bay cruise with Indochina Junk, a pioneer in responsible cruising in the area.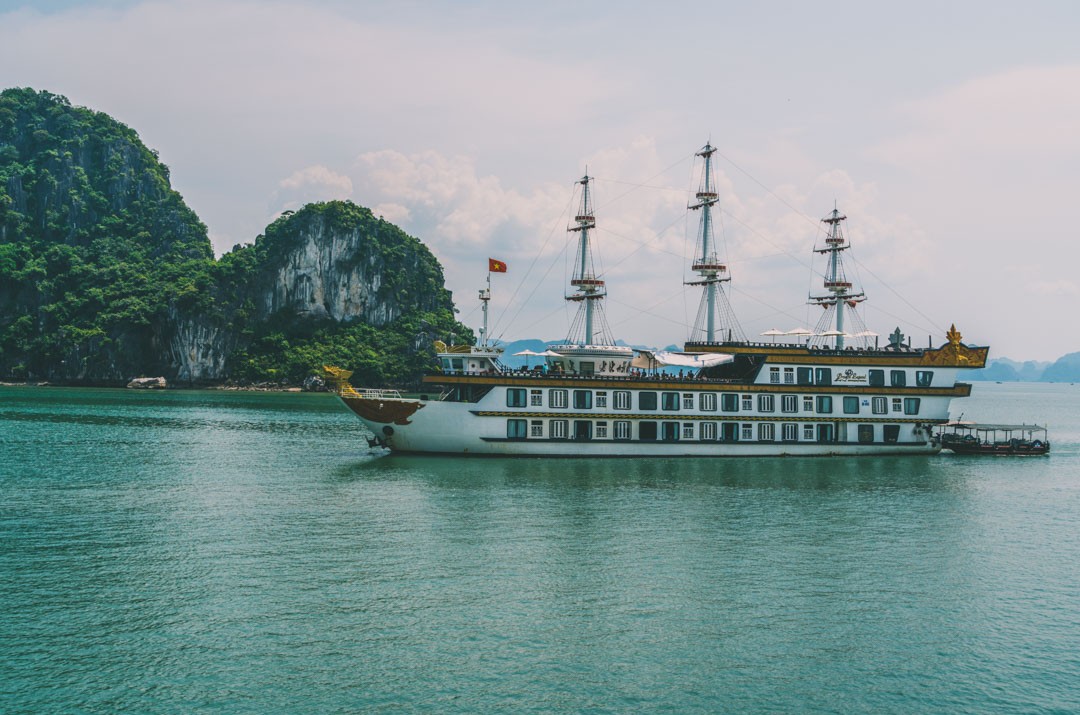 Their focus on sustainable business practices, environmental protection activities and their "For a Green Halong" program, and frequent responsible tourism reports gave us hope that there is a responsible way to see this exquisite region.
We are happy to report that our experience on the cruise exceeded all expectations.
Dragon Legend – Sustainable Luxury in Bai Tu Long Bay
Indochina Junk specializes in affordable luxury cruises and offers 5 types of high quality "fishing boat" style ships – L'Amour Junk, Prince junk, Red Dragon junk, Dragon Pearl junk and Dragon Legend. The boats range from private 1-cabin junks, to 2-3 cabin family style junks, and larger 24 cabin small group boats.
Beautiful Spacious Cabins
Our ship, the Dragon Legend, accommodated 48 passengers in 24 beautifully decorated wood-paneled luxury cabin inspired by traditional Vietnamese culture and design. Each cabin featured a very comfortable Queen size bed, hardwood floors, private bathroom and an unforgettable panoramic view of the limestone mountains of Bai Tu Long Bay.
We loved the intimate feeling on the Dragon Legend. With only 4 decks and less than 40 people on board, the ship never felt crowded. We had lots of time to get to know fellow passengers and even some of the staff.
Caring Staff
Dragon Legend's crew were all local, hailing from different regions in Vietnam. Some of them, like our tour guide, Kenny, spoke great English. Others, like our server, Thomas, were keen to practice their English as much as possible. We loved getting to know Thomas over our time on the ship. With every meal and every dish, we'd learn a bit more about his upbringing, his education, his life, and his aspirations.
"One day", said Thomas with a dreamy expression, "I want to get better at English and be a tour guide, just like Kenny"
"Can you grow within the company?" we asked out of curiosity.
"Oh yes", nodded Thomas proudly, "there is lots of opportunities. Many ships. Many jobs. You can move around if you want"
He seemed genuinely happy to be doing his job. His service was great, his attention to detail – impeccable. He was personable and caring.
Delicious Vietnamese Cuisine
We looked forward to our daily chats with Thomas, just as much as we looked forward to every meal on the ship. From delicious Pho for breakfast, to elaborate 3-course lunches, and 5-course dinner sets incorporating fresh seafood, meat, vegetables, herbs and local spices, each meal was better than the last.
The ship is also able to cater to vegetarians and those with other special diets.
The highlight was a special cooking lesson on board, where a group of us learned how to make traditional Vietnamese spring rolls. They were easier to make than we imagined and ended up tasting better than many of the spring rolls we tried during our 2 weeks traveling around Vietnam.
Activities on Board and at Sea
Our itinerary wasn't jam-packed, giving us plenty of time to relax and enjoy the beautiful surroundings of Bai Tu Long Bay.
We started our mornings with a relaxing Tai Chi practice, followed by a delicious breakfast in the indoor or outdoor dining room. When not out at sea, we lounged on the sun desk, enjoyed the salt water pool, or spent time getting to know other travelers and the crew.
To get closer to the beauty of Bai Tu Long Bay, our 3 Day/2 Night itinerary included daily kayaking, which allowed us to get closer to the mesmerizing limestone formations. On Day 1, we kayaked in the Mua Hoa Area and on Day 2, we visited the Vung Vieng Fishing Village, had a chance to explore the Thien Canh Son Cave, and finished our day with another kayaking session and some time on a remote beach.
The benefit of cruising in the lesser-known area of this UNESCO Natural Site was that unlike Halong Bay, Bai Tu Long Bay was still clean and actually getting cleaner thanks to us.
Responsible Travel Practices
We'll admit, we were skeptical about Indochina Junk's sustainability practice. We weren't sure how much the ship staff actually care about the "For a Greener Halong Bay" program and how many of them actually walk the talk.
We were in for a pleasant surprise…
"At Indochina Junk, we care a lot about the environment", announced our guide, Kenny, during his first briefing on board. "Remember that the ocean is not a trash can. We ask that you do not throw anything overboard and that you help with clean up when you are out in the bay"
And so we did. During every kayaking session, we picked up any loose garbage, empty plastic bottles, and plastic bags that we found floating in the water. While we were in the water, the staff, used a butterfly nets to collect garbage floating in the area. We were pleased to see their promises in action.
But it was our afternoon on the remote beach island on Day 2 that really blew us away. We arrived at the beach on our kayaks, exhausted from a long paddle against the current. We docked on sand and hopped straight into the water for a relaxing swim. But our guide, Kenny, had another plan.
"Dragon Legend passengers", he called out as soon as he made his way on shore. "I need you all out of the water. We've got some work to do before you can relax".
We exchanged confused glances with other passengers but swiftly obliged.
Kenny handed us plastic gloves and a garbage bag.
"We share this remote beach with a few other companies that cruise in this area", he explained. "Some of them, do not respect the environment as much as we do, but we have a commitment to keep this beach clean of rubbish".
We couldn't believe it. A luxury cruise operator was making guests get out of the ocean on their vacation to clean up garbage that other travelers left behind. It was gutsy, it was bold, and it was a real statement. In the first half of the year alone, this simple act allowed Indochina Junk to collect an astounding 9645 kgs garbage in the Bai Tu Long Bay.
Indochina Junk was more than walking the talk about environmental preservation, they were making us walk the talk too. It was a shocking but admirable gesture, one that really sets Indochina Junk apart from other cruise operators in the area.
Essential Travel Info
The Cost: Indochina Junk cruises aren't for backpackers or those traveling on a tight budget. They offer a luxury experience on board and charge a premium for this experience. In the regular season, their 3 Day/ 2 Night cruise on Dragon Legend starts at 399 USD/person
(Based on a Double or Twin shared cabin), but in the off season, you can score a significant discount by booking last minute. 2 Day/1 Night cruise starts at 265 USD/person.
Getting There: All Indochina Junk cruise packages include luxury transport from Hanoi and back. Their 3 Night/2 Day packages also includes a stopover in Yen Duc Village for snacks/drinks and a traditional puppet show. 2 Day/1 Night cruises offer this excursion at a premium (54 US$/person).
What to Pack: There is no dress code on on board, but be sure to pack a bathing suit for swimming and kayaking excursions, light clothing for visiting the fishing village and relaxing on board and a few slightly nicers outfits for evenings that you can wear to dinner. Don't forget reef friendly sunscreen and DEET-free bug spray. Those that like to stay active may want to pack workout gear, as the Dragon Legend does have a small gym on board.
Disclaimer: We received a media discount on our Dragon Legend Cruise, however all opinions expressed in this article, are, as always, our own.