It's easy to get inspired by the idea of travel blogging. Top travel bloggers in the industry certainly make travel blogging seem incredibly appealing. They get paid to travel the world and all they have to do is write a few posts on their blog about their travels. Who wouldn't want to do that, right?
*This post may contain affiliate links, as a result, we may receive a small commission (at no extra cost to you) on any bookings/purchases you make through the links in this post. As an Amazon Associate, we earn from qualifying purchases. Read our full disclosure
The truth is that travel blogging is hard work. Incredibly hard work! So before you decide to dive into travel blogging head first, ask yourself the following:
Why do you want to start a travel blog?
If your answer is simply to keep friends and family updated on your travels and inspire them to follow in your footsteps to see the world, then we recommend treating Travel Blogging as a hobby. You can use steps 1, 2, and 3, outlined in this Step by Step Guide and set yourself up with a brand spanking new travel blog in just a few hours. For hobby travel bloggers that's more than enough!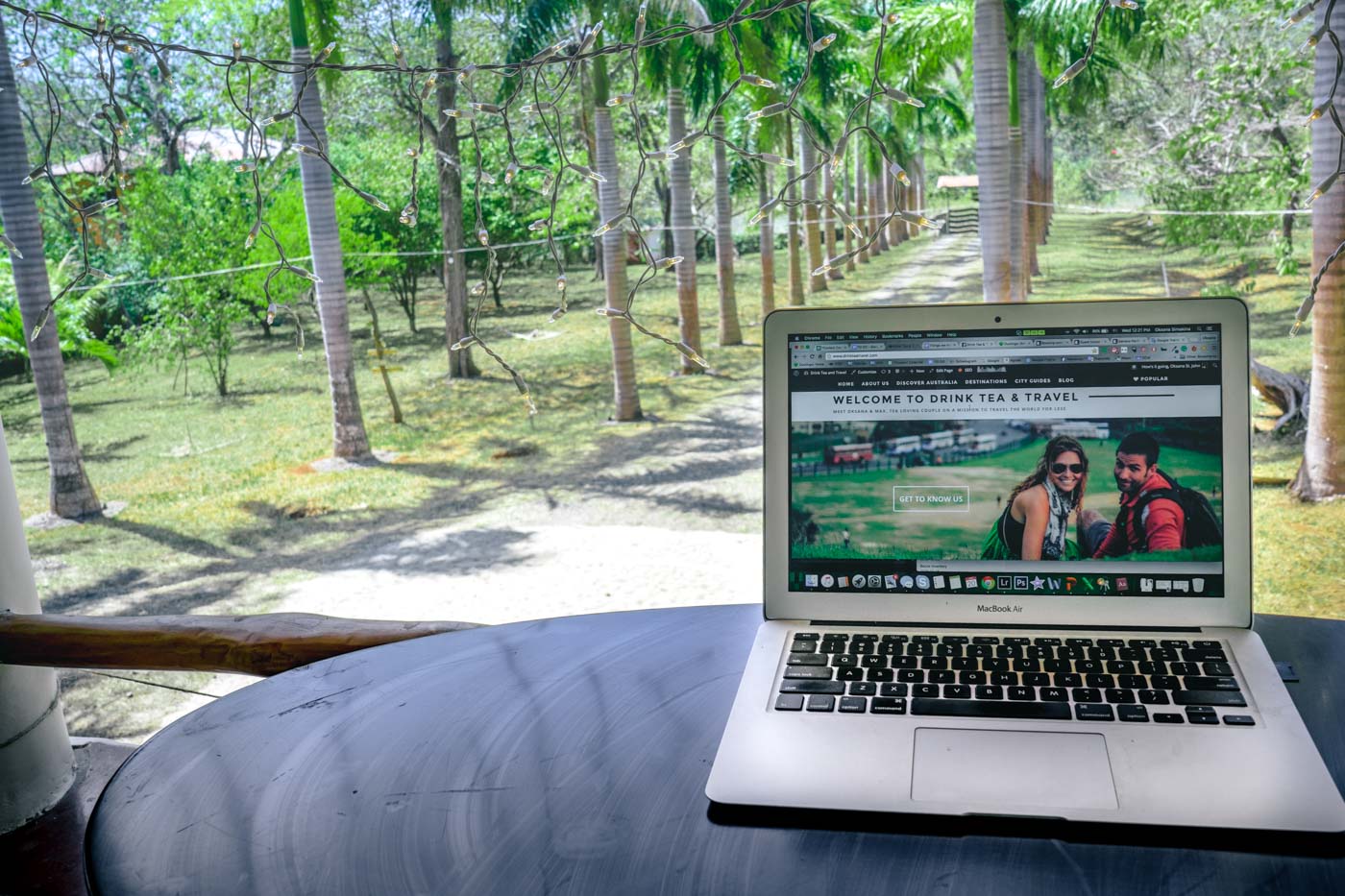 Traveling Soon?

Here is a list of our favourite travel providers and accessories to help get you ready for your upcoming trip!
If, however, your goal is to create something bigger than a blog for friends and family, something that will attract a wider audience, inspire strangers to seek your advice, and maybe even one day make you money, then know that you've got your work cut out for you. Most travel bloggers will tell you that it takes many months, if not years, of hard work before you start seeing the fruits of your labour.
If you are up for the challenge, then follow our Step by Step Guide to Setting up Your Travel Blog
1. Decide on the name for your blog
There are thousands of travel blogs out there, and every day hundreds of new blogs are created all around the world. How will you make your blog stand out from the crowds? And most importantly, what will make it unique?
When deciding on the name consider the following:
Make it short, simple, and memorable

(2-3 words at most). You want it to be something simple that is easy to remember, something that you can say out loud without causing any confusion. A good test is to share your ideas with your friends and family and avoid responses like "Err, how do you spell that?" "So is that The Adventure, or An Adventure?" Is eighty eight spelled out or just numbered?", and so on.
Make it unique.

There are enough blogs out there with the words Vagabond, Wandering (Wanderlust), Adventurous (Adventure), Nomadic (Nomad), etc. Think beyond the obvious and try to come up with a name that represents you, your travel style, and your personality.
Think Long Term.

Can your blog name grow with you? Remember that where you are today is not where you will be in 5 years. Will you always want to blog about solo travel? Or maybe one day you will want your blog to grow into a family travel blog? Will you always want to write about a certain region, or country? If not, it may be better to leave specifics like that out of the name.
Our blog name Drink Tea & Travel came from Oksana's deep love for tea and travel. If we ever have a pleasure to meet in person, you'll quickly understand Oksana's deeply personal connection to tea and the important role that tea plays in our day to day lives.
To avoid the complexity with using "&", or "and" in the blog url, we simply dropped the "and" from the URL, and ended up with www.drinkteatravel.com (we still own www.drinkteaandtravel.com but have always found this URL much more cumbersome than the version without "and").
Drink Tea & Travel started as a solo female travel blog, but a year later grew into being a blog about a couple traveling on a budget, then a couple on a mission to build a sustainable travel lifestyle. Its personal yet versatile name gives us the freedom to continue to evolve the blog without ever having to worry about rebranding.
Got a few ideas in mind? Use a site like GoDaddy.com to check the domain availability for your desired blog names. Then check a few social media accounts to make sure that your domain (or some version of it) is also available on the main social media sites (like Facebook, Instagram, Twitter, etc)
2. Set up WordPress.com account to get started
Whether you want to start a blog as a hobby or as a something more serious, we recommend starting with a basic wordpress.com platform. WordPress is the easiest and most powerful blogging and website content management system (or CMS) that exists today, but if you're wondering "why is WordPress so slow for me?" – it's also one of the most customizable and therefore load-time intensive platforms out there. It's used by everyone from newbies looking to start their first blog to big sites like Mashable and TechCrunch and it is often considered the gold standard for blogging and many other industries.
There are 2 versions of WordPress: wordpress.com and wordpress.org.
The main difference between the 2 is that wordpress.com uses a shared hosting service, so you can sign up, pick a theme and not have to worry about downloading any software, figuring out hosting solutions, or managing a web server. With wordpress.com your blog's URL will be www.younewblog.wordpress.com
WordPress.org, on the other hand, is a self-hosted alternative suitable for those that want to take their blogging to a more professional level. To set up wordpress.org you'll need to purchase hosting from a place like Easy Blog Networks (more on that later), install wordpress, and deal with all the hassle that comes with managing your own website. With wordpress.org your blog's URL will be www.younewblog.com (without the wordpress.com)
There are a number of Pros and Cons of WordPress.com vs WordPress.org, but we always recommend that you take things one step at a time and start learning about WordPress on a wordpress.com platform.
The interface of wordpress.com and wordpress.org are identical and transfering from one platform to another is easy, so there is really no harm is taking baby steps.
To get started with WordPress, go to www.wordpress.com and click on Get Started.
A handy wizard will guide your through the setup process, helping you select a theme, find a free domain and get you started with a FREE Website.
3. Write, Write, Write
It's easy to get carried away with themes, tinkering with colours, and other WordPress settings. And while there is definitely merit in learning how to use the system, we recommend that you focus your time on populating your blog with some content.
Write your About Me page, write a few blog posts, then write a few more. Get the hang of writing every day, or every few days, or even once a week. See what's manageable for you, what brings you joy, and at what point writing on your blog becomes a chore.
WordPress.com allows you to test being a travel blogger without having to invest a single dollar into the professional travel blogger hosting/website set up. So if after a few weeks into your Round the World trip you get too caught up in your travels and find that the commitment of travel blogging just isn't for you, you can easily put the blog aside and not worry about wasting cash and tons of time on setting up the blog
On the other hand, if you find out that you love writing, if you get excited about publishing articles, getting feedback from your friends, and want to see the blog grow, then you might be ready for the next step in the process.
Drink Tea & Travel existed on wordpress.com for 2-3 months before we decided we were ready to invest time, money, and effort into migrating to a self-hosted blog.
4. Choose a Hosting Provider
For the first 2 years, Drink Tea & Travel was hosted on BlueHost. It's a good hosting provider with decent customer service, but as we have recently found out, it's not the best.
A few months ago we switched to SiteGround and were immediately impressed by their customer service, site speed, and overall hosting performance. Having compared both providers side by side, SiteGround came out as a clear winner, which is why we now recommend it to bloggers and website owners of all levels.
At $3.95/month, SiteGround has great a great low-cost option for anyone who is just starting out, but the benefit of SiteGround is that their hosting solutions allow for seamless growth over the years. We are now running Drink Tea & Travel on their GoGeek service, but there is no need to sign up for another more than their Start Up service at the beginning.
To sign up, click on Sign Up, select the StartUp Package and Get Started to finalize your purchase.
5. Install wordpress.org & transition your wordpress.com blog
The next step may seem like a daunting task, but it's actually quite easy. Once your SiteGround account is all set up, use the SiteGround WordPress Setup Wizard to setup WordPress on your new hosting. If you run into any issues, you can rely on SiteGround to provide you with excellent support via their LiveChat option.
Once your WordPress is installed, follow these instructions to transfer your existing WordPress.com site to your new hosting.
6. Invest in a Premium Theme
There are tons of free themes available online, but from our experience, they all come with some limitations. If you want to have a beautiful responsive site with loads of features, we highly recommend investing in a Premium Theme. A premium theme will run you anywhere between $50-80 but it will be a well worth investment. Premium themes usually come chock full of shortcodes and inbuilt functionalities like full-width sliders, page builders and more that will make it that much easier to make your new website look great.
Drink Tea & Travel is currently built with "15Zine Theme" although we have customized it a bit using basic CSS, plugins, and some php coding. We purchased our theme on ThemeForest, one of the best databases of free and premium themes on the web.
7. Download Helpful Plugins
Plugins are one of the best things that differentiate a wordpress.com website from worpress.org one. Now that you have joined the self-hosting WordPress.org There are thousands of plugins available online and more are being built daily.
Over time, you'll find out more and more about plugins but this is a list of the basic ones we recommend to anyone who's starting a travel blog:
Akismet

– quite possibly the best way in the world to protect your blog from spam.

Jetpack by WordPress.com

– Bring the power of the WordPress.com cloud to your self-hosted WordPress. Jetpack enables you to connect your blog to a WordPress.com account to use the powerful features normally only available to WordPress.com users

W3 Total Cache

– The highest rated and most complete WordPress performance plugin. Dramatically improve the speed and user experience of your site.

Yoast SEO

– first true all-in-one SEO solution for WordPress, including on-page content analysis, XML sitemaps and much more

Contact Form by BestWebSoft

– Simple contact form plugin any WordPress website must have.

AddToAny Share Buttons

– Share buttons for your pages including AddToAny's universal sharing button, Facebook, Twitter, Google+, Pinterest, WhatsApp and many more.
8. Get Active on Social Media
Hopefully, you have already checked to make sure that your desired handle name is available across all social media channels. Now is the time to start building your following.
Pick 1-2 platforms to start and focus on sharing content daily to grow your following. Don't try to do Facebook, Instagram, Pinterest, Twitter, Snapchat, Youtube, and whatever other social media is trending at the time, or you will burn yourself out.
9. Enroll in a Travel Blogging Course
If you really are serious about turning your travel blog into a business, we highly recommend that you sign up for Travel Blog Success (TBS). TBS is one of the biggest travel blogging communities, offering the most comprehensive and helpful course on travel blogging.
We invested in a TBS Membership right off the bat and are incredibly grateful that we did. It felt scary to invest in a course so early on in our blogging career, but that ended up being the best decision. Using lessons and tips from Travel Blog Success we set up our blog for success avoiding making a lot of the newbie mistakes.
Today, 2.5 years later we still make use of the lessons, the videos, the jobs that are posted on opportunity board, and frequently participate in discussions on the Member's only TBS Facebook Group.
10. Get blogging!
Starting a travel blog is easy, it's keeping it running that's the tough part. Professional travel blogging requires a lot of time and effort, and unfortunately this is the side of travel blogging isn't often talked about outside of the travel blogging community. We make it look like we spend our days traveling (with a bit of blogging on the side) while in reality keeping up a travel blog is easily a 20-30 hour/week commitment.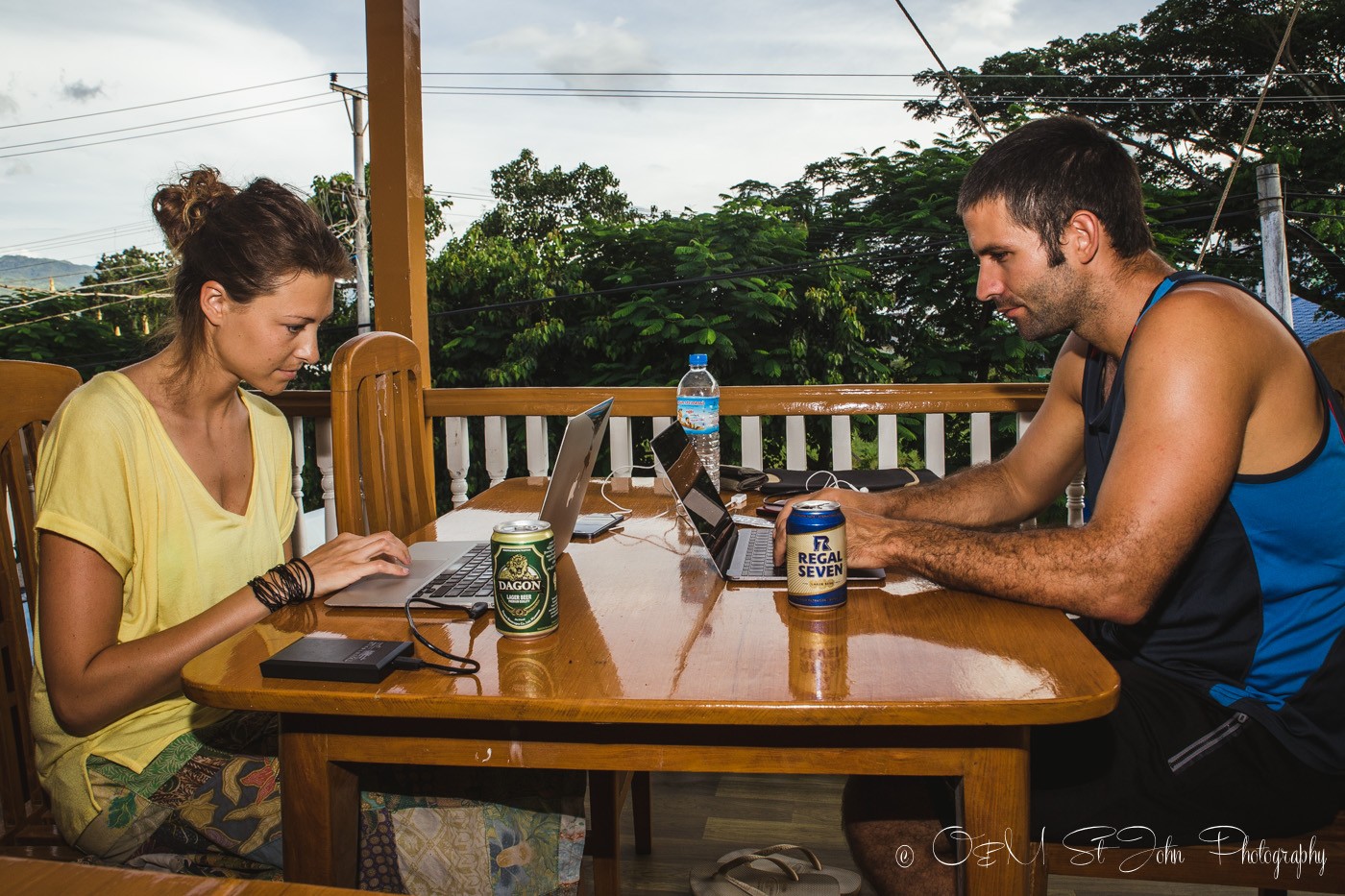 It takes time to build and grow an audience, it takes time to develop writing skills, and time to learn how to be an SEO expert, how to run your blog as a business, how to be a marketer, how to pitch to companies, how to work with tourism boards, and sooooo much more. Be patient, take baby steps, and celebrate every milestone along the way.
Like this post? Pin it for later
Happy Travel Blogging!