Flights often make up the largest percentage of the total cost of any trip, so it's no surprise that finding great flight deals is a hot topic with all travelers. After all, if we could all find cheaper flights all around the world, we would all travel a LOT more!
*This post may contain affiliate links, as a result, we may receive a small commission (at no extra cost to you) on any bookings/purchases you make through the links in this post. As an Amazon Associate, we earn from qualifying purchases. Read our full disclosure
Over the years, we've perfected our strategy for findings cheap flights, so here are our best tips and tricks to finding cheap flights.
1. Plan Ahead
Starting off with a simple, but very important tip. Last-minute flight prices are almost always more expensive than flights purchased in advance. It's a simple supply and demand scenario, the fewer tickets there are for any particular flight, the higher the prices of these tickets.
So how far in advance should you start your flight search? Some research suggests that the best time to book your domestic flight is roughly 3-7 weeks in advance. For international flights, the lead time varies depending on your desired destination: between 2-3 weeks for the Caribbean, 8-10 weeks for Europe, 6 months for South America, and up to 10 months to Asia.
These, of course, are not rules set in stone, but suggestions based on general population statistics. The point is, for the best chance to find a cheap flight start searching as early as possible.
2. Be Flexible
Flights departing on Saturday and returning on Sunday will always cost more. If you can be flexible and leave on Thursday and come back on Tuesday, you are almost guaranteed to find a better flight price.
If you have found a great deal, check prices within +/- 1-2 days. It's a quick search that can help you save!
3. Fly with just a carry-on
If you can master the art of packing light, you can save on baggage fees. Low-cost airlines often charge extra for check-in luggage and even the full cost carriers are now downsizing their cabin luggage allowance.
4. Don't rely on your local travel agent for a cheap flight
Travel agents earn very little on each flight and travel agencies with physical locations often have to mark up the flights even further to cover their fixed costs. They will rarely be able to offer you a better deal. Instead, search online…
5. Use multiple search engines to find the best deals
There are hundreds of flight search engines and flight aggregators on the web, and surprisingly, they do not all show the same prices. So that flight that you are about to book through Expedia, could cost you hundreds of dollars less, if you do a bit of research. With that said, don't use Expedia at all. In all of my experience booking hundreds of flights to numerous countries around the world, I have NEVER found a great deal on Expedia. Their search engine is just not good. Some other flight search engines are: Orbitz, Travelocity, Flight Center, RedTag etc. But before you start opening 5 browser tabs and searching for the best deal on all of those sites, wait! … and read on….
6. Use Skyscanner!
Skyscanner is a fantastic worldwide flight aggregator (flight comparison site) that does the searching for you. When you search Skyscanner you are not just searching for airline deals, but you are also searching for cheap flights on other airline search engines, like Travelocity, Orbitz, Expedia and hundreds of other flight search engines! So you are getting the best deals out of best deals found by each and every flight search engine out there! And if that wasn't a good enough reason to use SkyScanner, here are 3 more…
1. SkyScanner allows you to select a whole month or even a whole year as your travel period, so if your travel dates are flexible you can find the best deals on a specific route with just 1 search.
2. SkyScanner has an email alert function, allowing you to monitor flight prices on a daily basis. Simply find a flight you are interested in, click on "Get Price Alerts" in the top left hand corner, enter your email and you are set. This is how we saved $1600 per person on our flights to Brazil for the World Cup. Flights that were $3600, went down to $2000 and a SkyScanner alert notified me, allowing us to lock in the flights at an amazing deal, before their price went back up 2 days later.
3. Skyscanner is simply a flight aggregator, so there is no SkyScanner mark up in flight prices. When SkyScanner finds a deal for you, you are taken directly to the airline's website or the website of the deal provider (could be Orbitz or FlightCenter or another search engine) to book your flight.
7. Use other flight aggregators
While I swear by Skyscanner, there are other flight aggregators worth checking out as well. The most popular ones are Kayak and Momondo. Kayak has a handy feature that allows you to search using +3/-3 day outlook, helping you find the cheapest fare for a particular route.
8. Check low cost carriers
SkyScanner searches lot of low cost carriers, but unfortunately, it doesn't search all of them. Wikipedia has a good list of low cost airlines organized by countries to help you with your search. Cross check them with SkyScanner's findings to see if any are missing. You'll be able to see what airlines Skyscanner searched in the left hand side of the search page. Some people are afraid of flying low cost carriers, my advice to you – don't be. I've flown with dozens of low cost carriers and found that more often they not, they use the same airplanes as the big airlines, have comfortable seating and clean amenities. They just have a different business model that allows them to offer fantastic deals by flying out of smaller airports and thus paying lower airport taxes, and saving on meals and entertainment on board.
Traveling Soon?

Here is a list of our favourite travel providers and accessories to help get you ready for your upcoming trip!
My favourite low cost airlines are: Scoot (flies between Singapore, Australia and China), Tiger Air (flies between Southeast Asia, Australia, China and India), Air Asia (flies all over Asia), Ryan Air (Europe), EasyJet (Europe), and WizzAir (Eastern Europe).
9. Sign up for airline deals and alerts
Keep your eyes and ears opened for cheap deals when you are not planning to go away. Sometimes that $400 return to Bali that pops up on a Flight Center e-blast may be a good enough incentive for you to go on a spontaneous holiday.
10. Sign up for and collect Airline Reward Points.
Especially if you often fly with a particular airline. You can use airline points to fly for free! Simply sign up for a travel rewards card and use it for your every day purchases, you'll be surprised how quickly the points add up. If you are in Canada, find the best credit cards for airline travel here, for Australian cards – search here, for US cards, read up on your options – here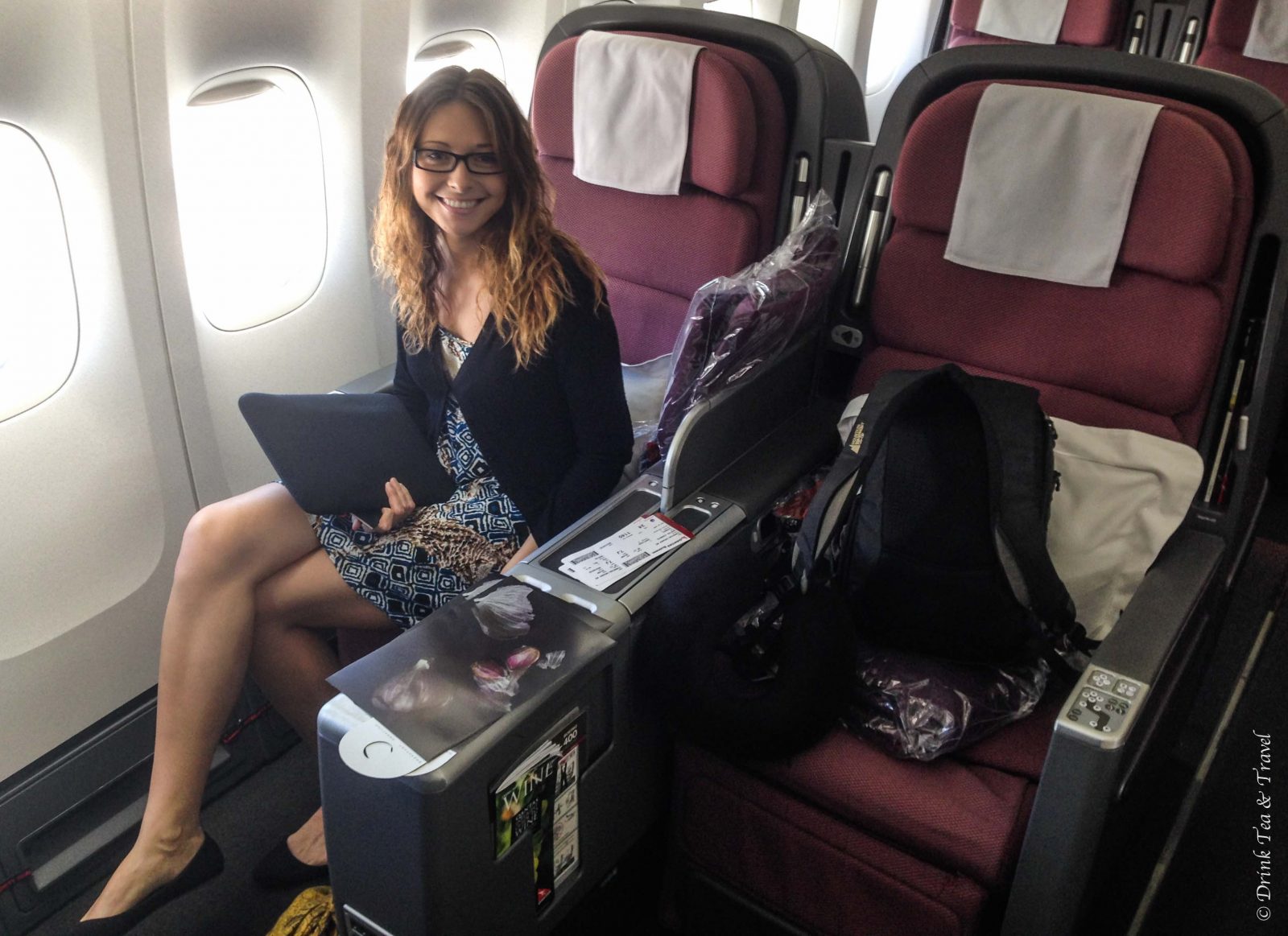 11. Use Google Flights
Google Flights is our new favourite tool for saving money on flights! Google Flights is a brilliant flight search engine that allows you to scan the world (literally) for the cheapest possible flights out of any destination. Say you are looking for a flight from Sydney to London, in hopes of spending the summer gallivanting around Europe. You might think than flying into London would be the cheapest route, but one look at the Google Flights map and you'll realize that the cheapest way is actually to fly into Frankfurt. Type in your Departure Airport, your flight dates, click on "Expand Map" further down the page and Google's magic will reveal flight prices for all around the world.
It's an awesome tool to use when you are flexible and are looking for the cheapest route!
Like this post? Pin it for later!
Do you have additional tips that might help others save on flights?