Today started off like any other travel day. We were still frantically throwing items of clothing into our bags when our airport taxi pulled up outside the house. I don't know why we always pack so last minute and I don't know why we never leave enough time to get to the airport at a leisurely pace. It's always a mad rush, but we always make it. And this morning was no exception. We got to the airport, checked in, and finally let the excitement of the upcoming trip take over. We were off to Brazil! Our first trip to South America, and our first World Cup! I've been dreaming of seeing a World Cup game since I first fell in love with football during the 1998 World Cup in France. And in just 24 hours we'll be there, on the ground in Brazil, in the heart of action.
*This post may contain affiliate links, as a result, we may receive a small commission (at no extra cost to you) on any bookings/purchases you make through the links in this post. As an Amazon Associate, we earn from qualifying purchases. Read our full disclosure
But we had a long way ahead of us. We are typical backpackers, willing to make extra stops, travel with carry-ons, and do whatever it takes to minimize our flights costs. Our $2000 return flight itinerary from Brisbane to Brazil was a true reflection of our travel style. We were going from Brisbane to Sydney, Sydney to Auckland, Auckland to Santiago, and then finally to Sao Paulo. 4 flights, 4 short layovers, and only 2 carry-ons between the 2 of us.
About 10 mins before boarding time for our first flight from Brisbane to Sydney, the Virgin Airlines staff announced that our flight was going to be delayed. I didn't think much of it. Max looked up the flight time and concluded that despite the delay we should still have plenty of time to make our net connection. And in theory we did. But in reality things played out VERY differently.
The Missed Flight
Our flight from Brisbane landed in Sydney at 8:25am, leaving us an hour and 5 minutes to get over from Terminal 2 to Terminal 1, check in, and get on our next flight to Auckland. Sounds doable, except 10 mins later we were still inside the plane waiting to get off. Then, a Sky Train ride and a 10 minute sprint across the airport later, we found ourselves standing in front of a closed LAN Airlines counter.
F***!!! Are we actually too late? Can't be, there is still 35 minutes to departure, we've got to find a way to check in. So we raced to the LAN Airways offices across the terminal and barged in, completely out of breath. Well ok, I was the only one out of breath.
"We need to check in", I yelled gasping for air, "our connecting flight was late and we missed the check in for the 9:30 flight"
" Oh no. I'm sorry we closed check in. You missed your flight" – said a friendly LAN Airlines rep in a Spanish accent. "You will not be able to fly out today"
"What do you mean we won't be able to fly out? Isn't there another flight you can put us on?"
"Well it's not our fault that you missed the flight, and technically it's not the responsibility of Virgin either", so I don't really know what we can do for you, but let me check.
Panic was starting to take over me. I have never missed an international flight before, I have no idea what happens next, and how we are going to get ourselves over to Brazil.
Another LAN Airways employee walked into the door and after a quick debrief from the other staff member she said:
"Yes, I don't know what we can do for you. There is a Qantas flight at noon but its overbooked. Your best bet is to try to get another ticket for tomorrow. But you might want to go talk to Virgin and see if they will compensate it for you or it is going to cost you a lot of money. Although, I doubt they will, but it's worth a try"
OMG. Is this really happening? Is this some mean joke? We can't wait until tomorrow to depart. We are meant to arrive in Sao Paulo at 9pm on the 28th, head over to the World Cup ticketing office in Sao Paulo to pick up our tickets for the game on the 30th, and then fly to Brasilia the following evening. Arriving a day late would mean that we would miss our ticket pick up appointment, we would lose 2 other flights, and not be able to attend the ONE AND ONLY World Cup game we have tickets for. Plus we simply can not afford to fork out $3000 each for another flight tomorrow. Was this it? Was this the end of our World Cup trip?
Travel Insurance
I felt anger taking over me. I stormed out of the room and ran across the terminal aimlessly trying to find someone from Virgin to complain to. 10 mins later with no Virgin counters/offices in sight, I went back to LAN office and broke down. As I sat on the couch, sobbing away, the lady from LAN continued to type away on her computer.
"I'm trying to process a ticket change for you. Let me see how much it would cost you"
… I continued to sob…
"So it will be $195 for the change"
Oh, just $195? Whatever we'll pay that, that's not so bad! – I thought.
"…plus another $199 for the airport fess and taxes…"
Oh no..
"…plus the difference in the price of your original flight and the new flight. So your ticket was… oh. Class 0… and the available ticket for tomorrow is class B…that's 8 classes away"
F***!!! F***!! F***!!! This is going to cost us thousands of dollars. Maybe we can claim it on insurance? Oh wait, we didn't take out insurance. F***!!!! And we didn't even book this flight on a credit card with insurance benefits. WE ARE IDIOTS!
Tears kept rolling down my cheeks…
The Long Pants
The other women, clearly the Senior Manager of the two, came out of her office.
"Excuse me sir", she said to Max, "could I speak to you outside please?"
I perked up, puzzled. What does she want to talk to him about?
"Ummm she wanted to know if I had long pants…", he whispered to me walking back into the office. "She said something about being more presentable"
I looked down and assessed his look. He was wearing old baggy camo shorts and a basketball jersey.
"What? But you don't have long pants, all you packed are shorts and swim shorts?"
"Well, I do. I threw a pair of cargo pants into my suitcase this morning. Just in case. So, let's just wait and see what happens"

"So I should cancel this flight change request" – said the lady that was looking into flights for tomorrow after a brief conversation with her manager.
"Yes. I will come back with an update"
The next 10 mins were probably the longest 10 mins of my life. We sat there in silence, waiting for our verdict. Maybe we could get on that noon flight with Qantas, but how much would that cost? If we don't get any compensation back from Virgin it's going to kill our budgets. Maybe we should just ditch Brazil and buy the cheapest ticket out of Australia and go somewhere in SEA instead? After all we still have those 2.5 weeks off at work.
"Ok" – the senior manager said, interrupting my thoughts. " I was able to get you onto the Qantas flight at noon today, as long as you are ok doing that thing I asked you about before"

"Yes, no problem" – Max nodded

"Follow me then"
We followed her to the check in counter and stood there impatiently for another 10-15 mins while she typed away at the computer.
"Ok folks. It's your lucky day. I was able to put you on the Qantas flight that departs at noon today and flies direct to Santiago where you will be able to catch your next connecting flight to Sao Paulo. I have upgraded you to business class, which is why I need you to change out of your umm… rather casual clothes, and find something business-like in your bags to wear. Don't take offence to this, we are just trying to maintain a certain image in business class, so hope you can understand"

"Yes.. of course" we said in utter shock.

"What just happened there, Max? WE ARE FLYING BUSINESS CLASS?", I said as we were walking to the bathrooms, "Did you say something to them while I was out of the room? Did you tell them I was a travel blogger?"

"I wish I could take some credit from what just transpired, but I didn't mention it at all. I'm just as shocked as you are. This is nothing more but a case of incredible luck."
Shortly after, we were checked in and waiting for our flight in Qantas business lounge, enjoying a free breakfast buffet with beers in hand. Our 11 hour flight to Santiago was the most comfortable and most luxurious experience we have ever had and probably will ever have. It was so over the top that at times we just couldn't help but laugh. We ate gourmet meals, drank $100 wines, and slept in Qantas pyjamas in completely horizontal beds, that were fully made for us by the flight attendant.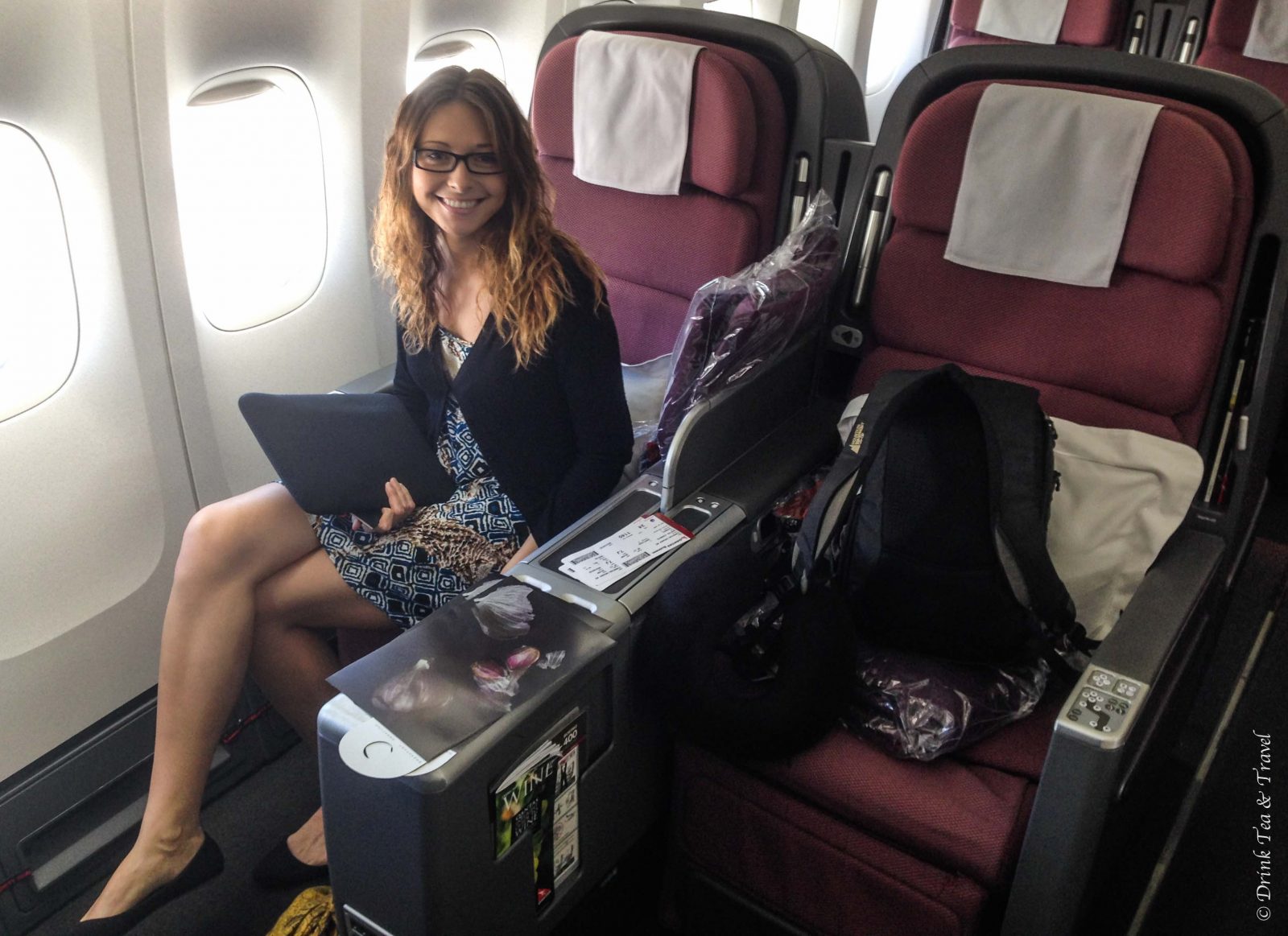 Traveling Soon?

Here is a list of our favourite travel providers and accessories to help get you ready for your upcoming trip!
Now, I'm not telling you any of this to brag or to flaunt our luck. This roller coaster ride has taught us 3 big lessons. Lessons that I we will be walking away with for life and one that I hope one day these lessons might will help you too.
The Lessons
Lesson #1
Don't tempt fate. Leave yourself at least 2 hours between connecting flights. And investigate in advance how long it will take you to get yourself from your arrival terminal to your departure terminal. If you are not arriving and departing from the same terminal, the transfer may eat up 30-40 mins of your layover time. International flights really do close their check in 45 mins prior to boarding. It's a hard rule.
Lesson #2
Buy travel insurance. Flight delays happen and you don't want to be relying on luck to get you out of the situation we were in today. We should have bought travel insurance, even if it was just flight delay insurance. Or at the very minimum, we should have booked our flights on a credit card that offers flight insurance benefits. Most of them do these days. If luck wasn't on our side today, we would've had to pay $2000-$4000 to purchase a new flight or cancel our trip all together.
Lesson #3
Always pack long pants, or something more presentable. You never know when a pair of long pants and a nice dress will be your ticket to business class.
I'm happy to report that we have now finally made it to São Paulo and after a good night sleep, we are off to explore this amazing country!
Has anything like this ever happened to you? Share your stories with other readers below.
Like this post? Pin it for later!

[fbcomments]