*This post may contain affiliate links, as a result, we may receive a small commission (at no extra cost to you) on any bookings/purchases you make through the links in this post. As an Amazon Associate, I earn from qualifying purchases. Read our full disclosure.
We covered a lot of ground in our 3 weeks in Croatia. We tried to hit some of the top things to do in Croatia and found many incredible gems. While sailing from Split to Dubrovnik we got a chance to experience a lot of the islands and towns along the Dalmatian Coast, and later a road trip from Split to Zagreb allowed us to experience some of Croatia's inland destinations.
Planning a Trip in the time of COVID?

Keep in mind that information found in this article may have been impacted by travel restrictions and other closures. Double check opening hours, tour providers and hotel status before you go. And don't leave your home without travel insurance! If you are looking for an insurance provider that covers COVID-19, we recommend SafetyWing. Get Medical and Travel Insurance starting at just $40/month and you can sign up even if your trip has already started!
We fell absolutely in love with Croatia, pleasantly surprised by how easy it was to navigate, get insight into the local culture, and by the beauty of the destinations we visited in Croatia
Narrowing down the list of top things to do in Croatia was hard, but in the end, a few destinations stood out as our all time favourites! Here is the run-down of our favourite places the country.
Top Things To Do In Croatia
Dubrovnik
If you are planning a Croatia vacation, be prepared to share a popular destination, like Dubrovnik, with many other tourists. Even in the shoulder season (we visited in mid-September), Dubrovnik was packed and it's not hard to see why. The city is at the top of everyone's list of things to do in Croatia and attracts millions of tourists every year.
During our visit to Dubrovnik, hoards of tourists were bumping shoulders, patiently forming lines to walk along the famous Dubrovnik Walls, to check out museums or snap a photo at one of the many lookouts along the way. Restaurants, shops, and other attractions were crowded, but that didn't stop us from loving the majestic views of the great city of Dubrovnik.
Dubrovnik Old Town, a UNESCO World Heritage Centre, was full of beautiful churches, monasteries, palaces, fountains, and was so much fun to explore. The views from the ancient city walls were incredible and the feeling of amazement that washed over us as we sailed towards the city in our sailboat was simply unforgettable.
Mljet
The magical island of Mljet was an unexpected surprise. We first docked in the town of Pomena, one of the 2 towns on the island and spent a lovely evening eating delicious food at Konoba Galija while watching a beautiful sunset right off the dock.
The following day, we rented a car and set off to explore the Mljet National Park and the rest of the island, which turned into one of the most amazing days we had in our entire 3 weeks in Croatia. The drive was spectacular, the views from a number of lookouts were breathtaking, but the most incredible stop was the Odysseus Cave. We definitely recommend it as one of our favourite things to do in Croatia.
It took a bit of time to hike down to the cave and descend to its base, but once there the views of the cave and of the underwater world beneath it was spectacular. We could easily say that it was one of the top things to do in Croatia. The cave opened up into the ocean and offered some amazing cliff diving.
Croatia can get pretty busy in the summer so if you are planning on doing any sailing in the high season, like we did to Mjet, we would suggest you book online tickets in advance for the ferry to avoid disappointment.
Korcula Town
Korcula Town was another little gem that we had stumbled upon thanks to the recommendation from a few fellow sailors that we met during our Croatia vacation. It might not be known as one of the most famous things to do in Croatia, however, it is known for being the real birthplace of Marco Polo (ummm… maybe! The evidence is very questionable).
Korcula's historic medieval Old Town is set on an oval-shaped point on the northeastern tip of the island. The town is a collection of tiny winding cobblestone alleyways full of unique shops and restaurants, dominated by the Gothic-Renaissance style of St Mark's Cathedral. Definitely worth a visit if you are looking for less-touristy places to visit in Croatia.
We fell in love with Korcula's laid back attitude, indulged in some delicious meals at Konoba Mareta, and enjoyed the spectacular views of the Adriatic Sea and the nearby islands.
Our 3 weeks in Croatia flew by much quicker than we anticipated and most destinations that we visited on this trip were more beautiful and more charming than we expected!
Split
Being the second largest city in Croatia and the largest city in Dalmatia, we expected Split to be a highlight, but had no idea that it would end up standing out in memory so so much.
In the heart of Split is Diocletian Palace, an ancient palace built by the Roman Emperor Diocletian back in 300AD. The palace is one of the most famous and complete architectural structures in all of Croatia and we felt its greatness the second we stepped inside its walls. For us, it wasn't the town of Split itself, but rather the Diocletian Palace that earned a spot on the list of top things to do in Croatia!
The palace is not an abandoned historical marvel, nor is it a museum, instead, it's a living and breathing part of the city, packed with people (a lot of people), shops, and restaurants. It is said that over 220 businesses operate inside the palace and over 3,000 residents call it their home. The locals probably hate the tourist crowds, but how cool would it be to live inside a palace?
Plitvice National Park
Plitvice National Park was one of the Croatia holiday destinations we looked forward to visiting the most in the country. A stunning 300 square kilometres forest reserve in the middle of the country, Plitvice is known for its turquoise lakes, waterfalls and an expansive limestone canyon. It also boasts a multitude of hiking trails that wind around the water and neat boat routes that connect the upper and lower lakes.
And even though it was a bit crowded for our liking, the park was spectacular and was definitely worth a visit. We spent a day winding around a chain of hiking trails that hug all 16 lakes within the park, enjoying the waterfalls, and taking in the best of the park's views!
Sibenik
Sibenik is the 3rd largest city in Dalmatia, yet one that remains fairly unknown to the majority of travelers who are looking for cool things to do in Croatia.
While it's often overshadowed by other things to do in Croatia, it holds a lot of charm. If it wasn't the gateway for Krka National Park, we probably would've missed it as well. But a quick stopover in Sibenik en route to the park allowed us to spend some time exploring this beautiful historic town.
The biggest attraction in Šibenik, the Cathedral of St. James, was, of course, on the UNESCO World Heritage list. (At times, it really felt like every town in Croatia was or had a UNESCO Heritage Site).
But it wasn't the cathedral itself that made a lasting impression on our visit to Sibenik. Maybe it was the incredibly friendly host from Apartment Heli that welcomed us into town, or the beautiful sunset overlooking the islands across the bay, or the narrow limestone alleyways that made the town feel snug and homey, or the laid back vibe at the cafes and restaurants along the waterfront.
It's a city you only need a day or two to see, but one that's definitely worth a stop, if you are looking for places to visit in Croatia
Krka National Park
Krka National Park had all the elements of a perfect destination in Croatia. From the boat ride into the park to the refreshing dip in Skradinski buk, the lowest of the three sets of waterfalls formed along the Krka river, the park has so much to offer.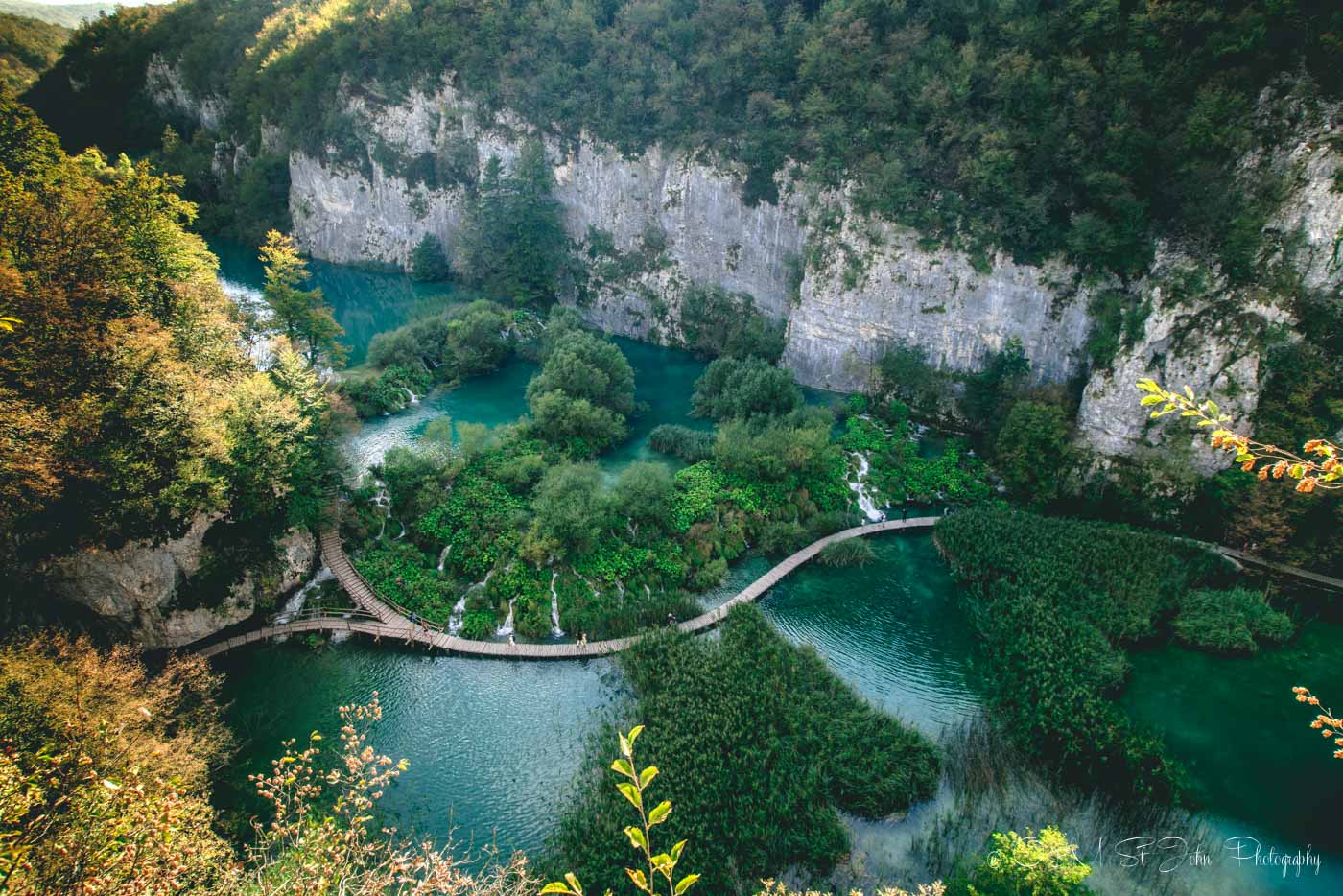 We walked along the trails, marveled at the views inside the park, enjoyed homemade snacks sold along the footpath, and joined the locals for a simple picnic on the grass.

Zagreb
You'll be surprised to discover that Zagreb, Croatia's capital is cool, hip, and incredibly liveable. Compared to the rest of European capitals, Zagreb is significantly cheaper, yet it definitely has that European charm, so it easily made it to our top places to visit in Croatia!
We loved the lifestyle and culture in Zagreb, it's a young unpretentious and laid back attitude. The city is full of parks and green spaces and is buzzing with outdoor events and activities.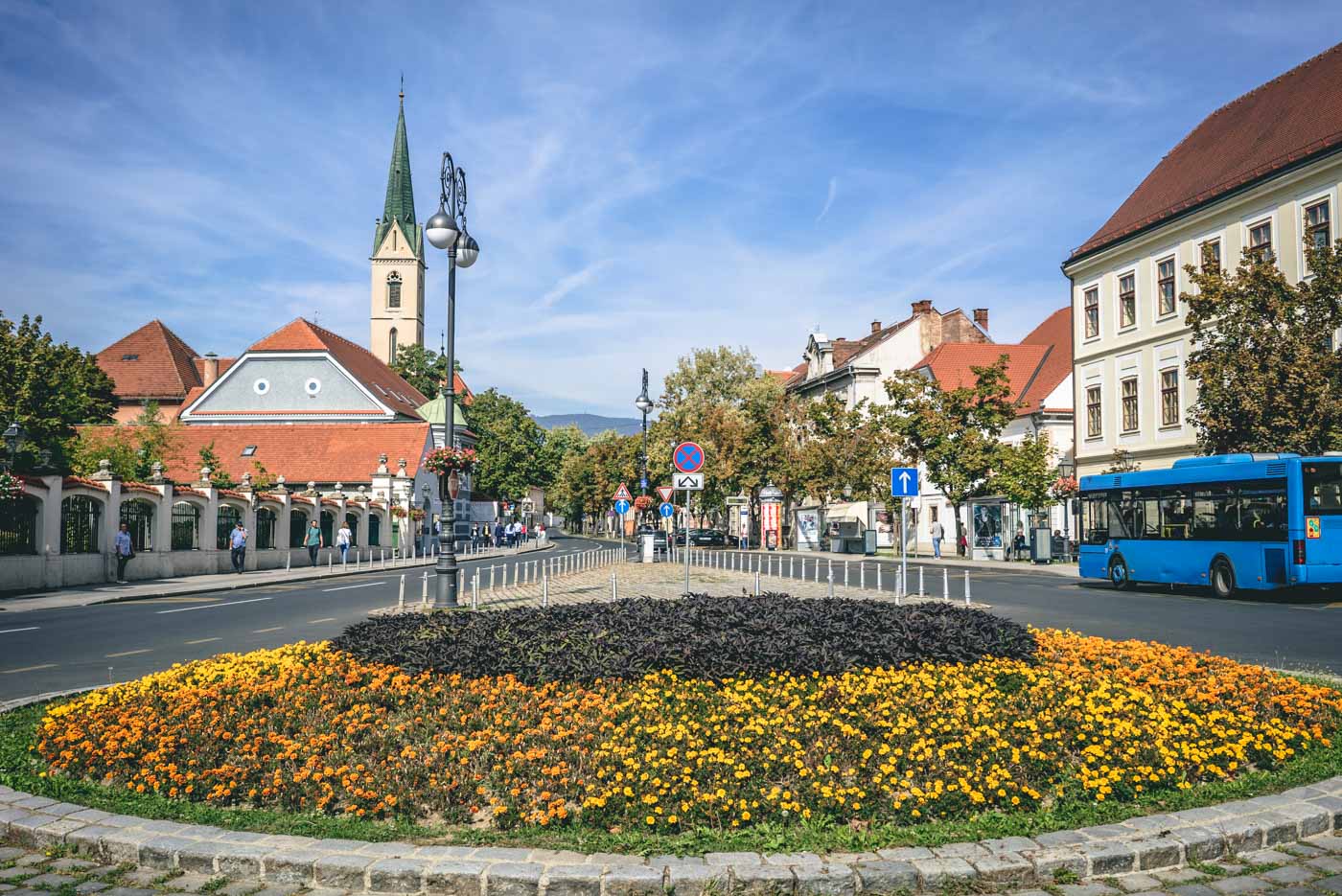 There are open-air farmers markets, art displays, festivals, and a strong cafe culture. Pick a patio (there are tons of them all around the city), sit back, relax, have a pint of local craft beer, sip away at a tiny cup of coffee (that's how they like it in Zagreb), or enjoy a cup of hot tea (luckily they don't shy away from tea either) and enjoy European living for less!
Like this post? Pin it for later
Have you ever been to Croatia? What are some of your favourite things to do in Croatia?