We covered a lot of ground in our 3 weeks in Croatia. We tried to hit some of the top things to do in Croatia and found many incredible gems. While sailing from Split to Dubrovnik, we got a chance to experience a lot of the islands and towns along the Dalmatian Coast. Then, later a road trip from Split to Zagreb allowed us to experience some of Croatia's inland destinations.
*This post may contain affiliate links, as a result, we may receive a small commission (at no extra cost to you) on any bookings/purchases you make through the links in this post. As an Amazon Associate, we earn from qualifying purchases. Read our full disclosure
We fell absolutely in love with Croatia, pleasantly surprised by how easy it was to navigate, get insight into the local culture, and by the beauty of the destinations we visited in Croatia.
Narrowing down the list of top things to do in Croatia was hard, but in the end, a few destinations stood out as our all-time favourites! Here is the run-down of our favourite places in the country.
Top Things To Do In Croatia
Dubrovnik
If you are planning a Croatia vacation, be prepared to share a popular destination, like Dubrovnik, with many other tourists. Even in the shoulder season (we visited in mid-September), Dubrovnik was packed, and it's not hard to see why. The city is at the top of everyone's list of things to do in Croatia and attracts millions of tourists annually.
During our visit to Dubrovnik, hoards of tourists were bumping shoulders, patiently forming lines to walk along the famous Dubrovnik Walls to check out museums or snap a photo at one of the many lookouts along the way. Restaurants, shops, and other attractions were crowded, but that didn't stop us from loving the majestic views of the great city of Dubrovnik.
Dubrovnik Old Town, a UNESCO World Heritage Site, was full of beautiful churches, monasteries, palaces, and fountains. It was so much fun to explore. The views from the ancient city walls were incredible, and the feeling of amazement that washed over us as we sailed towards the city in our sailboat was simply unforgettable.
Traveling Soon?

Here is a list of our favourite travel providers and accessories to help get you ready for your upcoming trip!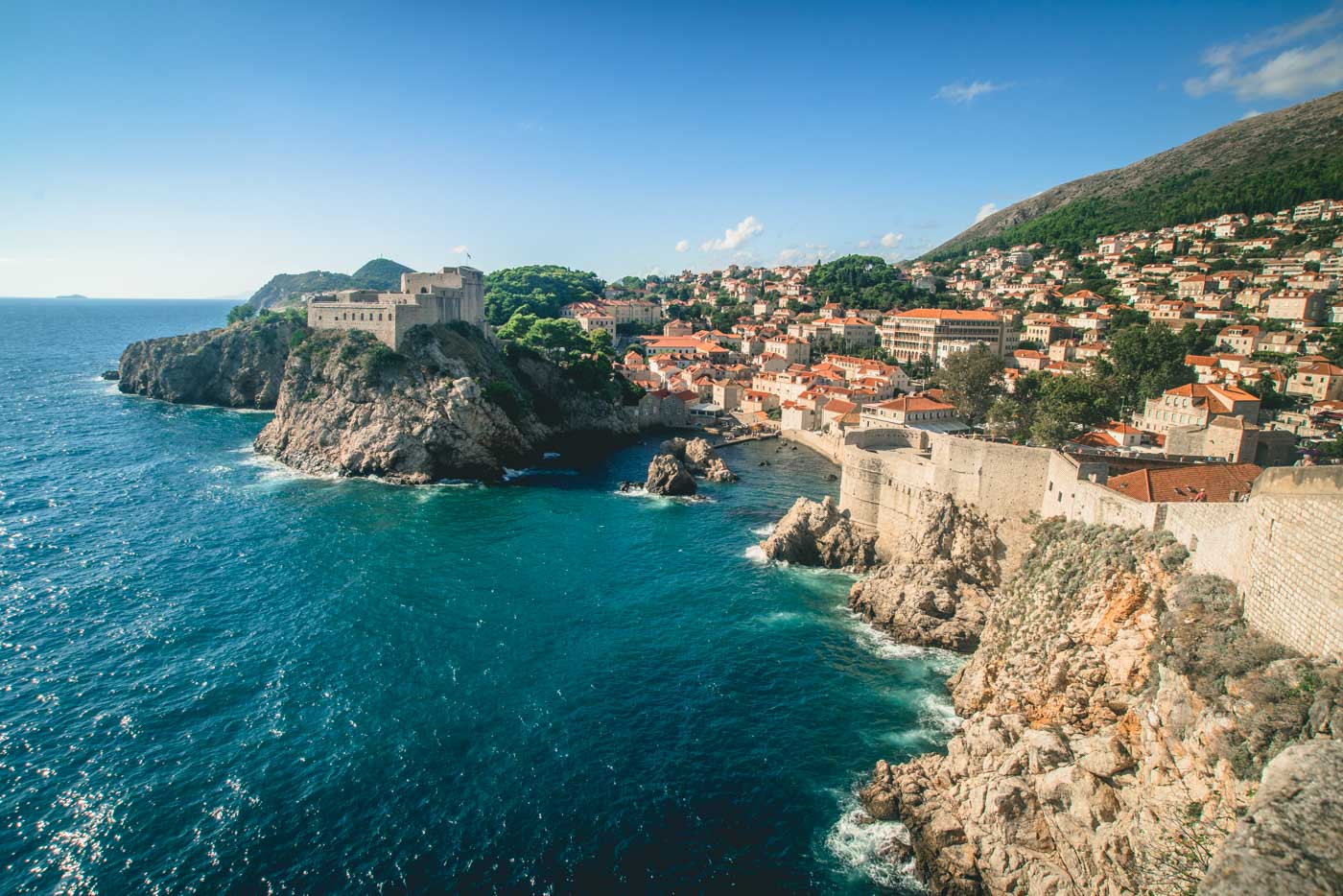 Mljet
The magical island of Mljet was an unexpected surprise. We first docked in the town of Pomena, one of the 2 towns on the island and spent a lovely evening eating delicious food at Konoba Galija while watching a beautiful sunset right off the dock.
The following day, we rented a car and explored the Mljet National Park and the rest of the island, which turned into one of the most amazing days we had in our entire 3 weeks in Croatia. The drive was spectacular, the views from a number of lookouts were breathtaking, but the most incredible stop was the Odysseus Cave. We definitely recommend it as one of our favourite things to do in Croatia.
Because of the crystal clear water surrounding Mljet, diving and snorkelling is popular on the island. There is even a coral reef to explore, although activity around the reef is heavily regulated because the coral has been damaged in recent years.
It took a bit of time to hike down to the cave and descend to its base, but once there, the views of the cave and of the underwater world beneath it were spectacular. We could easily say that it was one of the top things to do in Croatia. The cave opened up into the ocean and offered some amazing cliff diving.
Croatia can get pretty busy in the summer, so if you are planning on doing any sailing in the high season, like we did to Mjet, we would suggest you book online tickets in advance for the ferry to avoid disappointment.
Korcula Town
Korcula Town was another little gem that we had stumbled upon, thanks to the recommendation from a few fellow sailors that we met during our Croatia vacation. It might not be known as one of the most famous things to do in Croatia. However, it is known for being the real birthplace of Marco Polo (ummm… maybe! The evidence is very questionable).
Korcula's historic medieval Old Town is set on an oval-shaped point on the northeastern tip of the island. The town is a collection of tiny winding cobblestone alleyways full of unique shops and restaurants, dominated by the Gothic-Renaissance style of St Mark's Cathedral. Definitely worth a visit if you are looking for less-touristy places to visit in Croatia.
There are gorgeous beaches on Korcula that don't get nearly as crowded as those on the mainland, and local bus routes can get you close to whichever beach you choose. There aren't as many amenities as you would have on the mainland, but you can still expect umbrellas for rent and a bar or restaurant nearby.
We fell in love with Korcula's laid-back attitude, indulged in some delicious meals at Konoba Mareta, and enjoyed the spectacular views of the Adriatic Sea and the nearby islands. Our 3 weeks in Croatia flew by much quicker than we anticipated, and most destinations that we visited on this trip were more beautiful and more charming than we expected!
Split
Being the second largest city in Croatia and the largest city in Dalmatia, we expected Split to be a highlight but had no idea that it would end up standing out in memory so so much.
In the heart of Split is Diocletian Palace, an ancient palace built by the Roman Emperor Diocletian back in 300AD. The palace is one of the most famous and complete architectural structures in all of Croatia, and we felt its greatness the second we stepped inside its walls. For us, it wasn't the town of Split itself, but rather the Diocletian Palace that earned a spot on the list of top things to do in Croatia!
The palace is not an abandoned historical marvel, nor is it a museum; instead, it's a living and breathing part of the city, packed with people (a lot of people), shops, and restaurants. It is said that over 220 businesses operate inside the palace, and over 3,000 residents call it their home. With the palace being one of the most popular tourist attractions, the locals probably hate the tourist crowds, but how cool would it be to live inside a palace?
Split also has a wonderful arts community, with galleries and museums featuring sculptures, historic art, and modern works. For a break from the heat and crowds, check out Galerija Mestrovic, an exhibition space surrounded by a Mediterranean garden with views of the Adriatic Sea.
Plitvice National Park
Plitvice Lakes National Park was one of the Croatia holiday destinations we looked forward to visiting the most in the country. A stunning 300 square kilometres of forest reserve in the middle of the country, Plitvice National Park is known for its turquoise lakes, waterfalls and an expansive limestone canyon. It also boasts a multitude of hiking trails that wind around the water and neat boat routes that connect the upper and lower lakes.
It's the largest of Croatia's national parks, and even though it was a bit crowded for our liking, Plitvice Lakes National Park was spectacular and was definitely worth a visit. We spent a day winding around a chain of hiking trails that hug all 16 lakes within the park, enjoying the waterfalls and taking in the best of the park's views!
The park is well laid out, and the park service has a mobile app to help guide you and offers more information about the points of interest. The operating hours and admission prices vary by season, and the park service recommends purchasing admission tickets online ahead of your visit.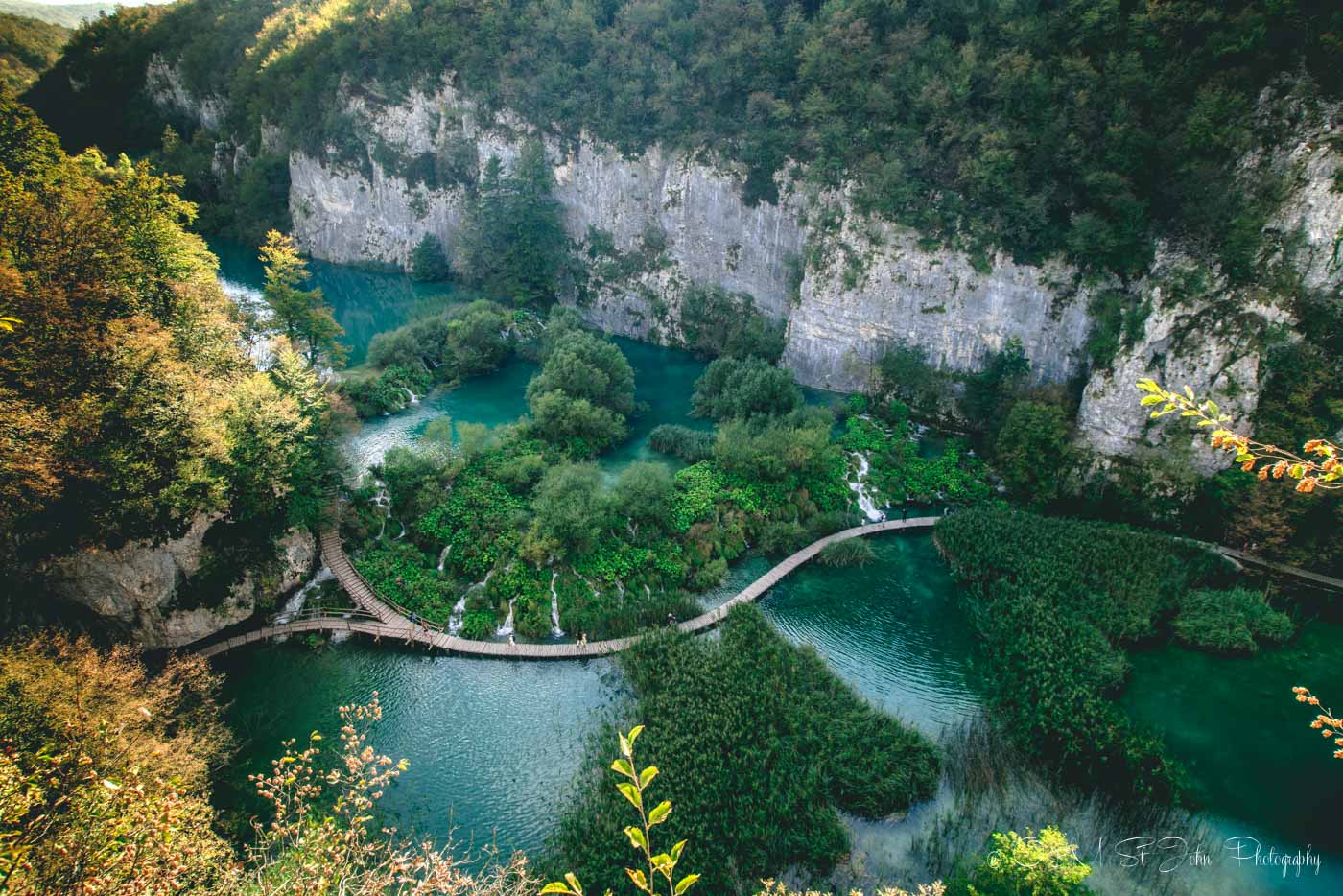 Sibenik
Sibenik is the 3rd largest city in Dalmatia, yet one that remains fairly unknown to the majority of travellers who are looking for cool things to do in Croatia.
While it's often overshadowed by other things to do in Croatia, it holds a lot of charm. If it wasn't the gateway for Krka National Park, we probably would've missed it as well. But a quick stopover in Sibenik en route to the park allowed us to spend some time exploring this beautiful historic town.
The biggest attraction in Šibenik, the Cathedral of St. James, was, of course, on the UNESCO World Heritage list. (At times, it really felt like every town in Croatia was or had UNESCO World Heritage Sites).
But it wasn't the cathedral itself that made a lasting impression on our visit to Sibenik. Maybe it was the incredibly friendly host from Apartment Heli that welcomed us into town, or the beautiful sunset overlooking the islands across the bay, or the narrow limestone alleyways that made the town feel snug and homey, or the laid-back vibe at the cafes and restaurants along the waterfront.
One of the most scenic points of interest in Sibenik is St. Nicholas' Fortress, which guards the entrance of St. Anthony's Channel. The only way to access the 16th-century fortress is by boat, and there are tours that offer transportation and a guided walk through the fortress. The tour lasts around two hours, and the remarkably well-preserved fortification offers a stunning view of the Adriatic Sea and Croatia's Dalmatian coast.
It's a city you only need a day or two to see, but one that's definitely worth a stop if you are looking for places to visit in Croatia
Krka National Park
Krka National Park had all the elements of a perfect destination in Croatia. From the boat ride into the park to the refreshing dip in Skradinski buk, the lowest of the three sets of waterfalls formed along the Krka river, the park has so many points of interest.
We walked along the trails, marvelled at the views inside the park, enjoyed homemade snacks sold along the footpath, and joined the locals for a simple picnic on the grass.
On the banks of the Krka River is a monastery open to public tours. The monastery dates back to the 14th century and is regarded as one of the most important spiritual centres of today's Orthodox Dalmatian Diocese. Guided informational tours are offered, and you're welcome to explore the gardens of the monastery.
Admission to the national parks and operating hours vary by season, so be sure to check the park's website before you venture out.
Please note: In order to protect the national park, Krka National Park management introduced a ban on swimming as of 1 January 2021.
Zagreb
You'll be surprised to discover that Zagreb, Croatia's capital, is cool, hip, and incredibly liveable. Compared to the rest of European capitals, Zagreb is significantly cheaper, yet it definitely has that European charm, so it easily made it to our top places to visit in Croatia!
We loved the lifestyle and culture in Zagreb; it's a young unpretentious, and laid-back attitude. The city is full of parks and green spaces and is buzzing with outdoor events and activities.
Be sure to visit at least one of Zagreb's quirky museums. The Museum of Broken Relationships is full of sentimental objects with personal stories attached that reflect broken relationships. Some are tragic, others are inspirational, and there are some that are hilarious.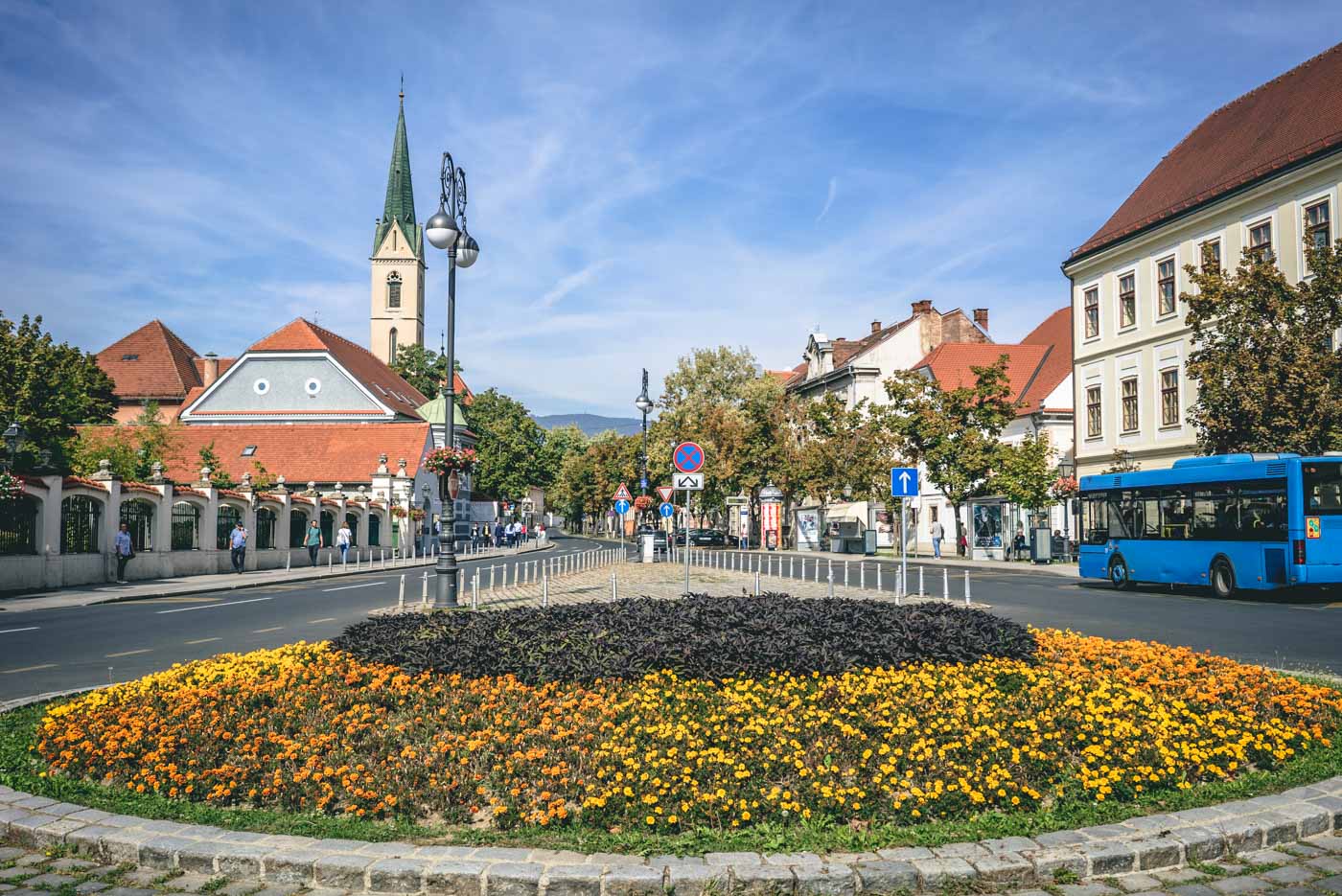 For something lighter, the Croatian Museum of Naive Art features works from self-taught artists, and the Hangover Museum offers interactive experiences with simulators and games.
There are open-air farmers' markets, art displays, festivals, and a strong cafe culture. Pick a patio (there are tons of them all around the city), sit back, relax, have a pint of local craft beer, sip away at a tiny cup of coffee (that's how they like it in Zagreb), or enjoy a cup of hot tea (luckily they don't shy away from tea either) and enjoy European living for less!
Visit Hvar Island
One of the most beautiful Croatian islands, Hvar is definitely worth a day or overnight trip. To get there, you can take a foot or car ferry from Dubrovnik or Split to one of four port towns on the island.
Hvar Town is known as a party spot, but there's plenty to do and see for those of us not really into that scene. Hvar Old Town has a rich history and is full of beautiful architecture – perfect for a stroll. You can hike up to the 16th-century Spanjola Fortress for a view of old town Hvar and neighbouring islands, then explore St. Stephens Square to see more Venetian Renaissance architecture.
About 15 minutes from Hvar Town is Velo Grablje, famous for its lavender fields and home to the Annual Lavender Festival. The lavender fields are harvested during the festival, and travellers can participate if they like! The village itself dates back to the 14th century and is sparsely inhabited these days, and it's the perfect escape from the partying crowds of Hvar town.
If you'd like to squeeze in as much as possible in a day trip, a guided boat tour of Hvar and neighbouring islands is the way to go. Mayer Charter Day Tours picks you up in Split, brings you to the famous Blue Cave, and then on to Vis Island and Hvar Island for some onshore exploring. This is really the only way to see the Blue Cave since it's accessible only by boat.
Zadar
A perfect spot for a history buff, the ancient city of Zadar is full of Roman ruins, medieval architecture and some of the best museums in the country. Located on a peninsula of the northern Dalmatian coast, Zadar is a unique city that doesn't get as many tourist crowds as Split or Dubrovnik.
After strolling through the historic sites in Old Town, you can cool off in the Archaeological Museum of Zadar, then head to the Riva, a seaside promenade that features the famous Sea Organ. Take in the gorgeous sunset while listening to the music created by the waves and air of the Adriatic Sea. After sunset, visit the Sun Salutation, a solar-powered art installation that depicts the solar system.
The Zadar Archipelago consists of hundreds of islands and is perfect for a sailing tour or kayak adventure. Dugi Otok, the biggest land in the archipelago, has plenty of sheltered coves for swimming and snorkelling and a cave that you can only access by boat.
Join a Food and Wine Tour
No matter where you are in Croatia, you can find a guided tour that offers wine tasting, a history or agricultural tour, and a taste of regional dishes. Some tours include stops at one of the national parks or other attractions.
For history buffs staying in Split, Splitlicious Experiences offers food and wine tastings and a private tour of Diocletian Palace. If you'd rather get outside and enjoy some beautiful, natural sights, this food and wine-tasting tour starts with a boat tour of Krka National Park. The guide will pick you up from Split, take you on a cruise to Krka's waterfalls, and then onto a local winery.
Dubrovnik Food Story takes you on a guided tour through Old Town Dubrovnik to historic sites, the city's open-air market, and then to a few family-run restaurants to sample traditional specialities and local wine. If you'd rather get away from the city crowds, you can explore the Peljesac peninsula on this wine-tasting tour. Leaving Dubrovnik, you'll visit the historic town of Ston and local wineries. At each winery, you'll sample a variety of wines along with local produce and snacks.
There are plenty of food and wine tours operating all over the country, and you won't have any trouble finding one that will pick you up from your home base. This is a great way to sample some wonderful wine and get a personal, educational tour of the sights.
Visit the Roman Amphitheater in Pula
Sitting on the southern tip of the Istrian peninsula, Pula is one of Croatia's many historic cities, with stunning views of the Adriatic Sea and layers of cultural history.
The most famous of Pula's attractions is the remarkably well-preserved, monumental Roman amphitheatre. While the Romans held gladiator fights and other spectacles here, the amphitheatre is still operational today, hosting concerts, opera and ballet performances, and the annual Pula Film Festival.
If exploring ancient ruins isn't your thing, the beaches of Pula are fantastic, and some of the best wineries can be found on the Istrian peninsula. For scuba divers, there are tour operators that will take you to underwater walls, caves, and shipwrecks off the coast of Pula.
Sailing in Croatia
Croatia's Adriatic Coast is a must-visit destination for any traveller seeking natural beauty and adventure. Sailing along the coast offers a unique opportunity to explore the breathtakingly beautiful islands and charming coastal towns of Croatia at your own pace.
Island hopping is one of the best things to do in Croatia, providing an unforgettable experience of discovering the hidden gems of the Adriatic Sea. Apart from island hopping, the crystal-clear waters of the Adriatic Sea offer excellent opportunities for snorkelling, swimming, and other water sports.
Croatia's Adriatic Coast is one of Europe's top tourist attractions, with unparalleled beauty and cultural heritage. Sailing in Croatia provides an opportunity to explore this stunning region, and discover the hidden coves and charming fishing villages that can only be accessed by sea. Whether you're seeking adventure or relaxation, Croatia's Adriatic Coast has something for everyone, making it the perfect destination for an unforgettable sailing holiday.
Have you ever been to Croatia? What are some of your favourite things to do in Croatia?