Located in Southern Namibia, Sossusvlei is a region of the Namib Desert that encompasses most of the top attractions in Namib Naukluft Park. For many, the iconic landscapes of red dunes and white clay pans are a reason in and of itself to visit Namibia.
*This post may contain affiliate links, as a result, we may receive a small commission (at no extra cost to you) on any bookings/purchases you make through the links in this post. As an Amazon Associate, we earn from qualifying purchases. Read our full disclosure
Traveling Soon?

Here is a list of our favourite travel providers and accessories to help get you ready for your upcoming trip!
Sossusvlei was one of the destinations we were most excited to visit on our recent Namibia trip.
Despite its popularity, Sossusvlei is not an easy attraction to explore. During our visit, we struggled with figuring out where to stay, where to go and how to best experience this beautiful region.
---
Having finally figured it out, we wanted to share our findings with other travelers planning a trip to Sossusvlei in Namibia
---
Visiting Sossusvlei: What You Need to Know
Sossusvlei is located in the world's oldest desert, the Namib Desert, which is known for its arid landscape made up of seemingly endless Namibia sand dunes, gravel floors, and clay and salt pans.
Despite the fact that the region is known as Sossusvlei, the main attraction in the Namib Desert is actually Deadvlei. The salt pan of Deadvlei is one of the most iconic landscapes in Africa and it is here that you will find the white clay pan and skeletons of ancient trees against the stark contrast to the vibrant Namib dunes.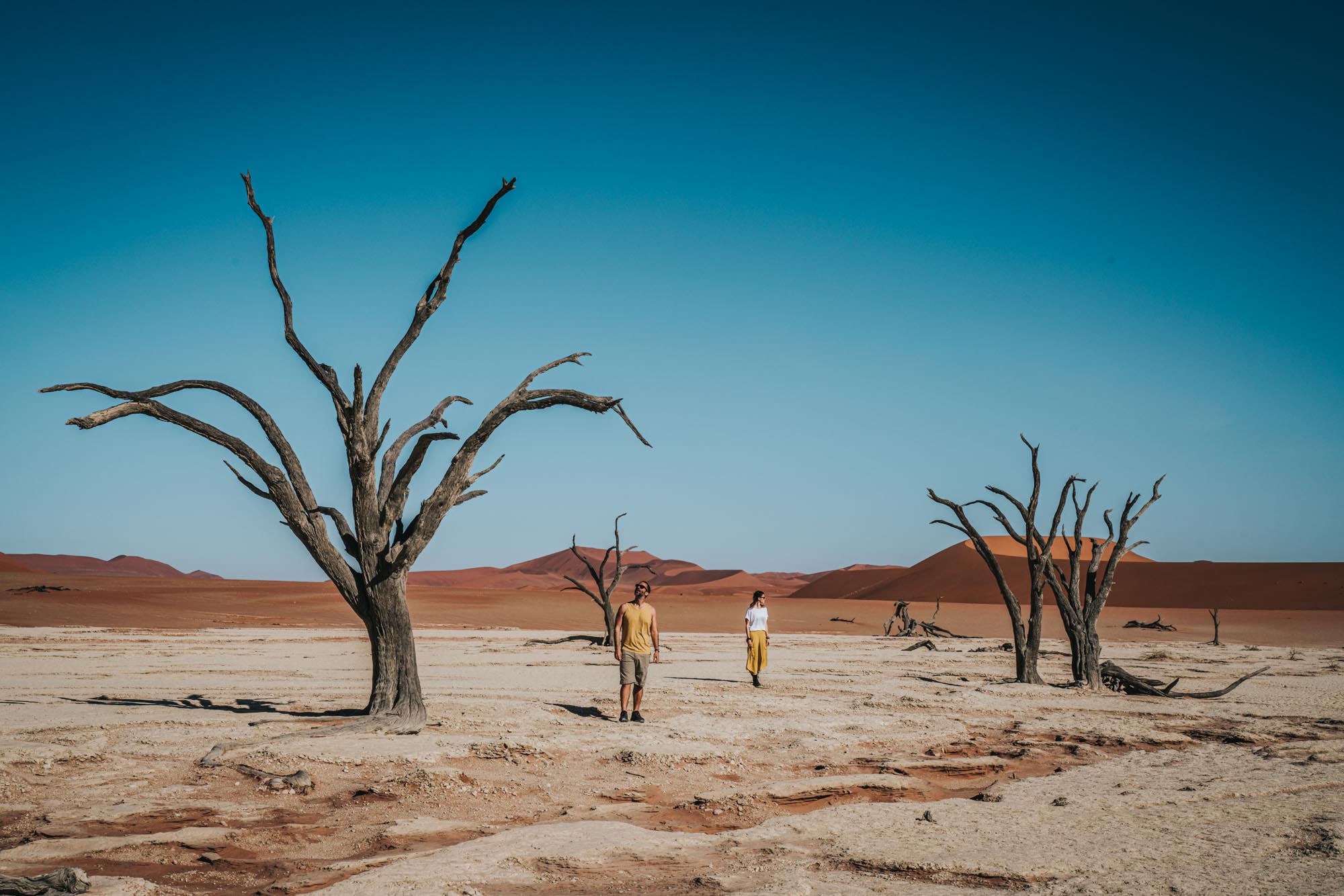 Sossusvlei is another clay pan located about 2km away from Deadvlei. It has a similar landscape but its trees are smaller and pan less white, so while it is still worth a visit it is not as impressive as the iconic Deadvlei pan itself.
8 Attractions You Don't Want To Miss in Sossusvlei
Elim Dune
Elim Dune is one of the most photographed dunes in the Sossusvlei area. The dune is 100m high and relatively isolated, located 5 km past the Sesriem gate, far away from the rest of the attractions in Sossusvlei. It makes for a good stop in the morning, en route to Sossusvlei or in the afternoon, as you are heading out of the park.
It has vivid colours and great views from the top. The Namib Naukluft National Park Mountains in the distance make visiting this dune really special.
Dune 45, Sossusvlei
Standing tall at 170 metres in height, Dune 45 is one of the most impressive Namibia dunes in the Sossusvlei desert. It is located en route to Sossusvlei pan and is about 45 kilometres from the Sesriem gate (hence the name).
The dune is 80 meters high and is said to be composed of 5-million-year-old sands. You can climb to the top of Dune 45 in about 40 minutes but the unsteady surface makes it more work out then you might expect in Sossusvlei National Park.
We don't recommend you attempt to climb it in the hot midday sun but it is a pleasant hike at sunrise when it is still cool. The sun casts shadows on the surrounding Sossusvlei dunes and you will be rewarded with incredible views from the top!
Big Daddy Dune
Big Daddy Dune is arguably the top attraction at Sossusvlei and another one of the spectacular dunes to check out. It is the tallest dune in the Sossusvlei region measuring at 325 metres in height and dwarfing the other dunes of Sossusvlei National Park.
However, it does not claim the title of the tallest dune in the world. That goes to Dune 7 which is located just outside of Sossusvlei in the wider Namib Namibia desert in Namib Naukluft Park.
You can climb Big Daddy Sossusvlei in about an hour for breathtaking views of the Namib, Namibia or just sit this one out to admire it from below. Like Dune 45 Namibia we wouldn't recommend you attempt it when the sun is high in the sky. Visit at sunrise or sunset if you want to conquer it.
Deadvlei
Deadvlei is a breathtaking salt flat that was formed thousands of years ago when the Tsauchab river flooded the area. As a result of the flooding, camel thorn trees began to grow out of the marsh and have remained inside the salt flat ever since.
Deadvlei translates to "dead marsh" and, despite its name, is one of the most picturesque places in Namibia and Namib National Park.
To get to Deadvlei, park your vehicle at the 4WD parking lot that overlooks the Big Daddy dune. Then walk towards Big Daddy, but instead of following the ridge of the dunes head right. Deadvlei is hidden behind dunes at the base of Big Daddy Dune.
Hidden Vlei
Hidden Vlei is a smaller, lesser-known version of Deadvlei. However, to get there you will have to hike 2 km each way from the parking lot. There are white posts that lead the way to this hidden gem in Namib Naukluft Park.
The distance to Hidden Vlei seems to deter some visitors. So, if you do decide to venture out here you're more than likely to have this stunning place all to yourself.
Sossusvlei
Compared to Deadvlei, Sossusvlei is not nearly as impressive. However, every 5 to 10 years the Tsauchab River will run through the Sesriem Canyon and Sesriem National Park to the Sossusvlei flat creating an incredible reflective lake in the middle of the desert.
Without the water, the sight of Sossusvlei is definitely not that impressive. But that doesn't mean you shouldn't visit this area. Sossusvlei is a large pan, lined with interesting vegetation and offers a good area for a picnic. The parking lot is located nearby and there are lots of tables and shade to take a rest on a Sossusvlei tour.
Big Mama Dune
Big Mama dune towers of Sossusvlei salt pan and offers another opportunity for hiking to visitors looking for a more aerial view. Add climbing Big Mama to your list of things to do in Sossusvlei Namibia if you haven't climbed enough, it'll take about 30 mins to reach the top. It is not as popular a climb as Big Daddy but the views of Namib Naukluft Park from the top are stunning nonetheless.
Like the other dunes in the area, Big Mama is known as a "Star Dune". The wind shapes the Sossusvlei dunes and pushes on them from all directions. This means that the Sossusvlei dunes barely move. Therefore, the walk up Big Mama is relatively stable (when it comes to sand anyway) and you don't find yourself sinking too deep into the sand.
Sesriem Canyon
Located 500 metres from the entrance of the park, Sesriem Canyon felt like a world away from the nearby sand dunes. We found it much cooler walking around the canyon than through Naukluft Park Namibia and it reminded us of our time at Petra.
Sesriem Canyon is a dried gorge that was carved by the Tsauchab River and measures 3 kilometres in length. There are a couple of trails to explore in the canyon and it still holds small sources of water which are vital for wildlife in the Namib Desert. Baboons live in the walls of Sesriem and sometimes you will spot springbok and other antelope within the canyon.
How to Get to Sossusvlei
Sesriem is the gateway to the Sossusvlei region. It is located 5 hours from the capital city of Windhoek and about 5 hours and 15 minutes from the resort town of Swakopmund.
Due to the remoteness of the area, you must drive to Sossusvlei, Namibia on your own or take one of the Sossusvlei tours. All the main highways in Namibia are paved so you will not have a problem getting from Windhoek or Swakopmund to Sossusvlei, Namibia.
Do you Need a 4×4 Vehicle to Get to Sossusvlei?
We would recommend you rent a 4×4 to get to Sossusvlei, since it gives you more freedom to experience the attractions around Namib National Park and Sossusvlei, Namibia. However, you can visit Sossusvlei with a 2WD.
If you have a 2WD vehicle, navigate to the 2WD parking lot, about 60 km past the Sesriem gate entrance inside Sesriem National Park. Park your car and take the NWR shuttle into the park. The cost of the shuttle is about $10 USD and well worth the peace of mind.
The shuttle service runs several times throughout the day but the earliest one reaches Dead vlei/Sossusvlei, Namibia at 8:00 am so you will not be able to experience the sunrise in the park.
If you have a 4×4 you can drive all the way to Deadvlei parking lot. However, the last 2km is soft sand so be wary, adjust your tire pressure, and use a low gear to avoid getting stuck. If you get stuck (and we did see some people with 4x4s stuck in the soft sand), don't panic. The NWR vehicles are there to assist you, although there is a fine.
Where to Stay in Sossusvlei, Namibia
Since Sossusvlei is located inside the Namib-Naukluft Park, it is not possible to find accommodation right near the attraction. However, there are a number of campsites and lodges located about 60 km away, in the town of Sesriem.
Visitors to Sossusvlei have to pass through the Sesriem Gate (opened from dawn to dusk) to enter the road leading to Sossuslvei. There are accommodation options on either side of the gate, so visitors have the option of staying inside the Sesriem Gate or outside the Sesriem Gate.
Inside Sesriem Gate
The benefit of staying inside the gate is that you will be able to start driving to Sossusvlei one hour before the park gate opens to the general public. This will get you to the dunes of Sossusvlei before sunrise and before other groups.
However, accommodation options inside the gate are rather limited. In fact, there is only one Sossusvlei campsite. The rest of the Sossusvlei accommodation within the park is made up of luxurious lodges, which tend to be outside of most people's budgets.
Sesriem Campsite:

This Sesriem camping site is located just inside the park. It has 20 well-maintained Sossusvlei campsites with individual braai or BBQ areas. Guests share clean toilet/shower blocks and a swimming pool.

Sossus Dune Valley Lodge:

This luxurious Sesriem accommodation is located inside the park and has 25 thatched-roof chalets. It has a restaurant, bar, and pool on-site.

Dead Valley Namibia Lodge:

This luxury Sesriem lodge offers tented chalets with great views of the Namib Desert. It has a restaurant on-site and a swimming pool which overlooks Elim Dune.
Outside Sesriem Gate
Desert Quiver Camp Sossusvlei:

Located just 5 kilometres from the entrance of Sossusvlei, this mid-range lodge has an outdoor pool, two outdoor bomas and a well-stocked bar. Each unit at this desert camp Sossusvlei is uniquely designed and is fully self-contained.

Hotel Sossusvlei Lodge:

This is a sister lodge of Desert Quiver Camp and a lux accommodation option offering an oasis in the Namib desert. Sossusvlei lodge offers junior suites and individual units. There is an alfresco dining area on site, a great pool with mountain views, and a sundowner deck.

andbeyond Sossusvlei Desert Lodge:

This is one of the most sustainable and luxurious Sossusvlei lodges you will find in this area. This up-scale Namib desert lodge offers large well-appointed units and a dining room with floor to ceiling windows.

Little Kulala, Namibia:

is a luxury lodge run by Wilderness Safaris Group. This beautiful oasis situated along the dry Arab riverbed in the Kulala Wilderness Reserve offers luxury accommodation with excursions to Sossusvlei via a private gate, nature drives, walks and eco-sensitive quad biking
Nearby
Desert Grace:

This stylish lodge is located about an hour outside of the Sesriem Gate but a visit to this desert lodge, Namibia, is an experience in and of itself. Each unit has floor to ceiling windows and a private plunge pool. It has a restaurant, bar, and lots of activities to offer its guests like the guided Namibia Sossusvlei tour.
Where to Eat in Sossusvlei
There are no public restaurants in Sossusvlei or Sesriem, adding an extra challenge to staying in this region. Sossusvlei camping sites offer cooking facilities, so you can bring your own groceries and cook your meals during your stay.
Most of the lodges offer a restaurant on site and some allow outside visitors to make reservations for lunch/dinner.
Other Sossusvlei Namibia Info and FAQ
What to wear in the Soussusveli desert?
It's important to be dressed for the intense landscape and weather Sossusvlei will throw at you. We would suggest you wear long airy clothing, a hat, and sunscreen. Light colours will reflect the sun's harmful rays in Sossusvlei Namibia.
As for footwear, we suggest you wear boots. Flip flops are a big no-no! The hot sand of the sand dunes, Namibia, will burn your feet. If you wear classic sneakers you'll be fighting to get sand out of your shoes all day.
How much time do you need in the Dead Valley Namibia?
Sossusvlei Namibia deserves no less than a half-day visit but to get the most out of this area, stay for 2 days. If you stay inside the park at a Sossusvlei desert lodge or camping in Namibia desert you can split up your time at the individual attractions.
For example, arrive at midday and go to Dune 45 for sunset. Then wake up early the next day to experience Deadvlei, Sossusvlei, Namibia and Big Daddy before spending the rest of the afternoon or evening at Sesriem canyon. Spend your final morning you can watch the sunrise at Elm Dune.
Are there any permits or costs to consider at Sossusvlei Namibia?
The permit to enter Sossusvlei at the Sesriem Gate is about $6.50 USD per person and $0.80 per vehicle. The entry fee can be paid at the reception area just outside the main gate and can be bought the day prior to your entry. If you are heading into the park for sunrise we would suggest you buy your ticket the night before entering Namib Naukluft Park.
If you are taking a Namibia Sossusvlei tour, make sure you inquire if the cost of entry is included so there are no surprises.
Are there any nearby gas stations?
The Sossus Oasis Fuel and Service Station is the closest gas station to Soussveli. It is located just outside the Sesriem Gate. Plus, it has a small convenience store attached where you can stock up on water and other supplies if you are camping Sossusvlei.
There are numerous gas stations from Windhoek to Sossusvlei. However, if you are travelling from Sossusvlei to Swakopmund (or vice versa), the only gas station is the Solitaire Gas Station. It is located just before the entrance to Namib Naukluft National Park.
Located about 100 km from Soussveli, Solitaire is a popular stopover for travelers heading to Soussveli. There is a great restaurant here, Mc Gregor's Bakery (known for their apple pies), located next door to the gas station and many people like to take a picture with the nearby Tropic of Capricorn sign.
Is Sossusvlei Namibia worth it?
The short answer is yes, it is 100% worth a visit. Sossusvlei offers a landscape like no other and interactive experiences which take you closer to nature. Grab a Sossusvlei map and hit the road!
There is a reason that the Sossusvlei desert is one of Namibia's top attractions. You'll climb Namibia sand dunes, explore iconic landscapes, and take in the scenery of Nukluft Park Namibia. Our trip to Sossusvlei Namibia was one of the highlights of our adventure in Southern Africa and we are sure you will love it too.
Have you ever been to Sossusvlei in Namibia? What other tips and advice would you offer to fellow travelers?