*This post may contain affiliate links, as a result, we may receive a small commission (at no extra cost to you) on any bookings/purchases you make through the links in this post. As an Amazon Associate, I earn from qualifying purchases. Read our full disclosure.
Progreso, Mexico, is a tiny port town on the north coast of the Yucatan Peninsula. Known for having the longest pier in the world at 6.5 km (4 miles) long, the Puerto Progreso Yucatan is a frequented stop on many major cruise ship routes.
The town is also considered the gateway to the Mayan ruins. However, there's a lot more to Progreso than just cruise ships and pyramids. The area is full of culture, history, and natural wonders, and plenty of Progreso excursions for adventure lovers.
Planning a trip in the time of COVID?

Keep in mind that information found in this article may have been impacted by travel restrictions and other closures. Double check opening hours, tour providers and hotel status before you go.

Don't leave your home without Travel Insurance!

We recommend Safety Wing, a worldwide travel insurance provider that offers affordable travel insurance plans that include medical coverage, trip interruption. Pandemic coverage is included in all plans.
You can buy Safety Wing insurance even after you've left home for as little as $42/month.
Here's all you need to know about planning a responsible visit to Progreso, Mexico!
Best Time to Visit Progreso
On the Yucatan Peninsula, the dry season lasts from November to April. Most tourists visit during these months for the warm, dry weather and calm seas. However, this great weather also means bigger crowds, which can lead to over tourism and higher prices on hotels, tours, and activities.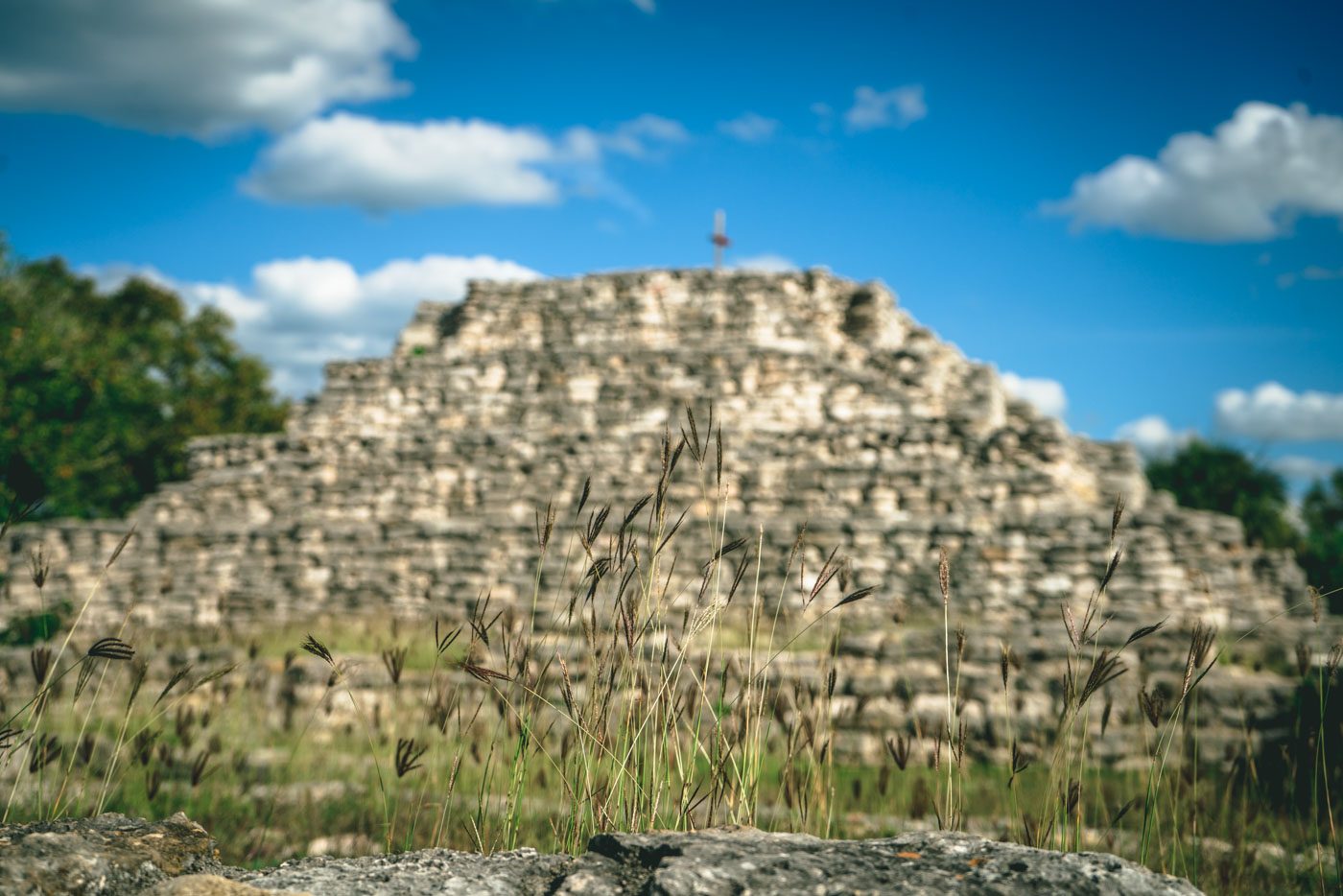 May to October is the rainy season, with high levels of humidity and heightened risks of storms and hurricanes. Since Progreso is on the coast, the humidity won't be as high as further inland, but it will be at risk if tropical storms blow through.
In general, we suggest visiting Progresso during the shoulder season (October/November, and April/May) to help battle over tourism in the high season and avoid the bad weather in the rainy season.
Top Things to Do in Progreso, Mexico
While the town itself is quite small, Progreso Mexico is a great jumping off point for a variety of awesome activities. There is no shortage of options for Progreso excursions!
Visit the Mayan Ruins
Mexico is famous for its Mayan ruins and the Yucatan Peninsula is the best place to see them in the country. Due to Progreso's strategic location, it is possible to visit a number of different archaeological sites as day trips from the city.
Here are some of the ones you won't want to miss.
Chichén Itzá
Recently voted one of the New Seven Wonders of the World, Chichén Itzá is Mexico's most famous city of ancient ruins. First constructed between 750 and 900 AD, it wasn't until the 10th century that the city gained power over the Yucatan Peninsula. Today, it is one of the most visited sites in Mexico, with over 2.6 million tourists per year.
There are plenty of things to see at Chichén Itzá, so we highly recommend getting there early and spending a whole day exploring the area. El Castillo, the postcard-perfect pyramid at the center of the site, is a big highlight for many. In addition, you'll see the Great Ball Court used for ancient sports competitions as well as many temples including the North Temple and the Temple of the Bearded Man.
Once one of the largest cities in ancient Mayan culture, Chichén Itzá is arguably just as majestic today.
In order to get a full dose of its impressive history and culture and to support local economy, opt for a tour with a local guide. For something even more unique and intimate, visit at sunrise. Either way, don't miss it as it is easily one of the best things to do in Progreso, Mexico.
Uxmal
Uxmal is another significant set of ruins in Mayan history. Legend claims the city was founded in 500 AD and for years, it was ruled by the powerful Xiu family. Uxmal had a strong alliance with Chichén Itzá for many years.
While in Uxmal, pay a visit to the Pyramid of the Magician, the Nunnery, and the Governor's Palace. Taking a tour with a local guide can help support the local economy as well as give you a fascinating history lesson.
Swim in the Cenotes
Cenotes, or giant limestone sinkholes, are Mexico's most beloved natural wonder. These sinkholes have collapsed roofs that reveal crystal clear groundwater, perfect swimming holes for hot days. The caves that surround cenotes often feature cool geological formations such as stalactites, stalagmites, and natural stone columns. Here are some cenotes worth visiting while in Progreso, Mexico.
Cuzama
Cuzama is perhaps the most famous network of cenotes in the immediate area and should definitely be on your list of places to swim while in Progreso. There are three main cenotes in the Cuzama system, with ladders leading you deep into the ground to reach them. Once you get to the bottom, you'll be able to swim and enjoy the beautiful surroundings.
Doing a Progreso excursion to the Cuzama cenotes on your own can be quite difficult, so we highly recommend booking a guided tour.

Río Lagartos
Río Lagartos, a town to the east of Progreso, Mexico makes a perfect day trip. There is a lot to do here, especially for nature lovers. The area is not super accessible, so it's best to rent a car or opt for a more sustainable option by joining a local tour to Rio Lagartos.
Check prices and availability for a RÍO LAGARTOS TOUR.
Visit the Pink Lakes
The beautiful pink lakes of Las Coloradas have generated quite a buzz on social media lately. From photos, it's hard to believe that such vibrant pink waters really exists! But indeed it does, and tourists have come to see it for themselves. Due to this recent increase in visitors, swimming in the lakes is no longer allowed but it is definitely still worth a visit.
What many people might not know is that these lakes are actually salt flats as well. Salt mining is an ancient Mayan tradition and is the livelihood of many locals in the area, so make sure to be aware of the impact of your visit and don't disturb their processes. If you really want to make your visit to the pink salt flats a sustainable one, consider booking an eco-tour. Also, while you're there, don't forget to taste the salt!
Click here to check prices and availability for a PINK LAKES ECO TOUR.
Make Friends with the Flamingos
With the Parque Natural Ría Lagartos right nearby, this natural area is the perfect place for birdwatching. Flamingos are known to hang out in the biosphere reserve and on most days, you can see them in big flocks in and around the lakes.
Spotting them in their natural habitat is something that makes this one of the most exciting Progreso excursions.
Walk the Progreso Pier
Puerto Progreso Yucatan is home to the world's largest pier. Although it's a primary function is to host all the cruise ships coming into the small town to dock, it's also a wonderful place for a sunset walk.
Enjoy the Progreso Beach
Being a seaside town does come with its perks, and Progreso's beach is a big one. Take a stroll up and down the long coastline for some beautiful ocean views.
Where to Stay in Progreso
Playa Chacá
The beautiful apartments at Playa Chacá provide all the luxury of a resort with a much more relaxed feeling. They have a lovely outdoor pool and garden area, as well as multilingual and helpful staff.
Abrazarse Life Bed & Breakfast
This lovely B&B has a great feeling of being both a local, welcoming place and a private one. It includes a terrace, lounge, pool, and garden, as well as a local, authentic restaurant attached.
Hotel Maria's Nicte Ha
The colourful Hotel Maria is a great value option that doesn't sacrifice comfort or style. On the property, you'll find a lovely garden terrace and pool area, as well as the beach just steps down the street.
Where to Eat and Drink in Progreso
Eladios Bar
Eladios is a fresh and local restaurant with a wide variety of Yucatan dishes and seafood platters. There are a number of vegetarian and gluten-free options to choose from.
La Antigua Progreso
Serving up traditional Mexican fare in a refurbished seaside house, La Antigua has one of the best dining atmospheres in all of Progreso, Mexico.
Crabster
Specializing in seafood, Crabster is a great option for some delicious Caribbean style food in a casual setting. It is perfect for pescatarians and vegetarians alike.
How Much Time Do You Need in Progreso?
Although the town itself is small, Progreso, Mexico is a tourist hotspot for a reason. There are a great number of Progreso excursions and adventures that you can take to really get a taste of the area and enjoy all that it has to offer.
You'll want to spend at least two days in the area but if you really want to dive deep, consider staying for up to a week!
Our visit to Progreso Mexico was an awesome experience. We particularly enjoyed our visit to the cenotes and flamingo spotting on the pink lakes!
Tell us below – what is your favourite thing to do in the Yucatan Peninsula?
Disclaimer:This post contains affiliate links which means that we receive a small commission on your bookings at no additional cost to you.