Progreso, Mexico is a small port city on the north coast of the Yucatan Peninsula.
*This post may contain affiliate links, as a result, we may receive a small commission (at no extra cost to you) on any bookings/purchases you make through the links in this post. As an Amazon Associate, we earn from qualifying purchases. Read our full disclosure
Located in the Gulf of Mexico, Progreso is one of the popular beach towns in the Yucatan Peninsula, known for the longest pier in the world at 6.5 km (4 miles) long – the Progreso Pier aka Puerto Progreso, Yucatan.
The pier and the town of Progreso, Yucatan is a frequent stop on many major cruise ship routes.
The town is also considered the gateway to the Mayan ruins. However, there's a lot more to Port Progreso, Mexico, than having a cruise ship port, the longest pier, and pyramids.
The area is full of culture, history, and natural wonders, and plenty of Playa Progreso excursions for adventure lovers.
Here's all you need to know about planning a responsible visit to Progreso, Mexico!
Traveling Soon?

Here is a list of our favourite travel providers and accessories to help get you ready for your upcoming trip!
Don't leave your home without Travel Insurance!

From the US? We recommend Allianz Travel Insurance, a world leader in travel protection and our trusted Travel Insurance partner for the last 5 years. Allianz offers Single Trip and Annual Travel Insurance Policies that include medical coverage, trip cancellation, rental car insurance and more! (Benefits vary by state and by plan, so read your policy carefully!)

Not a US resident? Consider Safety Wing, a budget friendly travel insurance provider with travel insurance plans for Digital Nomads and travelers from all around the world
How to Get to Progreso
Progreso is a popular destination that's easy to get to from many parts of North America. While Progreso is mostly known as a cruise ship port, it's possible to get here even if you are not traveling on a cruise.
By Ship: Progreso is a common stop for a number of cruise ships, with the Progreso Port located right in the city center. Once you disembark from the ship, the beach is within walking distance from the pier, and the town is yours to explore.
By Car: If you prefer to drive, take the Yucatan Peninsula's main highway, the 180D, which connects Cancun to Merida. Merida is located about a 45-minute drive from Progreso.
By Plane: The closest airport to Progreso is the Merida-Rejon Airport, which is less than 30 miles away. From the airport, you can take a bus or a taxi to visit Progreso. Buses between Merida and Progreso are available from 5:00 in the morning until 8:30 at night, making transportation readily available.
If flying into Merida is not possible, Cancun International Airport is the next closest option. However, keep in mind that it is a six- to seven-hour car or bus ride from Cancun to Progreso. Therefore, flying into Cancun is not an ideal option.
By Bus: If you are traveling from other parts of Mexico, you can take a bus to Merida and then transfer to a bus or taxi to Progreso. Several bus companies offer services to Merida, such as ADO and Mayab.
How to Get Around Progreso
When it comes to getting around Progreso, there are a few options available to you.
Renting a car is a popular choice and the roads in the Yucatan are generally well-maintained. Alternatively, walking is a great way to take in the beauty of Progreso Beach.
For those looking for a middle ground, bike rentals are readily available from places such as Retro Bikes. Progreso also offers several well-known biking circuits and trails around to explore.
Best Time to Visit Progreso
On the Yucatan Peninsula, the dry season lasts from November to April. Most tourists visit during these months for the warm, dry weather and calm seas. However, this great weather also means bigger crowds, which can lead to over-tourism and higher prices on hotels, tours, and activities.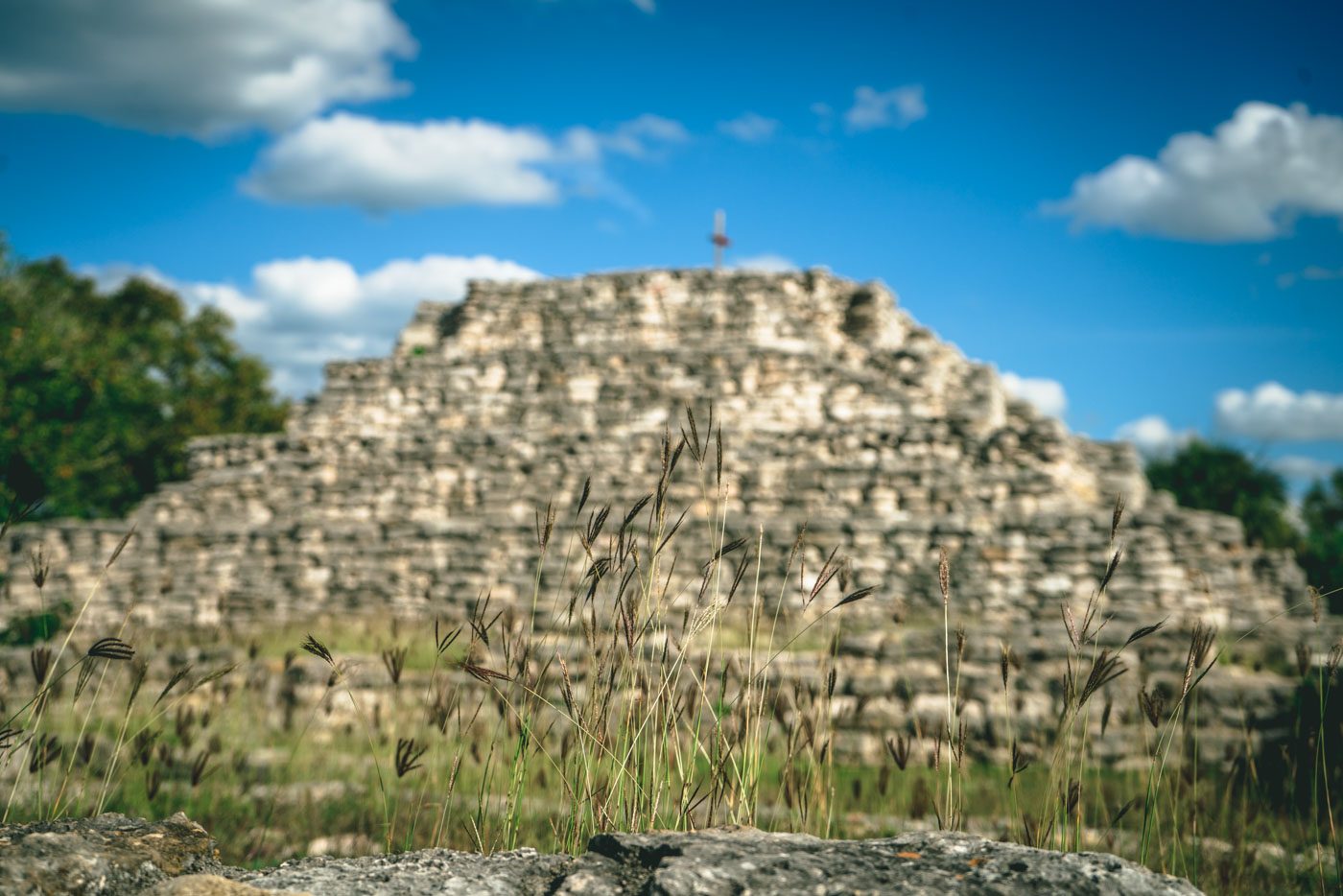 May to October is the rainy season in Progreso, with high levels of humidity and heightened risks of storms and hurricanes. Since Progreso is on the coast, the humidity won't be as high as further inland, but it will be at risk if tropical storms blow through.
In general, we suggest visiting Progreso Beach during the shoulder season (October/November and April/May) to help reduce over tourism in the high season and avoid the bad weather in the rainy season.
Best Things to Do in Progreso, Mexico
The town of Progreso Beach itself is quite small, but the area around Progreso, Mexico is a great jumping-off point for a variety of awesome activities. There is no shortage of options for fun things to do in Progreso, Mexico!
1. Visit the Mayan Ruins
Mexico is famous for its Mayan ruins, and the Yucatan Peninsula is the best place to see them in the country. Due to Progreso's strategic location, it is possible to visit a number of different archaeological sites as day trips from the city. Here are some of the ones you won't want to miss.
Chichén Itzá
Recently voted one of the New Seven Wonders of the World, Chichen Itza is Mexico's most famous city of ancient ruins. First constructed between 750 and 900 AD, it wasn't until the 10th century that the city gained power over the Yucatan Peninsula.
Today, it is one of the most visited sites in Mexico, with over 2.6 million tourists per year. When you're looking for things to do in Progreso, Yucatan, taking a trip here is a great option.
There are plenty of things to see at Chichén Itzá, so we highly recommend getting there early and spending a whole day exploring the area.
El Castillo, the postcard-perfect pyramid at the center of the site, is a big highlight for many in Yucatan Progreso. In addition, you'll see the Great Ball Court used for ancient sports competitions and many temples, including the North Temple and the Temple of the Bearded Man.
---
Once one of the largest cities in ancient Mayan culture, Chichén Itzá is arguably just as majestic today.
---
In order to get a full dose of its impressive history and impact on Mexican culture and to support local economy, opt for a tour with a local guide. For something even more unique and intimate, visit at sunrise. Either way, don't miss it, as it is easily one of the best things to do in Progreso, Mexico.
A great way to dive deeper into Mayan history and enjoy the stunning natural surroundings of this area.
Uxmal
The Mayan Empire left behind amazing history, and Uxmal is another significant set of ruins in Mayan history.
Legend claims the city was founded in 500 AD and while now it's a ghost town, for years it was ruled by the powerful Xiu family. Uxmal had a strong alliance with Chichén Itzá for many years.
While in Uxmal, pay a visit to the Pyramid of the Magician, the Nunnery, and the Governor's Palace. Taking a tour with a local guide to see these Maya ruins can help support the local economy and give you a fascinating history lesson.
2. Swim in the Cenotes
A cenote is a natural limestone pit, or sinkhole found across the Yucatan Peninsula. Cenotes were used by the ancient Mayans for sacrificial offerings and are now popular tourist attractions for swimming, snorkeling, and even scuba diving. The caves surrounding cenotes often feature cool geological formations such as stalactites, stalagmites, and natural stone columns. Their crystal-clear waters and unique geological formations make them a unique attraction in Progreso, Mexico.
Here are some cenotes worth visiting while in Progreso, Mexico.
El Corchito Ecological Reserve
El Corchito is a nature lover's paradise located in Progreso, Mexico. The reserve covers an area of approximately 80 hectares and is home to a variety of plant and animal species, including mangroves, birds, reptiles, and small mammals.
The natural reserve is also home to 4 cenotes, which are fed by underground freshwater streams and surrounded by dense mangrove forests. You can swim in the pools and explore the surrounding area by walking along wooden boardwalks that wind through the mangroves.
Cuzama
Cuzama is perhaps the most famous network of cenotes in the area and should definitely be on your list of places to swim while in Progreso.
There are 3 main cenotes in the Cuzama system: Cascabel, Chaksikin, and Pool Cocom. The cenotes are accessible through ladders descending into the ground, allowing you to swim in crystal clear water or bask in the beautiful surroundings.
Planning a solo excursion requires a bit of planning and research. If you are short on time, we recommend booking a guided tour, like this Cenotes Cuzama Tour
The 8-hour tour from Merida is a top recommendation for things to do in Progreso. You can ride a bike or a truck used for agave leaf transportation and explore three cenotes: Cascabel, Chaksikin, and Pool Cocom. For less than $100 per person, you'll enjoy a full day of swimming, breathtaking scenery, and a delicious lunch at a local restaurant.

Cenote Ik Kil
Cenote Ik Kil is another beautiful cenote in Progreso, Mexico, near Chichén Itzá. The cenote is open-air and surrounded by lush vegetation, with vines hanging from the opening above. The water is incredibly clear and refreshing, making it an ideal spot for a swim. You can jump in from one of the platforms around the edge or use the staircase to slowly descend into the water.
This is one of the more developed cenotes in the area with many amenities on site, including restrooms, showers, and lockers, as well as a restaurant, souvenir shops and vendors selling snacks and drinks.
Cenote Ik Kil can get quite crowded, especially during peak tourist season, so it's a good idea to arrive early in the day to beat the crowds.
Cenote X'batun
X'batun is a hidden gem located near the Mayan ruins of Dzibilchaltun, about an hour drive from Progreso. It's located near the small town of San Antonio Mulix and thus is sometimes called Cenote San Antonio Mulix. The cenote is known for its crystal-clear, turquoise waters and is surrounded by lush greenery, making it an oasis in the middle of the Yucatan jungle.
There are actually 2 cenotes at X'batun: one is open and surrounded by vines, while the other is set in a cave with a wooden dock. You'll need a snorkel to explore the caves beneath the surface. You can rent life jackets and snorkels.
The drive to X'batun is not straightforward, so we recommend hiring a local driver or joining a tour. Alternatively, follow the directions to San Antonio Mulix and the signs towards the cenote from there.
Cenote San Ignacio
Cenote San Ignacio is another popular cenote located not too far from Cenote X'batun in the small town of Chocholá. The cenote is well-developed, located in an ecotourism park in Yucatan, with a restaurant and accommodation on site.
The cenote is beautiful and located underground with crystal-clear water that is perfect for swimming and snorkeling. In addition to the cenote, there is a 'lazy river' called Esmeralda River, with a water slide, hammocks, and a kid-friendly area. This is a good option for those traveling with kids looking to spend an entire day at enjoying a cenote with amenities.
Not sure about the water safety in Progreso? The solution does not have to be buying plastic water bottles. We recommend this great personal filter straw that can be used as a straw on its own or with the included filter bag. It uses carbon media to filter 99.9% of bacteria and other pathogens in water. It's a great eco-friendly alternative to buying bottled water and a perfect way to make sure you never have to worry about water safety again!
3. Visit Río Lagartos
Río Lagartos is a small fishing village located about 2 hours away from Progreso, known for Ría Lagartos Biosphere Reserve, which is home to various bird species, crocodiles, and other wildlife.
In addition to nature, the town of Río Lagartos also offers some cultural attractions, including a small museum dedicated to the history and ecology of the area.
4. Visit the Pink Lakes of Las Coloradas
Las Coloradas is a small fishing village located on the northern coast of the Yucatan Peninsula in Mexico. It is famous for its unique and stunning pink lakes, which have become a popular tourist attraction.
Although swimming in the lakes is no longer allowed due to environmental concerns, you can still enjoy the stunning views and take photos of the unique pink waters.
It is important to note that the lakes are actually salt flats and that salt mining has been an ancient Mayan tradition that is still practiced today. The livelihood of many locals in the area depends on this industry, so it's important to be mindful of your impact and not disrupt their processes during your visit. Taste the salt, but also take time to learn about the local traditions, culture, and the importance of the ecosystem.
To make your visit to Las Coloradas sustainable, consider booking an eco-tour that will provide a more responsible way to experience the area.
5. See Flamingos in Parque Natural Ría Lagartos
Parque Natural Ría Lagartos is a natural reserve located in the Yucatan Peninsula, about 3 hours from Progreso by car. The reserve encompasses a large area of mangroves, wetlands, and lagoons that provide habitat for a wide variety of flora and fauna, including thousands of pink flamingos.
Visitors to Parque Natural Ría Lagartos can take a guided boat ride to explore the natural beauty of the reserve and spot different species of birds, crocodiles, and other wildlife.
Most days, you can see flamingos in big flocks in and around the lakes. Spotting them in their natural habitat is something that makes an exciting Progreso excursion.
6. Walk the Progreso Pier
Puerto Progreso Yucatan is home to Progreso Pier. The pier stretches for almost 7 kilometers (4.3 miles) along the Gulf of Mexico and is the longest pier in Mexico.
The pier serves as a terminal for cruise ships that dock in Progreso, and visitors can disembark here to explore the town and surrounding areas. Along the pier, there are restaurants, souvenir shops, and vendors selling local crafts and food. It's a wonderful place for a sunset walk.
7. Enjoy the Progreso Beach
Being a seaside town has its perks, and Progreso Beach is a big one. Take a stroll up and down the long coastline for some beautiful ocean views.
Where to Stay in Progreso
Playa Chacá
The beautiful apartments at Playa Chacá provide all the luxury of a resort with a much more relaxed feeling. They have a lovely outdoor pool and garden area, as well as multilingual and helpful staff.
Hotel Maria's Nicte Ha
The colourful Hotel Maria is a great value option that doesn't sacrifice comfort or style. On the property, you'll find a lovely garden terrace and pool area, as well as Progreso Beach just steps down the street.
Tecnohotel Casa Villamar
Tecnohotel Casa Villamar is a cozy boutique sustainable hotel with free parking and free wi-fi, located just a few steps from Progreso Beach. The hotel has 12 rooms and located in an old 20th-century mansion featuring well-preserved structure of its time.
The hotel has a sun deck, a terrace, a garden to relax, and a restaurant on-site.
Progreso East
Progreso East is a spacious 1-bedroom condo just a block away from the beach. It has a swimming pool and a fully equipped kitchen, and the view out the window and from the deck is incredible, second only to the view from the roof. It's even pet-friendly!
26 Calle 23
This large, beachfront apartment is perfect if you need space for the entire family. It has two bedrooms, with three beds in total, along with a fully-equipped kitchen, a balcony, and a swimming pool. Getting to the main beach is about as simple as stepping out the door.
Where to Eat and Drink in Progreso
Eladios Bar
Eladios is a fresh and local restaurant with a wide variety of Yucatan dishes and seafood platters. There are a number of vegetarian and gluten-free options to choose from.
La Antigua Progreso
Serving up traditional Mexican fare in a refurbished seaside house, La Antigua offers delicious dishes and has one of the best dining atmospheres in all of Progreso, Mexico.
Crabster
If you prefer seafood restaurants, Crabster is a great option for some delicious Caribbean style food in a casual setting. It is perfect for pescatarians and vegetarians alike.
Tacomaya
Tacomaya is a Canadian and Mexican restaurant, located in Chelem, about 30 mins from Progresso. The restaurant includes a bar, if you're looking for some good Mexican beer, and there are vegetarian- and vegan-friendly options on the menu. The atmosphere is relaxed and the prices are very reasonable, so it's a good choice if you need to feed an entire family.
Las Brujitas De Chelem
Las Brujitas is a Mexican and Spanish restaurant, open for breakfast, brunch, and lunch. They have vegan- and vegetarian-friendly options, and they're a good way to get the day started with some good food.
Maasai Maya Bistro
If you like Italian food, then you'll probably like Maasai Maya Bistro. It's a pizza and Italian restaurant with very reasonable prices, gluten-free options, and vegan- and vegetarian-friendly options. They're a great choice for a relaxed lunch or dinner.
How Much Time Do You Need in Progreso?
Although the town itself is small, Progreso, Mexico is a tourist hotspot for a reason.
There are a great number of Progreso excursions and adventures that you can take to really get a taste of the area and enjoy all that it has to offer. Whether you're trekking through the jungle, indulging in some kayak rentals on La Ria Progreso, or just shopping in downtown Progreso, there is no shortage of things to do in Yucatan Progreso.
You'll want to spend at least two days at Progreso Beach but if you really want to dive deep, consider staying for up to a week!
Our visit to Progreso Beach was an awesome experience. We particularly enjoyed our visit to the cenotes and flamingo spotting on the pink lakes!
What is your favourite thing to do in the Yucatan Peninsula?