The southern portion of Chile is one of the many jewels in South America, and one of the most sustainable destinations in the world.
*This post may contain affiliate links, as a result, we may receive a small commission (at no extra cost to you) on any bookings/purchases you make through the links in this post. As an Amazon Associate, we earn from qualifying purchases. Read our full disclosure
The beautiful region of Patagonia and its main hub, Puerto Natales, Chile is full of national parks, fjords, beaches and glaciers at the end of the earth. If you're taking a journey to the area, you'll no doubt pass through or stay in Puerto Natales, the gateway to Torres del Paine and one of the greenest cities on the continent.
There are so many things to do in Puerto Natales, both in and around the city that are not to be missed on your trip to Chile.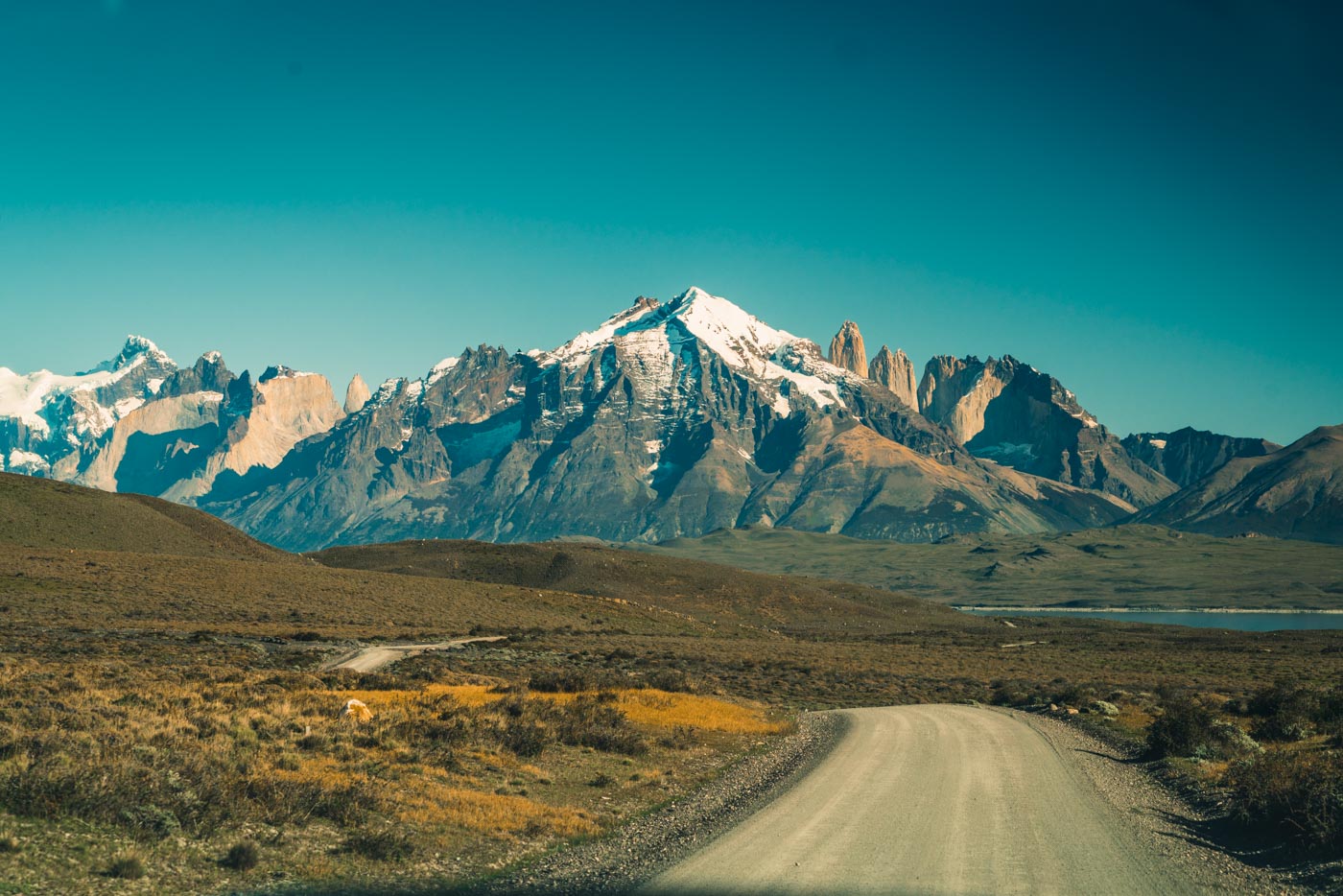 Traveling Soon?

Here is a list of our favourite travel providers and accessories to help get you ready for your upcoming trip!
Best Time to Visit Puerto Natales
Summertime is the most popular season to visit Puerto Natales due to the great weather. However, it is also the most expensive and crowded.
The winters can be bitterly cold and the snow makes it hard to hike and participate in other outdoor activities. Spring and Fall can both be great if you're willing to sacrifice a bit. The weather may be more uncertain, but you'll save a bit of money and have more of the place to yourself.
We visited Puerto Natales in the Spring and really lucked out with great weather and not too many other tourists on the trails. It was the perfect time to experience this region.
We recommend visiting in the shoulder season with a bit of a preference for the summer months to keep the sunshine and warmer temperatures. The middle of the fall is also a great time to visit to see some stunningly colourful trees.
Top Things to Do in Puerto Natales, Chile
Explore Torres del Paine National Park
The main attraction and draw of Puerto Natales, Chile is the nearby national park of Torres del Paine. This truly awe-inspiring nature reserve offers nature lovers the best of the best including hiking, kayaking, wildlife sightings, and more. Remember to stay on the trail, pack everything up on your way out and follow the principles of Leave No Trace.
The W Trek
The W Trek is the most popular end-to-end hike in Torres del Paine National Park. It's wild, rugged and beautiful. It's a must-have experience for many people visiting the park.
It will take you between 4-5 days to complete the hike. You can make the journey independently or with an optional guide. There are camping options as well as mountain refuges to stay in along the way.
If you want an even more challenging route while trekking Torres del Paine, try hiking the O Route. It's similar to the W Trek but is a closed circuit. Whichever you choose, you can rest assured that hiking one of these routes in Torres del Paine is one of the best things to do near Puerto Natales, Chile.
Embark on Day Treks in the Region
If you're not up for doing hikes or longer treks, there are plenty of awesome day treks that you can undertake instead. Most of the day treks can be done from Puerto Natales. Although if you can, it's a great idea to base yourself inside Torres del Paine National Park and explore from within.
A few of our favourite Puerto Natales day trips and treks include Sierra Baguales, Salto Grande and Huella de Puma.
Cruise the Patagonian Fjords
If you make the trip all the way to Torres del Paine National Park to see the glaciers, you might as well see them up close! Take a leisurely boat cruise through the icy fjords or a guided kayaking tour like we did.
Discover Mylodon Cave
Mylodon Cave is a natural monument site about half an hour's drive from Puerto Natales, Chile. It's a fascinating place to take a tour and learn about the prehistoric creatures that once called this cave home.
Take a Day Trip to Laguna Sofia
There are many amazing Puerto Natales day trips you can take, but one of our favourites was the trip to Laguna Sofia. Only about 32 km (20 miles) outside of the city, Laguna Sofia is a beautiful natural area filled with waterfalls, a lagoon and great places to hike. Take a day tour here or simply rent a car and visit on your own.
Where to Stay in Puerto Natales
Las Torres Hotel:

We absolutely loved staying at

Las Torres Hotel

,

a great responsible hotel located inside Torres del Paine National Park

. The traditions of Chilean hospitality were evident and the accommodation itself was

perfectly rustic and comfortable

.

Singular Patagonia:

If you're looking for

luxury that is also eco-friendly

in Puerto Natales, Chile, then look no further than the

Singular Patagonia Hotel

. This gorgeous property is

right on the sea and has incredible views of the fjords.
Remota:

The

Remota Hotel

is a striking, modern set of buildings with green roofs just north of Puerto Natales, Chile where you can reconnect with nature and a bit of luxury. The hotel is the

perfect blend of natural and modern.
Where to Eat and Drink in Puerto Natales
El Living

: As one of the city's only vegetarian and vegan-friendly cafes, El Living is a great option for juices, coffee, and vegetarian dishes. The cafe is

open from October to April

.

Cafe Kaiken: For incredible and authentic Chilean cuisine

in a cozy "mom and pop" restaurant, try eating at Cafe Kaiken.

Santolla: Santolla is a great choice for upscale, sustainable seafood

such as king crabs, scallop skewers, slow fish roasts and pasta.
How Much Time Do You Need in Puerto Natales?
With so much to see and do in Puerto Natales, Chile, you could easily spend a couple of weeks hiking in the region. If you are planning on just seeing the highlights, you'll need at least 3-4 days.
However, if you plan on doing any hiking or day trips, you'll want to give yourself at least one week to explore the best of what Puerto Natales, Chile has to offer.
Patagonia is one of the most remarkable destinations on earth, and it's a true wonder of nature. Between its local atmosphere and sustainable culture, Puerto Natales fits right into this incredible natural region.
Even if you came to the city exclusively for the nearby national parks and waterways, we recommend spending at least one leisurely day in town soaking up the atmosphere and enjoying one of the greenest cities on the planet.
Have you been to Patagonia? What is your favourite thing to do in this region?