*This post may contain affiliate links, as a result, we may receive a small commission (at no extra cost to you) on any bookings/purchases you make through the links in this post. As an Amazon Associate, I earn from qualifying purchases. Read our full disclosure.
Nestled into the heart of southeastern Ontario, Prince Edward County (PEC) is known as a vibrant food and wine destination. The region boasts an up and coming culinary scene, world-class PEC wineries and is home to the popular Sandbanks Provincial Park. It is the perfect place to spend a weekend away and is a popular getaway from Toronto and Ottawa.
Getting to Prince Edward County
Prince Edward County has a rich farming history and encompasses several towns and hamlets. Picton, Wellington and Bloomfield are the most towns in the county and are the main places to visit. However, we found lesser-known destinations in the County like Hillier and Ameliasburgh to be equally as charming.
The most popular way to get to Prince Edward County is by driving. Luckily the region is located within a few hours from several major cities. It is about 2 hours and 15 minutes (217 kilometres) from Toronto to Prince Edward County. From Ottawa, it is about 2 hours and 50 minutes (279 kilometres) and from Montreal, it is nearly 4 hours (377 kilometres) to the County.
Unfortunately, there is no bus service from major cities. You can grab the VIA Rail Train to Belleville. It is located along the Bay of Quinte about 20 minutes from The County. From there you can rent a car or take a taxi to PEC and take tours leaving from your accommodation.
Getting Around Prince Edward County
If you plan on exploring the towns and hamlets around Prince Edward County, you'll want to have access to a vehicle. If you don't have your own, we recommend renting one during your visit.
Alternatively, you can explore via a bike or wine tour. The County Wine Tours offers a sip & cycle ride, where a local guide will take you through the Millenium Trail with stops at four different vineyards in the County. You'll get to taste 12 different wines from world winemakers.
Best Time to Visit
Prince Edward County is one of Ontario's four-season destinations. Spring, Summer, and Fall are the most popular times to visit.
Spring

brings with it

blooming flowers

, maple syrup harvesting, the

Authors Festival

and

The Spring Birding Festival

.

Summer

is the busiest month with tourists who come to enjoy each Prince Edward County

beach

and enjoy some wine.

Farms

and

gardens

are in full bloom and their products are showcased at local restaurants, vineyards and markets throughout Picton and the County.

If you want to beat the summer crowds and live like County residents, plan to visit Prince Edward County in the

Fall

. You'll get to taste the

autumn harvest

and see the leaves changing colours. There are many events this time of year, including the

Community Homesteading & Harvesting Festival

,

Pumpkin Fest

, and

Fall Countylicious

.

Winter

in Prince Edward County is a magical season. You'll be greeted with snow-covered hills and ice lakeshores, perfect for an afternoon stroll. Many wineries and cideries in The County light bonfires for the guests and some even have snowshoes you can borrow.
Things to Do in Prince Edward County
Things to do? Prince Edward County has it all. You'll always find something going on in The County.
Wine Tasting
Prince Edward County is the fastest growing wine region in Ontario, boasting over 40 different wineries. Take the opportunity to learn about viticulture (the science of grapes) from local winemakers, join a wine tasting or go on a wine tour.
Make sure to add Karlo Estates and Lacey Estates to your map of Prince Edward County wineries. Karlo Estates in Wellington, Ontario has won countless awards. The winery is owned by Master Winemaker and Wine Judge, Richard Karlo who oversees wine production and planning. They offer a tasting in their exposed beam barn where visitors can also choose from a vegan wine and cheese tasting option.
Lacey Estates is one of the region's family-owned and operated PEC wineries. They never import grapes so everything is made with 100% estate-grown grapes. They sell lovely Pinot Gris, Chardonnay, Gewurztraminer, Baco Noir, and Cabernet Franc. We loved the stunning view from the tasting room and porch. They are RV friendly and a part of the Harvest Host program, so we were able to stay the night there in our campervan.
Eat Delicious Food
As an agricultural hub, Prince Edward County offers an incredible local culinary scene. Dubbed 'the Gastronomic Capital of Ontario', the County does not disappoint. Restaurants here focus on seasonal menus, featuring local products from the region and farm to table dining.
Don't miss out on Countylicious, a twice-annual event with participating restaurants offering a tasting menu, special take-out offers, and take-home meals, all from seasonal ingredients.
Try a Cooking Class
There's no better place to take a cooking class than in Prince Edward County. Classes are focused on cooking with local, seasonal ingredients from nearby farms. Check out From the Farm Cooking School. You can take private cooking classes in their 1830's farmhouse from instructor and County resident, Cynthia Peters. Based on your tastes, Cynthia will customize a 3-course meal you will create together.
If you love Italian food head to Angelo Bean Italian Cooking Studio. You can take a private or group lesson with Angelo himself and learn the art of pasta and sausage making. You'll pair your creation with a drink of Prince Edward County wines.
Experience the Outdoors
Regardless of the season, you'll find tons of outdoor experiences in the County. At Millefleurs Lavender Farm, you can take a backyard beekeeping workshop. This course is ideal for anyone who's ever wanted a hive in their own yard or just wants to learn more about these incredible creatures.
Get to know the local ecosystem by going on a Plant Identification Walk with herbalist and forager, Tamara Segal. You'll learn about a mix of local wild and cultivated plants, and how they can be used as food and medicine.
In the fall, take a Farm Tour at Campbell's Orchards. This family-friendly activity includes a wagon ride and apple picking. You can even explore the corn maze, visit with the farm animals, and boil freshly picked corn over the fire. It doesn't get much better than this for families.
Visit Sandbanks Provincial Park
No trip to Prince Edward County is complete without a visit to Sandbanks Provincial Park. This stunning park offers gorgeous views of Lake Ontario, some of the most beautiful swimming beaches in southeastern Ontario, as well as several hiking trails suitable for all fitness levels.
Don't miss the Dunes Walk loop. This easy 2.4-kilometre trail has beautiful scenery and takes you by the lake and through the sand dunes. A longer hike is the 12.7-kilometre Woodlands Trail. It is also a loop and passes by meadows, woodlands, and beachfront.
To see the interior of Sandbanks Provincial Park take the Canada Cedar Sands Nature Trail. This 1.9-kilometre loop runs along the Outlet River. Keep your eyes peeled for beavers along the river.
On a hot summer day, there are few better places to be in Ontario than at the beach in Sandbanks. There are 3 large Prince Edward County beaches in the park. Outlet Beach and Sandbanks Beach are recommended for families for their gradual drop-offs and flat sandy shores. For that, Dune Beach is quieter than its counterparts in the summer.
Boating and watersports are another popular activity in the park. Power Boats are allowed on Lake Ontario, East and West Lake. Although they must avoid swimming areas.
Canoers will enjoy a paddle down Outlet River and bikers will find formal cyclists trails that crisscross the park.
Get Active
Prince Edward County offers a huge range of wellness activities. For a truly unforgettable experience, try Goat Yoga or Alpaca Yoga. At Goat Yoga, you'll be joined by 8-10 goats during the practice, as well as having a dedicated 20 minutes to spend with the animals afterwards. If animal yoga isn't your thing, no worries, there are lots of non-animal yoga classes too!
Another great way to explore Prince Edward County is by bike. We recommend renting bicycles and cycling the Millenium Trail, a 49-kilometre multi-use trail that runs through the County. If you prefer to get out on the water, go for a paddle out on the Black River. You can rent a kayak at Cabin Fever Kayaks in Milford near Picton.
Support Local Artisans
Prince Edward County is home to a community of creative, local artists. One of the best ways to see their work is to visit the Wellington Farmers Market. Hosted every Saturday between May and October, the market features a wide range of local artisans, hand-crafted sauces and dips, and tons of seasonal produce.
Some of the larger towns like Picton also have galleries located along their main street. You'll find paintings, pottery and more.
Visit the Farms
The County is known for its fresh, home-grown produce. Every year from late-spring through early-fall, you'll find local farm stands on roads throughout the County. The County stands are generally self-serve and operate using the honesty-system. Just pick the items you want and leave cash in the payment box, or in some cases, you can even send an e-transfer!
Some farms also offer guided tours, like H&H Farms in Picton. H&H grow four acres of hops and raise a herd of water buffalo. Their farm tour takes you to meet and spend time with the herd.
Accommodations in Prince Edward County
From quaint farm cottages and campgrounds to niche glamping tents and bed and breakfasts. You'll find a wide array of interesting places to stay in The County.
Camping in Prince Edward County
For those seeking a family-friendly cottaging experience, head to Sandbanks Cottages & Campsites. This lakeside spot offers tent and trailer spots, as well as cozy cottages featuring modern amenities such as fridge, stove, and three-piece bathroom, all with private decks overlooking the lake.
For those traveling in an RV or campervan, the Harvest Hosts program has a couple of great hosts in the county.
Hotels in Prince Edward County
In central Wellington, you'll find the Drake Devonshire, a stunning lakeside inn featuring a small 13-room boutique hotel, restaurant, bar, and private beach area. The Drake is one of the Prince Edward County hotels which highlights local producers and offers free bikes to explore the area.
Another popular choice is the English Rose Spa & Bed and Breakfast located on the Picton bluffs. Both a holistic healing centre and a bed and breakfast, the B&B is ideal for those looking to unwind and look after their health while enjoying The County.
When it comes time to choose where to stay, Prince Edward County has it all. But be sure to book well in advance as spots fill up quickly. Especially in the summer when most people head to the County.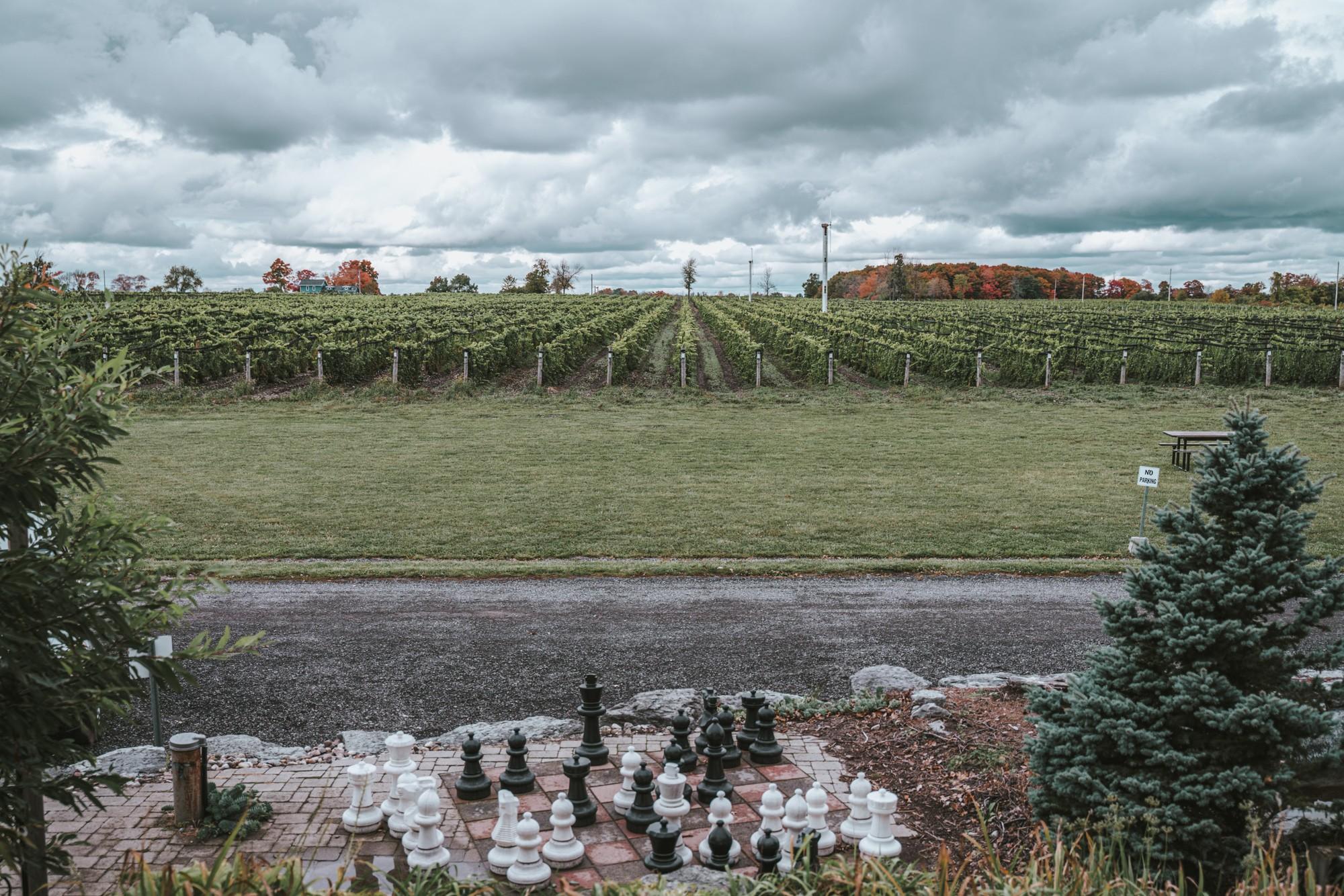 Whether you are going to visit wineries in Prince Edward County or Sandbanks, Prince Edward County is a real gem that is just beginning to be discovered by the masses. We love the region's focus on sustainable agriculture and farm to table values which we hope will inspire visitors to look for in businesses when they go back home.
Have you ever been to Prince Edward County? What are some fo your favourite things to do in the region?