Tayrona National Park or as it is locally known, Parque Tayrona, is one of Colombia's finest national parks. Prepare yourself for a visual masterpiece of stunning white sand beaches, lush green jungles, and turquoise waters framed by the Sierra Nevada mountain range.
*This post may contain affiliate links, as a result, we may receive a small commission (at no extra cost to you) on any bookings/purchases you make through the links in this post. As an Amazon Associate, we earn from qualifying purchases. Read our full disclosure
Traveling Soon?

Here is a list of our favourite travel providers and accessories to help get you ready for your upcoming trip!
However, there is more to the Tayrona National Park than just incredible beauty. This huge park has been home to the Tairo indigenous people for centuries, and you will still see them living their day-to-day lives within Tayrona National Park's borders. When you tour Parque Nacional Tayrona, you simply can't miss their white ensembles and rubber boots.
While walking through the jungle trails, you might also be treated to the sights of some of the area's diverse wildlife. Monkeys, colorful birds, and insects are all abundant at Tayrona National Park. But you will have to be especially lucky to spot the park's more elusive animals like the endangered oncilla and some other species.
The Best Time to Visit Parque Nacional Tayrona
High season at Tayrona National Park is from December to April, with a peak from mid-December to mid-January. It coincides with the area's dry season. "Wetter" months are from May to June, and October to November, however rainfall is not abundant so it remains a pleasant time to visit.
Temperature and humidity are pretty consistent year-round. With average temperatures hovering around 20-30 degrees Celsius, and humidity rarely dipping below 70% (it is the jungle after all!).
Avoid visiting Tayrona National Park during weekends and Colombian public holidays like Semana Santa when the park fills up with vacationing nationals and foreigners even during the week.
Think long lines, busy beaches, and crowded trails if you plan on heading to Parque Tayrona during the high season.
Instead, opt for a mid-week visit during the low season. You're visiting for the park's natural beauty and tranquility, so don't let your visit be spoiled by crowds.
Getting to Parque Tayrona
Tayrona National Park from Santa Marta
Santa Marta is the closest city to Tayrona National Park, and that's where most visitors embark on their adventure to the park. We recommend that you spend the night before in Santa Marta (or Taganga) so you can start your trip to Tayrona Park early the next morning.
Public Bus
This easy and convenient option to get to Tayrona National Park is also the most affordable one around 8,000 COP ($2.50 USD) each way. You can pay the bus driver when you hop on.
Buses depart every 30 minutes or so from Santa Marta's Central Market at the corner of Calle 11 and Carrera 11. There will be a "Tayrona" sign in the bus window and they will drop you at the park's El Zaino entrance. The journey's duration is approximately one hour.
Private Transfer and Taxis
Tayrona National Park is one of the area's most popular attractions, so many of the area's hotels often offer transfers. Check with your accommodation for private or hotel transfers to the park.
Otherwise, they can arrange a taxi for you. However, prices can get steep quickly since the taxi will charge for the cost of driving there, and back to Santa Marta if they are dropping you off for an overnight trip. For day trips they will wait out front all day. There is no point haggling this, it is a common practice in the area.
Approximate Taxi Rates:
Santa Marta City Centre to Tayrona Park: 90,000 COP ($32 USD)
Santa Marta Airport to Tayrona Park: 120,000 COP ($42 USD)
Tayrona National Park from Taganga
Tagana is a funky town just outside of Santa Marta, famous for its beaches, dive shops, and backpacker vibe. If you choose to stay in Taganga before embarking on your trip to Tayrona National Park consider cruising the waters to get there.
By Boat
A boat leaves for Parque Tayrona Playas every morning at 9:30 am and 10:30 am from the main beach. You will be able to buy tickets from your hotel or one of the many tour offices along the waterfront. Prices are upwards of 50,000 COP ($15 USD) each way.
The boat drops you off at Cabo San Juan beach, where Park officials will be waiting to check your documents and collect the entrance fee.
Boats return to take guests back to Taganga in the late afternoon.
Entering Tayrona National Park
Park Entrances
There are two park entrances at Tayrona National Park: El Zaino and Calabozo.
Calabozo is typically considered Tayrona National Park's secondary entrance since it requires a long 6-hour walk to Cabo San Juan. A lot of people entering via the Calabozo entrance spend the night at Playa Brava, and then make the subsequent hike to Cabo San Juan the following day.
El Zaino is the park's main entrance. All tourist buses, cabs, etc. will drop you here and it is only a 2-3 hour hike to Cabo San Juan beach.
You'll be required to pay the 56,500 COP ($20 USD) for foreigners, or 16,000 COP ($6.50 USD) for local entrance fees. You will also be required to show your passport!
There is a daily capacity of 6,900 people per day so get there early or buy your ticket online here. The park hours are from 8a.m.-5p.m., and you will be required to watch an informative, environmental safety video about the park before entering. Heads up! It's in Spanish, so make sure to brush up your language skills before the trip.
Before You Can Enter
Everyone's bags are checked before entering the park and Tayrona National Park's officials have a strict policy against plastic. They're largely looking for plastic wrappers/bags, so plastic water bags are a big no-no. Tupperware is however fine to bring in.
Personal alcohol is strictly forbidden. Any alcohol will be confiscated. There are drinks for sale within the park but as you might expect, however, they come at a premium price.
Don't forget your passport! We know it's a nuisance to carry it around but park officials will check your passport at the entrance.
As of April 2017, it is essential that you have the yellow fever vaccination. You can get a free yellow fever vaccination at the Bogota airport but it will be 10 days before you are protected against the virus.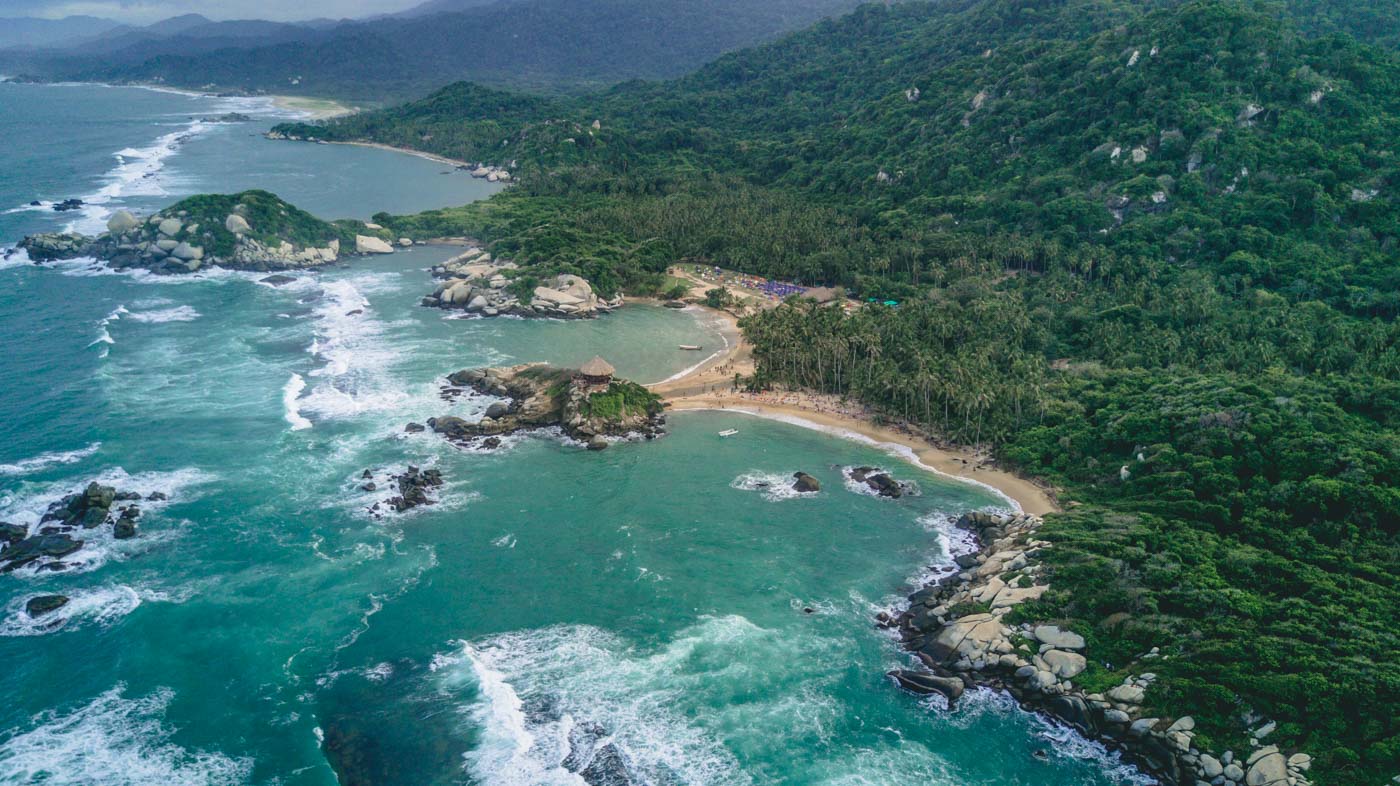 Getting Around Tayrona National Park/Parque Tayrona
No outside vehicles are permitted to pass the park entrance. However, there is an official park bus which takes visitors from the main gate to the beginning of the hiking trail, and Cañaveral beach campsite for 3000 COP ($1 USD). After that you are on your own. You can choose to walk the 4 km to the campsite yourself or hire a guide and a horse.
The horses for hire can take you past the trailhead, and all throughout the park. This is a very practical solution if you are carrying heavy camping equipment.
Keep in mind that the guides don't hire out their horses after 3 p.m. because the park closes at 5 pm. The horse hire is about 17,000 COP ($6 USD) to Arrecifices.
We wouldn't advise hiking in the dense forest after dark.
Things to do in Parque Nacional Tayrona
One of the best activities at the park is visiting the beaches within Tayrona National Park. Although not all of them are made equal, you will have a chance to choose which one is right for you. The park's beaches also boast some of the best places where to stay in Tayrona National Park.
Explore the Beaches
Cabo San Juan, Tayrona
Cabo San Juan, Tayrona is by far one of the most iconic best in Tayrona National Park (Parque Tayrona) – and for a good reason. It is truly awe-inspiring with its twin bays, white sand, and crystal blue waters. You can swim here, which is rare in the area, as well as snorkel around the protected coral reef just off of the beach. There are a few accommodations and dining options in the vicinity of Cabo San Juan Tayrona which makes visiting the beach a bit easier.
La Piscina, Tayrona
La Piscina means "swimming pool" in Spanish so you can swim and snorkel here too. The glassy waters are protected by a coral reef at the entrance of the bay. La Piscina is located just a couple hours away from Cabo San Juan.
Playa Arrecifes, Tayrona
Continuing on from La Piscina, you'll find Playa Arrecifes. Unfortunately, its treacherous waters have been the ill-fate of many people over the years so swimming is strictly forbidden. However, the beach itself is really beautiful and is a great place for walking, resting beneath palm trees and sunbathing. There are accommodations, and dining options here as well.
Playa Canaveral, Tayrona
This is one of the park's smallest and most isolated beaches. Unfortunately, only a sliver of the beach is ripe for swimming but there is a luxury hotel and restaurant located on the beach – Ecohabs Tayrona.
Playa Castilletes, Tayrona
Playa Castilletes is just east of Playa Canaveral. This beach is also non-swimmable but renowned for its deserted beauty.
Playa Cristal, Tayrona
This beach is much more off-the-beaten-track than other beaches in the area – and perhaps even more beautiful. You'll need to take a boat to Playa Cristal in Tayrona National Park, but trust us,it's a great day trip. There are a number of makeshift restaurants selling meals and Club Colombias on the beach. Plus you can swim and snorkel here.
The Nudist Beach, Tayrona
The Nudist Beach is just a short walk from Cabo San Juan. Although don't be thrown by the name, however! There are rarely too many people at this beach besides the lifeguards who are present to indicate whether swimming is appropriate.
Playa Brava, Tayrona
A secluded beach on Tayrona National Park's western side. Often only visited by travelers entering through the Calabozo entrance. There is cheap accommodation and a restaurant here.
Bahía Chengue and Bahía Gayraca, Tayrona
Both of these beautiful, secluded beaches are located on the park's west side. They can only be reached by boat, and lack infrastructure.
Bahia Concha, Tayrona
Located just 30 minutes from Santa Marta, this beach is popular for a day trip of sunbathing and swimming without having to trek. Unlike the other beaches which are fairly isolated, Bahia Concha backs onto the car park. If you would like to stay the night, grab one of Tayrona National Park Hammocks or bring a tent to stay at the on-site campsite.
Go Hiking
This really is the only way to see the park! All the beaches (except Bahia Concha) require some sort of walking from the entrances. They are all very well signposted but remember to get a map at the entrance just in case.
Other trails include:
The Pueblito Trail
This smooth granite trail was originally laid by the ancient indigenous people. They built it to lead from their Pueblito (or indigenous settlement) to Cabo San Juan beach. It should take between 2-3 hours to complete.
Today, a small group of their ancestors still live here, and the settlement itself is often likened to the region's famous Lost City.
One of the best parts of this trail is that it winds through the area's dense jungle which makes it great for spotting wildlife, though you'll need some sort of machete (also known as a trail axe over there). Loads of animals such as Jaguar and Caiman live in this area but don't expect to spot them. Instead, keep your eyes peeled for monkeys, colorful birds, and interesting insects. We promise you will not be disappointed! .
9 Peidras Trail
The 9 Piedras, or 9 Stones trail is a 50-minute hike from Playa Canaveral to Playa Arrecifes or vice versa. It passes through coastal cliffs, and deep through the jungle. And it also provides a great opportunity for wildlife sightings.
The trail gets its name from the round boulders visitors bypass on the trail.
Go Diving
Unbeknownst to many, Tayrona is really a fantastic dive destination. There are 22 dive sites in the marine park, including coral reefs, sunken ships, caves, and a variety of marine ecosystems.
You won't see too many large animals here, but there is an abundance of nice coral, sponges, anemones, as well lots of pufferfish, angelfish, lionfish, scorpion fish, moray eels, lobsters, octopuses, and much more! Supposedly, the number of fish species spotted in the coral reef around Tayrona National Park surpasses 150 varieties.
Diving trips cannot be organized inside the park and usually depart from Taganga, just outside of Santa Marta, which is teeming with budget-friendly dive shops. We went diving with Oceano Scuba and had a wicked time! Their fun dives start at 190,000 COP ($66 USD).
Tayrona National Park Accommodation
If you are wondering about camping Tayrona, there are six beaches (Parque Tayrona Playas) where you can stay inside the park. They all offer basic shower, toilet facilities plus lockers.
There is absolutely no freedom camping in the park!
Camping in Tayrona National Park
Camping at Tayrona National Park is what brings the majority of visitors to this place. Since the park's location is pretty remote and requires some long hiking, Tyrona camping is definitely going to be the highlight of your trip.
Most visitors tend to spend 1-2 night camping inside the park. The area has a number of serene campsites that face the jungle on one side and the ocean on the other side.
Tayrona National Park hammocks are the favourite option for many park's visitors, especially for backpackers traveling on a budget. It's a great thing if your camping trip is short and you are not looking for too much comfort. However, if you are staying in a park longer, you might consider renting a tent, as sleeping in a hammock can be really tough on your back.
You can rent a double tent for anywhere between 23,000-25,000 COP, while a hammock typically costs about 15,000 COP. If you want to nab a prime spot with a good view, we recommend arriving sooner rather than later!
Camping on Cabo San Juan, Tayrona
Cabo San Juan Tayrona is the most popular place to camp in the park. To nab a hammock on the iconic gazebo, arrive early! They will set you back 50,000 COP ($17.50 USD). Plus they get chilly at night, so don't forget to bundle up.
Because of its popularity and beautiful beaches, it tends to attract larger crowds than other places. If you want more quiet atmosphere, we recommend Cañaveral or Bukaru, however, make sure to check for swimming conditions at the nearby beaches as the currents can be really strong.
Want to enjoy some music? The local vallenato musicians play for visitors at the Cabo San Juan campsite each night, and the more you tip the longer they play!
Other Beaches for Camping in Tayrona
The other beaches for camping Tayrona at are Arrecifies, Carnaveral, Castilletes, and Playa Brava. Most offer hammocks, places to pitch your tent or tents to rent. Prices range from approximately 15,000 COP ($5.50 USD) to 40,000 COP ($14 USD). Most properties have basic restaurants on site too.
Keep in mind that electricity is shut off after 11 p.m. in the park. If you're not too tired from the day's adventures, Parque Nacional Tayrona is a great place for stargazing!
During our 3 days visit, we opted to stay at the Arrecifies campsite and take day hikes to other beaches from there. We were able to rent all camping equipment on site which allowed us to lighten our load significantly. We also didn't pack any food and purchased all meals at the campsite, which ended up being a great setup and made our stay in Tayrona National Natural Park much more enjoyable.
Tayrona National Park Hotels
If camping is not your style, there are many other accommodation options, if you are looking for where to stay in Tayrona National Park.
Among them are Villa Maria Tayrona, a resort located just 45 minutes from the Old City of Santa Marta in the heart of a jungle overlooking the ocean. Another good place to stay in Tayrona National Park is Playa Los Angeles a rural accommodation with direct access to a private beach.
And finally, if you are looking for a rustic place and the famous Tayrona National Park hammocks, we recommend Villa Yira eco-hotel located in El Zaino. The property boasts a garden and a terrace, and there is also a nearby restaurant.
One of the best parts about many hotels in Tayrona National Park is that they are located near pristine white sand beaches and you can literally pick exotic fruits such as avocados, bananas and mangoes right off the trees.
There is the famous Ecohabs a series of luxury cabins built into the mountainside at Castilletes beach. There is also an on-site restaurant and spa.
What to Bring To Tayrona Park
Bring lots of water! We can't stress this enough. You're going to be doing lots of physical exercise and it's hot and humid within the park so you're going to sweat. Also, keep in mind that the price of water inside the park is more than double of its regular price. We always bring our

Hydroflask

with us on our hikes, which keep our water cool for over 12 hours even in the Colombian heat. Plus our

Steipen

which makes almost any water drinkable.
Food and snacks. There are food vendors and restaurants on the beaches which are great for lunches and dinners but a large majority of the food is fried, which you might get tired of after a couple of days inside the park. Bring your own but remember that it has to be prepared before entering.
Your passport, and yellow fever vaccination certificate to show at the Park's entrance.
Sunscreen and insect repellent are essential. Since you are going to be staying among nature, we recommend eco-friendly varieties:

Raw Elements Sunscreen

and

Repel Lemon Eucalyptus Insect Repellent

Toilet paper since it is not offered at campsite facilities
Cash! As there are no ATMs inside the parks. All accommodation and food must be paid in cash.
A flashlight for navigating the campsite at night
Lightweight clothing, preferably cotton or quick dry. Full-length pants for hiking through the bush, a hat and a swimsuit for that inevitable dip in the ocean.
Good hiking shoes, as the mountainous terrain, can get quite challenging and flip flops for nights around the campsite.
How long to stay in Parque Tayrona
Given how challenging it is to get in and out of the park (remember it's a 2-3 hour hike each way), we recommend staying for at least 1-2 nights, but many opt to stay for upwards to a week or even longer.
There is plenty to do during the days with lots of hiking trails and beaches to explore. Plus Tayrona National Park is a great place to hang up the hammock and enjoy nature for days on end.
Have you ever been Parque Tayrona? Do you have any tips to share? Which was your favourite beach?