Kosi Bay and Kosi Bay Mouth is an 11,000-hectare reserve consisting of four connected lakes with meandering channels in the far northeast corner of Kwa-Zulu Natal province in South Africa.
*This post may contain affiliate links, as a result, we may receive a small commission (at no extra cost to you) on any bookings/purchases you make through the links in this post. As an Amazon Associate, we earn from qualifying purchases. Read our full disclosure
Despite being located inside iSimangaliso Wetland Park, a popular tourist destination in the country, this region was by far the most remote destination we visited in South Africa. Many consider it the last untouched African paradise.
Traveling Soon?

Here is a list of our favourite travel providers and accessories to help get you ready for your upcoming trip!
The Kosi Bay Nature Reserve and in particular the Kosi Bay Mouth is a pristine paradise with clear waters, thick forests & swamps and most importantly, the sandy beaches. Moreover, its untouched natural beauty is a haven for a wide variety of wildlife ranging from mammals to birds and fish.
Wildlife in Kosi Bay
Without a doubt, the Kosi Bay area is brimming with wildlife. The wetland parks' remoteness has allowed nature to flourish with a wide range of marine life, birds, and mammals that you can spot during your time there.
Kosi Bay is also home to around 60 hippos, with around 18 of them living in Lake Shengeza. Also, you can find many crocodiles around the edges of the channels and bobbing just below the surface. Additionally, you can spot smaller game like bushbuck and monkeys in the forest.
Bird Watcher's Paradise
Kosi Bay is a bird watcher's paradise with a variety of grassland, freshwater as well as sea birds found within the confined area. The best way to see the birds is on a gentle canoe tour through the Kosi Bay lakes and canals. You can find the rare fish eagle, palmnut vulture, pelicans and flamingos, to name just a few.
We are not big bird watchers, but we loved watching the birds on our boat tour through the channels. The flamingos, in particular, offered plenty of entertainment.
Leatherback Turtles Hatching Ground
Kosi Bay beaches are most well known for being a traditional breeding ground for loggerhead and leatherback turtles. Every summer they make their annual pilgrimage to the beaches of Kosi Bay to lay their eggs. One of the main attractions of the area is turtle tracking tours that allow you to see this nightly phenomenon along the coastline between Kosi Bay and Sodwana Bay.
Humpback whales are also seasonal visitors to the Bay area and can be seen from June until November.
Kosi Bay Activities
We were surprised to find out a plethora of activities available in and around Kosi Bay. For a destination as remote as Kosi Bay, there was no shortage of things to do!
Visit Bhanga Nek Beach
The location of the beach is at the southern shoreline of Kosi Bay and just 15km south of the Mozambique border. It is one of the most pristine and untouched beaches along the coastline where you can base yourself for exploring more of Kosi Bay. It's one of the beaches loved by locals!
Boat Trip on the Lake
There are half and full-day excursions into the channels and lakes of Kosi Bay to discover the local fishing traps, enjoy a picnic in the reserve and walk to Bhanga Nek Beach. It's the perfect way to get deeper into the area and be completely surrounded by the vast diversity of wildlife and nature that can be found in Kosi Bay. This was our favourite activity in Kosi Bay!
Canoe Trips
For nature and wildlife lovers, canoe trips are perfect. A guide can do the paddling for you while you sit back and drift along the water. You can look out for the birds and other wildlife of the area such as fish eagles, cormorants and flamingos. Going on a canoe trip allows you to weave through the smaller canals without disturbing the birds or wildlife of the area.
Turtle Tours
During summer, from December up until January, leatherback and loggerhead turtles come ashore lay their eggs on the beaches of iSimangaliso Wetland Park. You can head out on an organized tour to track the turtles and watch as they find an ideal nesting site and lay their eggs.
Only about three in every thousand hatchlings will make it to adulthood and return to lay their own eggs on the same beach. It's a memorable experience that requires a long 4×4 drive along rough roads and sand, but it's well worth the trip if you've never seen turtles in the wild before.
Turtles lay their eggs along the long stretch of coast from Kosi Bay to Sodwana Bay as well as night turtle tours can be arranged with any Kosi Bay lodge.
Fishing
Fishing is the most popular activity in Kosi Bay, but strict rules and permits apply in order to maintain the pristine wilderness of the area. Tag and release fishing is most encouraged for this reason. You can organize fishing trips through any Kosi Bay lodge in the park.
Birdwatching
The Kosi Bay area is one of the best places in South Africa for birdwatching. Birding guides available from any Kosi Bay lodge, with notes on the best spots to see the rarest and elusive of the species in the reserve, including the palm nut vulture and African fish eagles.
Fish Trap Tour
One of the most interesting sights you'll see in the Kosi Bay area is the traditional fishing traps scattered around the lakes. The local Thonga people use the fishing traps until today and are unlike any other fishing traps you've seen before.
The traps are fenced areas of the lake built with branches and wood that are constructed to catch only a certain type of fish. The trap designs are passed down from generation to generation and are unique to this area.
Each tribe approves the family's right to fish in a certain area, as it remains one of the main income-generating activities for the locals. These fish traps have been operating for around 700 years!
You can see fish traps on any canoe or boat trip in the area. We highly recommend going with a local guide, who can share all the insights about the fish traps in the region.
Snorkelling at the Kosi Bay Mouth
Kosi Bay Mouth is a particularly beautiful part of Kosi Bay, where the lakes empty out into the ocean, creating a particularly unique ecosystem.
Here you'll find clear waters and an abundance of fish that gives the area its name, 'the aquarium'. The River Mouth is a unique breeding ground for marine life and is one of the best places in the country for snorkelling. Its relatively shallow waters make it incredibly easy to see coral and colourful fish, although visibility can be affected by the tide, so it's best to ask at one of the lodges when the best time to snorkel is.
Hiking
Hiking is another activity that can be arranged through one of the Kosi Bay accommodation options and can range from a few hours to a few days, depending on your fitness level and interest. Qualified guides can take you through marine forests and swamps such as the Raffia Palm forest and around the lake pointing out any wildlife they see along the way. Also, it's possible to combine a hike with a boat trip or snorkelling as well.
Practical Travel Tips for Kosi Bay
How to Get to Kosi Bay from Durban
Certainly speaking, the easiest and most common way to get to Kosi Bay is by car. It's a five-hour drive from Durban to Kosi Bay towards the Mozambique border post of Farazela. From there, you can enter the reserve at one of the designated park entrances.
Manguzi is one of the main towns near Kosi Bay and is one of the closest places you can get public transport connecting to major cities. It's a small town but you can find basic amenities and facilities for travellers such as ATMs, grocery stores and gas stations.
If traveling by public transport from Durban, it's possible to get a local minibus to Manguzi and get one of the lodges to pick you up from there. There is no way to get all the way into the park without private transport.
Park Entrances, Rates and Hours of Operation
There are two entrances into the park, one at Kosi Bay Camp (7km north of Manguzi) and another at Kosi Mouth (19km north of Manguzi).
There is a requirement of using a 4×4 vehicle with permit to enter the park in Kosi Mouth. You can arrange this the day before through a Kosi Bay lodge or the Ezemvelo KZN Wildlife office inside the reserve.
Our tip: If you don't want to rent a 4×4 to visit Kosi Bay, you can drive to Utshwayelo Kosi Mouth Lodge, located right at the entrance to Kosi Mouth in a 2WD. You can park your 2WD car at the camp and explore Kosi Bay on foot. The trip from the camp to the base of the mouth is only 2km (one way) and makes for an ideal day trip!
Entry Fees
Adults: R55 (USD 3.25)
Children (under the age of 12): R28 (USD 1.70)
Vehicle entry charge: R56 (USD 3.25)
Community Levy: R5 per person (USD 0.30)
Gate Opening & Closing Times
Gate opening and closing times:
06h00 to 18h00
Reception hours:
08h00 to 16h00 (Mon – Sat)
07h00 to 15h00 (Sun)
Best Time to Visit Kosi Bay
The best time to visit is between March and June, when Kosi Bay weather is predictable and temperatures are mild. Summer has more rains and is quite hot, although it is the only time to see the turtle hatchlings, until mid-January.
Whale watching is at its best between June and November.
We visited Kosi Bay in November and while we did have a few days of rain, the weather was still great for hiking, birdwatching and canoeing, so don't be afraid to visit in the offseason.
Kosi Bay Accommodation
It is not feasible to visit Kosi Bay without staying in the region, so here are a few accommodation options that serve as a great base for all Kosi Bay activities.
Kosi Forest Lodge
Kosi Forest Lodge is a lovely eco-conscious lodge owned by the Isibindi Africa Lodges that offers glamping-style private thatch suites with comfortable beds and en-suite bathrooms. It has a swimming pool and a deck overlooking a lake, as well as a restaurant that offers great meals. We spent 2 nights here during our time in Kosi Bay.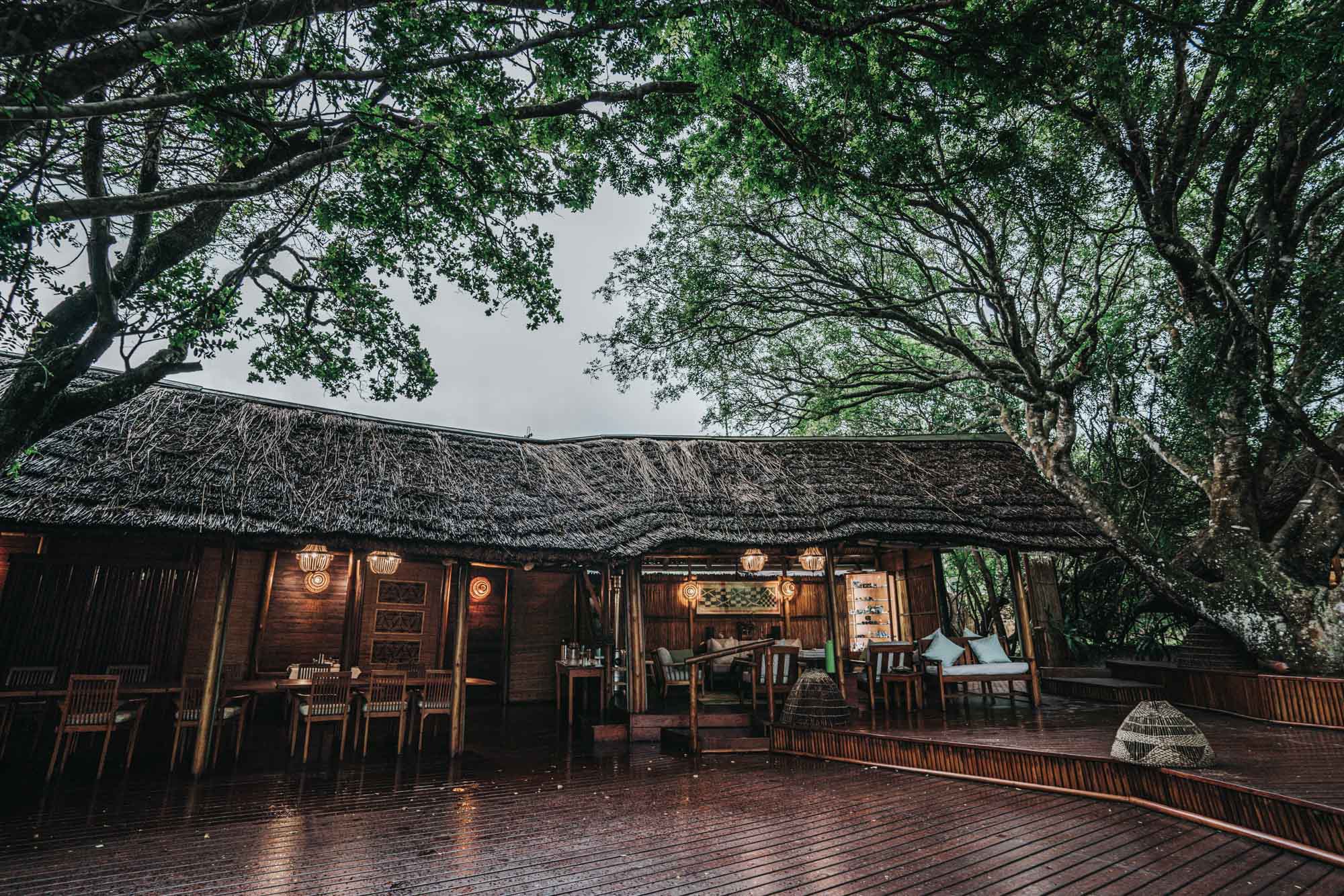 The lodge can organize a pick up from Manguzi as well as all sorts of tours and excursions into the Kosi Bay area, including Turtle Tracking in summer. To sum up, it's the closest thing to Kosi Bay luxury accommodation in the area.
Read Similar Article: Staying at Kosi Forest Lodge in Kosi Bay, South Africa
Utshwayelo Kosi Mouth Lodge & Camp
Located just 2km from Kosi Bay Mouth, Utshwayelo Lodge and Camp is situated in the northernmost part of the iSimangaliso Wetland Park. The lodge is a great option for self catering campers as well as those looking to stay in glamping-style tents or in chalets. You can access the lodge with a 2WD vehicle and can organise any Kosi Bay activities on site.
Kosi Bay Camping
This Kosi Bay self-catering and self-drive campground offers 15 sites in a lakeside setting. There are basic amenities and barbeque facilities. In addition, you can book a site through the iSimangaliso Wetland Park website.
Bhanga Nek Camp is another great option for Kosi Bay accommodation on the beach. Kosi Bay Beach Camp offers self-catering travellers a place to stay close to the coast.
Have you visited Kosi Bay before? What was your favourite activity in the region?