Croatia's Dalmatian coast is a dream destination with over 1200 islands dotting the crystal clear azure waters of the Adriatic Sea. The hidden coves, small fishing villages, medieval-style cities, calm blue waters and beautiful sunsets make it one of Europe's most sought after summer destinations.
*This post may contain affiliate links, as a result, we may receive a small commission (at no extra cost to you) on any bookings/purchases you make through the links in this post. As an Amazon Associate, we earn from qualifying purchases. Read our full disclosure
The best way to explore these stunning islands and appreciate the incredible beauty of Croatia's Adriatic coast is to take your time visiting many of the islands on your trip. Island hopping in Croatia has become one of the best things to do in the country and a completely relaxing way to discover this beautiful part of the country.
After spending two weeks sailing along the Dalmatian coast, we have put together this Croatia island hopping guide. It will help you plan your perfect trip to the Dalmatian coast and provide some summer travel inspiration.
Traveling Soon?

Here is a list of our favourite travel providers and accessories to help get you ready for your upcoming trip!
Why go to Croatia's coast
Croatia's coast is its biggest drawcard. Its stunning medieval coastal cities like Dubrovnik and countless islands surrounded by clear blue water, make it the ultimate European summer escape. Croatia's coast sees millions of tourists every year, with Dubrovnik, Split, and islands like Hvar soaring in popularity in recent years.
However, despite the crowds, Croatia's coastline is still worth a visit, especially if you plan on taking a sailing trip. Most people can't help but fall in love with the Croatian coast after exploring some of its Adriatic islands.
How to island-hop in Croatia
Depending on your budget, travel style and time constraints, there's an island-hopping Croatia itinerary and mode of transport for everyone. From the local ferry system to chartering a private boat, you can tailor a Croatian island hopping holiday to suit your own style and needs.
By ferry
The ferry system in Croatia is surprisingly easy to navigate and quite affordable. You can buy tickets as foot passengers or it's also possible to take a car with you to some of the islands. Travelling by one of the car ferries is a particularly good idea if you've rented a car in Croatia and plan on visiting the larger islands.
The ferries are generally very comfortable, with free Wi-Fi, a bar and even a restaurant available on larger services. Ferry services double and even triple from June until the end of August to cater for the greater demand in the summer. You can even purchase tickets on the same day that you plan on traveling, but it's best to check schedules and routes on companies' websites beforehand. Jadrolinija is one of the most popular and larger companies servicing the Croatian islands, but there are many other options too.
On a tour
Croatia island hopping tours are extremely popular. They generally follow a standard island-hopping itinerary starting in Split, although there are also options starting in Dubrovnik. The most popular trips are generally a 7-day Croatian island hopping tour that stops in popular islands like Hvar and Korcula. But there are also alternative tours available stopping in lesser-known spots with up to 2 weeks of sailing time if you prefer.
Deciding on a Croatia island tour really depends on your budget as well as your travel style.
There are catamaran or yacht cruises that cater to a younger, backpacking crowd and are usually more party tours for people aged up to 35. Medsailors and Contiki are some of the most popular Croatia sailing companies that offer these types of tours.
There are also mid-sized cruises and catamarans that can cater to all different travelers. Companies often match like-minded people in the same tour groups and have designated tour itineraries catering to different travel styles and budgets. Sail Croatia is one of the most popular Croatia island hopping tour operators and they have a variety of options.
Rent or charter your own boat
If you'd prefer to have more control over your Croatian island tour, then you can rent or charter your own boat. There is a range of different options from small to large sailboats, catamarans, and yachts. You can also choose to either have a captain and crew or not, depending on your sailing experience.
Prices can vary depending on the boat and whether you decide to have a crew. Most prices are also quoted just for the boat, and you have to ensure you factor in food, port fees, and captain and crew tips.
Best time to go
The best time to island hop in Croatia is in the warmer summer months. Although you can technically visit the coastline all year round, it's only between May and September that the sea warms up and the ferry services are more frequent.
The most popular months to visit the islands of Croatia are July and August. This is the typical high season, meaning it can be an extremely busy and crowded time. If you prefer to avoid the crowds, it's best to visit either side of these months such as in June or September.
Many restaurants, bars, and clubs on islands in Croatia do close past September, so we do not recommend an island hopper trip in the fall.
Best Islands in Croatia
It's hard to decide on the best islands to visit in Croatia. There are over 1200 to choose from. However, there are certainly more popular islands such as Hvar and Brac, with many of the Croatia island tours heading to the same few places. However, these Croatian Islands are popular for good reason, as they are generally some of the most lively and beautiful of the islands.
There are also some lesser-known spots that are worth your time if you have a flexible itinerary.
These are the best Croatian islands to visit
Brac
Brac is the third largest of Croatia's islands and a popular day trip destination from Split. It's a great idea to hire a car or scooter on Brac, as it makes it easier to move around and explore the sights. Although it's close to the mainland, it still feels less tourist-oriented than Hvar and makes for a nice alternative for a day trip or the first stop on your Split to Dubrovnik island hopping trip.
Main attractions on the island:
Visit the famous

Zlatni Rat Beach

known as one of the most beautiful beaches in Croatia

On the other side of the island, explore

Pucisca

, a beautiful coastal village

The main town of Bol

is worth your time with some of the best restaurants on the island
Mljet
The magical island of Mljet is not far off the coast of Dubrovnik and is best known for its natural beauty. A large part of the island is made up of the Mljet National Park, which has plenty of trails that you can walk and cycle along. It's often visited as a day trip from Dubrovnik or a brief stop on the island-hopping Croatia route.
Main attractions on the island:
Hike down to the Odysseus Cave, an incredibly beautiful spot and one of our favorite things to do in Croatia
Visit the Veliko and Malo Jezero salt lakes

, one of which has a 12th-century monastery in the middle
Korcula
Korcula is one of the larger islands in Croatia. However, it's more relaxed and feels much less crowded than the more popular Hvar and Brac. It's often one of the people's favourite islands, with its charming old town and laid-back attitude. It's famous for being the birthplace of Marco Polo, although the evidence of this is very questionable!
Main attractions on the island:
Explore the historic Old Town on the northeastern tip of the island
Pupnatska Luka is widely considered the best beach on the island located on the south side
Known for its quality white wine, it's worth taking a wine tour or at least visiting some local wineries to sample the region's best
Hvar
Hvar is one of the most popular and well-known islands of the Adriatic Sea. Despite its popularity, you should still add Hvar Island to any Croatia island-hop itinerary. It's a large island with a number of towns to explore, nearby islands to visit, beautiful beaches, and very lively nightlife.
Main attractions on the island:
Hang out in Hvar Town, the main town on the island and the most fun place to be at night
Hvar fortress is a must-visit with incredible views over the town and sea
Visit the beaches of Dubovica and Pokonji Dol, both a short distance from Hvar Town
Take a day to explore the Pakleni Islands, a short water taxi away from Hvar Island
Vis
Vis has a much more remote vibe and is a great island to visit on your Croatian island tour. It's the farthest inhabited island from the mainland and was closed to tourists until 1989, as it was used as a former Yugoslav military base. Vis Island is far less developed than some of the other built-up islands, but this is kind of its charm.
Main attractions on the island:
Stay the night in the charming fishing village of Komiza
Visit Stiniva Beach, regarded as one of the most beautiful beaches in all of Europe
Take a trip to the Green and Blue sea caves off the coast of Vis
Pag
Pag is one of the largest inhabited islands in Croatia and is accessible by a motorable bridge. This makes it a popular place to visit on a day trip. It's located north of Zadar and can be reached by less than an hour's drive from the city. The island is most famous for its party and nightlife and there are often festivals taking place on the island in summer.
Main attractions on the island:
Zrce Beach is the best-known party beach and often hosts summer festivals
The main town also known as Pag

is worth spending some time in for its delicious food
Rab
Rab is located just north of Pag Island and is just a short ferry ride across the water. It is known for its sandy beaches and pine forests in the southwest, which are contrasted by the windswept and barren northeast coast. Although it still sees a number of visitors in summer, exploring the island still feels like a real discovery.
Main attractions on the island:
Rajska Beach is considered the nicest beach on the island
Check out the Old Town

which is dominated by four church bell towers high above the roofline
Krk
Krk is the largest Croatian island located in the northern Adriatic Sea. It's also one of the most accessible with a toll bridge connecting it to the mainland. In summer, it's often extremely busy with Europeans, as it's the first island when approaching from central Europe. It's not known for its stunning beauty, but its landscape is quite varied and there are numerous picturesque towns to visit.
Main attractions on the island:
Vrbnik is a charming village on the opposite coast to Krk town that is far less quieter than others
The main town of Krk has incredible architectural wonders such as the 5th-century cathedral and the Frankopan Castle
The southeastern side of the island toward Stara Baska

is far less visited and is blessed with rugged terrain but incredibly beautiful beaches
Lokrum
Located a short ferry ride from Dubrovnik, Lokrum Island is perfect as a final stop on your island hopping tour, or as a destination for a day trip from the mainland. It's one of Croatia's uninhabited islands and is a designated nature reserve. So, there aren't many amenities but there's plenty to do and see.
Main attractions on the island:
The Dead Sea is a small, shallow saltwater lake that is open to swimmers
Benedictine monastery ruins and a historic palace are highlights for history buffs, and their botanical gardens are gorgeous
Game of Thrones fans will appreciate the Iron Throne replica, located in Lokrum's visitor's center. Visitors can take photos on the throne and learn about filming that took place on the island.
Other stops:
Dubrovnik
Dubrovnik is considered the pearl of the Adriatic in the far south of Croatia. Despite being surrounded by a lot of hype, it's one place that does live up to its reputation. This medieval-style walled city has become famous for being used as a set for some episodes of Game of Thrones and it sees million visitors every year. However, the incredibly picturesque city is worth some of your time, despite the crowds. The UNESCO-listed Old Town is full of beautiful architecture and the view from the city walls is some of the best you'll find on the Croatian mainland.
Island hopping from Dubrovnik is an alternative option to the common Croatia island-hopping route. Otherwise, most island-hopping tours end in Dubrovnik.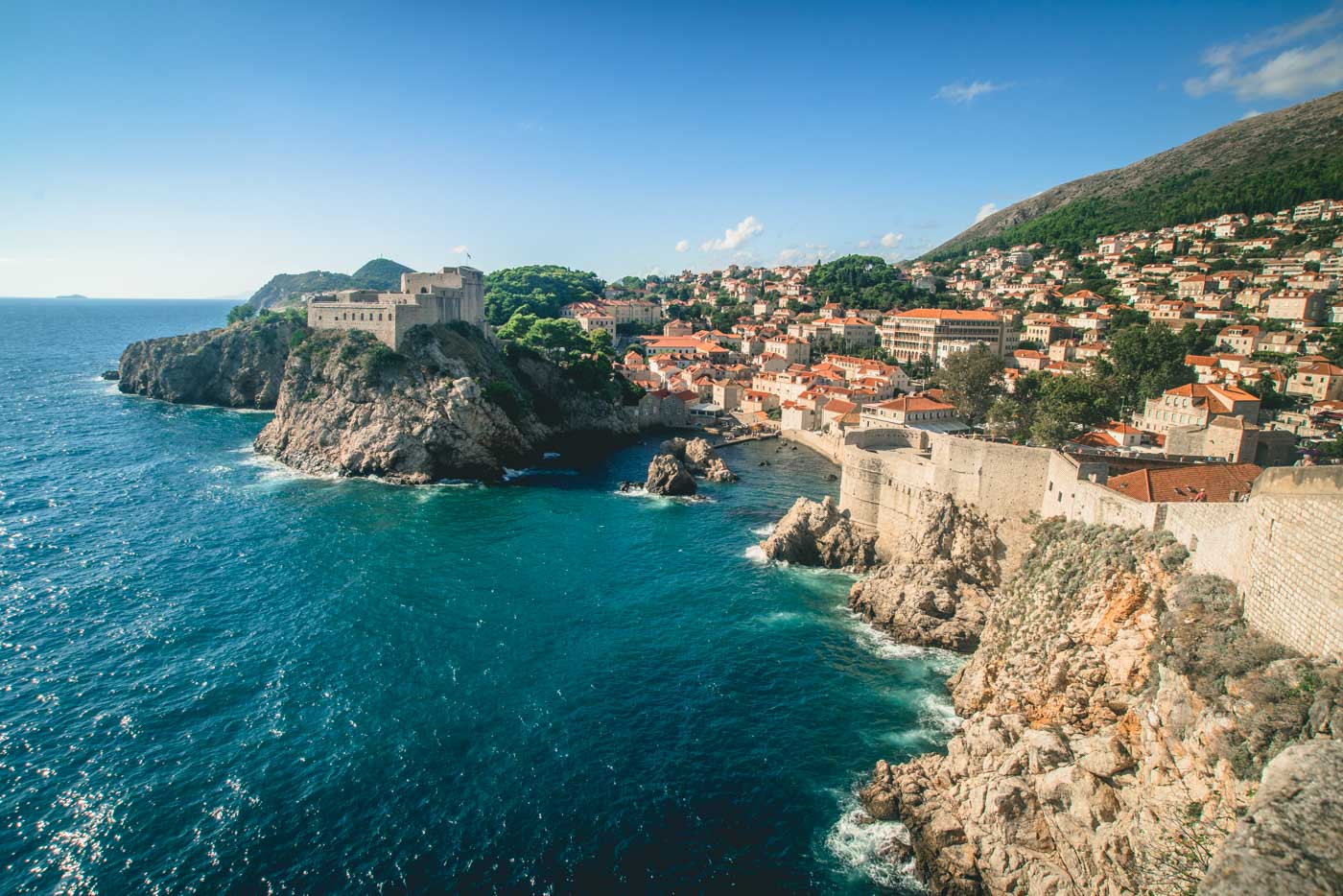 Split
Split is the second-largest city in Croatia and the largest on the Dalmatia Coast. Most people start their Croatia island hopping cruise or tour from Split. However, it's worth sticking around and spending time in the city itself with plenty to explore. It's home to the incredibly beautiful Diocletian Palace, one of the most complete architectural wonders in the country. It was by far one of our favourite things to do in Croatia.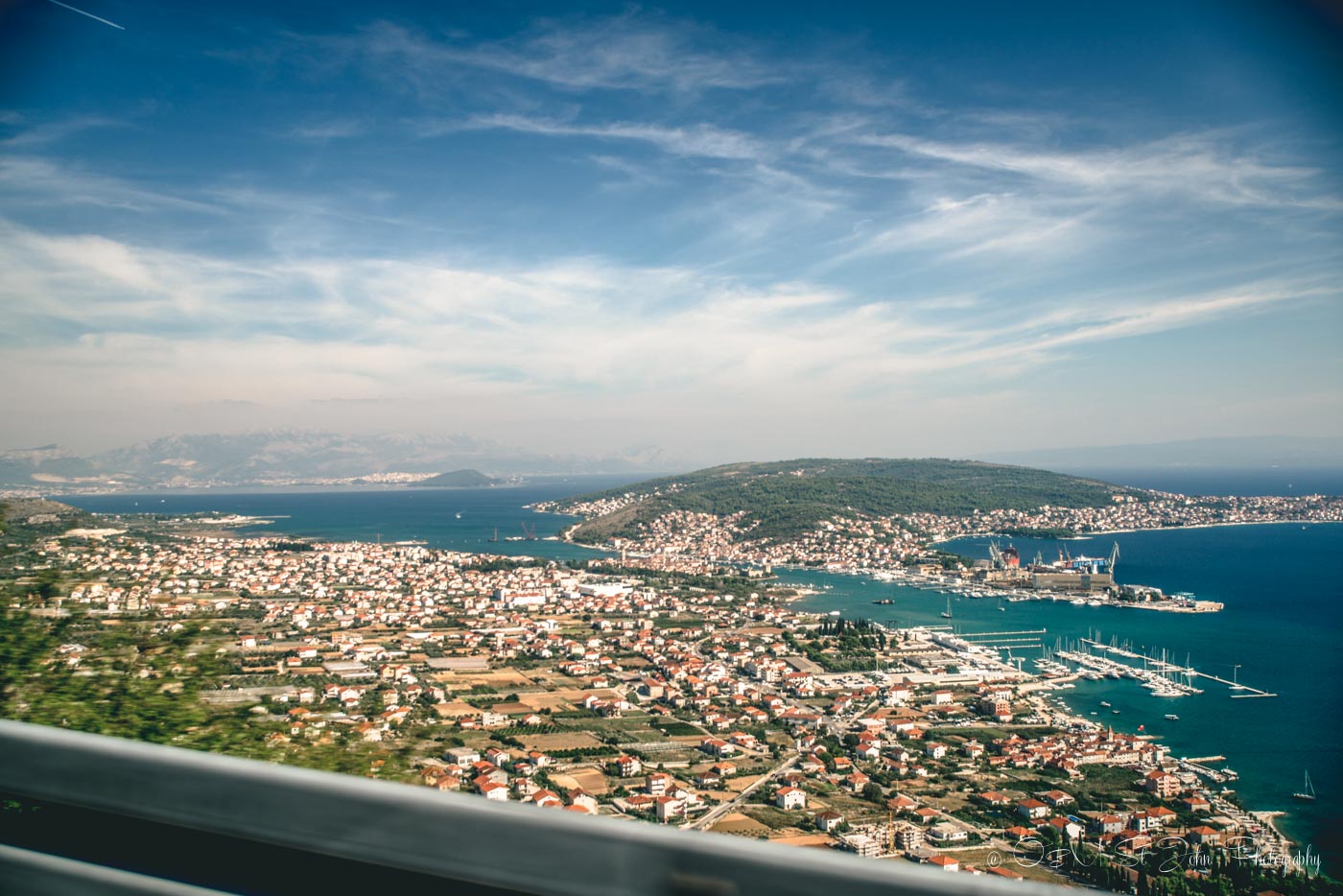 Sibenik
Sibenik is a beautiful coastal city just 1.5 hours north of Split. It's the third-largest city along the coast and yet it remains fairly unknown amongst most travelers. Sibenik is the main gateway for the Krka National Park, but it's worth spending some time in the city if you can. Its biggest attraction is the Cathedral of St James, a UNESCO World Heritage Listed site.
Zadar
Zadar, like the other Dalmatian cities, is known for its spectacular old town and city walls with a number of ruins and original architecture dating back to the 9th century. However, Zadar is far less popular than Dubrovnik and Split. It can be a great place to explore away from the crowds.
It's a good alternative base to start your island-hopping, with great ferry connections to the islands around the central coastal area.
Have you ever been island hopping in Croatia? What is your favourite island?