Chobe National Park, located in the far north of Botswana in Southern Africa is one of the most incredible wilderness regions on the African continent. It boasts more elephants than anywhere else on the planet. Additionally, other wildlife favorites including lions, antelopes, buffalo, hippos, zebras, giraffes and even rare rhinos.
*This post may contain affiliate links, as a result, we may receive a small commission (at no extra cost to you) on any bookings/purchases you make through the links in this post. As an Amazon Associate, we earn from qualifying purchases. Read our full disclosure
We had an opportunity to visit Chobe National Park during our recent safari with Pangolin Photo Safaris and found it to be one of the best places for a safari in Africa.
---
If you are planning a safari in Southern Africa, Chobe National Park is a destination worth adding to your list!
---
About Chobe National Park
This game reserve spanning 11,700 sq km was established as a National Park in 1967, the first among Botswana National Park. Most importantly, this the most biologically diverse area of the country.
The park gets its name from the Chobe River. It runs through its northern reaches and forms the border with Namibia. Its grasslands, lagoons and marshlands are all prime environments. Specifically, attracting numerous bird species as well as the perfect landscapes for conserving Africa's Big Five animals.
Chobe National Park Location
Chobe National Park is located in the far north of the country. It reaches up to the southern African quadripoint where Botswana meets Zambia, Angola and Namibia. Furthermore, many people incorporate a trip from Victoria Falls to Chobe National Park as the two attractions are within easy reach of each other across the border.
The park is divided into four distinct sections.
The Chobe Riverfront is the northernmost part of the park and the most accessible from the town of Kasane. This area of the park encompasses floodplains and mopane woodlands. It is incredibly dense with wildlife, particularly in the dry season when wildlife congregates in this area in search of water.
Traveling Soon?

Here is a list of our favourite travel providers and accessories to help get you ready for your upcoming trip!
Linyanti Marsh is in the northwest corner of the park and extends into the Okavango Delta to its south. It's a relatively lush area with lagoons and floodplains. Also, it is dramatically different compared to the more arid Savuti. The marshland is popular with elephants, hippos and crocodiles who relish the rivers in the area, as well as wild dogs, cheetahs and leopards.
Savuti Marsh is in the south of the park. It's around 5-6 hour's drive from the Chobe Riverfront and is often accessed by flight. Its marshes fluctuate between arid and lush, depending on the level in the Savuti Channel which feeds the area. However, the area remains mostly dry. The landscape has an eerie barren atmosphere, which is perfect for predators like lions and leopards to prey on antelope and buffalo herds. It's known as one of the best areas for big cat viewing.
Between these two marshlands is the Nogatsaa woodlands. This area is a sweeping, remote expanse of mopane and grass. It's notoriously difficult to explore because of the sandy soil and it sees very little traffic. The area supplies water to much of the wildlife, with bores remaining wet even in the dry season. In short, it's often a magnet for elephants, buffalo and antelope who come in search of water.
Chobe National Park Wildlife
Wildlife is abundant in Chobe National Park. Many of Africa's biggest animals and popular safari game scattered around the the Botswana National Park. You can spot lions, leopards, rare antelopes and herds of buffalo. Additionally, hippos in the lagoons and rivers, migrating zebra, giraffes and an incredible range of birds.
In Chobe National Park, elephants are, by far, the biggest attraction. Moreover, the Chobe area has the largest concentration of elephants on the continent. It won't take long on a Chobe National Park safari to spot a large herd.
Although it is possible to spot Africa's big five (buffalo, lion, elephant, leopard and rhino), rhinos are increasingly rare to see in Chobe. Only few people get to spot one on their safaris. However, the sheer number of other animals you can see, means it's impossible to be disappointed with the Chobe National park animals you do get to see.
Safari in Chobe National Park
As one of Africa's premium national parks, Chobe National Park is a great destination for a safari. With the varying landscapes and sections of the park, there are also different types of safari and modes of transport around the area.
Each section of the park offers a different safari experience. Specifically, different set of animals and ecosystems. So, it's worth visiting more than one section of the park on your trip.
The more traditional safari game drives are also common. Booking one of the official Chobe National Park safaris through a lodge or company means you get a guide who knows how to navigate the roads and spot the wildlife. Drives are usually done in the early morning or late afternoon, when the animals are most active.
A popular activity along the Chobe Riverfront is to stay on a Chobe River houseboat overnight or take a Chobe River cruise for the day. A boat allows you to get a unique and different perspective of the park. You'll likely see hippos bobbing in the water and elephants coming down to drink at the edge. Sunset cruises are very common, while houseboats offer a more relaxed experience.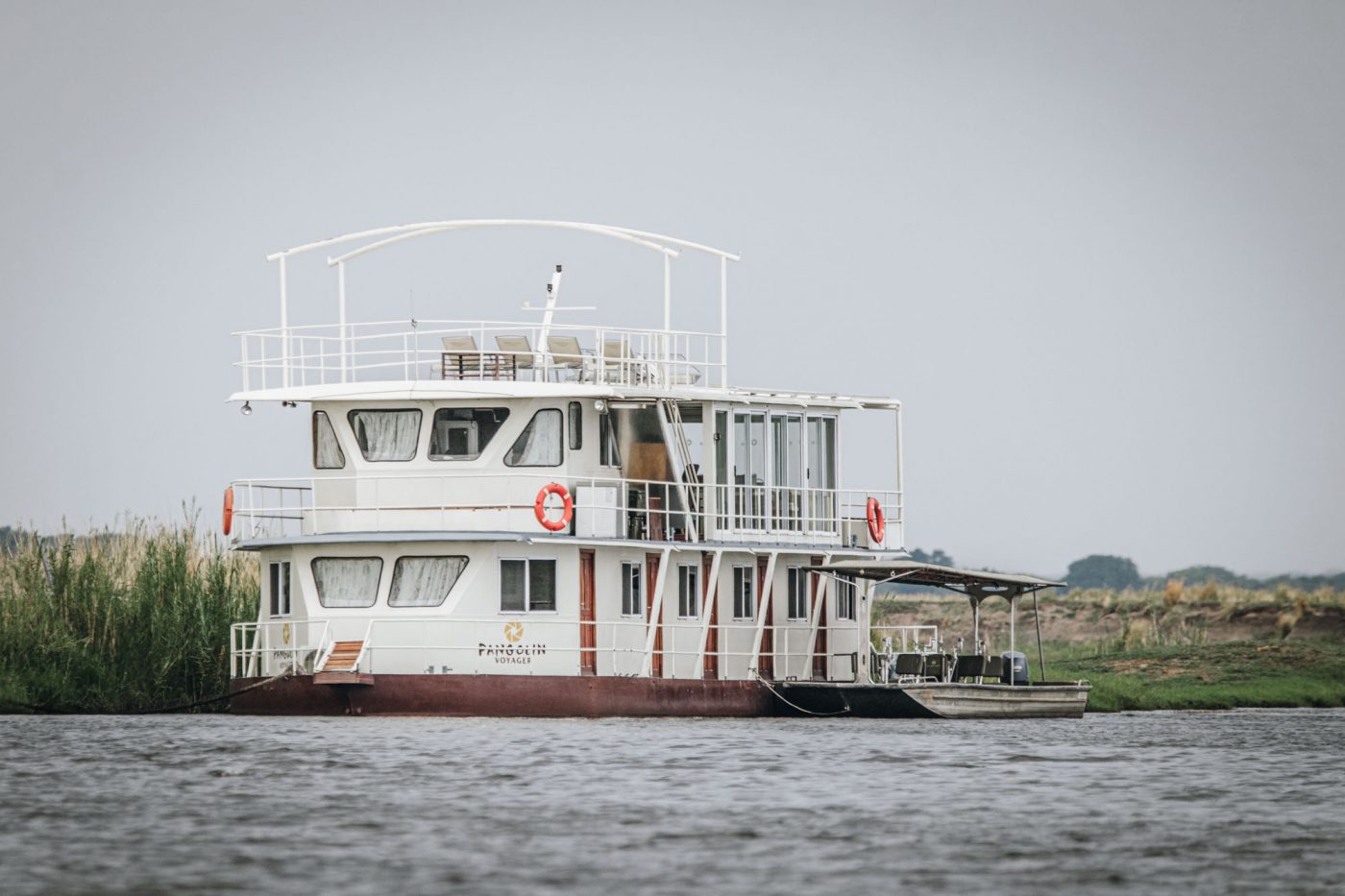 Chobe National Park tours generally include a combination of both river cruises as well as game drives, for a comprehensive experience of the park. You can choose to either stay at one of the Chobe National Park lodges inside the park or rough it a bit at a Chobe camping site.
How to get to Chobe National Park
Kasane is the main town and gateway to the national park. You can fly to Kasane, Botswana and begin your safari directly from your accommodation there. Also, the city center is located just 6 km from the Chobe Park entrance.
There are regularly scheduled flights to Kasane from Johannesburg, Livingstone and Victoria Falls. It's also possible to charter flights into Linyanti and Savuti marshlands as the drives can be relentless from the Chobe Riverfront across to those sections of the park.
It is possible to embark on a Chobe National Park self-drive safari, but the trip is only possible in a 4 x 4 vehicle. Most of the roads in the park are sandy and not in great condition.
Chobe National Park entrance fees need to be paid at any of the entrance gates to the Botswana game reserve.
Best Time to Visit Chobe National Park
The best time to visit Chobe National Park, Botswana is between May and October when it's Botswana's winter and the area's dry season. The days are still pleasant, although the nights and early mornings can be quite cold. You can find large numbers of game during this time around the Chobe River area, as water in other sections of the park evaporates.
During the rainy season from December to March, some of the roads in the park are washed away. Many campsites close down due to inaccessibility. However, at this time the landscape is lush, and even areas of Savuti appear less dry and barren than usual, making it a completely different experience. Chobe National Park weather can be difficult to predict year to year, with rainfall especially being very up and down.
Most Chobe National Park hotels remain open all year though, meaning you can visit at any time of year depending on your schedule.
Chobe National Park Accommodation
If you opt to go on one of the organized Chobe safari tours, then your Chobe accommodation inside the park is generally arranged for you. However, if you plan on self-driving, there are a number of Chobe National Park camping sites as well as private Chobe lodges where you can spend the night.
Lodges in Chobe National Park tend to be of quite a high standard. Although, electricity is often absent throughout the area. Chobe safari lodge prices tend to fluctuate depending on the season. It can be significantly lower during the wet and rainy period. Either way, you should book in advance. Tour groups tend to book out places and sites, especially in high season.
Accommodation in Kasane can usually arrange day trips from Chobe National Park to Victoria Falls. Additionally, to other attractions like the Okavango Delta as well as river cruises. Also, the safaris in Chobe.
Here is a list of our recommended hotels and lodges inside Chobe National Park. We also included accommodations in close proximity to the park's gates.
Kasane
Ihaha campsite – located right on the banks of the Chobe River area. This campsite has 10 designated sites with basic facilities but no electricity. It's the only campsite for self-drivers along the Riverfront. Rates start at around $40.
Pangolin Chobe Hotel – located on a plateau overlooking the Chobe River, Botswana. It's just a few hundred metres from the National Park boundary. The hotel has 14 rooms and can organize boat rides and game drives directly from the property. In short, it's a fabulous hotel for any budding photographer!
Chobe Game Lodge – one of the most famous places to stay on a Chobe safari experience. This lodge was established in 1973 and has a number of luxurious rooms with Chobe River views. Also, Chobe safari lodge is not far from Kasane along the river edge. You can organize any safari or game drive you like.
Linyanti Marshland
Linyanti Campsite – located in the middle of one of the more beautiful areas of the park. SKL Camps operates five campsites in Linyanti, overlooking the river flowing through this section of the park.
Linyanti Bush Camp – equipped with just six luxury tents. This lodge is more intimate and comfortable than traditional camping. Moreover, they also organize scenic flights and trips into the Okavango Delta.
Savuti
Savuti Campsite – in the heart of Chobe and next to Savuti Marsh. This campground has 14 campsites as well as basic facilities with toilets, showers and fire pits. There is no electricity. Moreover, It's run by SKL Camps and you can book by contacting them directly.
Savuti Safari Lodge – this lodge has 12 thatch suites, with a common lounge, library and bar. The location of the hotel is right on the edge of the Savuti channel. It feeds the arid area with what little water it can provide.
Have you been on a safari in Chobe National Park?