Tucked away on Australia's northwest coast, the Dampier Peninsula is a remote gem. The area boasts untouched wilderness with white sand beaches and crystal clear shimmering waters.
*This post may contain affiliate links, as a result, we may receive a small commission (at no extra cost to you) on any bookings/purchases you make through the links in this post. As an Amazon Associate, we earn from qualifying purchases. Read our full disclosure
Cape Leveque, the top attraction of the region, is a natural wonder known for vibrant red cliffs, and traditional Aboriginal heritage. For those that once thought of Cape Leveque as an inaccessible destination, we have good news! The road from Broome up Dampier Peninsula is now fully sealed, so pack your camping gear and start planning a Dampier Peninsula road trip!
About Dampier Peninsula & Cape Leveque
Cape Leveque is the main attraction of the Dampier Peninsula. The cape is famous for its pristine coast and wilderness. The local Indigenous people call the peninsula Ardi, meaning "northeast,". It's an area that carries rich traditional history and one that has been sparsely inhabited with small remote communities for centuries.
The beaches are unspoiled, trees full and natural, and wildlife abundant. At one point, the peninsula was known as a far-off place with limited road access. Now, thanks to the newly sealed road, it's an off-the-beaten-path destination for nature and culture.
Traveling Soon?

Here is a list of our favourite travel providers and accessories to help get you ready for your upcoming trip!
Where is the Dampier Peninsula?
The Dampier Peninsula is located in northwest Australia along the coast of the Kimberley region in Western Australia. It's about 200 km north of Broome and surrounded by the beautiful Indian Ocean.
How to get there
Thanks to recent improvements, the main road up the Dampier Peninsula from Broome to Cape Leveque is now fully sealed. There are still plenty of off-shoots that require a high clearance 4WD vehicle but the main route is now accessible by any vehicle.
To get to Cape Leveque, follow Broome Road for 20 km before hitting the turn-off for Broome-Cape Leveque Road. The sealed all-weather road goes all the way to Cape Leveque and takes about 2.5 hours. Keep in mind that if you want to explore more of the unique landscape, you'll need 4WD to reach places like Pender Bay and Middle Lagoon.
As far as road conditions go, we found the ride to be pretty smooth but it does still require careful driving. There are no overtaking lanes and weather can be a big factor. Check out the Road Safety Commission's Guide to a Safe Drive before embarking on your trip.
Main Attractions & Things to do in Dampier Peninsula
Cape Leveque
On the northern tip of the Dampier Peninsula, Cape Leveque is the main draw for most visitors making this extraordinary trip. It's no surprise that the gorgeous untouched beaches and astonishing red cliffs make a visit here a once-in-a-lifetime experience. The contrast between the vibrant cliffs, white sandy beach, and turquoise water is a feast for the eyes.
Swimming and snorkelling are popular things to do in Cape Leveque. The cape is also home to a lighthouse and is a good spot for whale watching (during the season). Cape Leveque fishing is world-class and locals invite you to explore the region and uncover its rich Aboriginal history.
Kooljaman at Cape Leveque
Kooljaman is a remote wilderness camp owned by local Indigenous Bardi Jawi communities. It's famed for its stunning scenery and eco-conscious beachfront campground. The award-winning place has accolades in Indigenous Tourism, Eco-Tourism, Unique Accommodation and Cultural Tourism. Spend the day combing the beach before having dinner at Raugi's Restaurant and catching the glorious sunset over the bay.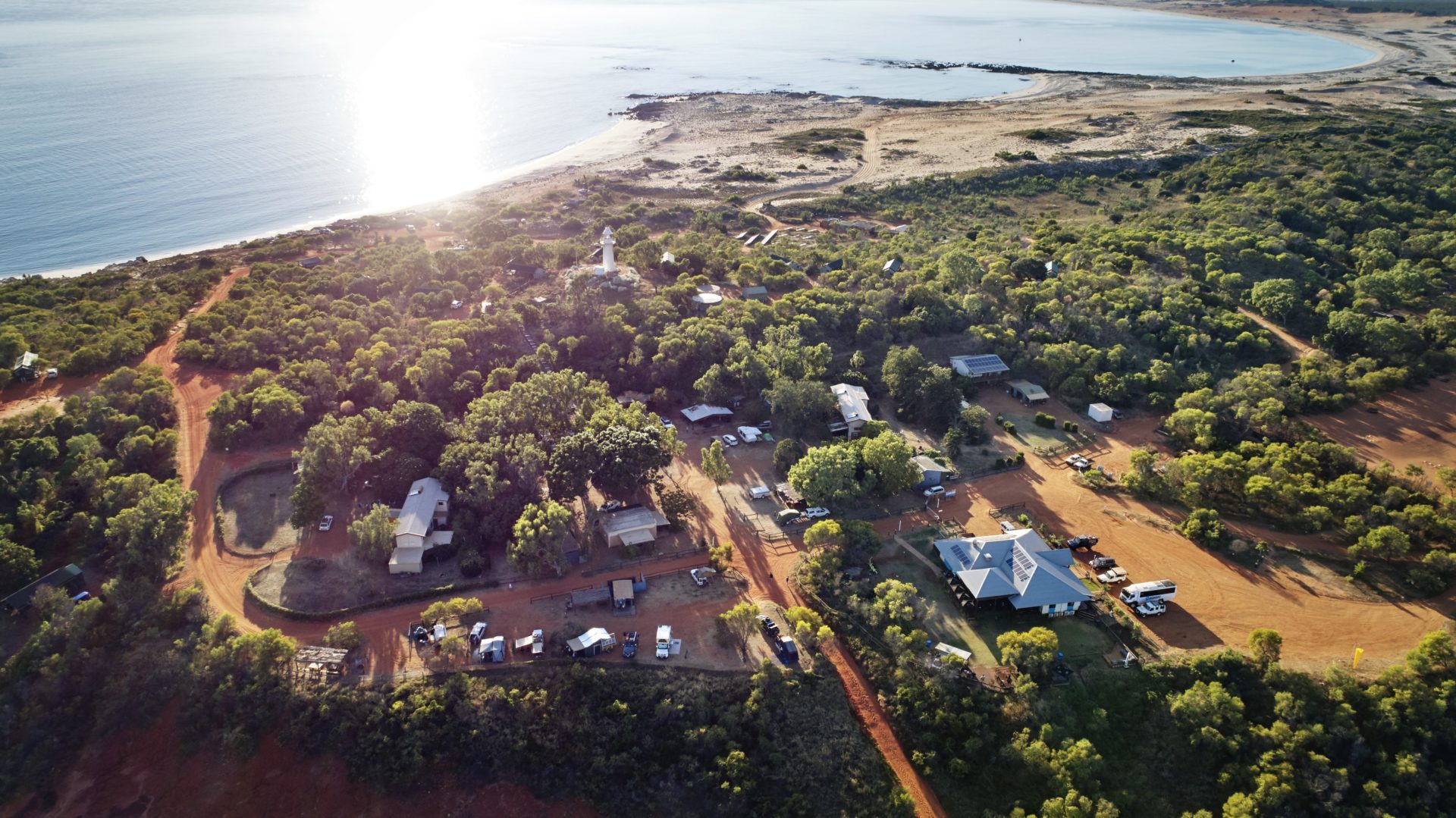 Brian's Tagalong Tour
No trip to Kooljaman is complete without joining a cultural tour with unforgettable Bardi tour guide, Brian Lee. Brian's Tagalong Tours of Hunter Creek sheds insight into traditional fishing and crabbing and culminates in a bush tucker lunch under the trees. It's the absolute best way to experience the Kimberley region from a local's perspective.
Cygnet Bay Pearl Farm
Located on the eastern side of the Dampier Peninsula, Cygnet Bay Pearl Farm is an icon of Australia's pearling industry. The bay's tidal creeks and sandy banks are prime oyster territory along with the coast's many points. Rocky shores line the bay and the views of nearby islands are spectacular.
The farm operates a number of boat tours allowing visitors to explore the beauty of the Dampier Peninsula from the water. We recommend their Sea Safari Tour to experience the massive tides or journey to the unique waterfall reef. You can also dine at the Cygnet Bay Restaurant and have a taste of pearl meat!
Ardyaloon – One Arm Point
Immerse yourself in local Aboriginal culture in the remote town of Ardyaloon, or One Arm Point. From here, you can watch the giant tides sweep over the Kimberley islands and tour a trochus shells hatchery. The beaches are completely unspoiled and the fishing is outstanding. The road in is 4WD only, but the vibrant community is well worth a visit.
Lombadina
The Aboriginal Community of Lombadina welcomes visitors to explore their traditions and amazing location on Thomas Bay. Soak in the beauty of white sand beaches and try your luck at spotting humpback whales in the distance. The Community hosts immersive tours to try your hand at mud crabbing, kayaking, or traditional fishing.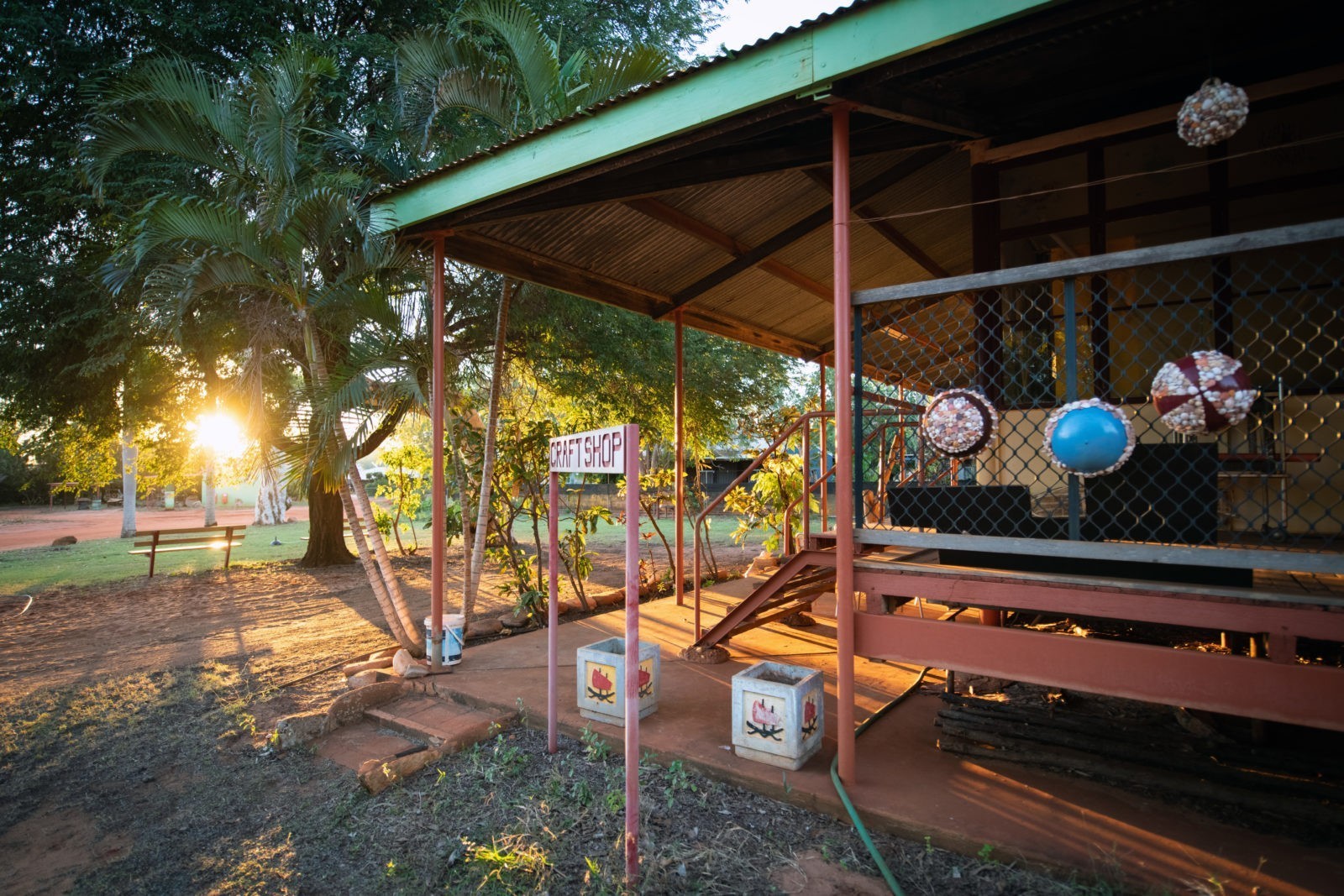 Pender Bay
Follow an unsealed road north of Beagle Bay and you'll arrive at Pender Bay, a hotspot for humpback whales and remote camping. Explore the 4WD tracks and incredible beaches surrounding this rugged stretch of coast. Stay at Whale Song Campground and be sure to stop into Kimberley Wild Gubinge to taste a superfood plum unique to Australia.
Middle Lagoon
On the same 4WD track from Beagle Bay to Pender Bay, you'll find Middle Lagoon, another stop for the picturesque wilderness. Spend the day relaxing on the beach or dropping a line in the water. Camping and limited accommodation options are available at low-impact coastal camp Nature's Hideaway.
James Price Point
A stunning headland on the Kimberley coast, James Price Point is a local favourite for swimming and wild camping. Besides its astounding beauty, the area also has large cultural significance for Indigenous Communities. Walk the beaches, observe the wildlife, and keep your eyes peeled for dinosaur footprints in the intertidal zones!
James Price Point offers one of the most picturesque FREE wild campgrounds in all of Australia. Camping spots are scattered all along the point and are sprawled between the ocean and the stark red cliffs. You must be completely self-sufficient to camp here, as there are no facilities and no trees/bushes, so a portable loo is a must!
Beagle Bay
Stop into the Community of Beagle Bay to visit the home of the Nyul Nyul people. The Community's famous Sacred Heart Church features a beautiful building with an altar made from shells. It's entirely handmade and adorned with white mother-of-pearl shells.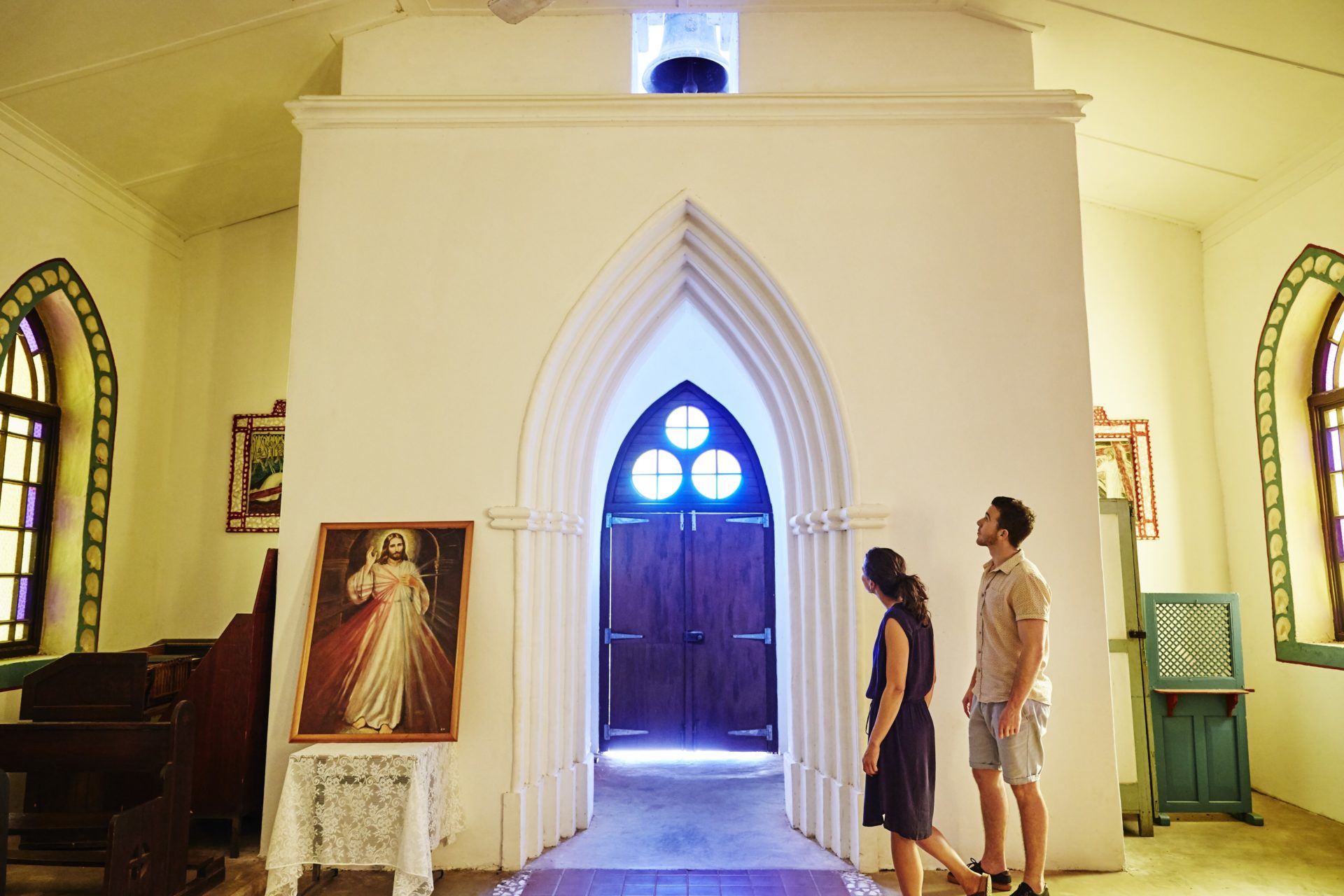 Where to Stay: Cape Leveque Camping and Dampier Peninsula Accommodation
Waking up to sweeping views of the red cliffs and sparkling ocean is what the Dampier Peninsula is all about. Keep in mind that Cape Leveque accommodation is limited so be sure to plan ahead.
Kooljaman Cape Leveque
The closest camping ground to Cape Leveque, Kooljaman is a remote wilderness camp with a variety of accommodation options. It's located on Native Title Land in the heart of Bardi Jawi country and is completely Indigenous-owned. You'll need a 4WD to access the camp and have all of your supplies with you as there are no stores on-site. They only allow small camper trailers, tents, roof toppers, and swags.
Kooljaman accommodation ranges from campsites and safari tents, to log cabins and beach shelters. Truthfully, we found the grounds to be very commercialized and quite overpriced. Unpowered campsites at Kooljaman start at $45 per night, safari tents at $110 and cabins at $170. And even a day pass, to check out the beach, the lighthouse and explore the area, costs $20/person. Kooljaman gets booked up very early in the season, so if you are planning a trip to Cape Leveque and want to stay at this iconic Dampier Peninsula campground, be sure to book WELL AHEAD.
Gumbanan Wilderness Retreat
Gumbanan Wilderness Retreat is located at the eastern tip of the peninsula near One Arm Point and is a great wilderness bush camp. We stayed here for a couple of nights during our visit and enjoyed the amazing ocean views and rugged landscape. Gumbanan offers basic campsites with toilet/shower facilities for $30/per night.
Spending the night at a pearl farm is a pretty cool way to experience the coastal Kimberley region. Cygnet Bay Pearl Farm offers visitors remote accommodation with campsites, caravan sites, safari tents, and Pearler's shacks. Basic camping is $50/night and seaside safari tents start at $220/night. For the full experience, splash out on a heritage-listed Pealer's shack. For $295 a night, you'll get a feel for how divers lived in the early days of Australia's pearling industry.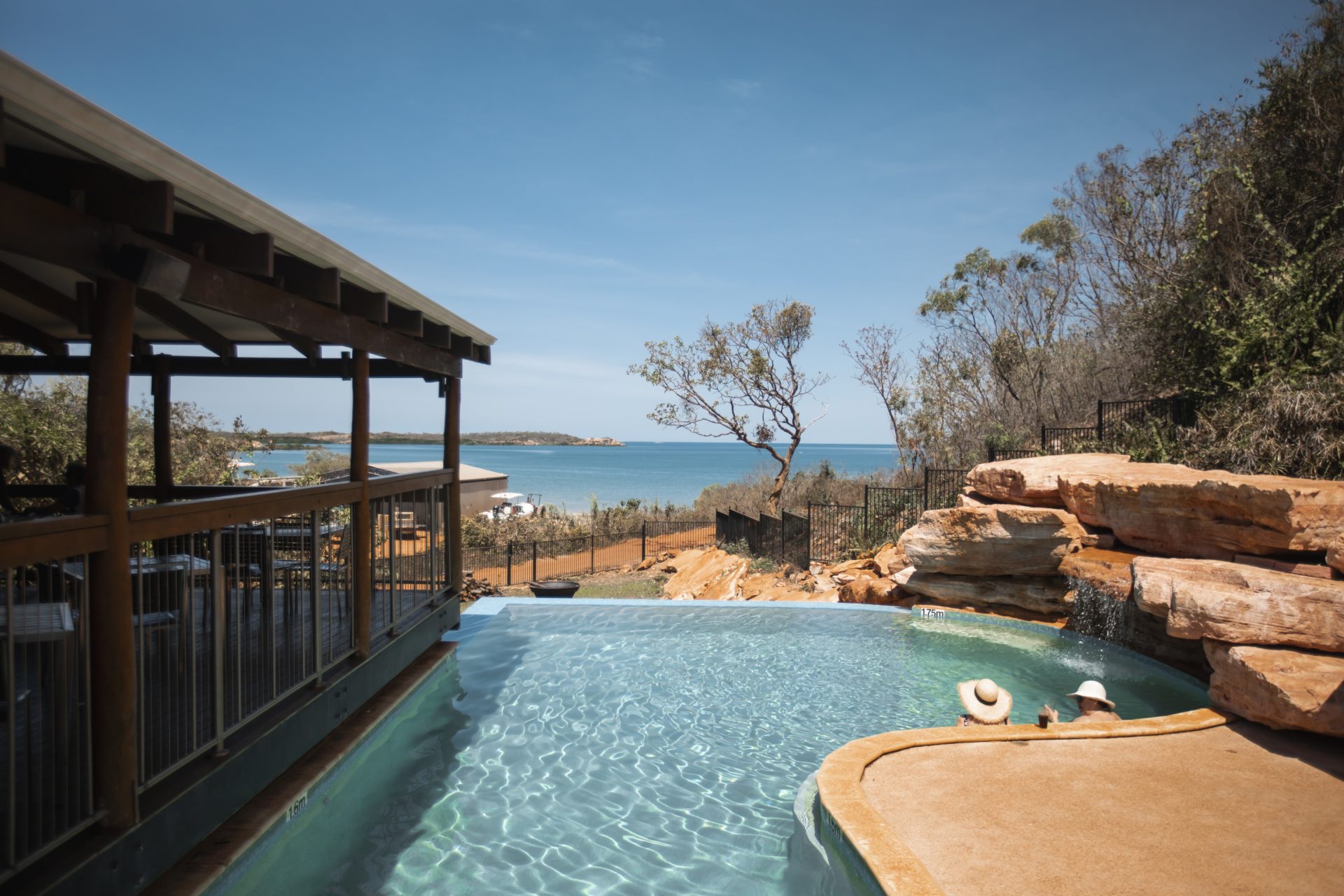 Perched above the cliffs of Pender Bay, Whale Song is the perfect place to relax and soak in Kimberley Coast beauty. There are only 6 campsites that overlook the sea with access to drop toilets, showers, and a lovely cafe. The sites are $20/night and require 4WD to access.
A beautiful eco-retreat, Nature's Hideaway at Middle Lagoon is a low-impact campground just west of Pender Bay. You'll need 4WD to get there, but the campground has basic toilet facilities, showers, and a shop. Choose between unpowered campsites for $20/night or seaside cabins. It's a great place to enjoy the beaches and do some fishing.
Wild Camping at James Price Point
James Price Point, or Waldamany, is a stunning free campsite located about 1 hour north of Broome. Picture white sandy beach surrounded by rocky red cliffs where 4WD fully self-contained vehicles can spend the night above the sea. The site is beautiful but can get very windy so prepare for rugged, wild camping. Also note that there is a 3-day limit on camping and no facilities.
FAQs About Visiting the Dampier Peninsula
How long should I spend in the Dampier Peninsula?
If you just want to see Cape Leveque, you can plan for a day trip from Broome with about 5 hours of driving time. That said, we definitely recommend spending a few days exploring the peninsula and its pristine wilderness. You can easily stay for weeks on end enjoying amazing Dampier Peninsula camping and laid back living.
How long does it take to drive from Broome to Cape Leveque?
The drive from Broome to Cape Leveque along the Broome-Cape Leveque Road takes 2.5 hours each way.
Is it safe to swim at Cape Leveque?
Yes, swimming at Cape Leveque and its surrounding beaches is safe and pleasant. However, these are known crocodile habitats, so it's important to get the most up to date information from Kooljaman if you intend to swim in the area.
Is the road to Cape Leveque sealed?
Yes. As of spring 2021, the road from Broome to Cape Leveque is sealed.
Can you take a caravan to Cape Leveque?
Thanks to the newly sealed Broome-Cape Leveque Road, caravans can now explore the Dampier Peninsula. However, some parts of the peninsula still require 4WD and are not suitable for caravans.
Have you visited the Dampier Peninsula? What did you think of Cape Leveque?