For us, the decision to have a Costa Rica beach wedding was an easy one. It was Max's second home, and the combination of beach and lush jungle made it a perfect setting for our rustic laid back affair.
*This post may contain affiliate links, as a result, we may receive a small commission (at no extra cost to you) on any bookings/purchases you make through the links in this post. As an Amazon Associate, we earn from qualifying purchases. Read our full disclosure
We loved sharing our love for travel and our love for Costa Rica with friends and family who travelled thousands of miles to see us tie the knot in December 2015 at our Costa Rica destination wedding.
Traveling Soon?

Here is a list of our favourite travel providers and accessories to help get you ready for your upcoming trip!
Costa Rica Wedding Charm
We aren't the only ones smitten by Costa Rica's charm. These days, more and more couples are choosing to forego norms and traditions. They embrace the destination wedding trend by saying their "I Do's" in one of the happiest places on earth (that's Costa Rica in case you didn't know).
Our Costa Rica Destination Wedding
We took 12 months to plan our wedding in Costa Rica. Everything had to be carefully researched and organized, from the wedding officiant, Costa Rica wedding venues, flowers to decor, catering, music and everything in between!
We put on quite the affair and entertained over 40 family members and guests that travelled to Costa Rica from overseas. Additionally, there are also 30-40 local guests that joined in the celebrations of our wedding experience.
Every one of our guests pitched in and helped us with the finishing touches. Although everything didn't go perfectly (I'm not sure that wedding planning or weddings ever do), it really was a beautiful day and one that we wouldn't have traded it for anything!
There is no denying it. Costa Rica is an amazing location for destination weddings! Costa Rica not only offers beautiful beaches and a jungle setting, but it also makes for an amazing trip for you and your guests.
If you are considering a Costa Rica destination wedding for your upcoming nuptials, we hope that our advice and tips can help make the planning process and a lot less daunting! Here is everything you need to know about getting married in Costa Rica.
Your Marriage Will Be Legal In Your Home Country
Unlike a lot of other popular wedding locations, Costa Rica actually allows you to have a civil wedding ceremony or Costa Rica elopement that will be legal in your home country. In fact, the legalities are pretty simple and straightforward. There are only a few wedding requirements:
Weddings in Costa Rica must be officiated by a lawyer.
You must provide copies of your passports, birth certificates, information about previous marriages (if applicable), and the names of your parents.
You will need 2 witnesses who are not your family. Your witnesses will be required to provide their passports/IDs to your officiant beforehand.
No blood tests, no police checks, no additional documents or hassle, which can help keep your wedding cost budget-friendly.
After the ceremony, the lawyer will register your marriage with Costa Rica's National Registry, which will issue an official marriage certificate. Expect this process to take around 4-6 weeks (ours took 5).
To be legally recognized in your home country, your Costa Rican marriage certificate must then be:
Translated into English by an official translator
Authenticated by the Costa Rican Ministry of Foreign Affairs
Authenticated by your Embassy in Costa Rica
Your lawyer should be able to organize all the paperwork for you. This should take another week or so. Expect your lawyer fees, marriage registration and all other fees. Making your wedding legal should cost you anywhere between USD $1,500-2,000.
The lawyer that officiated our wedding was a friend of the family. But, during our research, we came across Costa Rica Marriage Officiants. It's a great website that can help you find your own wedding officiant in Costa Rica.
There Are Lots Of Beautiful Costa Rica Wedding Venues
Now that you have the confidence that weddings in Costa Rica are possible, let us inspire you with some beautiful settings and Costa Rica wedding destinations that can serve as backdrops.
You can plan an extravagant luxury affair with chandeliers and white linens. Or, you can choose to blend in with nature and go with a rustic theme that incorporates the surroundings into your wedding theme.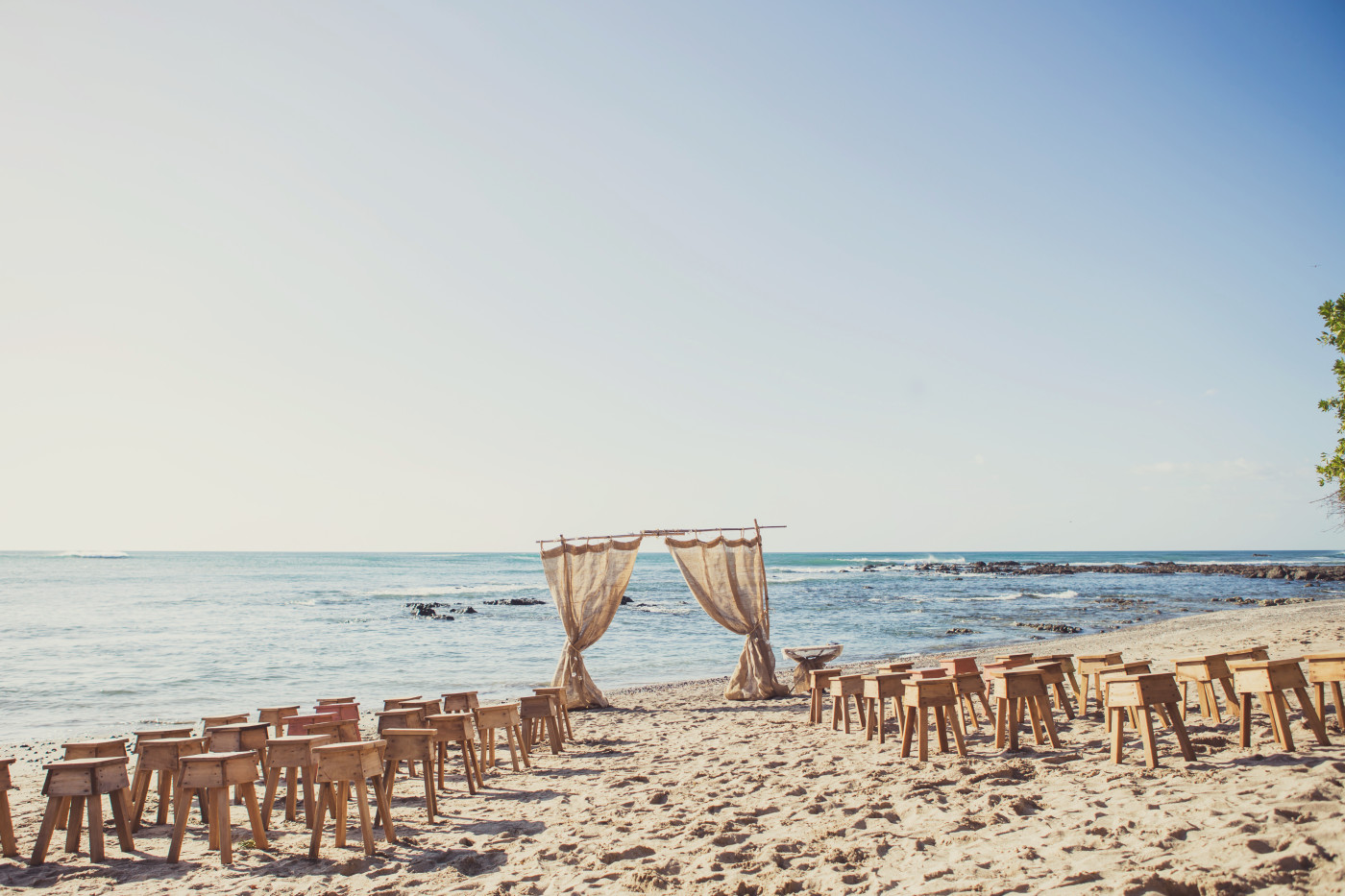 There are so many options to choose from when it comes to Costa Rica wedding locations and venues. You can have a beach wedding in the rainforest, mountains, or even a Costa Rica waterfall wedding.
Just keep in mind that the location may depend on the season. Check out our guide to the best time to go to Costa Rica to help you find the best time of the year for your wedding! Or if you need more convincing, check out the perks of a Costa Rica wedding here.
Costa Rica All-Inclusive Wedding
The following is a selection of hotels and resorts that are popular among brides and grooms looking to tie the knot with all-inclusive Costa Rica wedding packages. The majority of Costa Rica's big hotels and resorts are located in Guanacaste. But, there are a few more venues scattered around other parts of the country. You can venture out of Guanacaste and still find some of the best all-inclusive wedding resorts. In many ways, they far outshine even some of the best wedding venues in America.
Villa Blanca
If you're looking to explore options a bit more unique than a beach wedding, then Villa Blanca could be one of the top destination wedding locations. Costa Rica beach weddings are incredible, but they aren't the only option. This sustainable hotel and nature reserve offers seclusion and privacy with their selection of venues, without taking you too far from the city.
Villa Blanca's Mariana Chapel is located on a grassy knoll overlooking a cloud forest. It offers a truly stunning view better than nearly anything you can imagine. The chapel is a replica of a Roman chapel from the 17th century, with intricate decorative tiling on the ceiling. The Avatar Tree overlooks a dairy farm and is the perfect place for smaller weddings. The Hacienda is right on the edge of a cloud forest, and includes the incredible food of El Sendero Restaurant.
The Springs Resort & Spa
A wedding in Costa Rica can always be counted on to be beautiful, no matter what the location. Whether you're booking an engagement, a wedding, or a honeymoon, the Springs Resort is one of the best destination wedding resorts.
The Springs Resort is a gorgeous hot spring resort that offers beauty, luxury, and convenience. They have specialists to help pin down even the smallest details to make the day perfect. The all-inclusive resort offers multiple luxury wedding packages, whether you're hoping for a cozy elopement with a few friends or something more extravagant.
When you've picked the Costa Rica wedding package of your dreams, there are a number of gorgeous settings at the Springs Resort to hold your wedding. This includes the breathtaking views of Arenal Volcano or Arenal River. You might even get some of the local wildlife in your photos. Depending on the room or villa you book, there's even an infinity pool for your entire group of guests to enjoy.
Undoubtedly, getting married at an all-inclusive resort may increase your wedding cost far more than a luxury boutique hotel. But, keep in mind everything that is included with wedding packages. All-inclusive means a wedding planner, Costa Rica officiant, decor, and sometimes catering will be included. You'll have an absolutely fuss-free experience when you choose to go with all-inclusive wedding venues in Costa Rica.
If you want to get married at one of the above-mentioned resorts, plan to spend at least $15-20K on the affair. It's the average cost. Wedding resorts that are all-inclusive will often charge North American prices for food, decor, cake and many other elements of the wedding. So that's another thing to keep in mind.
Costa Rica Boutique Hotel Wedding
If your budget doesn't stretch that far, plenty of smaller boutique hotels are happy to act as your Costa Rica wedding venues or offer Costa Rica elopement packages. In many cases, they will be able to provide or arrange catering, accommodation and some decor. This will give you the opportunity to put a bit more of "you" into the setup and the day itself.
There are lots of boutique hotels that offer wedding services in Costa Rica. While we are sure that many do a fantastic job, there are a couple that we would recommend from first-hand experience.
Costa Verde Hotel, Manuel Antonio
Having recently attended a beautiful Manuel Antonio wedding at Costa Verde Hotel, we have now seen firsthand what a small hotel wedding can look like at Costa Verde Hotel near Manuel Antonio National Park. The verdict? It's BEAUTIFUL!
The iconic hotel seems to perfectly blend in with the surroundings. It gives a feeling like you really are staying in the jungle. Parts of the hotel, like the helipad in front of the Costa Verde II and the reception hall overlooking the Pacific Ocean, have been built specifically to provide a unique environment for wedding receptions.
We loved their focus on recycling throughout the premises. Rainwater is used for laundry services, and solar energy is used to heat up the water. All furniture at Costa Verde is made in their wood shop (which you can visit during your stay there). They use the naturally downed trees from the region and all throughout the grounds. Moreover, thousands of recycled bottles are used as lighting fixtures.
It is definitely one of the most unique and beautiful accommodations we have stayed at in our travels. In our opinion, Costa Verde is an ideal destination for a wedding in Costa Rica! It would be great as a Costa Rica honeymoon destination too.
Costa Rica Villa or Private Home Wedding
For the ultimate budget-friendly Costa Rica weddings, many couples choose to rent a large villa or a private house and use it as the setting for the ceremony. This option gives you the opportunity to personalize your day and to add Costa Rican wedding traditions to your ceremony instead of going with a cookie-cutter resort wedding. However, it also comes with a LOT of work and stress versus a venue that offers package prices.
You'll have to hire all the vendors, including a wedding planner, to help you pull the day together. If you want to look into this option, this is a great list of tried and tested private home/villa rentals as recommended by couples who had a Costa Rica wedding.
We went with the cheapest venue alternative – a private home (sans the wedding planner), and trust us when we say coordinating all the vendors, making all the arrangements and setting everything up for our wedding day was incredibly hard and stressful. It's not the wedding experience that we would recommend to others!
Costa Rica Wedding Photographers Are Very Talented
Once you have decided on your wedding venue, choosing a wedding photographer should be next on your list. Luckily, having a Costa Rica destination wedding doesn't mean you have to pay an arm and a leg to fly your chosen wedding photographer to Costa Rica.
The country boasts an amazing selection of photographers that specialize in that sector. But, keep in mind that the nation's wedding industry is still rather small. So, while the options are great, they are somewhat limited. Booking your chosen Costa Rica wedding photographer as far in advance as possible is a must!
We narrowed down the list of Costa Rica Wedding Photographers to our top choices. Most photographers don't mind traveling outside of their local area to your wedding venue to cover weddings and events. They are ranked below in order of our preference:
Madison Baltodano (our amazing photographer)
Jonathan Cooley
We were absolutely over the moon with the photos that Madison took on our big day. She captured the emotions, the setting, and the day with absolute perfection and her services were really well priced! Prices for an 8-hour package will range from $1,200 to $4,700.
Costa Rica Wedding Videography
If you are looking to have your wedding captured on video, your options are somewhat limited. A few of the photographers listed above also offer Costa Rica wedding videography services, but rates are high and their availability is limited.
If you are planning a destination wedding in Costa Rica and are looking for an affordable wedding videographer, drop us an email and we'll try to help. Over the last few years, we have offered wedding videography services in Costa Rica to a few couples and have heard nothing but great feedback.
Check out a sample of our work below:
Hiring a Wedding Planner is Probably a Good Idea
Unless you are planning an all-inclusive wedding that offers wedding planning services, we definitely suggest that you hire a wedding planner, Costa Rica coordinator or wedding package service to help you bring your dream wedding to life.
Take it from someone who chose to DIY and faced a million and one problems. Trust us; you don't want to do the wedding planning all yourself!
Here are some great destination weddings coordinators and planners that I considered but unfortunately didn't end up hiring. (In hindsight, hiring one of these planners would've probably made our day a LOT less stressful.) As with photographers, wedding planners service wedding venues all over Costa Rica and aren't limited to their local area.
Wedding Planning/Coordination services start at $1,000 and go up from there depending on the level of the planner's involvement pre and during the event.
Reception/Ceremony Set Up Can Be Pricey
If your chosen venues do not include tables, chairs, table settings, and other decors, getting everything arranged at your Costa Rica wedding destinations on your big day can be pricey. It needs to be considered in your wedding planning that there are only 5 big furniture and event rental businesses in Costa Rica:
…and they make sure to charge destination wedding prices. If you are going to need to set up your own wedding venue, you are looking at $1,500-$2,000 in rental fees. And don't forget, depending on the location of your wedding venue, the delivery fees can be upwards of $500-1,000. We were quoted $1,000 for delivery on New Year's Eve. It's one of the main reasons why we ended up building and buying our own tables, chairs, etc.
The first 3 suppliers on the list are also the top choices for most wedding planners and wedding venues in Costa Rica, so their inventory goes fast and needs to be booked well in advance.
Other Vendors Are Few And Far Between
Costa Rica wedding flowers, catering, hair, makeup, and cake are all things that you will likely need to add to your wedding budget if you are thinking of going with a DIY, private home, or villa types of wedding venues.
These vendors were really hard to find and their prices were anything but competitive. We didn't end up using any of these for our beach wedding and instead hired friends to take care of our catering, cake and hair needs.
Caterers & Cakes
Soma Chefs, serves Santa Teresa Area, offers catering and private chef services
Ono Cuisine, serves all of Costa Rica, offers private chef services and catering
Costa Rica Catering, serves Guanacaste, offers cake services and catering
Victoria Zoch Cakes, serves Guanacaste, makes cakes and other dessert items
German Bakery, serves Guanacaste, makes special occasion cakes
You won't find a cake for less than $200 and a caterer willing to put together a menu for a wedding package will charge no less than $80-$100/person. Flower arrangements were quoted starting from $60 for each bridal bouquet.
Wedding Dress
You are not going to find a wedding dress in one of the sort of smaller beach town where most weddings are held. If you wait to shop for a wedding dress till you get here you will have to head to the capital city of San Jose where most Costa Rica wedding dress shops are. Keep in mind that alterations take time and this may not be the easiest undertaking if you don't speak Spanish. So we would suggest you buy your wedding dress in your home country.
You Can Celebrate Your Wedding Well Past Your Wedding Day
One of our favourite things about wedding ceremonies in Costa Rica was the fact that for most of our friends and family this wasn't just a 1-day event, it was a week-long vacation. One of the biggest complaints that we heard from other married couples was that they didn't get a chance to hang out with their friends and family at their weddings.
This couldn't have been farther away from the truth during our wedding. We loved hanging out with after our Costa Rica wedding. Tamarindo is close by so we arranged group outings to the local fiestas there, watched the sunset with friends by the Pacific Ocean, held a Thank You brunch where we got a chance to once again thank our guests for sharing our special day with us, and we even traveled around Costa Rica and Nicaragua with some of our friends a few days after the wedding. It was a wedding celebration and an amazing vacation all in one!
With no shortage of activities to do in Costa Rica, you too can extend your perfect wedding celebration far beyond your Wedding Day. Hang out on the beach, go horseback riding, zip-lining, go on a day cruise or check out a rainforest or a national park.
Experiencing the beauty of Costa Rica with your friends and family is guaranteed to make your wedding that much more memorable and special. You can't get this stuff back home!
Your Honeymoon Can Start Where Your Wedding Day Ended
Do you know what is more magical than a wedding in Costa Rica? Honeymooning in Costa Rica! Dozens of beautiful honeymoon worthy destinations are going to be within a quick drive away from your wedding venues. No additional flights, no need to repack, or plan another trip. Your honeymoon can begin from your wedding destination, as soon as you want!
Total Costa Rica Wedding Cost
Your wedding at Costa Rica cost can range dramatically.
For starters, it's important to determine your budget. Approximately how many people will be attending your wedding? How about your Costa Rican wedding style? As we mentioned, all-inclusive wedding venues will typically be more fuss-free than DIY wedding venues like our own but the cost usually reflects that.
However, just like the cost of living in Costa Rica, on average a Costa Rican wedding is much more affordable than one held in North America. In Costa Rica, a wedding typically hovers around $200-$400USD per person while in the States basic weddings average a total of $33,000 USD.
Our DIY Costa Rican wedding cost us only $11,000. But, as mentioned before, it came with a lot of hard work and a lot of stress. We think that a budget of $15,000-20,000 for a 40-50 person wedding is the sweet spot for someone looking for an enjoyable and down-to-earth wedding celebration in Costa Rica, while still being pretty reasonable for an unforgettable experience.
* Unless otherwise stated, all photos in this post were taken by our talented photographer, Madison Baltodano.
Would you choose to have your wedding in Costa Rica? What would your dream wedding look like?