Hidden some 906 km (563 miles) off the coast of Ecuador, the Galápagos Islands are a haven for unspoiled nature and extraordinary wildlife. Thanks to the distinct volcanic climate, these isolated islands foster unique species of land and marine animals unlike anywhere else.
*This post may contain affiliate links, as a result, we may receive a small commission (at no extra cost to you) on any bookings/purchases you make through the links in this post. As an Amazon Associate, we earn from qualifying purchases. Read our full disclosure
Visiting the Galapagos archipelago is a true bucket-list destination for nature lovers and travellers alike. The islands are home to endemic species that guided Charles Darwin in developing his theory of evolution and offer fascinating encounters on every corner.
Our first trip to the Galapagos Islands was back in 2017 on a land-based tour that took us around the main towns on the islands of San Cristobal, Isabela, Santa Cruz, and Floreana. We had a fantastic time on that trip, but we knew that one day we would need to come back to see more.
So when the opportunity came knocking, we couldn't say no. This time, we decided to travel further than we did back in 2017 and opted to visit the Galapagos Islands aboard a sustainable cruise with Oniric Cruises.
Traveling Soon?

Here is a list of our favourite travel providers and accessories to help get you ready for your upcoming trip!

Why Oniric Cruises
There is no denying it that Galapagos Cruises offer a unique opportunity to visit the Galapagos Islands. A Galapagos cruise allows travelers to go beyond the populated areas, to visit uninhabited islands and see destinations that you simply can not reach on a day trip from town.
For us, joining any Galapagos Cruise wasn't an option. As sustainable travelers, we are acutely aware of the negative impact the cruising industry has on the environment. As a result, we tend to limit cruising in our travels.
Then we learned about Oniric Cruises.
Established in 2007, Oniric Cruises offers Galapagos small ship cruises with a commitment to sustainability. Given that these islands are so biologically significant, Oniric recognizes the importance of conservation in eco-tourism. The company aims to provide the best Galapagos tours with the lowest impact on the fragile ecosystem.
Oniric Cruises offer small ship Galapagos Cruises on energy-efficient boats built with smart, eco-conscious materials. Their fleet has boats with sun-powered navigation and all of their trips contribute to Galapagos conservation NGOs and aim to positively impact local communities.
Our Boat: Treasure of Galapagos Catamaran
Oniric Cruises has a fleet of 4 boats, each one offering 3-4 different itineraries ranging from 4-8 days in length. The ships are all small, able to accommodate at most 16 passengers on board in air-conditioned rooms with private bathrooms.
We opted to explore the Galapagos on an itinerary aboard the Treasure Catamaran.
The Specs
Treasure is a 31 m (101 ft) catamaran with 9 cabins and 3 decks. The boat can accommodate 16 guests and has all the comforts of luxury Galapagos yachts, complete with 2 zodiac tenders for shore excursions.
Our Room
For us, the biggest draw of the Treasure Catamaran over the other boats in the Oniric Cruises fleet was the comfortable spacious cabins with an en-suite. The ensuite was equipped with a full-size on-demand hot shower (a true luxury on any sailboat)! And if that wasn't enough, each cabin had its own private balcony for enjoying slow mornings or watching sunset en route.
Facilities on Board
The sundeck area with a shaded resting area and a jacuzzi sealed the deal. And although the hot tub wasn't working during our trip, we spent many afternoons and evenings enjoying the sun deck area with fellow passengers.
Other common areas aboard Treasure included an indoor and outdoor dining area (with a BBQ!), a lounge sitting area with games and and a small library, and a bar, stocked with wines, beers and spirits.
Food & Drink
All meals, water, coffee & tea were included in the price of our Galapagos Cruise.
Meals were served buffet style and offered a nice selection of fresh and grilled veggies, rice/pasta/potatoes and a variety of protein options, including some meat, chicken and fish/other seafood. All of the food was made from fresh, locally sourced ingredients from mainland Ecuador.
The chef was able to accommodate dietary requirements including, low carb for Max, vegetarian for me and a vegan option for a fellow passenger. Meals were different every night and were filling and tasty!
The bar on board was stocked with basic beers, some wines and spirits.
Our Galapagos Cruise Itinerary
Treasure of Galapagos offers 3 different itineraries around the Galapagos Islands
Itinerary A: 5D/4N visiting Santiago, Bartholomew, North Seymour, and San Cristobal Islands
Itinerary B: 5D/4N visiting San Cristobal, Española, Floreana, Santa Fe, and Santa Cruz Islands
Itinerary C: 7D/6N visiting Santa Cruz, Isabela, Fernandina Islands
While all the itineraries offer something interesting, we were most interested in visiting islands and destinations we hadn't yet experienced on our previous visit. Knowing that we chose to experience Itinerary C.
Day 1:
Santa Cruz Island
Sailing Time: None
Activities: Boat tour
Destinations Visited: Charles Darwin Research Station
AM – After flying into Baltra Airport, we paid our entrance fee to Galapagos National Park (USD $100) and were greeted by our guide, Jaime in the arrivals hall. We met the rest of our group and boarded a bus to the loading docks, just a 5 min drive from the airport. Once there, we took the zodiacs to our home for the week – the beautiful Treasure of Galapagos.
Stepping foot aboard Treasure, we were immediately impressed. She was so shiny and clean. Our cabins were luxurious and spacious and the staff welcomes us with open arms.
PM – After touring the boat and enjoying our first lunch on board, we disembarked the boat and made our way to the town of Puerto Ayora on Santa Crus Island. We spent the afternoon visiting the Charles Darwin Research Station, learning more about the fearless wildlife that calls the Galapagos Islands home.
At the end of the visit, we walked back into town and had a couple of hours to spend in Puerto Ayora. We appreciated an opportunity to shop, have a snack and a drink, and leave some of our tourist dollars in the local community – something you don't get a chance to do on other Galapagos Cruise itineraries.
Day 2:
Eden Islet + Santa Cruz Island
Sailing Time: 4:30 hrs overnight
Activities: Hiking, Snorkelling
Destinations Visited: Eden Islet, Dragon Hill
AM – In the morning, we set sail off the west coast of Santa Cruz to the gorgeous islet of El Edén. The first activity of the day was an hour-long zodiac ride along around El Eden to get a glimpse of blue-footed boobies and many other birds. We then jumped in the water for our first snorkelling session in the Galapagos. The water was cold but we were lucky enough to be joined by a few playful sea lions as we snorkelled around El Eden.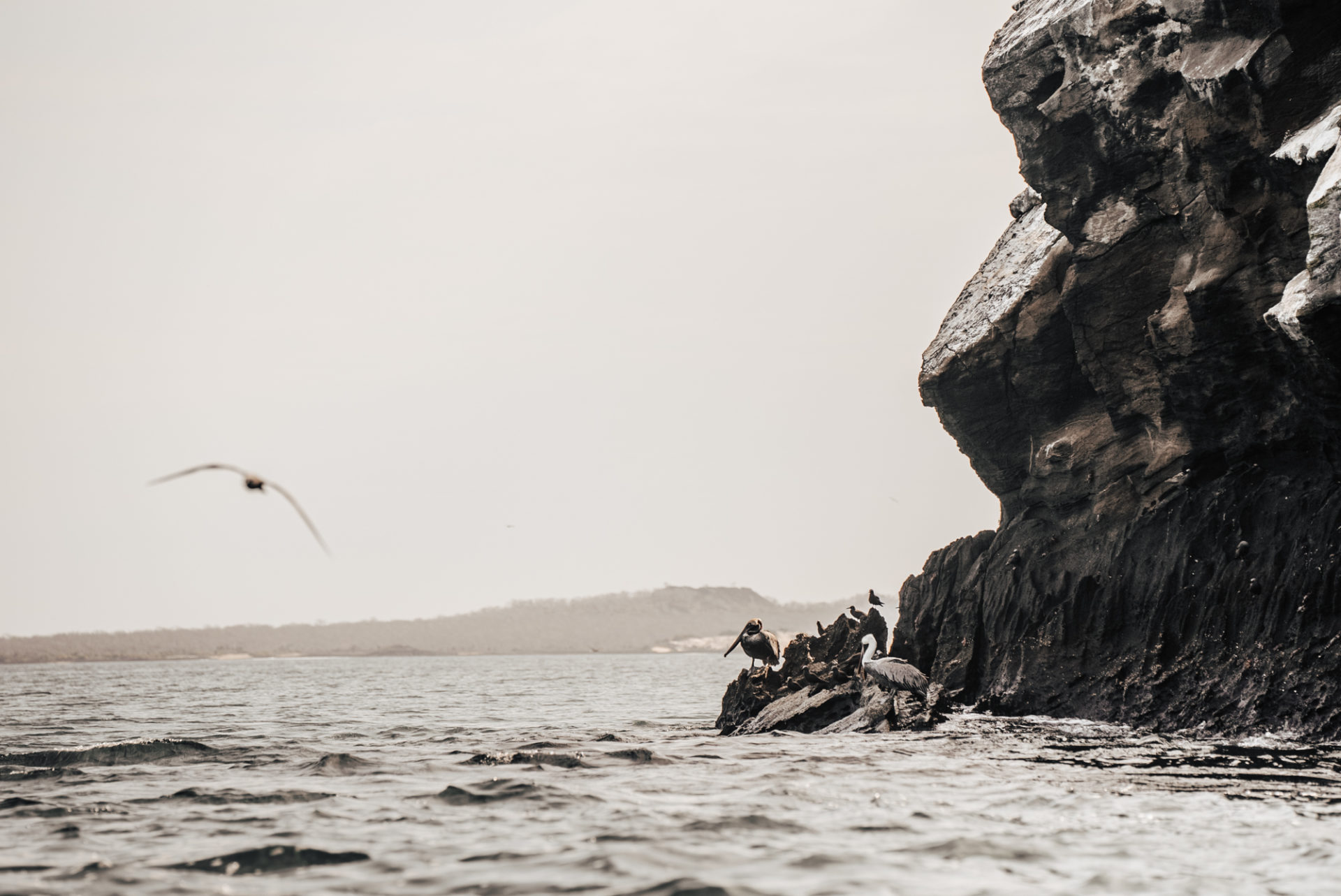 PM – After another great lunch onboard and a much-needed siesta, we disembarked at Dragon Hill – a unique spot on Santa Cruz Island. Here we set off on a short hike and were super lucky to have an amazing encounter with our first land iguanas. This area is also known for its hyper-saline lagoon that's home to several birds that we spotted during our hike.
Day 3:
Isabela Island
Sailing Time: 7hrs overnight
Activities: Hiking
Destinations Visited: Tintoreras, Sierra Negra Volcano, Wetlands, Puerto Villamil town
AM – We woke up bright and early to visit Las Tintoreras lava channels. This was a very unique a beautiful spot with tons of turtles in the water channels and sea lions on the beach. They were so fun to watch! Back on board, we enjoyed a late breakfast and headed back out to hike Cerro Negro (Sierra Negra) Volcano. This is the 3rd highest volcano on Isabela Island and the 5th highest in the Galapagos. It's one of the few volcanoes tourists can visit so we were thrilled to embark on a short hike to the edge of the caldera and get the incredible views of the volcano firsthand.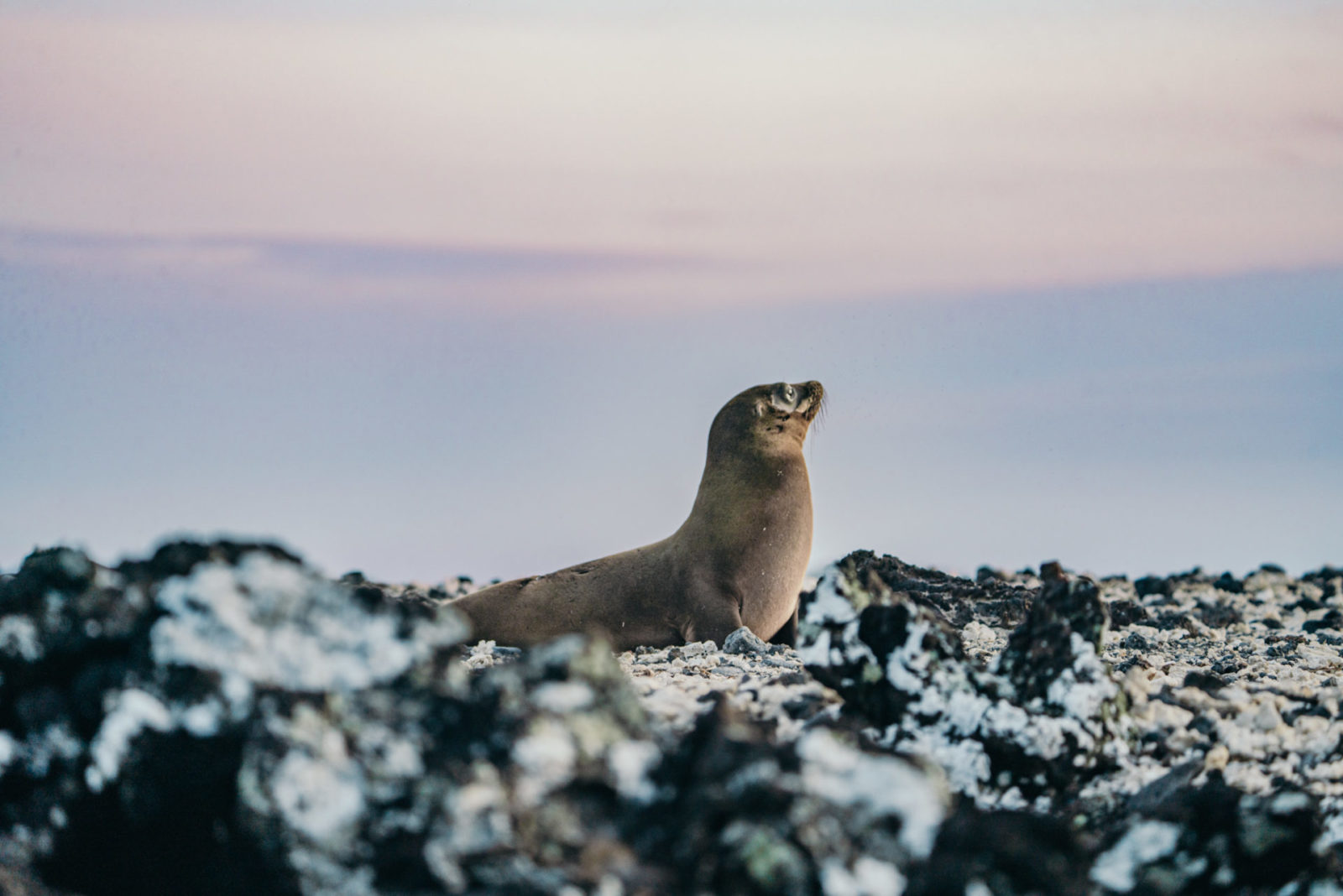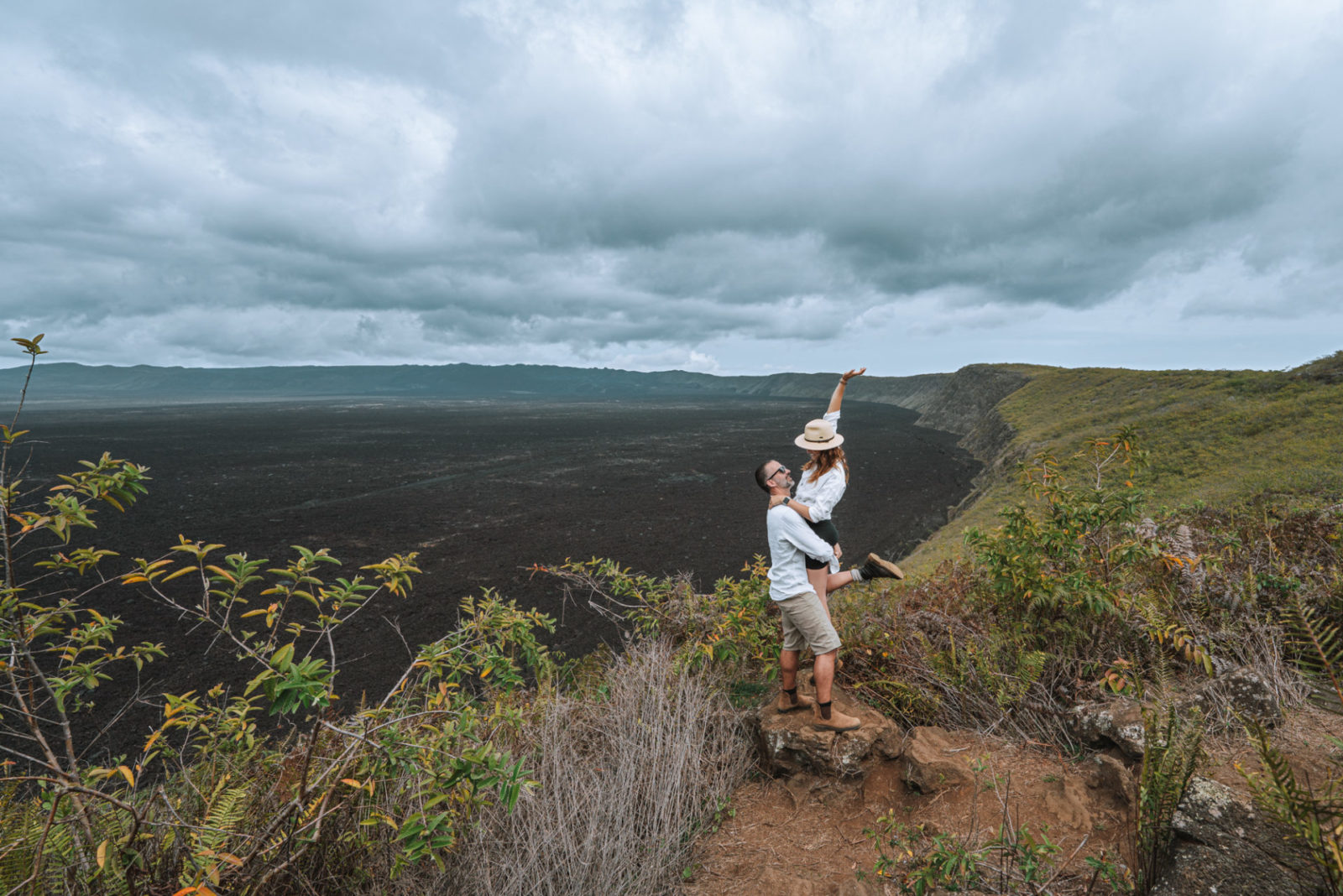 PM – In the afternoon, we continued to explore Isabela Island, this time visiting the wetlands of the coastal lagoon. This spot on the island is the main breeding site for flamingos. We walked around the flamingo pools, stumbling upon a great number of marine iguanas and finished off the day with a few hours in the town of Puerto Villamil.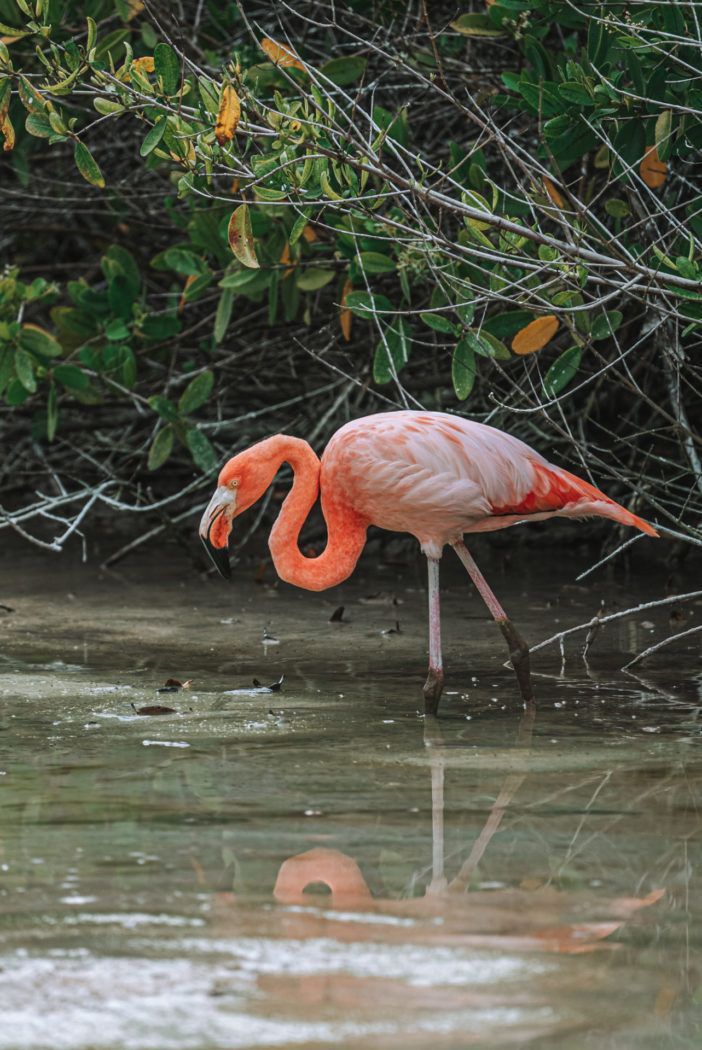 Day 4:
Isabela Island
Sailing Time: 8 hrs overnight + 2:45 during the day
Activities: Hiking
Destinations Visited: Punta Moreno, Urbina Bay
AM – This morning we did a short hike around Punta Moreno on the Western side of Isabela Island. We walked around the site and got to see coastal lagoons and a unique lava beach. These lava flow areas attract several species of birds and marine iguanas. But the highlight of this spot was spotting a few Galapagos penguins!
PM – For the afternoon, we sailed to Urbina Bay, where we embarked on a short but eventful hike. We saw plenty of land iguanas and wild giant tortoises. The colourful wildlife here thrives in the volcanic climate that's filled with shells and corals.
Day 5:
Fernandina Island + Isabela Island
Sailing Time: 2hrs
Activities: Hiking, Snorkelling
Destinations Visited: Punta Espinoza, Tagus Cove
AM – Day 5 started with an early morning hike on Fernandina Island, the third largest of the Galapagos Islands. The only visitor site, Punta Espinoza is home to the unique flightless cormorant that is an incredible example of the well-adapted wildlife that's endemic to the Galapagos. After a hike, we jumped in the water for another snorkelling session. The water was cold and visibility quite poor, but despite all that, we still managed to spot tons of fish and 18 turtles in just one hour!
PM – We spent the afternoon back on Isabela Island, just across the Bolivar Channel. We hiked around Tagus Cove admiring the beautiful views of the cove from above.
Day 6:
Santiago Island + Rabida Island
Sailing Time: 12hrs + 3 hrs
Activities: Snorkelling, Hiking
Destinations Visited: Puerto Egas, Rábida
AM – Our destination for this morning was Puerto Egas, a unique black sand beach on western Santiago Island. The landscape here was very unique as was the wildlife. This was one of the few places you could spot fur seals on a cruise to the Galapagos and we were lucky enough to spot a few. After our morning hike, we jumped in the water for another fun snorkelling session with sea lions.
PM – In the afternoon, we sailed to Rabida Island, known for its red-coloured sand. It totally reminded us of Western Australia! Walking the trails and snorkelling is one of the best experiences in the Galapagos thanks to the super-clear water. We had an amazing session snorkeling with sea lions, sea turtles, sharks, and even an eagle ray. However, we were sad to end the last full day on our Galapagos cruise but the amazing evening sunset was a perfect ending.
Day 7:
Santa Cruz
Sailing Time: 3hrs
Activities: Beach walk
Destinations Visited: Las Bachas, Santa Cruz
AM – We spent our last morning en route back to Santa Cruz where we visited a beautiful white sand beach known as Las Bachas. After a peaceful beach walk and a few last wildlife encounters, it was time to return back on board, pack our bags and say goodbye to the Treasure of Galapagos.
Final Thoughts on Galapagos Islands Cruises With Oniric Cruises
After an unforgettable adventure, we couldn't recommend a trip to the Galapagos Islands with Oniric Cruises more!
Our entire trip was excellent, filled with extensive knowledge, excellent service, and memorable experiences. Oniric is a great company and we love their sustainable approach to cruising.
Essential Travel Info
Oniric's Other Ships and Itineraries
Oniric Cruises is a fairly new brand, but their wide selection of itineraries and a fleet of 4 different boats, provide lots of options suitable for every budget and interest level. Aside from the Treasure of Galapagos, our catamaran of choice for this cruise to Galapagos, Oniric Cruises offers 3 other boats ranging from mid-range to first class.
Yacht Solaris
The largest of Oniric's Galapagos cruise ships, Solaris is a 16-passenger yacht with 11 cabins. It's considered a first-class motor yacht with three decks to explore, including a large sun deck perfect for lounging. Solaris sails on 4 different itineraries, ranging from 4 to 8 days.
Itinerary A

is an 8-day adventure that focuses on the remote western islands of Isabela and Fernandina.

Itinerary B

offers a unique glimpse into the eastern islands with an 8-day cruise visiting remote Genovesa Island.

Itinerary B4

also tours Genovesa on a shorter 4-day trip that also hits Santa Fe, Santa Cruz, and San Cristobal Island.

Itinerary B5

packs many Galapagos highlights into 5 days spent exploring the southern islands.
Galapagos Cruises aboard Solaris start at USD $2,695 per person with options for last-minute deals.
Catamaran Archipel
Archipel I is Oniric's most versatile catamaran, offering 6 different itineraries for an outstanding value. The mid-range vessel has 8 cabins holding 16 guests and is the only cruise that visits all the main islands in a single trip.
Itinerary A

spends 8 days circling the remarkable archipelago while snorkelling with marine life.

Itinerary A5

and

A4

offer shorter Galapagos cruises focusing on the western islands (A5) and eastern islands (A4).

Itinerary B

. The route spends 8 days observing seabird colonies and giant tortoises on all 7 of the eastern islands.

Itineraries

B5

and

B4

offer shorter trips filled with wildlife on the southeastern islands (B5) and northeastern islands (B4).
Archipel's Galapagos itineraries start at USD $2,095 per person with several discounts available.
Yacht Aqua Liveaboards
This Galapagos small ship cruise is all about adventure and scuba diving. Aqua is a compact mid-range yacht with 9 cabins and options for liveaboard dive cruises. Aqua's Galapagos cruises dive a little deeper (literally) into the remote waters of the archipelago.
Itinerary A

is an 8-day diving trip of the northern islands where green sea turtles, whale sharks, and tropical fish reside.

Itinerary B

caters to naturalists by exploring the central islands to observe unusual wildlife on land.

Itinerary B5

explores land and sea on Baltra, Santa Cruz, and Santiago Island.

Itinerary B4

visits the south-central islands, including Floreana Island, where seabirds and marine iguanas are aplenty.
Cruises to the Galapagos Islands aboard Yacht Aqua start at USD $2,095 per person with a variety of deals available.
Have you ever done a cruise in the Galapagos? How did your experience compare to ours?