"Attend the Full Moon Party on Koh Phangan" – item #21 on my 30 before 30 bucket list.
*This post may contain affiliate links, as a result, we may receive a small commission (at no extra cost to you) on any bookings/purchases you make through the links in this post. As an Amazon Associate, we earn from qualifying purchases. Read our full disclosure
To be honest I have no idea how it made it on the list in first place. I don't know a lot of people that have been to the Full Moon Party and I certainly have never heard too many stories from it, so I really didn't know what I was in for. But as I was planning my rough route around Thailand, I couldn't help but keep it on my list of things to do. I promised to myself that I would only venture down to Koh Phangan, if I had a good group of friends with me. The idea of partying at the biggest festival in Asia all by myself somehow didn't appeal to me. So when in Koh Tao, my 3 friends from diving school decided to do it, I jumped on board.
We heard that the pre-parties leading up to the Full Moon were actually better than the Full Moon itself, and while we tried to get to Koh Phangan 2-3 days ahead of Full Moon, our addiction to diving was bigger than our desire to party for 3-4 days straight.
So it was August 31st, the day before Full Moon, when we finally decided to get the ferry from Koh Tao (you can also get the ferry from Ko Samui to Phangan). The second our taxi drove into Haad Rin (the Full Moon party area), we could feel the buzz in the air.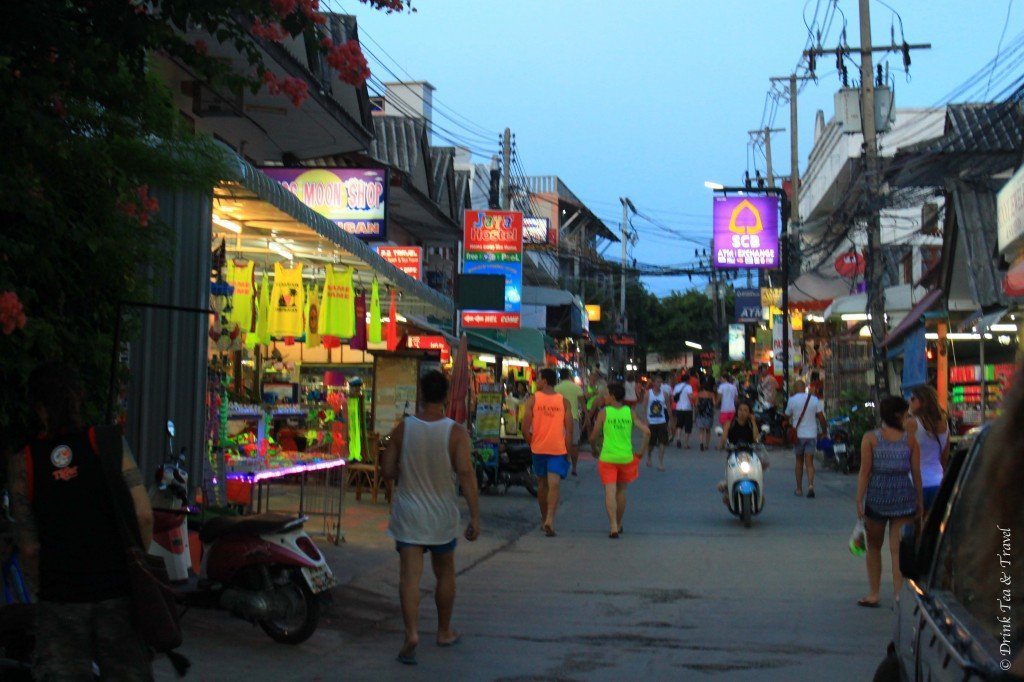 Dozens of shops lining the streets with fluorescent shirts, shorts and accessories of all kinds. Music blasting from every restaurant, every hostel, every street corner. The beach and the streets leading to it lined with carts selling the famous spirit buckets. Everything you could possibly need to have a good time.
Despite what many people think, the Full Moon party actually takes place a day after the real full moon. So that night, under the beautiful full moon light, we had a choice: beach party, jungle party or pool party. All happening on the same night at the same time and luckily for us lasting until 8am…plenty of time to check out more than 1. We started off with the beach. To our disappointment, it was a lot less busy than we had expected, making us wonder if perhaps we were there in the off season. After a stroll on the beach and few buckets to get us in the mood, we decided that perhaps we were better off checking one of the other parties. So we hopped into a taxi ( aka back of a pick up truck) and headed for the jungle party. Now THAT was an experience! We were truly in the middle of the jungle, but a jungle with a stage, few sound booths, porter potties, fire dancers, and a bar-like area area selling more buckets. Within seconds we were engulfed by the atmosphere and the music…and it wasn't until hours later that we were ready to leave. Although to be honest, I'm not sure I ever wanted to leave…
September 1st was finally here and it kind of felt like New Years Eve: from outfit shopping to dinner choices, everything was carefully planned out to guarantee a good and loooong night. By 9pm, we were all decked out in our full moon fluorescent attire, ready to put the finishing touches…aka the paint. Now I still don't know why everyone covers themselves in fluorescent paint. There are no black lights on the beach, or any other lights, for that matter, so you can't really see the carefully drawn designs on anyone. Yet we all grabbed some paint and brushes and got creative…paw prints, flames, lip imprints, palm trees, flags…you name it, we had it.
Even the boys, who at first, had no interest in the activity, spent hours perfecting their designs. I've got to admit, though, the pictures look awesome! There is not much to say about the party itself. The beach was filled with people looking just as fluorescent as us, drinking buckets, dancing or just wandering around the beach aimlessly. And that's exactly what we did…for 8 (!!!) odd hours: losing and finding friends along the way, snaking on crepes every few hours and chatting up the locals.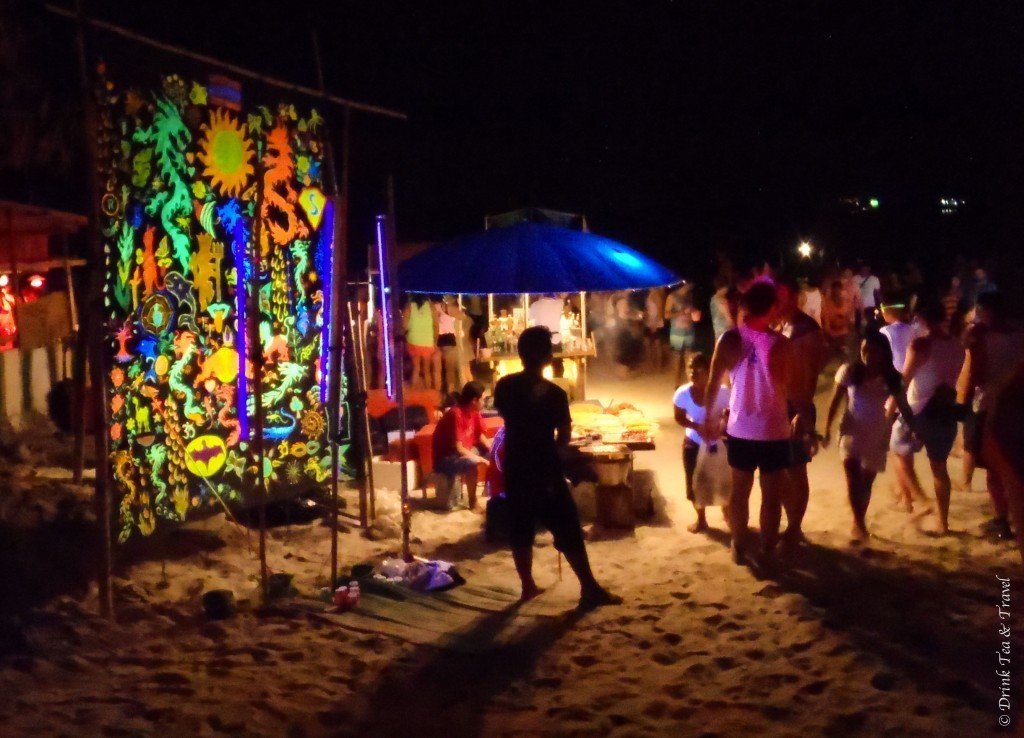 When the sun came up, the beach was looking horrendous! People passed out everywhere, garbage everywhere…
It made me stop and think. Why do we (westerners) have this desire to take everything beautiful that nature has and make it into some entertainment for ourselves? Be it ruining beaches in Thailand, or paying to see little monkeys in doll dresses do tricks. Don't get me wrong, I enjoyed the night, and I do know that if this party, and many other parties on Koh Phangan weren't there, the locals living on the island would still be living in poverty and without basic human needs….but can't we be just a bit more sensible and respectful to their land, their environment and their culture?