*This post may contain affiliate links, as a result, we may receive a small commission (at no extra cost to you) on any bookings/purchases you make through the links in this post. As an Amazon Associate, I earn from qualifying purchases. Read our full disclosure.
"Table for two, sir?", asked the maître d' at the Pacific Restaurant, the only complimentary restaurant (aside from the buffet) on board the Adonia.
"No, actually, we'll join our friends at those two long tables in the back, please", Max gestured towards a rowdy crowd.
Meeting a group of fun, interesting, adventurous, and all-around awesome people onboard a cruise ship was the last thing we expected from this trip. Yet here we were, a group of twenty/thirty-somethings, clinking our glasses, sharing our desserts, and bantering away like we've been best friends for years.
At first, the social atmosphere on board surprised us. Everyone seemed so friendly and involved. We met people over meals at the restaurants, at the info sessions while at sea, and at the shore activities on the ground. We quickly decided to embrace it and by the end of the week, we found ourselves saying "hello" to the majority of the passengers on board. This was so different from the typical cruise experience.
We thought, perhaps it had something to do with Adonia's size. After all with only 704 passenger capacity, Adonia had to be one of the smallest ships sailing to the Caribbean. And it was only half full during our sailing, so gatherings and activities felt that much more intimate.
But the more we observed, the more we realized that cruising with Fathom simply wasn't a typical cruise experience. There was no casino on board the Adonia, no celebrity chefs in the kitchen, no broadway shows, no ropes courses, no water slides. Instead, there were sessions on social impact, on storytelling, on raising the next generation of changemakers, daily Spanish lessons, and presentations on the culture and history of Dominican Republic. Those that love cruises for their myriad of entertainment options would've probably hated sailing with Fathom.
Every night, as we exchanged stories of our impact activities and other adventures on the ground, we found more and more in common with each other. We were all there looking for a different kind of experience. We all wanted to travel deeper (not to be confused with Fathom's somewhat cheesy tagline #Traveldeep), to go beyond the flashy cruise port, and the touristy sights of Puerto Plata.
Many of us were really looking forward to experiencing Fathom's on the ground impact activities. Some of us, myself included, spent some time practicing English with students and community members in remote corners of Puerto Plata, some (including Max) helped a local NGO, IDDI, to plant trees in the nearby Isabel de Torres National Park, others laid concrete floors, made water filters, and gave a helping hand at a women's chocolate making cooperative, Chocal.
For many, this was their first experience volunteering abroad and the first time they've had real interactions with locals. They spent time in people's homes, they helped them build, grow, and take a step (even though it may have been a baby step) towards a better future. It was eye opening. It was emotional, and for many, it was deeply meaningful.
Max and I still question the impact that we personally made in the short time we spent in those communities. I don't know if, Aracelis, the little girl I tutored at the El Cupey Isabelle Merenes School, still remembers the difference between "thirty" and "thirteen", but I do know that her desire to learn and her eagerness to become more proficient in English will grow bigger and bigger with every Fathom traveler visit. I know because I saw it in her eyes.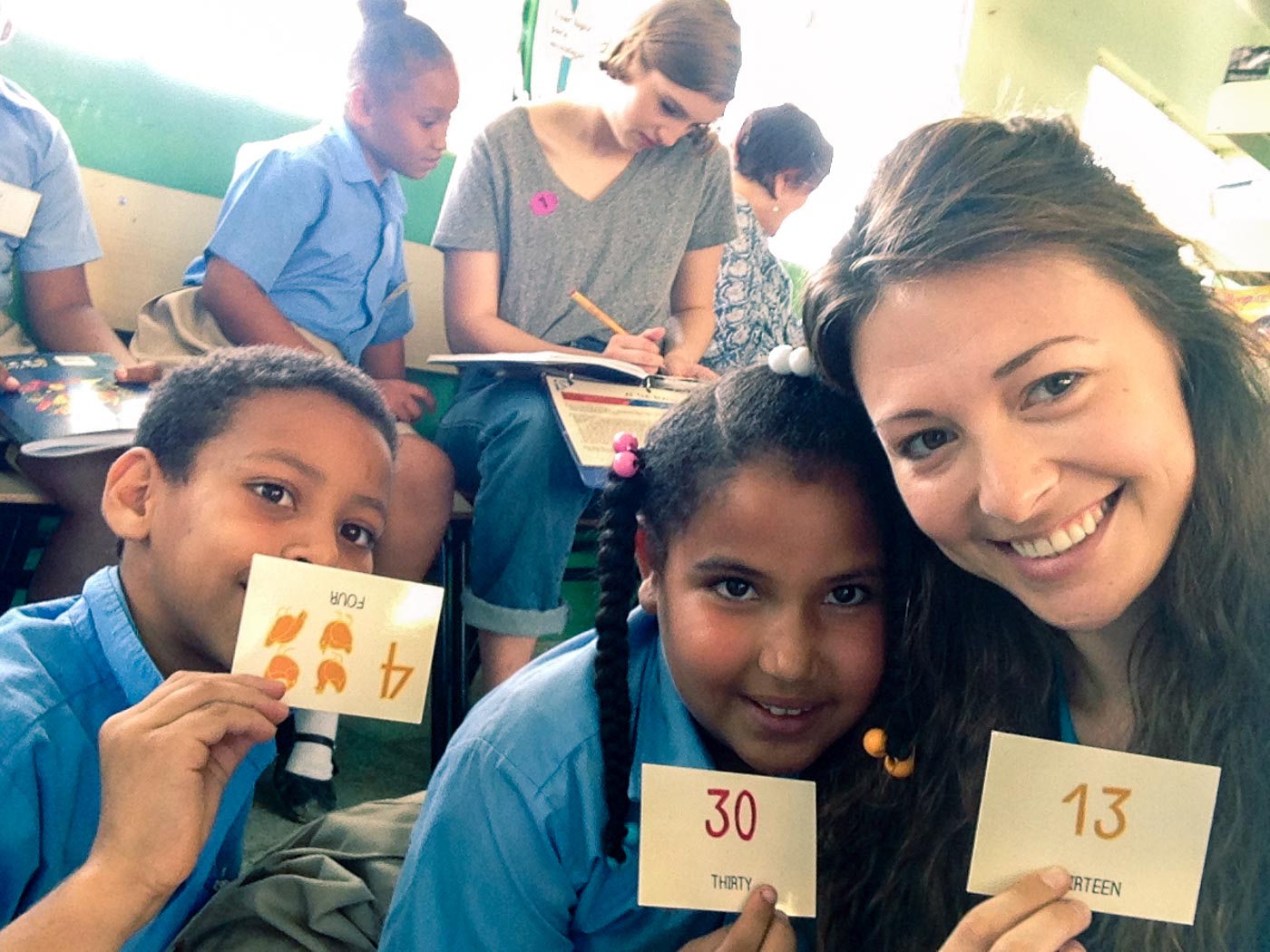 For Aracelis, and for every other student at that school, or for any member of the Puerto Plata community that we interacted with during our Impact Activities, the baby steps are better than no steps. Maybe some day in the future that little bit of English will help one of them get a better job, but maybe, just maybe…it'll give them the knowledge to do more, the courage to fight for more. Maybe one of them will become the next Malala. We can only hope.
And just like we hope that our impact was one of the first baby steps towards the better for the community, we also hope that it was the first step for the travelers on board the Adonia.
It's so easy to pat ourselves on the back for the impact we made in Puerto Plata that week. We planted over 300 trees, interacted with hundreds of students, made over 200 lbs of chocolate, and produced dozens of water filters. We all snapped happy selfies with the cute Dominican children and the grateful families. We walked away from the cruise feeling like we really did something good.
As we sat around the dinner table on our last night on board the Adonia, I couldn't help but wonder. How many of us will let this experience become nothing more than a proud tale of "that time we made an impact on a community in Puerto Plata" and how many will truly embrace it and continue to seek these types of experiences in their future travels?
We hope more of us will do the latter. We hope every single person from our cruise will remember the feeling of making a connection with the locals, the feeling of going off the beaten path and discovering the joy of exploring the country beyond the main sights and tourist attractions. After all, in our opinion, that's what travel is all about!
And as for Fathom, it feels like despite being an offspring of one of the largest cruise corporations in the world, this organization actually has its heart in the right place. The people behind it may not have it all figured out yet, but they are trying their best to make every sailing and every activity on board and on the ground better than the other. They really do want to make a difference, and that alone is worth more to us than what any other cruise line can currently offer.
If you want to experience Fathom's cruise to the Dominican Republic for yourself, now is the best time to do it. Fathom has just slashed their fares for the rest of 2016, offering sailings to the Dominican Republic starting at just $499 (+ taxes, fees, port expenses and gratuities, of course).
And to sweeten the deal, you can get an additional $50-150 off by using our Insider's Discount Code: Insider1532.

Click here to register and claim your savings

!
Even by our budget traveler standards, this is a great price considering all the delicious meals, activities, and entertainment you get onboard and on the ground.
Essential Travel Info

Getting There: Fathom cruises depart Port of Miami on Sunday afternoons and return the following Sunday morning. On average, you will spend a total of 2 full days and 2 half days at sea (en route to and from the Dominican) but the travel time can vary due to weather and ocean conditions. Future sailing dates for the Dominican Republic can be found here.

At this time, Dominican Republic does not require a tourist visa for travelers by ship, but this could change in the future.

What's Included: All meals, your cabin on board, on the ground impact activities, transportation to/from the activities, onboard impact programs, as well as access to the Amber Cove Port facilitie are all included in the price of the cruise.

Alcohol as well as soft drinks on board are extra. Water, tea, coffee, iced tea and juices are available for free.
Non-impact shore excursions are extra.
Gratuities of $80/pp are added to each travelers bill at the end of the cruise.
Internet on board costs extra and is often very slow and unreliable. Internet at Amber Port is available at some cafes and restaurants for free.

Other Tips and Notes:

Children must be at least 8 years old at time of sailing to come on a trip with Fathom.
Bring a refillable water bottle to keep yourself hydrated throughout the week.
If you forget any of toiletries or other essential supplies, there is a shop on board where you will be able to purchase most things. But be warned, the priced on board at exorbitant. We suggest stocking up once you get to the Dominican.
*Disclaimers:
Our trip to the Dominican Republic on board the Adonia, was generously provided courtesy of Fathom Travel. But, as always, any opinions expressed in this post are ours, no matter who is footing the bill.
Our Fathom Insiders Discount is an affiliate link that offers you a discount on your sailing and allows us to earn a commission on your booking at no additional cost to you.
Like this post? Pin it for later!
Do you try to travel deeper on your adventures abroad?